Some of the links in this post are affiliate links. This means if you click on the link and purchase the item, I will receive an affiliate commission at no extra cost to you. All opinions remain my own.
If you're still looking for a place to take your sweetie for Valentine's Day, look no further. We've compiled a list of the most romantic spots in the world.
Based on our research, these places have a lot of romantic date night restaurants, super fun adventures for couples, and luxurious hotels for a relaxing stay.
Whether you're looking for a quiet getaway or an adventure to remember, we've got you covered. So get packing and get ready for some love!
Related posts:
Map of the most romantic places for Valentine's Day travel:
Table of Contents:
Paris, France
By Penny of GlobeTrove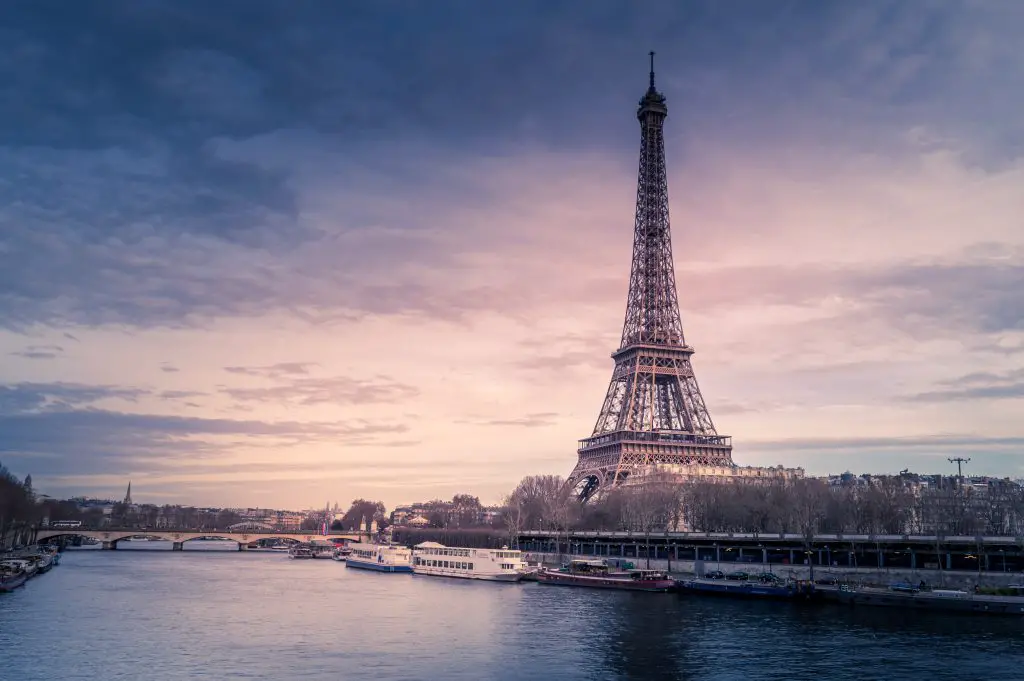 Paris is one of the most gorgeous cities in the world. It goes without saying that it is literally one of the top picks when it comes to Valentine's Day. The city is known for its romantic vibe. With uber-cool cafes that you can take your significant other to and the magnificent Eiffel Tower to pose in front of, Paris is picture-perfect!
There is much more to Paris than just the Eiffel Tower. Did you know that Paris has one of the most beautiful avenues in the world? Yes! The Champ Elysees holds that title. It is one of the fun facts about Paris.
If you want to spend a perfect Valentine's Day in Paris, you should definitely book a scenic cruise down the Seine. Take in the sights at the Sistine Chapel and indulge in the luxurious Parisian cuisine at one of the many Parisian cafes that line the old cobbled streets.
Alternatively, you could book a room with a view and have a romantic day. Combine it with the best of the Parisian food you can order and pair it with a bottle of chilled wine or champagne. That's the beauty of Paris. Almost everything that the city offers is certain to be romantic.
San Diego, California, USA
Recommended by Sam Opp of Find Love and Travel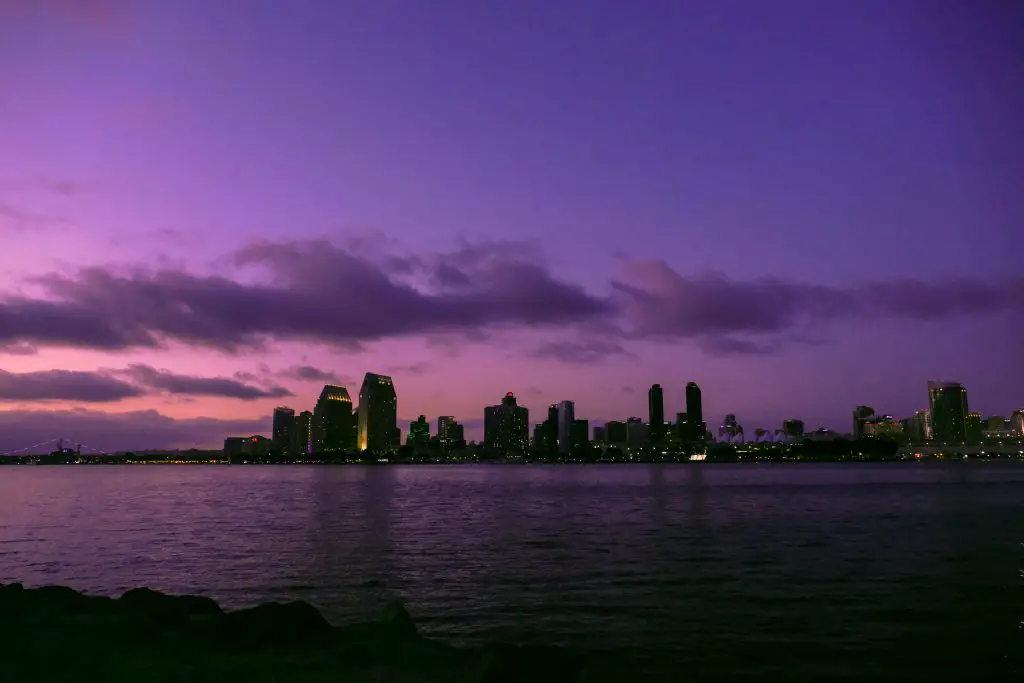 If you're looking for a Valentine's getaway, you should take a spontaneous trip to San Diego!
San Diego is full of romantic activities that you and your partner can both enjoy! 3 days in San Diego will allow you to see the best the city has to offer.
Begin your stay with a unique experience of whale watching and spotting sea lions at La Jolla Cove. This is such a magical activity when you get to see these animals up close! The beach is right next to the heart of La Jolla town, so after that, you could make your way further into La Jolla to browse the shops where you can pick up a Valentine's Day gift or eat a special dinner by the beach!
If you're looking for something more interactive, you can visit Belmont Amusement Park and enjoy the rollercoasters! The park is located right next to the beach for you to visit in the evening to watch the sunset!
Spend your final day in San Diego, taking the ferry to Coronado Island, which is home to the best beaches in San Diego and is a really intimate getaway from the busy nature of the city!
Consider staying at the Hyatt Regency La Jolla, which is an excellent property near the beach and has a heated pool and jacuzzi for cooler days in San Diego.
Tulum, Mexico
Recommended by Shelley of Tulum Travel Secrets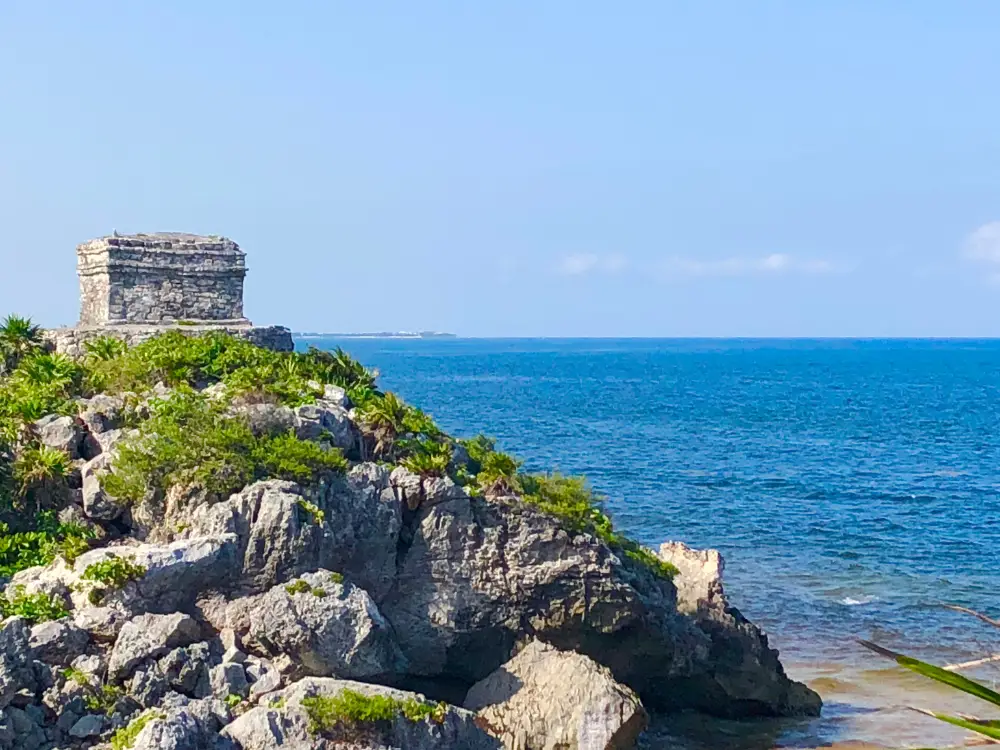 Tulum is one of the top destinations in Mexico, especially for travelers who love the beaches. While not all Mexico beaches and beach towns are created equal, Tulum is undeniably one of the country's best.
Some of the reasons it's so popular is because Tulum has a mix of rustic, bohemian charm, and posh luxury. There are gorgeous resorts, like Casa Malca (once owned by Pablo Escobar), and fancy restaurants, like Arca — both ideal for couples to enjoy a tropical Valentine's Day.
There are great things to do in Tulum, like swimming in the cenotes (natural jungle pools) and exploring the Tulum Mayan Ruins. However, there's even more for those who plan on renting a car in Tulum, Mexico, and exploring the nearby parts of the Yucatan Peninsula.
If you only have 2-3 full days, stick to Tulum and enjoy some romantic time in this tropical paradise. For travelers who have four full days or more, plan some day trips to places like Valladolid, a pueblo magico (magic town), and Chichen Itza Mayan Ruins, one of the Seven Wonders of the World.
Savannah, Georgia, USA
Contributed by Victoria of Southern Trippers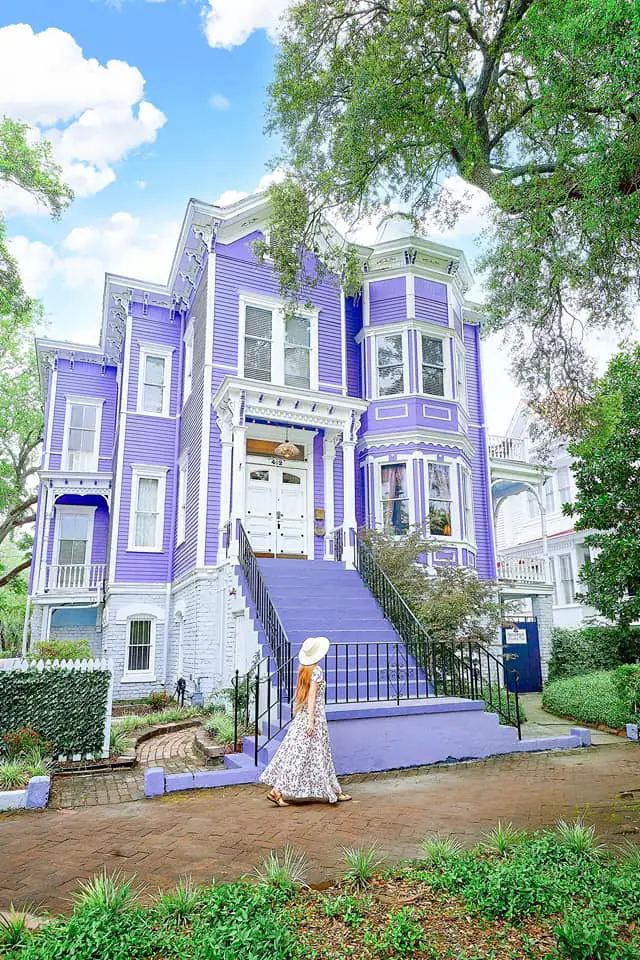 If you're looking for a romantic place to visit for Valentine's Day then you can't beat Savannah, Georgia in the southern USA. 
After all, this charming city is filled with stunning beaches, charming plantations, quaint homes, and exquisite parks that are just waiting to be explored. So, take some time to stroll hand in hand down one of Savannah's picturesque streets before enjoying a romantic picnic for two in the iconic Forsyth Park. 
Next, savor a romantic meal for two at The Olde Pink House, where they are known for serving iconic Southern classics like specialty grits and fried green tomatoes. 
Finally, enjoy an incredible 6-wine tasting for just $3.00 at The Georgia Tasting Room. In fact, it has a great location right near the Savannah River and is the perfect place to relax with your partner. 
Also, because there is so much to do in Savannah, try and spend at least three days in the city as you enjoy one of the most romantic getaways in Georgia. 
And finally, be sure to book a room at the well-reviewed McMillan Inn Bed and Breakfast with its pool, outdoor terrace, and eight opulently decorated rooms.
Lake Tahoe, California, USA
Contributed by Meg of Fox in the Forest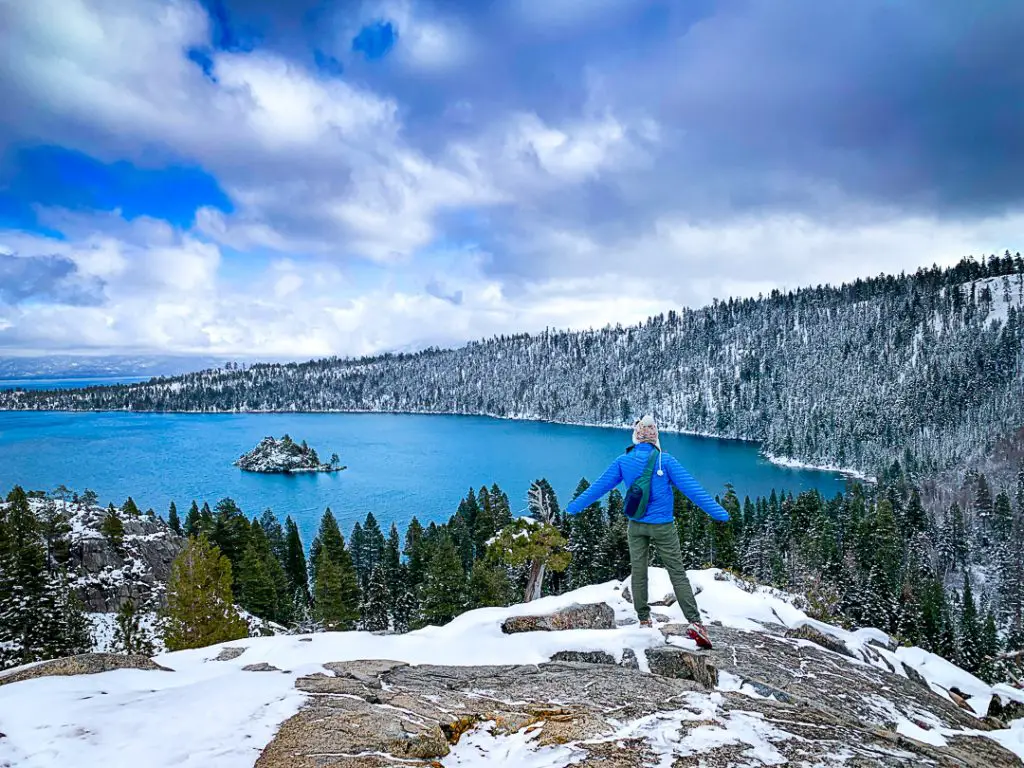 Straddling the border between Nevada and California, Lake Tahoe is a stunning alpine lake that overlooks the picturesque, snow-covered, Sierra Nevada Mountains. So, if you're searching for the perfect Valentine's getaway then Lake Tahoe is the ideal destination for you. 

Just try and plan at least a 3-day Lake Tahoe itinerary since there are a ton of romantic things to do, like admire stunning panoramas of the area from atop the Heavenly Gondola. 

You can also get warm and cozy up next to your partner at Sierra Hot Springs before exploring the awesome natural beauty of Emerald Bay. However, do know that because the region receives a great deal of snow, many trails and roads within the park will be impassable. Additionally, it's always important to check the weather regularly in winter since enormous winter storms can roll into the area quickly. 

Other than that, book a romantic couples massage at the Ritz Carlton Spa and then grab dinner in Truckee at Pianeta Ristoirante. 

The booths here are a romantic place to snuggle as you devour delicious, Northern Italian-style linguini with shrimp before heading back to a luxurious room at the always fabulous Edgewood Tahoe.
Chicago, Illinois, USA
Contributed by Linda of Midwest Explored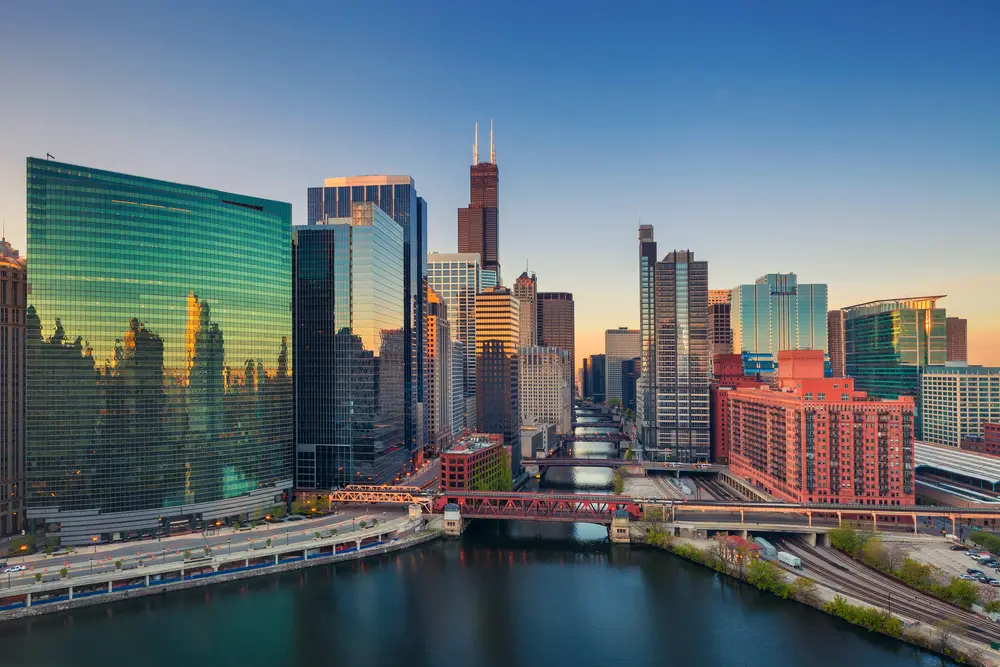 If you're not sure where to go for Valentine's Day this year then consider booking a trip to Chicago. Not only is this vibrant city a cultural capital of the United States but has incredible restaurants and exciting shows that you and your partner will love. 
Therefore, plan to spend between three and five days in the city so that you have plenty of time to sample a romantic meal at Chef Stephanie Izard's Little Goat Diner. 
Yes, it's a bit more casual than her other eateries but the hearty Bull's Eye French Toast is perfect for brunch in Chicago. Plus, you can order a decadent cupcake to go before snuggling up together at a dimly lit booth at The Green Mill Cocktail Lounge. In fact, this place is historic and one of Al Capone's old haunts, and is a great spot to listen to live jazz music.  
Next, hold hands as you stand in awe of the view of the Chicago skyline from 103 stories in the air at the Ledge. It's an incredible, glass-floor observatory that sits atop the iconic Willis Tower.  
Finally, unwind for the evening inside a lavish room at The Drake, a historic hotel that was initially opened in 1920 on the Magnificent Mile.
Algarve, Portugal
Recommended by Erin of Pina Travels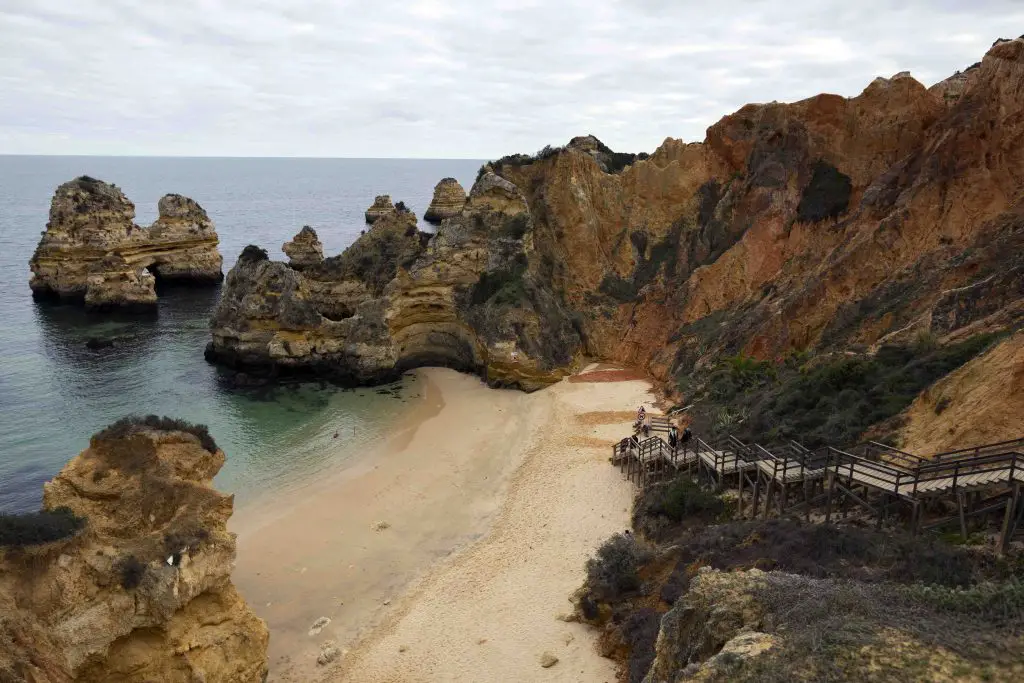 The Algarve is a coastal region in southern Portugal that is known for its warm climate, gorgeous beaches, plenty of hikes, beautiful towns, and fresh seafood. Portugal in winter has mild temperatures and tons of sun which makes it the perfect place to escape to for a romantic Valentine's Day.
Spending 3 to 5 days in the Algarve is enough time to see some of the region's main sites, but you could easily spend a full week without running out of things to do. Kick off your Valentine's Day trip to the Algarve by exploring the romantic historic center of Lagos. Wander the cobblestone streets popping into shops and boutiques, and have a romantic dinner at Restaurante dos Artistas.
Spend a day visiting the Algarve's famous beaches, like Praia de Dona Ana, Praia do Camilo, Praia da Marinha, Praia da Falesia, and Praia da Rocha. Be sure to get out onto the ocean as well. You can take a romantic sunset boat tour that brings you along the coast, with a stop in the famous Benagil sea cave. 
It's most convenient to stay in the town of Lagos because it's close to the main attractions of the Algarve. Hotel Dom Manuel I is an affordable hotel, conveniently located, and has charming rooms.
Amsterdam, The Netherlands
Recommend by Lowri of Many Other Roads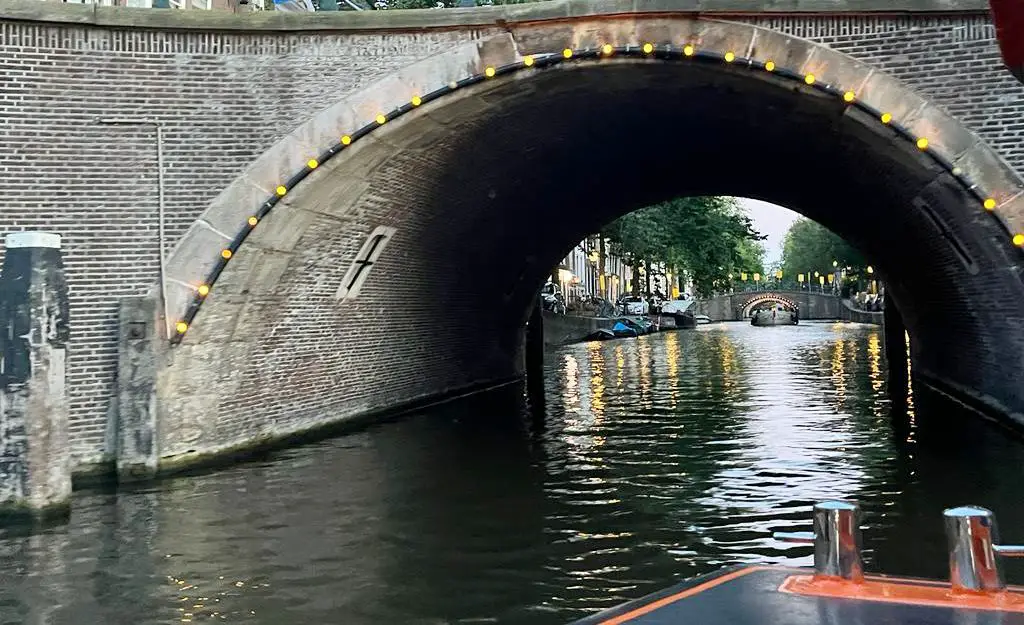 If you are looking for a long weekend to spend together in one of Europe's best cities, you should book a trip to the capital of The Netherlands.
Amsterdam is the perfect place to escape for a romantic weekend getaway with your partner. With its stunning canals, world-famous museums, and abundance of cozy cafes, Amsterdam is a city that was made for couples. And there's no better time to visit than Valentine's Day. 
Amsterdam really comes alive during this time of year, with special events and activities taking place all over the city. Whether you're looking for a romantic dinner cruise along the canals or a moonlit walk through the Rembrandtplein, Amsterdam has it all.
And if you're looking for somewhere special to stay, the Amsterdam InterContinental is a perfect choice. Located right in the heart of the city, this 5-star hotel offers breathtaking views of the canal and is within walking distance of all the best Amsterdam has to offer. 
So why not treat your loved one to Valentine's Day they'll never forget and escape to Amsterdam?
Santorini, Greece
Recommended by David & Intan of The World Travel Guy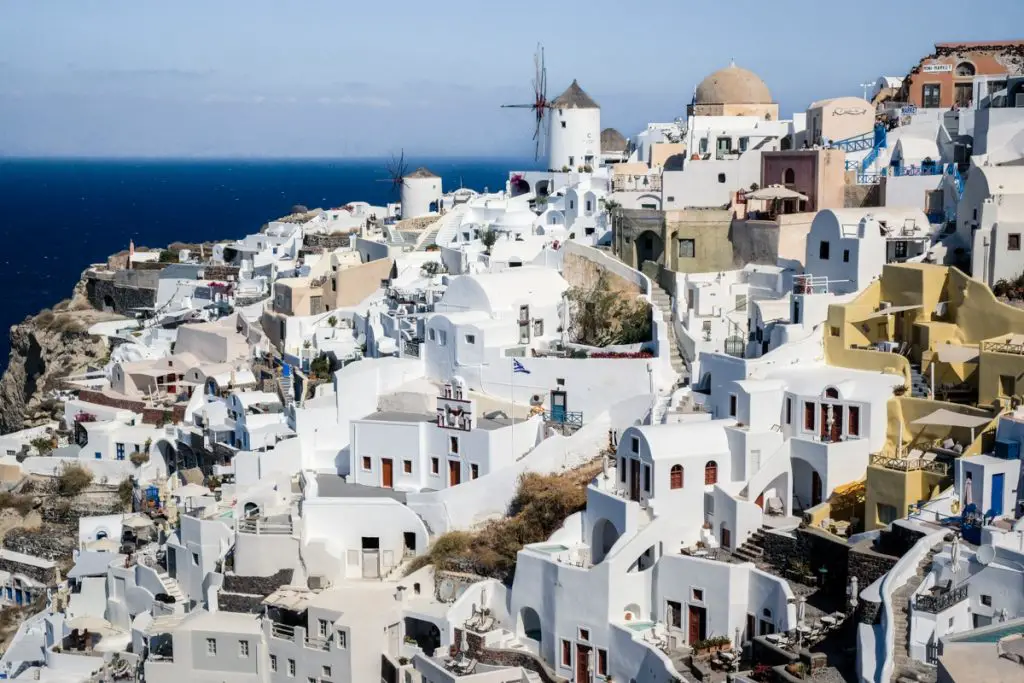 The island of Santorini Greece is famous for its beautiful white buildings, luxury hotels with infinity pools, and panoramic views of the Aegean Sea. It's easy to reach with direct flights from Athens or some other international cities in Europe.
This is the perfect place to go for Valentine's Day! Three or four days is enough time to see the highlights of Santorini island, although most people will want to stay longer since it's so relaxing. A good hotel to check out in Santorini is the La Perla Villas (a luxury hotel in Oia).
Like many places in Greece, Santorini Island has amazing food, scenery, and more. It's full of iconic sights, and many of the best things to do in Santorini are free, such as strolling the historic towns, taking pictures, relaxing on the beach, and seeing the sunset. It's a great place for romantic couples to travel!
Oahu, Hawaii, USA
Recommended by Marcie of Hawaii Travel with Kids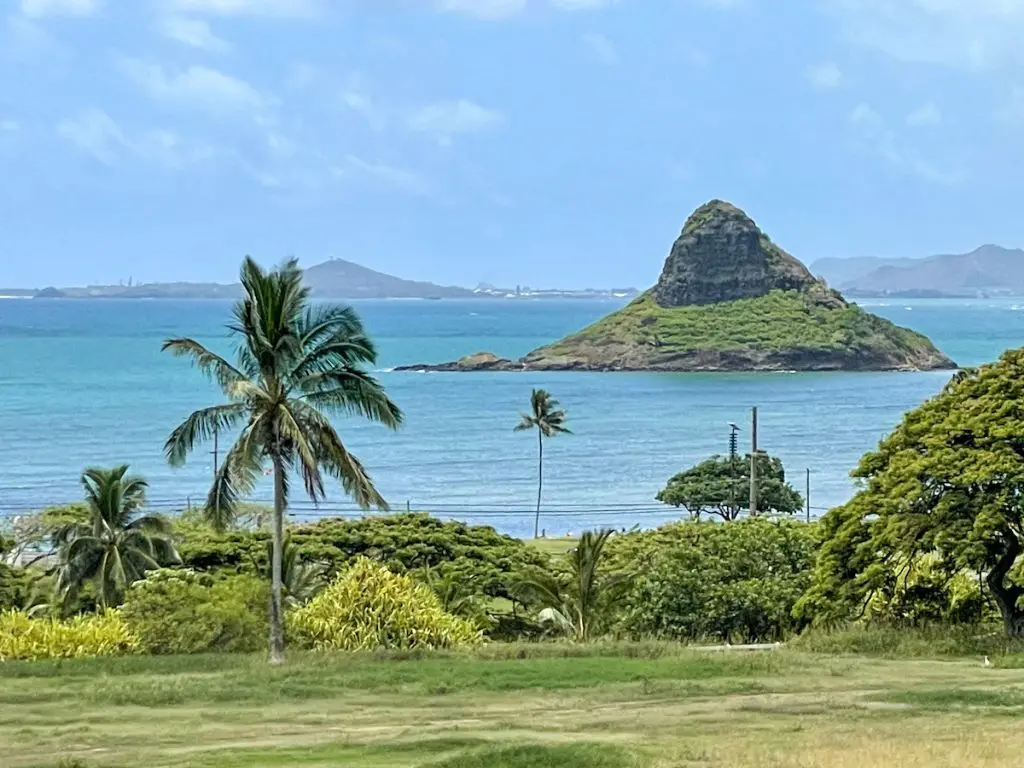 If you're looking for a tropical getaway this February, it's hard to beat Valentine's Day in Hawaii!
A few Hawaii activities for couples include watching a beach sunset, having drinks at a tiki bar, doing a couples' massage on the beach, hiking through the jungle, or going for a scenic drive.
One of the most romantic things to do in Hawaii in February is going on a whale-watching boat tour. This is when the humpback whales migrate through the Hawaiian islands and it's incredible to see in person.
There are also a lot of romantic farm-to-table dining experiences in Hawaii.
Usually, people spend 7-10 days visiting Hawaii because there are so many things to see and do there.
One of the most romantic hotels in Waikiki on Oahu is the Royal Hawaiian Hotel. This historic hotel is called the "Pink Palace" and they even serve pink pancakes in their restaurant! It's also one of the most Instagrammable places on Oahu.
No matter which island you choose, you'll have the beach getaway of your dreams.
Nashville, Tennessee, USA
Recommended by Brittany of Travel by Brit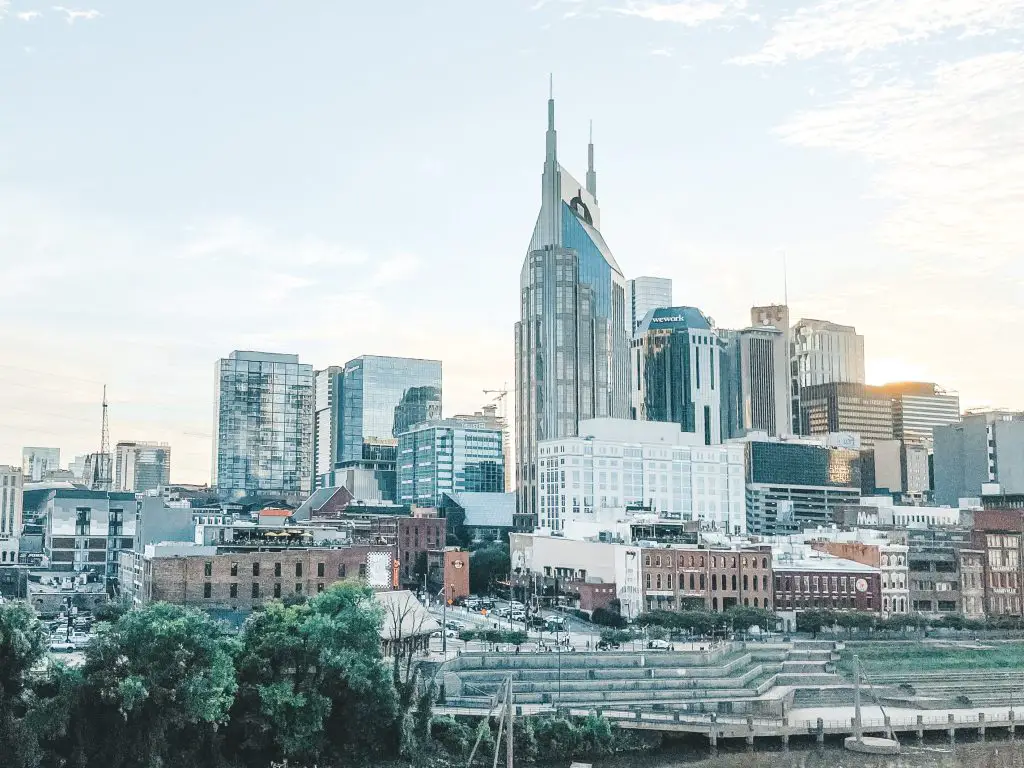 Nashville, Tennessee, in the United States of America, is the perfect destination for Valentine's Day—especially for couples who love southern cooking, country music, and lively entertainment! 
Nashville is a great destination for a weekend trip, but you could spend at least a week exploring all the fun things to do in this lively city. Couples will love strolling around Centennial Park, taking romantic photos in front of the best murals in Nashville, and enjoying a cocktail at the rooftop bars overlooking Broadway Street. Couples interested in country music history may enjoy exploring the Country Music Hall of Fame & Museum or listening to live music and the Grand Ole Opry. 
While you're in Nashville, be sure to make reservations at some of the romantic restaurants in Nashville for a date night. Husk Nashville, Etch, and Merchants are all great spots for dinner and drinks. Then, to top off the night, head to Jeni's Splendid Ice Creams of Five Daughters Bakery for a sweet treat! 
Kimpton Aerston Nashville is the perfect place to stay for a romantic Valentine's Day getaway. This upscale hotel offers a rooftop pool & bar, terrace dining, and a spa!
Venice, Italy
Recommended by Natalie of Voyage Scribe
Venice, Italy is perhaps the most romantic city in Europe and one that is easy to fall in love with.
Everything about it screams romance: gondola rides on its many canals, stroll across the charming bridges to admire the architecture, and watch the sunset over the Grand Canal and St. Mark's Square being painted with golden hour light.
Venice also has beautiful cafes that have attracted many writers who have visited Venice. These stunning interiors are romantic places to enjoy your loved one's company while soaking in elegance while sipping on some coffee.
And Valentine's Day happens to be a perfect time to visit Venice. Notorious for how crowded it is, February has some of the smallest crowds, lying between the Christmas and Mardi Gras seasons.
If you're up for some exploring, Venice is ideally positioned for a day trip to Verona, located only 1.5 hours away by train. It's supposedly home to the Romeo and Juliet house, and you can step out onto the famous balcony to declare your love (you may recognize the house from the movie Letters to Juliet).
A day is enough to visit Verona, but Venice requires more time. Although a small city, many romantic walks and boat rides are to be had, and plenty of museums and shopping opportunities will keep you occupied for a week.
Venice is spoiled with luxurious and romantic hotels to choose from. But for an affordable option with a private pier and elegant rooms, consider Hotel Ai Reali.
Yellowstone National Park, Wyoming, USA
Recommended by Jess of Unearth The Voyage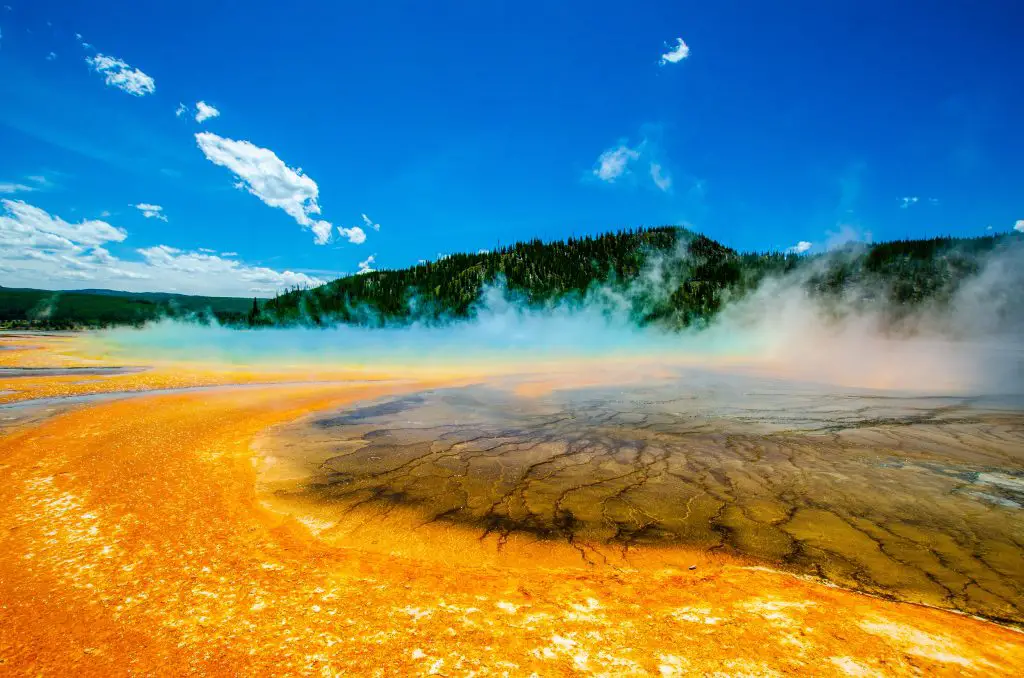 Yellowstone National Park is a perfect destination to visit for Valentine's Day for an adventurous, outdoorsy couple! Yellowstone is really amazing to visit in the wintertime with all the smoking hot springs, gorgeous scenery covered in snow, and far fewer crowds than in the summer months! There are plenty of things to do on your visit to Yellowstone, but we would recommend jumping on a tour to see the highlights of the park. For a romantic day out exploring, bring along a bottle of wine or a warm drink and find a gorgeous viewpoint to stop at and enjoy. 
It's recommended to spend 3-4 days visiting Yellowstone, but you can absolutely see the highlights in just 2 days. If you plan to do lots of hiking or wildlife viewing, you can spend up to a week exploring all the different corners of the park. 
One of the most romantic places to stay near Yellowstone National Park is the Wyoming Inn in Jackson Hole. This hotel is decorated in cozy out west style with a huge stone fireplace, gorgeous wood accents throughout, and big comfy couches to relax in. It would be a perfect place to come back to after a long day out exploring the park.  
New York City, New York, USA
Recommended by Megan of Your Brooklyn Guide
One of the most romantic getaways and best places to go during Valentine's Day is a weekend in New York City. There are tons of romantic date spots in NYC from those quintessential romantic spots in the city you've seen in the movies like taking a stroll in Central Park through Bethesda Terrace to walk the Brooklyn Bridge as well as incredible restaurants with a view, world-class spas, and really cool hotels that make for the most special Valentine's Day trip.
You could spend an entire year in New York City and not see it all, but for a romantic escape around Valentine's Day, you can easily take advantage of a 3 day weekend to a whole week-long trip.
For celebrating Valentine's Day, check out restaurants that have specials or are famous for their romantic setting like The River Cafe in DUMBO with incredible skyline views underneath the Brooklyn Bridge or Tavern on the Green in the heart of Central Park, both of which have a special Valentine's Day menu.
Spend a day at the spa at QCNY Spa on Governor's Island where you and your beaux can soak in a heated outdoor pool looking at the Lower Manhattan skyline.
Or have a romantic day ice skating in Prospect Park, Central Park, or Bryant Park Winter Village together.
Top it all off in a romantic stay at The Langham on Fifth Avenue where you can take a romantic bath for two in their deep soaking bathtubs with a view of the city before dining at the Michelin-star French and Italian restaurant Ai Fiori.
Stanley, Idaho, USA
Recommended by Jessica of Uprooted Traveler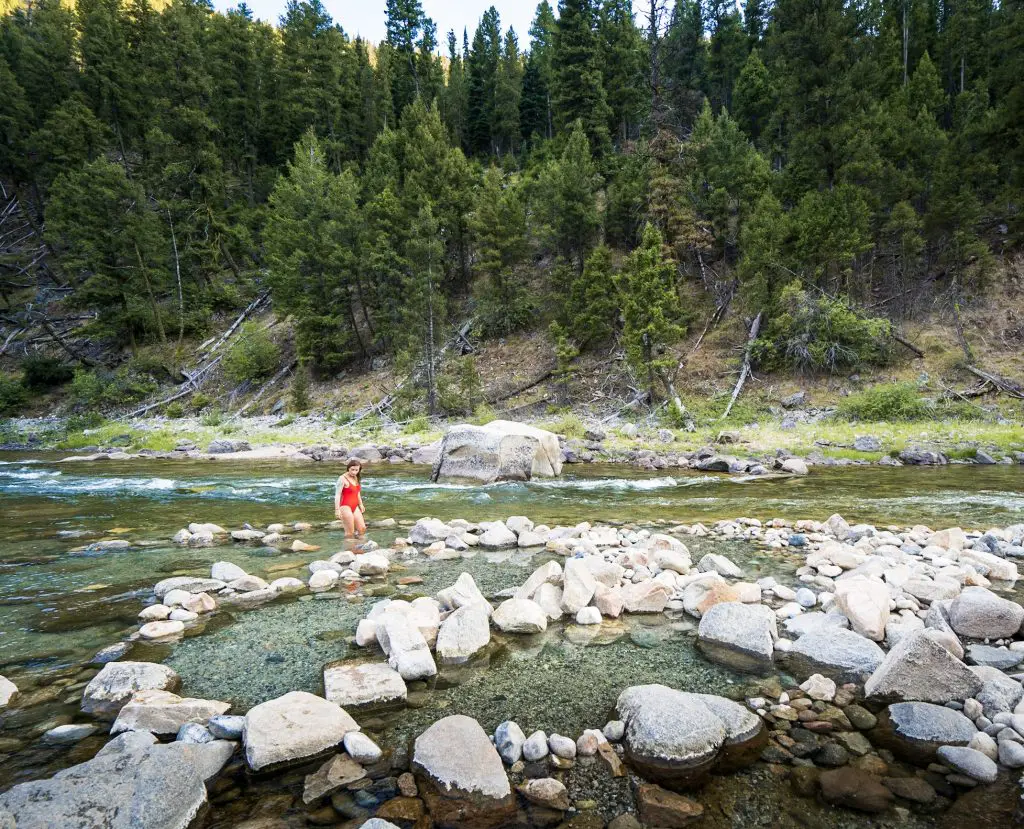 If you're looking for some epic outdoor adventures to experience together, Stanley, Idaho is the perfect wintery getaway. Sitting at the foot of the Sawtooth Mountains, Stanley is the definition of cozy, with a teeny downtown of antique log cabins, a handful of mom-and-pop restaurants, and, usually, lots of snow.
If you're not cuddled up inside, consider heading outside to snowshoe to Redfish Lake, with the stunning views of the surrounding snow-covered pine-tree forests and the jagged Sawtooths as the backdrop. If you two are looking for a more heart-pounding adventure, the Sawtooths are home to some unique mountaintop yurts, specifically designed for backcountry skiers. 
After all that snowshoeing and backcountry skiing, be sure to check out the hot springs in Stanley, like Boatbox Hot Spring, where you can soak in an old mining cauldron along the Salmon River. Relax in the steamy water and plan your next day's adventures, all while taking in the dramatic scenery of the Sawtooth Valley around you.
While you could spend weeks exploring Stanley's outdoors, a weekend is the perfect amount of time for a cozy getaway.
While the Mountain Valley Lodge may not have the most modern furnishing, it has one thing that no other accommodations in town can claim – its very own hot spring. Before heading to bed for the night, you can soak in the Lodge's hot spring, housed in a rustic barn that offers excellent views of the Sawtooths.
Barcelona, Spain
Recommended by Claire of Why Visit Barcelona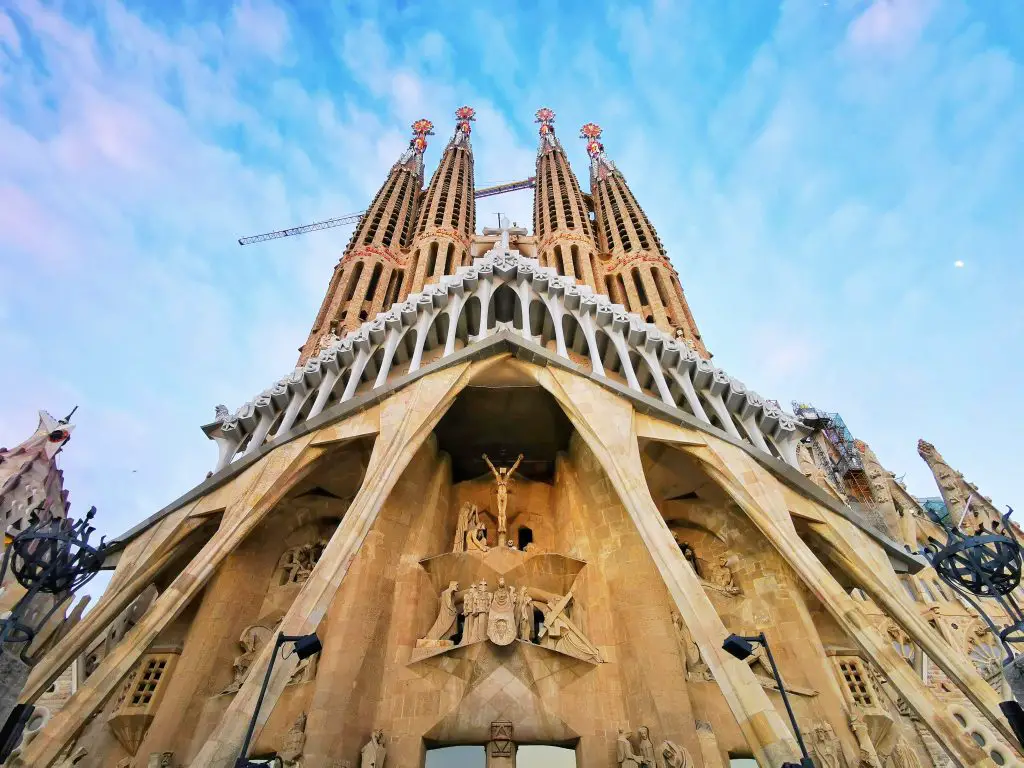 Barcelona is one of the most romantic cities in the world, and a wonderful destination for Valentine's Day.  There are lots of romantic things to do in Barcelona with your partner The narrow streets of the Gothic Quarter and El Born are perfect for wandering, where you can find independent boutiques, cosy bars, and pretty squares to discover.
Head down to the beach with a picnic – it won't be warm enough for a swim in February but on a sunny day there is no better place to be.  Alternatively, head up to Park Guell or the Bunkers at El Carmel for spectacular views of the city, especially as the sun goes down.
You could easily spend a week in Barcelona and not do everything, but with a (long) weekend you'll be able to see the highlights, such as the iconic Sagrada Familia Cathedral, more of Gaudí's works such as Casa Batlló and Park Guell, and La Boqueria Market.
In the evenings, share tapas together then stroll around the Old Town and have a couple of drinks in a cocktail bar, or head to one of the rooftop bars in Barcelona to enjoy a view of the city as darkness falls.
Book a room at Sercotel Hotel Rosellon with views of the Sagrada Familia from your bedroom, there is no better way to wake up together than face to face with this beautiful monument.
Dubai, United Arab Emirates
Recommended by Ossama of Awesome Traveler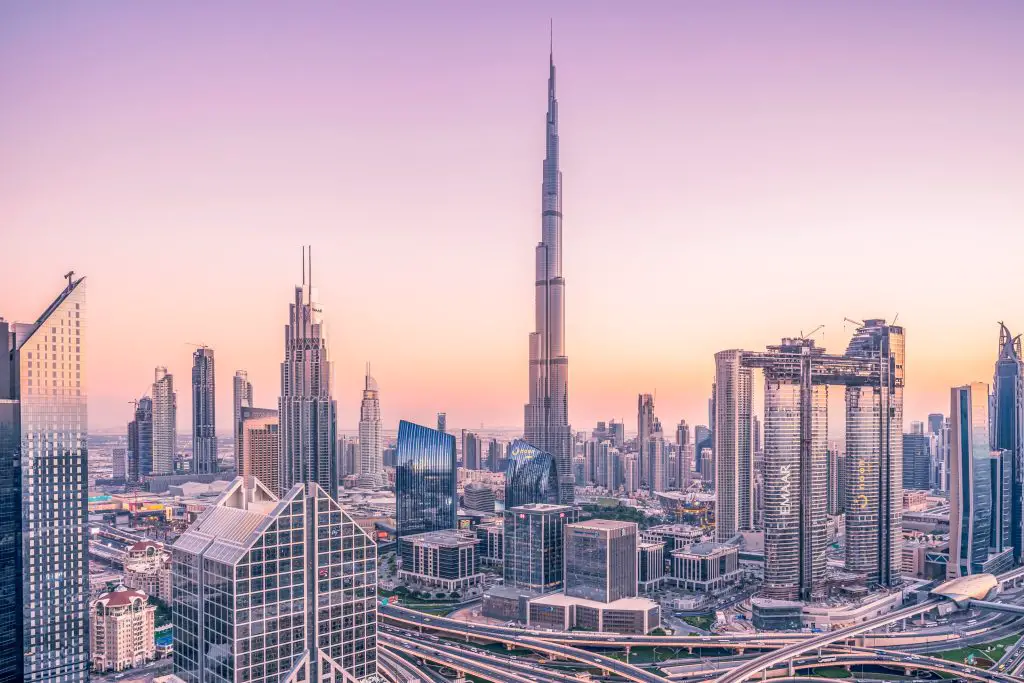 Dubai is one of the places that people escape for a romantic getaway. You can visit this country for Valentine's and escape the hustle and bustle of a busy life. For instance, visiting the islands of the world in Dubai can relieve all your worries and anxiety. It sure can be a trip of a lifetime, so do not miss the opportunity to visit it.
The Dubai Islands are artificially created to resemble the shape of all countries in the world. Currently, it is still under contraction, but only a few islands are inhabitable. To be exact, there are 8 islands that are fully constructed. Among them, the Lebanon Island, Pete's Island, and other 6 more. The rest are still under development.
In the heart of Europe Island, they are making artificially rainy streets that are surrounded by hotels, resorts, café, restaurants, shop areas, and a lot more. The atmosphere would be like Europe where every European can call it home. It is a place where you can experience European culture, festivals, and cuisine.
Another romantic thing you can do in Dubai is go up to the Burj Khalifa observation deck. The views are truly impressive, as you could expect from the tallest building in the world. You can buy the tickets online beforehand to skip the lines. If you plan your visit at the right time, you might be able to even see one of the famous light shows from above.
---
---