Some of the links in this post are affiliate links. This means if you click on the link and purchase the item, I will receive an affiliate commission at no extra cost to you. All opinions remain my own.
Colorado is known for its beautiful Rocky Mountains, and while that is a big draw for visitors, the state has much more to offer. From the vibrant city of Denver to charming small towns, there are plenty of places in Colorado that are worth visiting. Here are some of the most beautiful cities in Colorado.
Denver
Recommended by Lindsey Puls of Have Clothes, Will Travel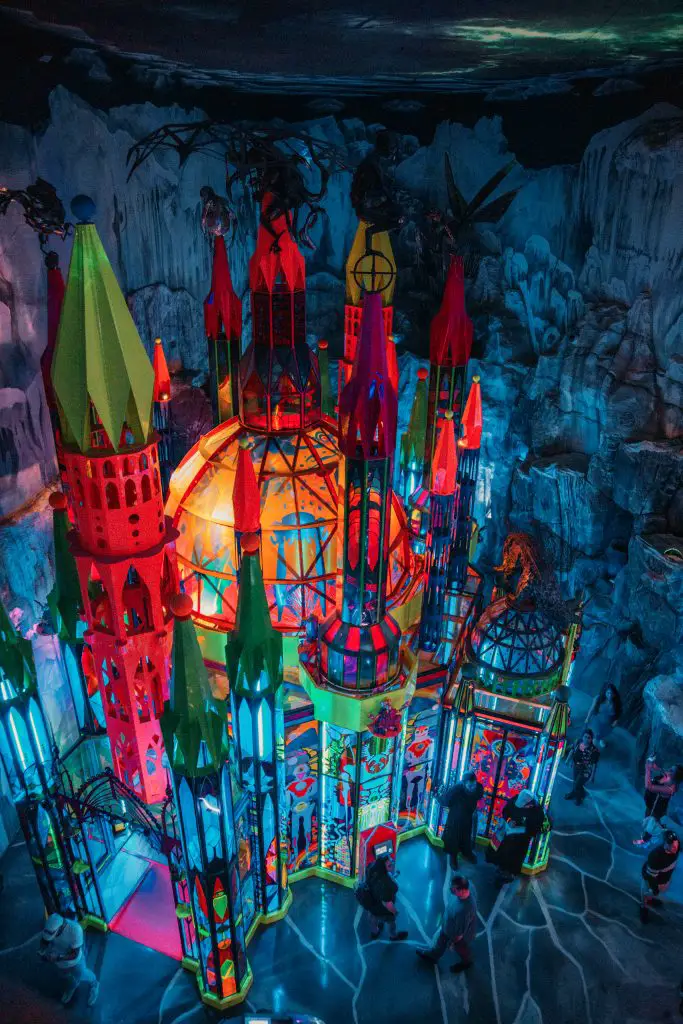 Denver is a must-visit when you're in Colorado. This beautiful city features fantastic dining and craft beer, with friendly locals and incredible entertainment.
One of the quirkiest and coolest things to experience in Denver is Meow Wolf Denver | Convergence Station. It's a bit hard to explain this one, as you have to experience it to really understand. It's a permanent art exhibit that is interactive and features a story you can follow too. It's quite the experience and deserves to be on your Denver itinerary!
Going to see a show at Red Rocks Amphitheatre is a bucket list experience not to be missed! Even if you can't get tickets to a show, just going to Red Rocks to see and experience it is worth it.
Exploring Union Station is another must-do. It's located right in downtown Denver and is a gorgeous train station that has 10 fabulous restaurants and bars, as well as cute boutiques and the lovely Crawford Hotel.
The Crawford is a great hotel to stay at, and the Le Méridien Denver Downtown is in a good location as well. The rooms are no frill and quite small, but  Le Méridien has an awesome rooftop bar, as well as an amazing restaurant downstairs called Corinne. Breakfast at Corinne is included in your room rate and it so beyond amazing. Plus, you can use your Marriott points at Le Méridien.
Colorado Springs
Recommended by Theresa of The Local Tourist
Colorado Springs is one of the most gorgeous cities in the country, let alone in Colorado. It's sitting at the base of the Front Range, where the mountains meet the plains, which is magnificent. Pikes Peak stands in purple mountain majesty high above the city. America's Mountain is definitely one of the most iconic reasons to visit this city, and riding the Pikes Peak Cog Railway to the top is an elevating experience.
Back in the town itself, visit the Garden of the Gods. This free city park protects 1,367 acres filled with jutting red rocks. Explore the park via its fifteen miles of trails and don't miss the Visitor Center or the historic Trading Post.
Another attraction that makes Colorado Springs a must-visit is the Cheyenne Mountain Zoo. Perched on the side of a mountain at over 6700 feet above sea level, it's the highest zoo in the country. While there, you can feed a giraffe. Fun fact: this zoo has the largest herd of giraffes on the continent.
If you're going to stay in Colorado Springs, then treat yourself to at least one night at the Broadmoor Hotel. This iconic resort is picture-perfect and was founded by one of the major movers and shakers in the town's past. While there, have lunch at the Golden Bee, and don't miss the free carriage museum.
Boulder
Recommended by Amber of Amber Everywhere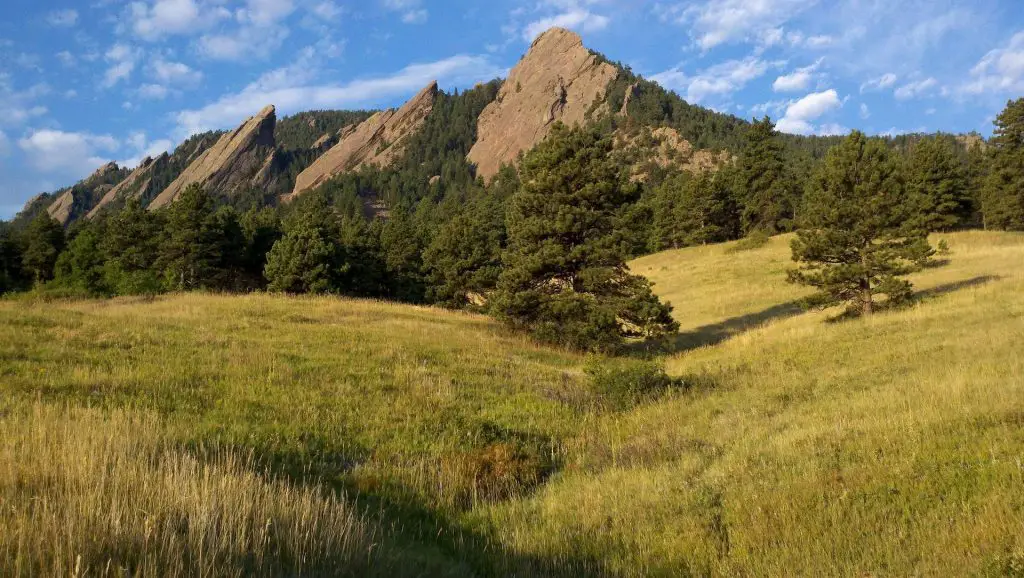 Boulder, Colorado is a beautiful city, known for its liberal locals, stunning mountain views, and large public university, the University of Colorado Boulder. When you're visiting Boulder, you can't miss walking along Boulder Creek, a small river that runs east of the mountains. On a hot summer day, you'll see locals and college students riding big inner tubes over small rapids or lazing the calmer sections. 
Be sure to go for a hike in the iconic Flatirons, or just wander through Chautauqua, the grassy park at the base of the mountain. If you drive a block or two north of Chautauqua, you can typically find free street parking in the residential areas. 
Finally, no visit to Boulder is complete without a stroll along Pearl Street, the open-air mall in the center of the city. There are shops, cafes, restaurants, breweries, and boutiques all along Pearl Street, perfect for a long afternoon of shopping and snacking. Be sure to walk a few blocks over to see the Boulder Dushanbe Teahouse before you leave; it's a local landmark with stunning tilework and an interesting backstory. 
If you happen to be in Boulder on a particularly snowy day – one where at least six inches of snow has fallen overnight – watch out your window for people cross-country skiing along the streets and sidewalks.
If you're looking for a historic and exciting place to stay in Boulder, the Hotel Boulderado is in a great location just north of the Pearl Street Mall. The rooms are comfortable and the lobby is beautiful, with a few quirky touches here and there to add some intrigue.
Aspen
Recommended by Anwar of Beyond my Door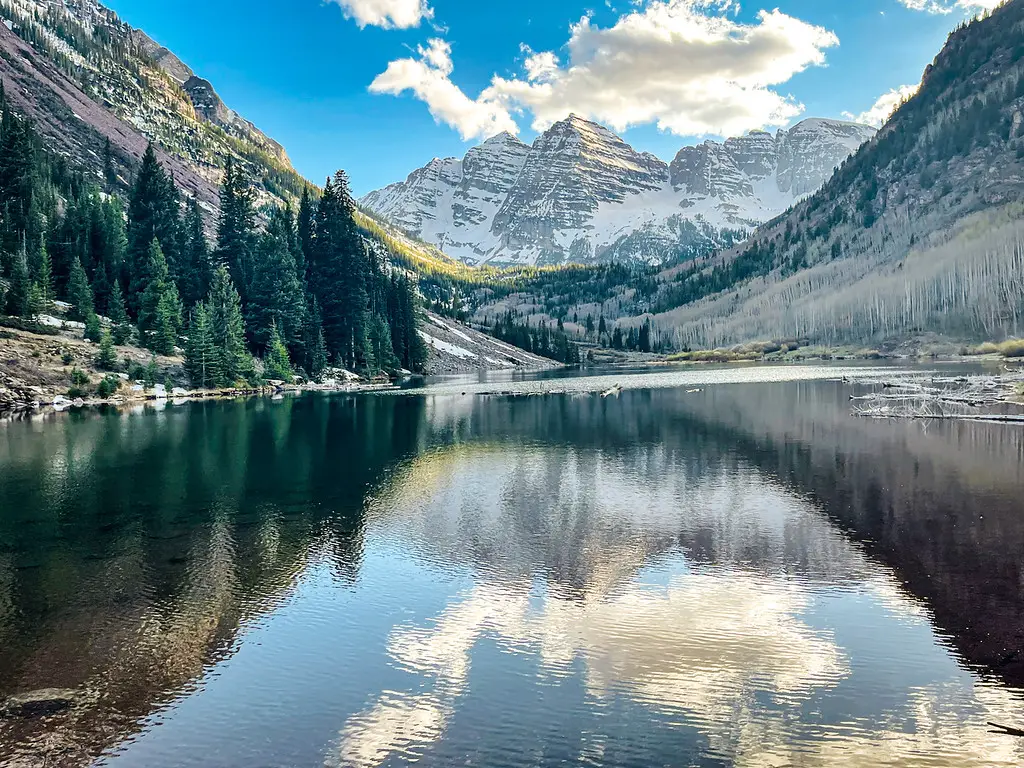 Aspen Colorado is rich in some of the most incredible scenery in Colorado, with incredible skiing, food, hiking, and more.  
One of the most picturesque places, Maroon Bells is actually the poster picture for Colorado (adorning many Colorado Tourism advertisements). Exploring Maroon Bells is perfect for Spring through Autumn with incredible trails, alpine lakes, and more. Visitors can even continue on multi-day hikes that connect large swaths of Colorado wilderness.
Aspen is most famous for its world-class skiing across the various peaks of the Aspen-Snowmass Ski Area. From the legendary bowls in the Aspen Highlands to the blues and black of Snowmass, there's something for everyone across 5,500 skiable acres.
Downtown Aspen is the perfect place to wander, and explore. From world-class dining options to quirky shops, there are lots to see and do in the town. Aspen, unlike many other ski towns, has a lived-in city feel and downtown that's compact and easily walkable. Be sure to check out the various art galleries in town as well. 
There are also quirky and interesting ghost towns in the area located outside of Aspen proper. Easily visited during times of good weather, visitors can take themselves on self-guided tours. Independence Ghost Town is open until Independence Pass closes and Ashcroft Ghost Town is accessible year-round off Castle Creek Road.  
The cute St. Moritz Lodge is well located within Aspen and has options for many different budgets. In a city that's very expensive, it offers one of the best deals in town. 
Fort Collins
Recommended by Kassidy of The Hiking Helper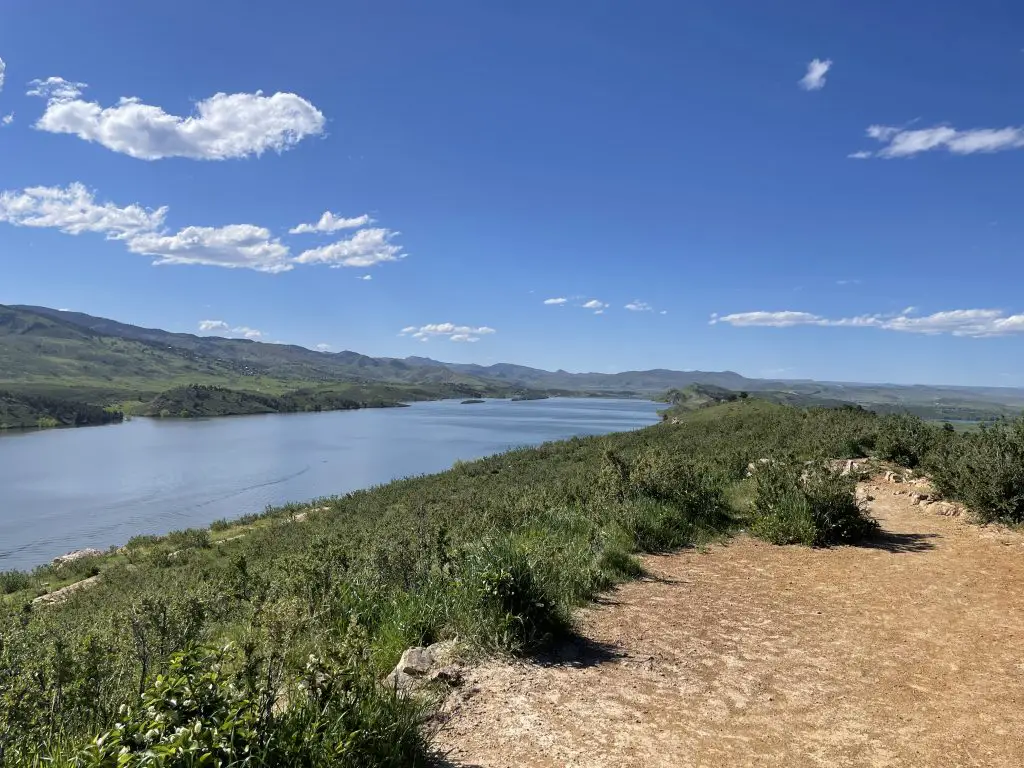 Located just over an hour north of the capital city of Denver, you'll find the beautiful town of Fort Collins. Being located in Colorado, there are plenty of activities to keep everyone buddy.
One of the most popular things to do in Fort Collins is to head Downtown and check out the well-preserved historic area. Dine at one of the over 80 restaurants that range from food trucks to specialized worldly options. One of the best options is the Rainbow Restaurant.
Fort Collins also has over 20 breweries, so if you love craft brews, there is bound to be somewhere that you can stop and enjoy a drink.
If you've ever been to Disneyland, you might recognize the main street, as Disney modeled theirs after Fort Collins.
After you've grabbed something to eat, head on over to Horsetooth Reservoir. This 6.5-mile-long reservoir is named for a unique rock formation that looks like a set of horse's teeth and is a popular location for outdoor recreation including going for a hike.
Another popular activity is to take a ride on the Fort Collins Trolley, which you can ride from the City Park to Old Town in the summer and fall months.
If you have a few hours to drive, you may even consider driving the hour to go for a hike or view the mountains in Rocky Mountain National Park.
Something special about visiting Fort Collins is experiencing all of the activities that are happening in downtown during the different seasons. From Christmas lights during the holidays to art and food walks throughout the year, there is always something to do.
When it's time to call it a night, book a stay at the Edwards House because it offers beautiful accommodations, delicious breakfast, and complimentary bike rentals to explore downtown.
Grand Junction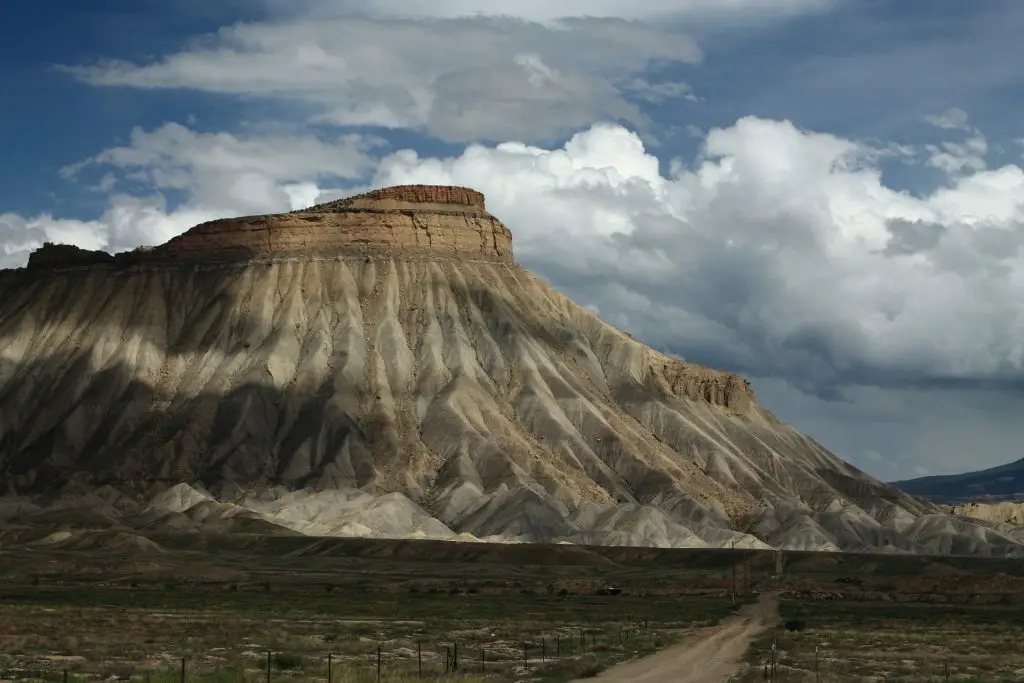 Grand Junction is a beautiful place to visit, with plenty of things to see and do. Here are three of the best ways to take in the sights of this lovely city and its surroundings.
Take a stroll in Downtown Grand Junction. It is the perfect place to people-watch and soak up the unique atmosphere of Grand Junction. There are plenty of shops, art galleries, music venues, and cafes to explore, and the streets are lined with beautiful trees and flowers.
Visit Colorado National Monument. Colorado National Monument is a must-see for any nature lover. The monument offers stunning views of the surrounding canyonlands, as well as hiking trails, picnicking areas, and wildlife-watching opportunities.
Take a scenic drive. Grand Junction is surrounded by majestic mountains and picturesque valleys, making it the perfect place for a scenic drive. You can try out the roads along Mt Garfield to see a different direction from the Grand Junction. There are numerous routes to choose from, so you can tailor your drive to your interests. Whether you want to view towering peaks or meander through winding roads, a scenic drive from Grand Junction is sure to please.
Estes Park
Recommended by Meg of Fox in the Forest
If you're looking for one of the most beautiful cities in Colorado then you cannot beat Estes Park. 
After all, this is one of the most quaint and picturesque mountain towns in Colorado that is home to Rocky Mountain National Park. 
So, start your visit with a trip to this stunning place – a natural oasis known for being the country's fourth most visited national park. 
While you're here, take a scenic drive along the iconic Trail Ridge Road before conquering popular hikes like Bear Lake, Prospect Mountain, Sprague Lake, and Dream Lake.
If you can, don't miss Emerald Lake since it is one of the most beautiful alpine lakes in Colorado. Also, try to get here early so that you can watch the sunrise and beat the crowds. After all, most trails in the park fill up fast and you'll need to get up well before dawn to have the place to yourself. 
Afterward, enjoy stunning panoramas of the area from the Aerial Tramway before doing a bit of white water rafting on the Colorado River. 
And if you're not sure where to stay, you can't beat The Stanley Hotel. Not only are accommodations lavish but there is a full hedge maze that you might remember since this famous hotel was featured in the classic movie The Shining. As a result, a stay here is easily one of the best things to do in Estes Park.
Ouray
Recommended by David & Intan of The World Travel Guy
The town of Ouray is one of Colorado's most scenic mountain towns. Located in the San Juan Mountains of southwest Colorado, it's been nicknamed the 'Switzerland of America.'
There are lots of great things to do and see near Ouray. You can visit the Box Canyon Falls, drive a Jeep up to Yankee Boy Basin, or hike the scenic Blue Lakes Trail in Colorado, which is located just 1 hour from Ouray.
One of the most popular attractions near Ouray is the Million Dollar Highway, a road that was named for its stunning 'million dollars' scenery, stretching all the way from Ouray to Silverton. Along the way, you can also stop and see Bear Creek Falls and other sights by the road. It's one of the best scenic drives in the United States.
One of the best quirky features of Ouray would have to be the geothermal hot springs. These are natural hot springs, and you can swim in them! They've been a popular feature of Ouray for decades.
If you're looking for places to stay in Ouray, one great hotel option is the Box Canyon Lodge & Hot Springs. The rooms are comfortable and they have natural hot spring hot tubs. Plus it's only a short walk from the main street of Ouray!
Montrose
Recommended by Francesca of Homeroom Travel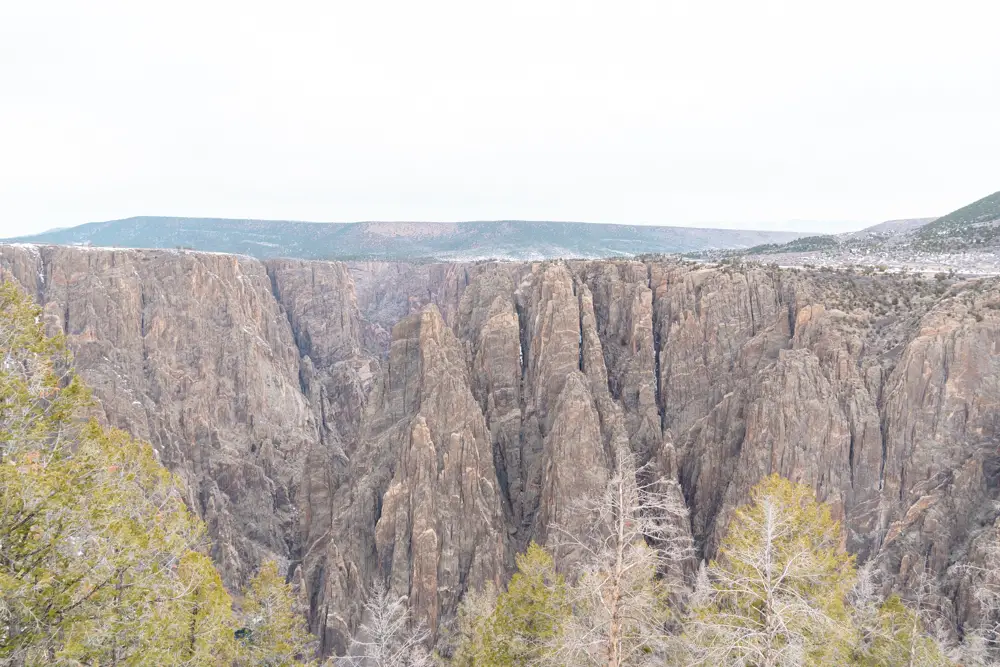 Montrose is one of the most beautiful cities in Colorado. It is located in Western Colorado and has a small airport. You can also choose to fly into Denver or Moab, but it is a bit of a drive from those places. The Hampton Inn Montrose is a great place to stay as it is centrally located and budget-friendly. 
The number one attraction in Montrose is the Black Canyon of the Gunnison National Park. The South Rim of this National Park is a short drive from the city center. You can visit it any time of the year, but a lot of the park is shut down in the wintertime. However, you are able to cross-country ski and snowshoe in the park during that time. 
Make sure not to miss Gunnison Point and South Rim Road. Along the South Rim Road are a plethora of viewpoints to stop at. The Rim Rock Trail is also an easy trail to hike during your time in the park. 
Montrose also contains several fun museums to visit during your stay. These include the Ute Indian Museum, the Museum of the Mountain West, and the Montrose County Historical Museum. 
When looking for a place to eat, grab dinner at Fiesta Guadalajara for some delicious Mexican food and a brew from Horsefly Brewing Company. Across the street from the brewery is also a speakeasy, Phelanies, if you can figure out the password!
Morrison
Recommended by Michelle of Moyermemoirs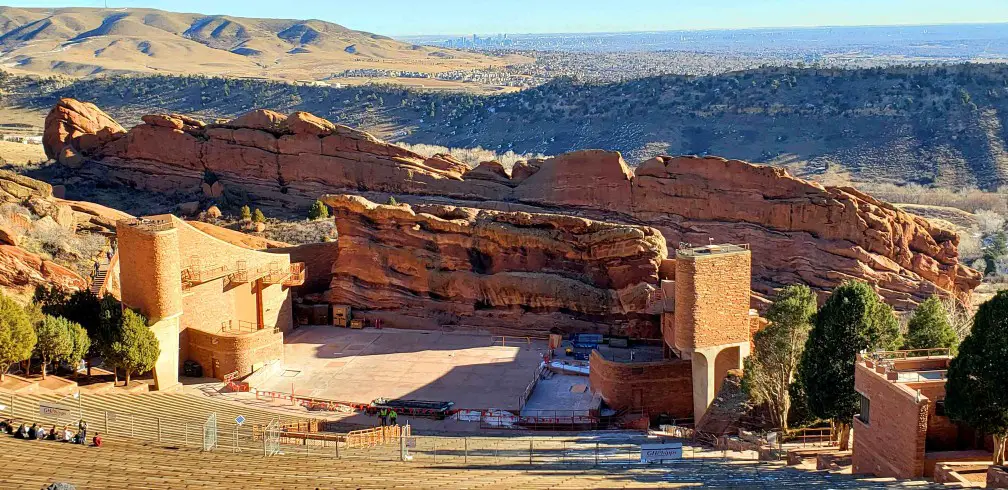 Morrison is one of the most beautiful cities in Colorado. Red Rocks Amphitheatre is an open-air amphitheater built into the red rock formations in Morrison, 15 miles from Denver, Colorado.  The amphitheater is a concert venue, a spectacular park, and a natural history museum all in one place. 
This beautiful amphitheater is open all year from dawn until dusk. Red Rocks Amphitheatre hiking trails are a great way to see the area and the red rock landscape. The hiking trails are free and zig zag around all the red rock formations around the park.
The live concert events or yoga classes during the year are a great way to witness an event on one of the most unique stages in the world. The amphitheater is surrounded by huge red rocks on three sides and a view of the landscape and the city of Denver in the distance on the fourth side.
The amphitheater also contains a small history museum.  Contained in the surrounding red rocks are fossils of serpents, dinosaurs, and flying reptiles from bygone millennia.   
For even more history education, Dinosaur Ridge is also in Morrison.  It is a family-oriented site that contains exhibits and activities about the dinosaur era.
Tiny Town is a great stop to run off steam in Morrison for those with littles. They will be able to use their vivid imaginations to create fun scenarios in the tiny town replicas of the miniature old buildings.
The best way to see everything in Morrison is during a day trip from Denver, only a short ½-hour drive away.  Stay at one of the many hotels in downtown Denver in order to enjoy the activities in the city and then take a side trip to explore Red Rock Amphitheatre and the beautiful Colorado city of Morrison. 
Crested Butte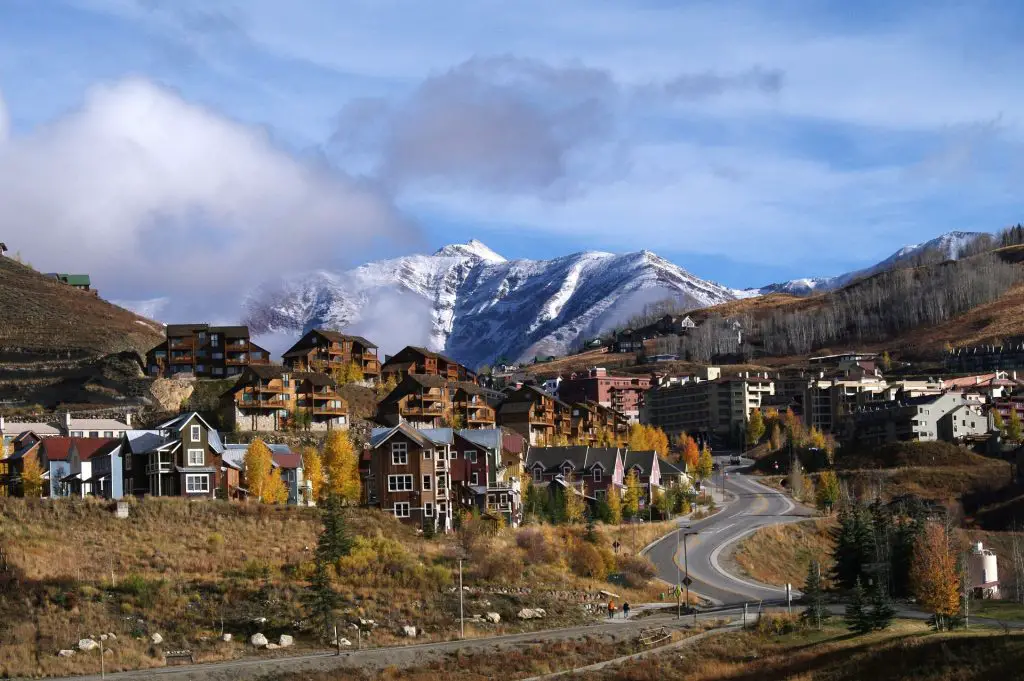 In the Rocky Mountains, you'll find the charming Crested Butte town. It's surrounded by high peaks and is known among winter sports enthusiasts as a great place for skiing. But there are more things to do when you are visiting this magical town.
Visit the Crested Butte's National Historic District along Elk Avenue: Crested Butte's historic downtown is just as beautiful as its natural surroundings. The Victorian-era buildings have been lovingly restored, and there are plenty of cute shops and restaurants to explore. Strolling through the historic district is a great way to experience Crested Butte's unique charms.
Hike or bike Mt. Crested Butte: The mountain towering over Crested Butte is undeniably beautiful, and there are plenty of trails crisscrossing its slopes to explore. You can hike or bike to the summit for 360-degree views of the surrounding area. Just be sure to pack plenty of water and snacks, as it's a long way up!
Take a scenic drive: If you don't feel like hiking or biking, you can still enjoy the views from the comfort of your car. Crested Butte is surrounded by stunning alpine scenery, and there are several scenic drives that wind through the area. Be sure to stop at some of the overlooks to really take in the views.
Nederland
Recommended by Kara of Trying to Unwind
Nederland Colorado is a laid-back mountain town nestled between Boulder and Denver. It is a beautiful destination for epic Colorado scenery without the pretentious prices.  
Ned, as it's known by locals, flaunts its quirk.  Bumper stickers around town proudly encourage everyone to "Keep Ned Weird". 
You won't find boutique-lined streets like Telluride. But you will find small shops selling unique local art.  Most shops also have a selection of pre-owned items making Nederland a treasure hunter's dream.
The top 3 things to do in Nederland Colorado are: hike to Lost Lake, ride the Carousel of Happiness and gawk at the Frozen Dead guy while enjoying downtown Nederland. 
Lost Lake offers majestic lake views for day hikers or quiet secluded primitive camping for overnight guests.   The trail is easily accessible from Nederland.  Plus the town offers a free weekend trailhead shuttle to alleviate parking headaches.
The Carousel of Happiness is not just another carousel.  It is the living embodiment of a Vietnam veteran's battlefield commitment.  While in Nederland, don't miss the chance to see the completely hand-carved masterpiece that took decades to complete.
Finally, a trip to Nederland would be incomplete without a visit to the Frozen Dead guy.  The story is a bit odd which seems right at home in Nederland. 
In short, a local decided to permanently store their grandfather's dead body on ice.  Authorities got involved, the national media was alerted and a whole Frozen Dead Guy culture formed including an annual festival.
To really get the feel of Nederland, you'll need to forgo a nearby Boulder hotel and rent a cabin like this one just steps from downtown. Thorpe on the Water is a creek-side house with a hot tub and room for the whole family for the same price as a hotel room.
Glenwood Springs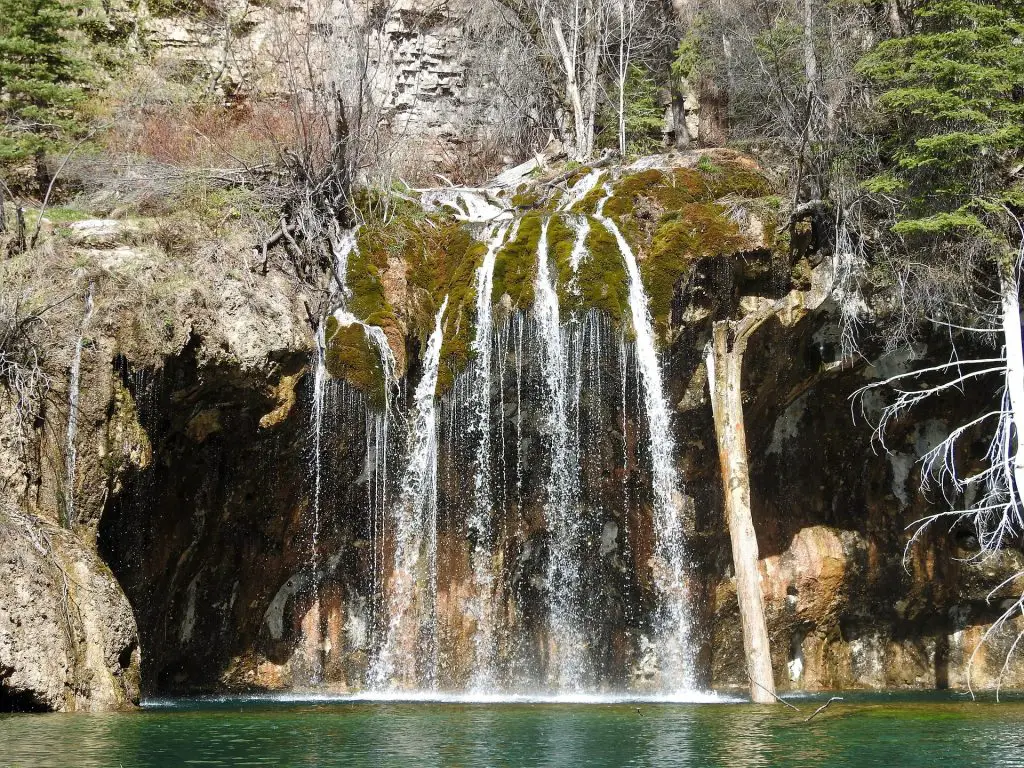 Looking for a breathtaking way to spend your days off? Glenwood Springs has got you covered! Here are some of the best ways to take in the natural beauty of this lovely town and its surroundings.
Soak in the sun at one of Glenwood's world-famous hot springs. With its soothing mineral waters, Glenwood is the perfect place to relax and rejuvenate. Plus, there's nothing quite like soaking in spring with views of the Rocky Mountains! Check out Glenwood Hot Springs Resort or some other hotel with a hot springs pool.
Hike to the Hanging Lake. 7 miles east of Glenwood Springs, it is one of the most popular hiking destinations in Colorado, and for good reason. The lake is located in a stunning canyon, and the trail offers views of waterfalls, cliffs, and wildflowers. The hike to Hanging Lake is relatively short, but it is strenuous, so make sure to wear comfortable shoes, use sunscreen, and bring plenty of water. You will also need a reservation and a permit to hike to the lake, which you can obtain here. Once you reach Hanging Lake, you will be rewarded with beautiful views. Just be careful not to disturb the delicate ecosystem of this special place!
Visit the Historic Fairy Caves. These caves are located just outside of Glenwood Springs and they are truly a sight to behold. The caves are covered in delicate calcite crystals. You can take a 40-minute walking tour to see this natural wonder.
Breckenridge
Recommended by Sierra of Island + Alpine
Breckenridge is a beautiful mountain city in Colorado filled with gorgeous views, hiking trails, tasty restaurants, and plenty of outdoor activities in all seasons.
Active visitors will love skiing and snowboarding at Breckenridge Resort. With almost 3000 acres of skiable terrain, there are plenty of trails for all ski levels. Peak 8 provides amazing views above the treeline at over 12K feet elevation. Sledding and snowshoeing are also available.
If you visit in the other seasons, you will still love taking the free BreckConnect Gondola up to the top of Peak 8. The scenic views can't be beaten, and activities abound once you reach the top. Ride the Alpine Slide for a thrill ride down the mountain or mine for gold for a calmer activity.
Visit Main Street for cookies from Mountain Top Cookie Shop, Ollie's for happy hour, and Tin Plate for pizza. Souvenir shops, an informative Visitor's Center, and a beautiful plaza along the Blue River. Don't miss the Breckenridge Troll! This unique work of art is made of natural materials and is easily accessed by just a short trail located by the Illinois Gulch Trailhead.
Insider Tip: The town is filled with easy, short hikes that start downtown and offer incredible scenery. If you visit Breckenridge in the summer, check out the Iowa Hill Trail for wildflowers, a lush, green trail, and fascinating plaques and artifacts showing Breck's mining history.
Visitors will enjoy staying at the Hyatt Residence Club Breckenridge at Main Street Station. The location is centrally located to everything, the views can't be beaten, and the pool and hot tubs will be welcome after a long day of exploring.
Steamboat Springs
Recommended by Morgan of The Home That Roams
Located 3-hours northwest of Denver, Steamboat Springs is one of the most gorgeous towns in the west. From its charming downtown atmosphere to the free-flowing Yampa River, this place became a community long before a world-class ski resort made its home here.
To experience the natural beauty of Steamboat, get on the hiking trails, many of which have unique features. 
Mad Creek Trail is home to a 1906 restored homestead to explore. 
Take in the views of a 280-foot waterfall on the Fish Creek Falls Trail. Hike further up for a cool dip in the more secluded second falls. 
Devil's Causeway, outside of town, features a 4-foot wide ledge with 1,000-foot drops on either side. Talk about an adrenaline rush!  
Steamboat is known for its water activities, from lakes to waterfalls to the Yampa River. However, something not to miss is the all-natural hot springs.
Downtown, grab a soak at the Old Town Hot Springs pools, where you can also enjoy a ride on the waterslides. 
Experience a more natural setting at Strawberry Park Hot Springs. For a truly unique summer adventure, hike to these remote springs via the Hot Springs Trail. (Note: Strawberry Park requires reservations and a four-wheel drive vehicle to access. Also, clothing is optional after dark.) 
Steamboat Ski Area is a must-stop, no matter the season. In winter, enjoy skiing day or night. The mountain base area has undergone a massive reconstruction recently, making it one of the premier ski areas in North America. During summer, the mountain is open for hiking, biking, and kids' activities, including Burgess Creek Beach, for an afternoon of splashing around.
When visiting The 'Boat, the Holiday Inn is a great lodging option any time of year. The hotel is in a good location close to the ski area and on the free bus route, it's relatively affordable, and boasts excellent customer service.
Manitou Springs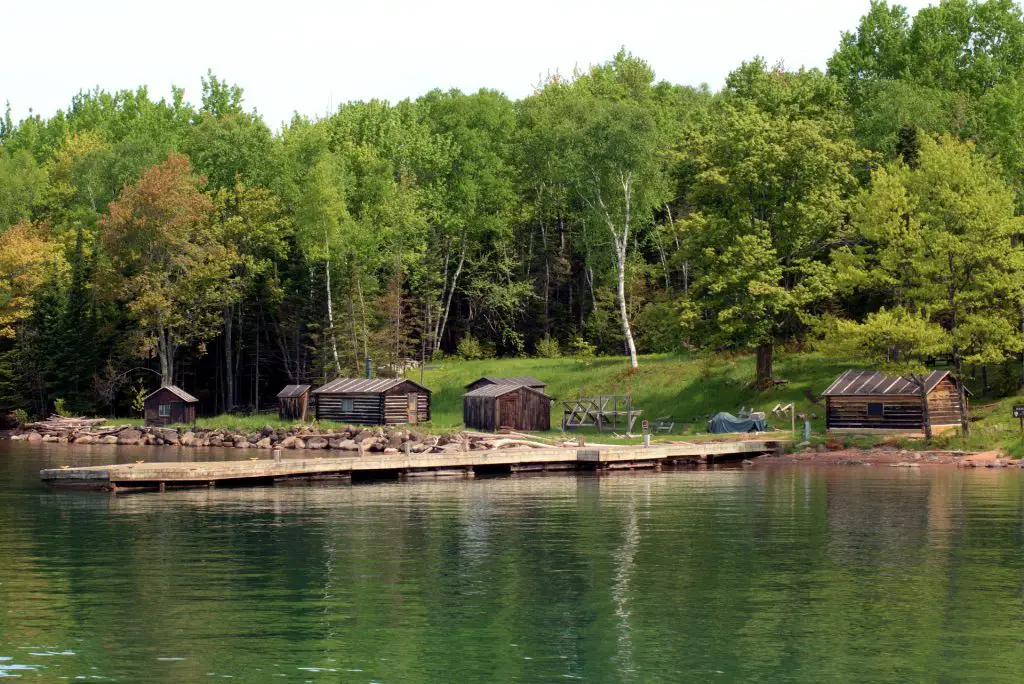 Manitou Springs is a picturesque town nestled at the base of Pikes Peak. With its charming Victorian homes and quaint shops, Manitou Springs is the perfect place to get away from the hustle and bustle of city life. Here are three things you can do to appreciate the beauty of this special place.
Take a stroll down Manitou Avenue, the main street lined with historic buildings dating back to the 1870s. There are also plenty of shops and cafes along the way to enjoy.
Hike up Manitou Incline Trail. It ascends the eastern flank of Pikes Peak and offers panoramic views of the valley below.
Take a sip in one of Manitou Springs' mineral springs. The town is home to eight different springs, each with its own unique properties said to have health benefits. You can take a self-guided tour and visit all of the springs on your own.
Cripple Creek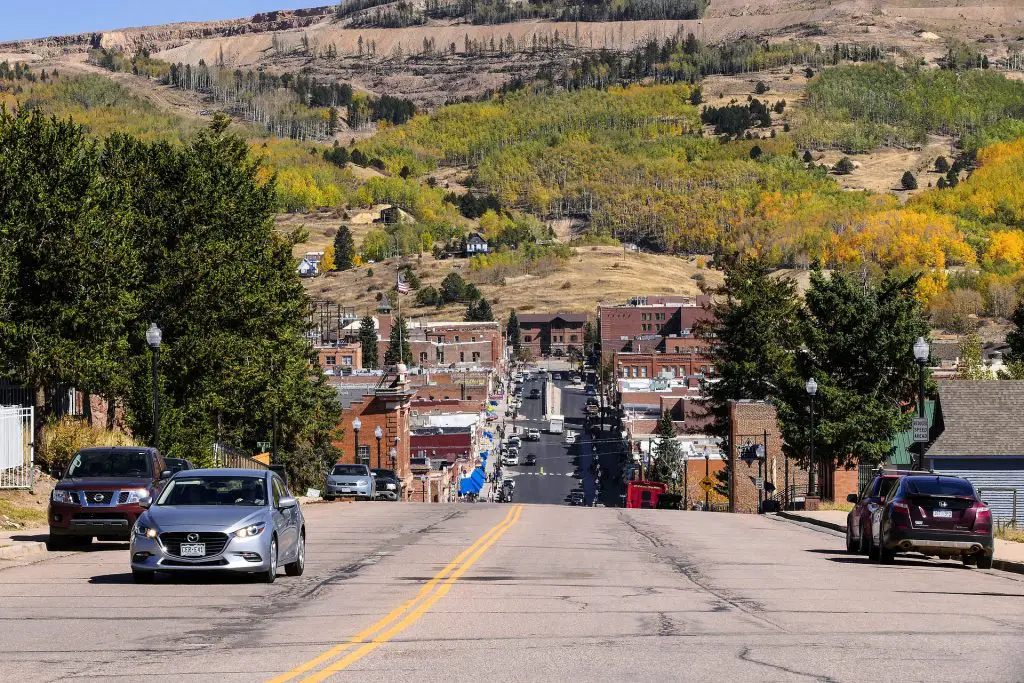 If you're looking for a little bit of history and a lot of natural beauty, then Cripple Creek is the place for you. This small town in Colorado is home to some of the most stunning scenery in the state. Here are some things you can do to take in the sights.
Take a drive on the Cripple Creek & Victor Narrow Gauge Railroad. This historic train will take you through some of the most beautiful countrysides in Cripple Creek. You'll see towering peaks, pristine valleys, and even some wildlife along the way. Check here if the railroad is open for the season!
Tour the Cripple Creek Heritage Center. This museum is dedicated to preserving the history of Cripple Creek and the surrounding area. You'll learn about the town's mining past, see artifacts from its heyday, and get an up-close look at how life was lived in this small Colorado town.
Just a 30-minute drive away from Cripple Creek, you can venture into Mueller State Park. This 5,112-acre state park is a nature lover's paradise. Hike through meadows full of wildflowers, go fishing in one of the many lakes, or simply enjoy a picnic lunch surrounded by breathtaking views. There are horseback-riding trails and camping opportunities.
---
Travel tips and tricks:
I highly recommend trying these tools for yourself – not only will you save money, but you'll also create memories that last a lifetime. Happy travels!
---