Some of the links in this post are affiliate links. This means if you click on the link and purchase the item, I will receive an affiliate commission at no extra cost to you. All opinions remain my own.
Texas is home to some of the most beautiful cities in the country. From big, bustling metropolises to charming small towns, there's something for everyone in the Lone Star State.
So if you're looking for a change of scenery, why not check out one of Texas' most picturesque spots? Here are just a few of our favorites.
San Antonio
Recommended by Victoria of Texas Travel 365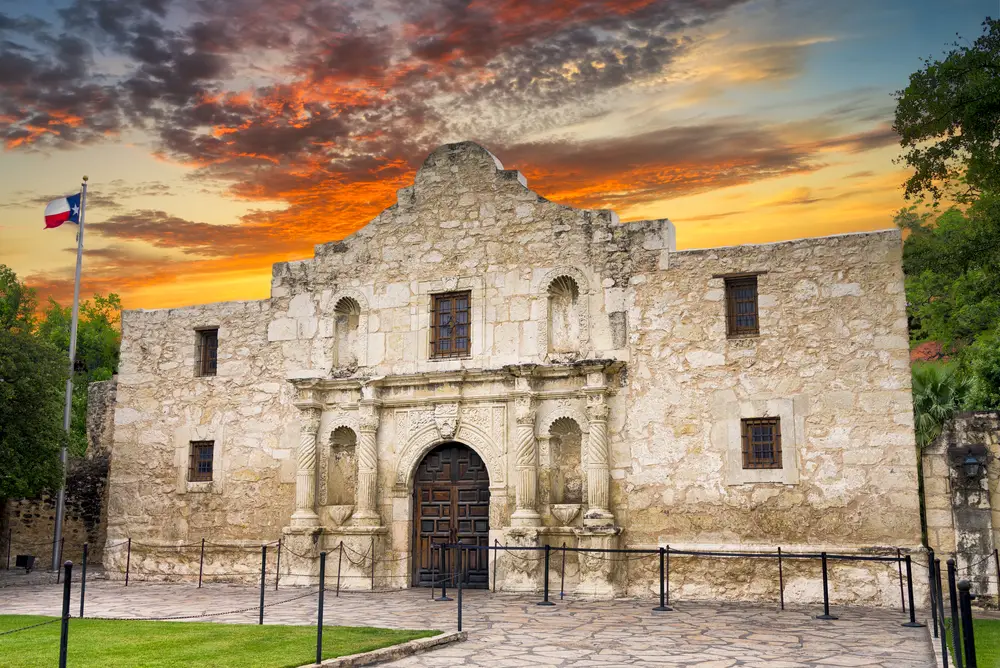 Easily one of the most beautiful cities in Texas. San Antonio is a vibrant metropolis in the south-central part of the state. 
It oozes beauty and charm with a wealth of Spanish-colonial buildings that elude to the state's intense history with Mexico. 
There's also the picturesque, 15-mile-long riverwalk that adds to the picturesque feel of this place. 
So, if you're looking for some of the best things to do in San Antonio, start with a stroll along the tree-lined riverwalk. Take in the waterside views, go for a cruise, and stop for a drink at Esquire Tavern since it is the oldest bar on the walk and was first opened in 1933. 
Next, grab some delicious food at The Buckhorn Saloon, an iconic place where Teddy Roosevelt recruited Rough Riders and where Pancho Villa is thought to have plotted out the Mexican Revolution.
Afterward, learn about the fascinating history of the Texas Rangers at the nearby Texas Ranger Museum before checking out the Alamo. It's a local Spanish Mission that is immortal for its involvement in the 1836 battle for Texa's Independence from Mexico. 
And while it is the most famous Spanish Mission in San Antonio it is not the only one you can see since there are a total of five in the city that you can visit along The Mission Trails hike. 
Then, spend the night inside the exquisite Hyatt Regency on the San Antonio Riverwalk. It's a fabulous 4-star hotel with a pool and spa that you will love. The Q Kitchen Bar is also a perfect place to try some authentic Texas bbq.
Fredericksburg
Recommended by Candice of CS Ginger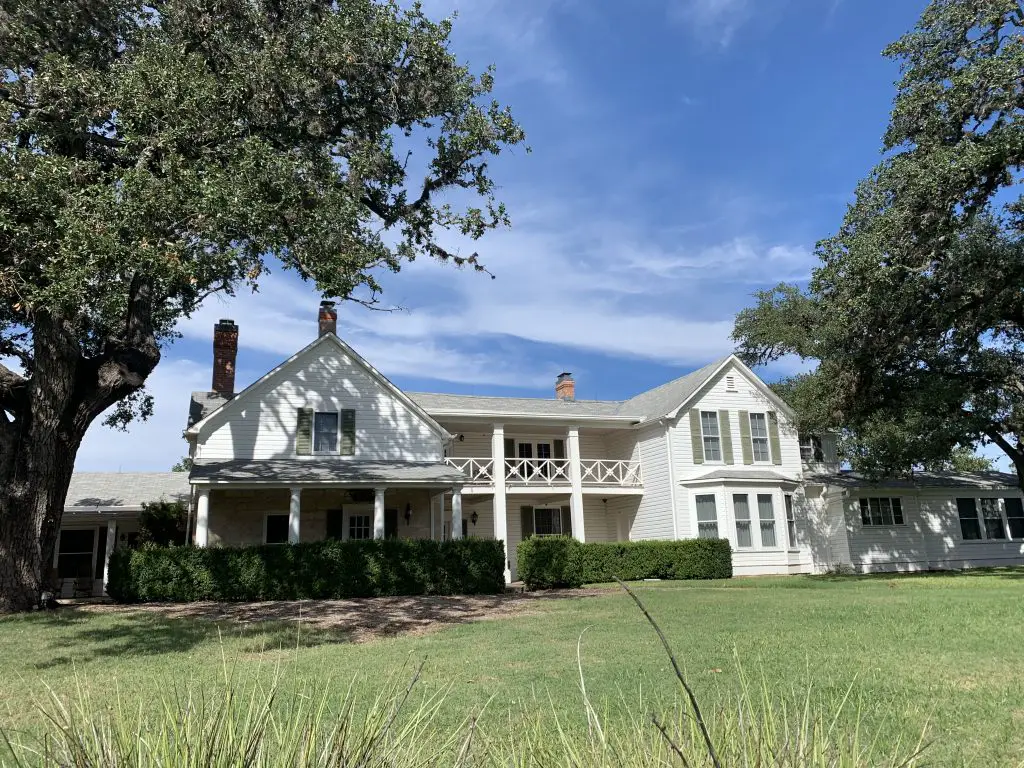 One of the most beautiful cities in Texas is Fredericksburg. It is known for its German heritage, charming downtown shopping district, and close proximity to popular wineries.
When visiting Fredericksburg, be sure to spend some time exploring Main Street, where you can find unique shops and restaurants. Another must-see is the National Museum of the Pacific War, which highlights the history of WWII in the Pacific theater.
One of the most popular things to do in Fredericksburg is to visit its surrounding wineries. There are over 40 to choose from, so you're sure to find one that you love. Most wineries offer tastings, so be sure to sample as many wines as you can!
Another fun thing to do in Fredericksburg is to tour the presidential home of Lyndon B. Johnson. The LBJ State Park and Historic Site offers tours of the former President's ranchhouse, as well as exhibits on his presidency and life in Texas.
If you're looking for places to stay in Fredericksburg, consider staying at the Fredericksburg Inn and Suites. The hotel offers a variety of room options and amenities, including a pool and hot tub. Plus, it's conveniently located in the heart of downtown.
Overall, Fredericksburg offers something for everyone, from history buffs to wine connoisseurs. Plan your visit today and explore all that this charming Texas city has to offer.
Austin
Recommended by Kate Storm of Lone Star Travel Guide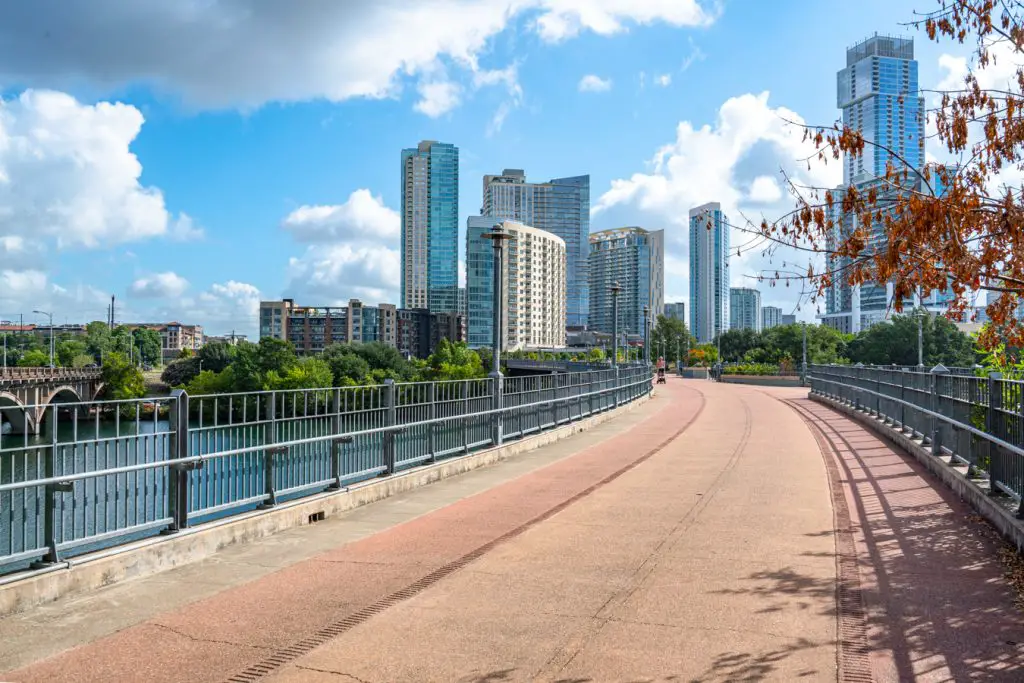 Nestled along the edge of the beautiful Texas Hill Country, the Lone Star State's capital city of Austin is one of the most beautiful cities in Texas!
Built along the Colorado River, Austin is known for its appreciation of the outdoors.
You can find some of its most beautiful corners in and around Zilker Park (Austin's answer to Central Park), the Barton Creek Greenbelt, Mount Bonnell, and the Roy and Anne Butler Hike and Bike Trail, which runs along Lake Austin.
For a different side of nature to appreciate, check out the South Congress Bridge at dusk between March through October, when you can see 1.5 million Mexican free-tailed bats emerge to hunt for the night.
Despite being a capital city, Austin's nature is one of the locals' most beloved features, and no weekend in Austin is complete without spending plenty of time appreciating it!
Just outside the city, you'll find plenty more beauty, as well, including at Lake Travis, in the town of Dripping Springs, and more.
Beyond the Austin area's impressive nature, some of the top things to do in the city include touring the Texas State Capitol, browsing the boutiques and street art along popular South Congress Avenue, and eating as much Texas barbecue and TexMex as you can manage.
For somewhere memorable to stay in the heart of the action, try to retro Austin Motel on South Congress, which also happens to be home to one of the city's most popular photo spots!
Wimberley
Recommended by Sierra of Very Truly Texas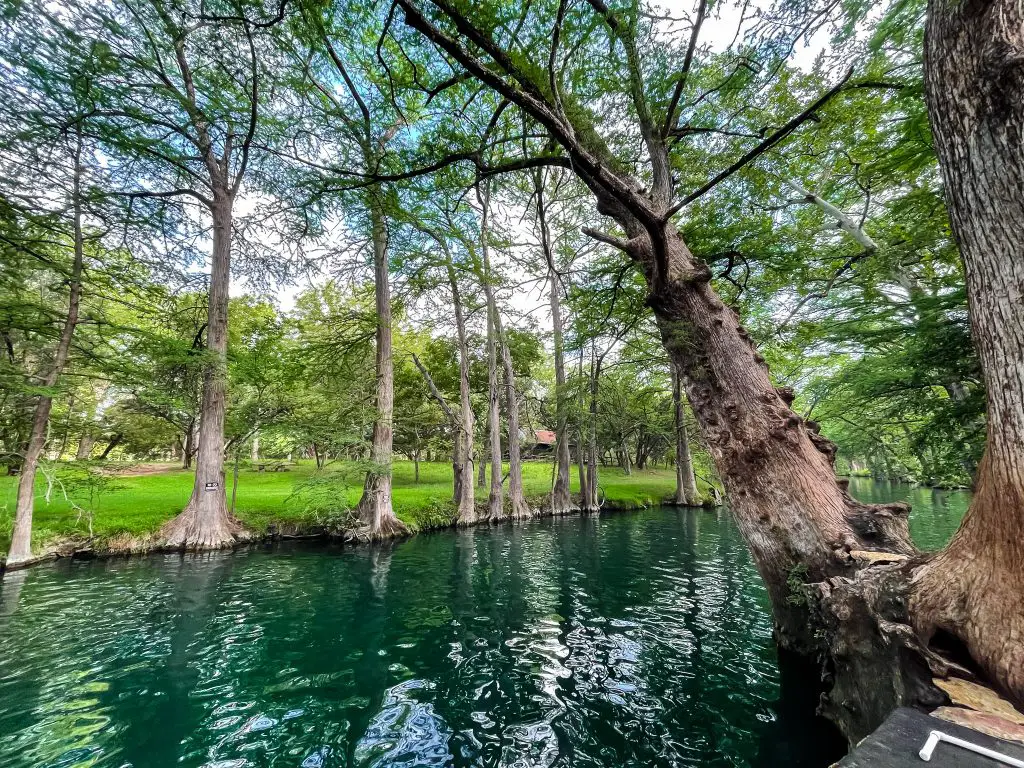 One of the prettiest towns in Texas is the sweet and historic Wimberley. This Hill Country gem has beautiful nature, sweet shops, and small-town charm that can't be beaten.
Stroll down Main Street and don't forget to stop at Wimberley Glassworks for some shopping and The Leaning Pear for lunch. Save room for some coconut gelato! Walk through the historic Town Square and then the Visitor's Center where they can provide you with a self-guided tour map of the cowboy boots around town painted by local artists.
Take a step back in time by visiting Pioneer Town with its wooden boardwalks and Old West-style buildings. The adorable ice cream shop is the icing on the cake!
Put on the map for its amazing swimming holes, Jacob's Well Natural Area, and Blue Hole Regional Park, no itinerary should miss these spots on a warm summer day. Filled with natural spring water, these unique places offer cool water, beautiful scenery, and a great spot for a picnic. The Blue Hole boasts two exciting rope swings and Jacob's Well has an incredible, deep jump from the rocks. Insider tip: Both swimming holes require advance reservations, so make sure to plan ahead!
Cypress Creek Cottages are the perfect place to stay. Soak in the hot tub, enjoy a local glass of wine on the patio, and watch the sunset from the beautiful property located just a few minutes from town.
El Paso
West Texas is an arid landscape of cacti and tumbleweeds, often depicted in movies and TV shows as a barren and uninviting place. However, West Texas is also home to the city of El Paso, a vibrant community with a rich history and plenty of reasons to visit.
Nestled against the border with Mexico, El Paso offers visitors a unique blend of Hispanic and American culture, as well as stunning desert scenery. There are plenty of things to see and do in El Paso, from exploring the historic downtown district to hiking in the Franklin Mountains.
If you want to stay downtown, The Plaza Hotel Pioneer Park is a great choice. The interior is uniquely stylish and the mountain view from the terrace is simply amazing.
Whether you're looking for adventure or simply want to enjoy some authentic Tex-Mex cuisine, El Paso is definitely worth a visit.
South Padre Island

South Padre Island is a South Texas barrier island located just off the coast of Brownsville. The island is known for its beautiful beaches, crystal-clear waters, and unique wildlife.
Visitors to the island can enjoy activities such as swimming, sunbathing, fishing, and bird watching. There are also a number of excellent restaurants and shops on South Padre Island.
Check out the beachfront Holiday Inn Resort with ocean views from many rooms and restaurants. There is even a seaside grill! You can find a beach with water sports equipment and beach activities less than 1.5 km from the hotel.
Whether you're looking for a relaxing vacation or an adventure-filled getaway, South Padre Island is sure to please.
Houston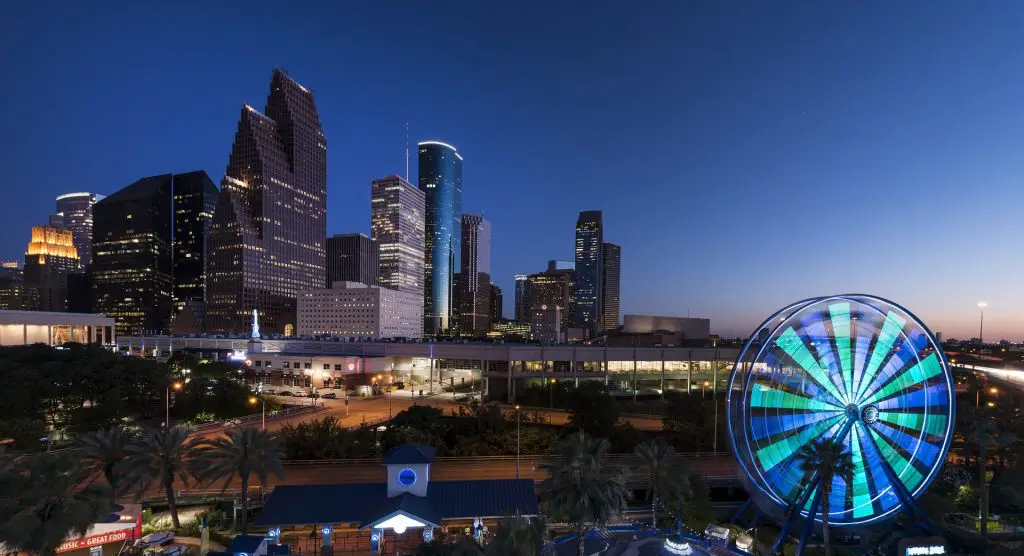 East Texas is a beautiful, unique part of the country that offers visitors a chance to experience a different way of life. The people of East Texas are renowned for their hospitality, and there are plenty of activities to keep visitors entertained. If you're looking for a place to relax and take in the scenery, Houston is the perfect destination. Here are three things to do in Houston to see its beauty:
1. Take a leisurely stroll through one of the city's many parks. For a truly relaxing experience, try Discovery Green park, which features 12 acres of walking trails, and plenty of green space. There are different events happening quite often so check out the schedule for something fun to do before heading to the park.
2. Visit the Buffalo Bayou area to see Houston's natural landscape. The bayou is home to many different species of plants and animals. You can even spot an alligator there! Note that the Buffalo Bayou is not suitable for swimming due to the quality of the water.
3. Head to East Beach for some fun in the sun. East Beach is one of the most popular beaches near Houston, and it's easy to see why – with its soft sand and clear water, it's the perfect place to spend a day lounging on the beach or swimming in the Gulf.
Food-wise, the beauty lies in the fact that there's truly something for everybody – if you're looking for anything from a delectable dinner to a healthy breakfast, Houston has a spot for you.
If you wish to stay in the Downtown Houston, Heights House Hotel is a great choice. It's centrally located, has a free parking, and you can get to many points of interest in Houston conveniently from it.
Dallas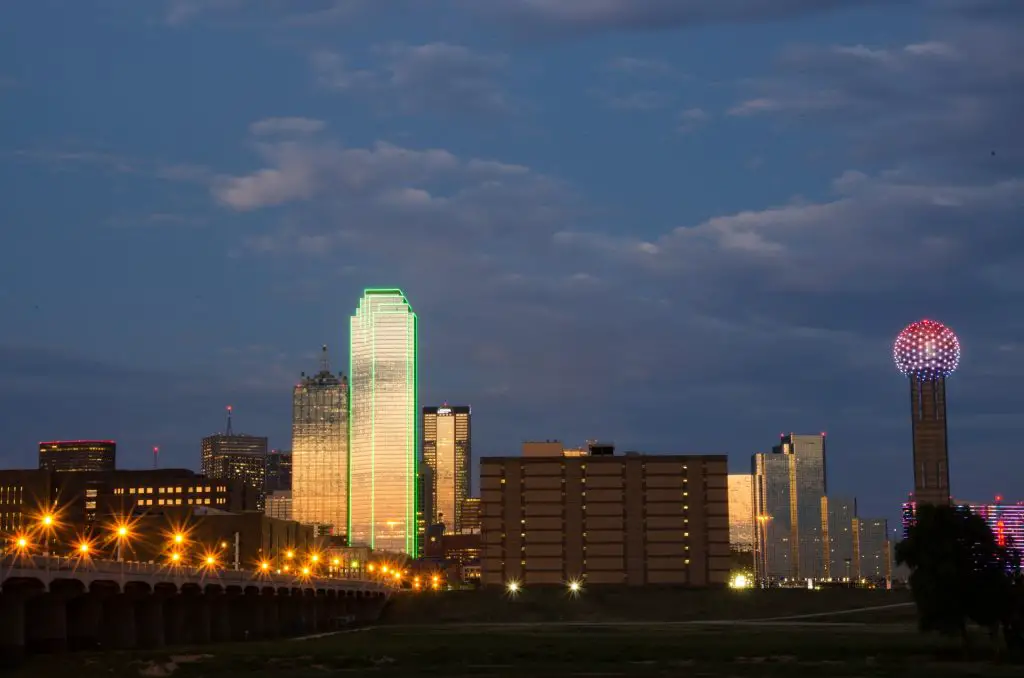 North Texas is a great place to visit for a number of reasons. For one, it is home to some of the best BBQs in the country. Dallas is also known for its live music scene, and there are always plenty of concerts to enjoy. Finally, the city has a thriving arts community, with a number of museums and galleries to explore.
Here are a few things to do in Dallas that will allow you to experience its unique beauty:
Visit the Dallas Arboretum and Botanical Gardens. The Arboretum is a beautiful oasis in the middle of the city, and it's perfect for a leisurely stroll or picnic lunch. You can bring your own picnic basket and have a brunch almost anywhere in the garden.
Explore the Dallas Arts District. Home to some of the city's best museums and galleries, the Arts District is a great place to spend an afternoon.
Consider staying in the centrally located Beeman Hotel. With its unique décor it's a really beautiful place for relaxation after visiting the bustling Dallas. THe hotel has an indoor swimming pool, and there is a coffee machine in every room.
If you're looking for a fun-filled vacation destination, Dallas is definitely worth considering.
Amarillo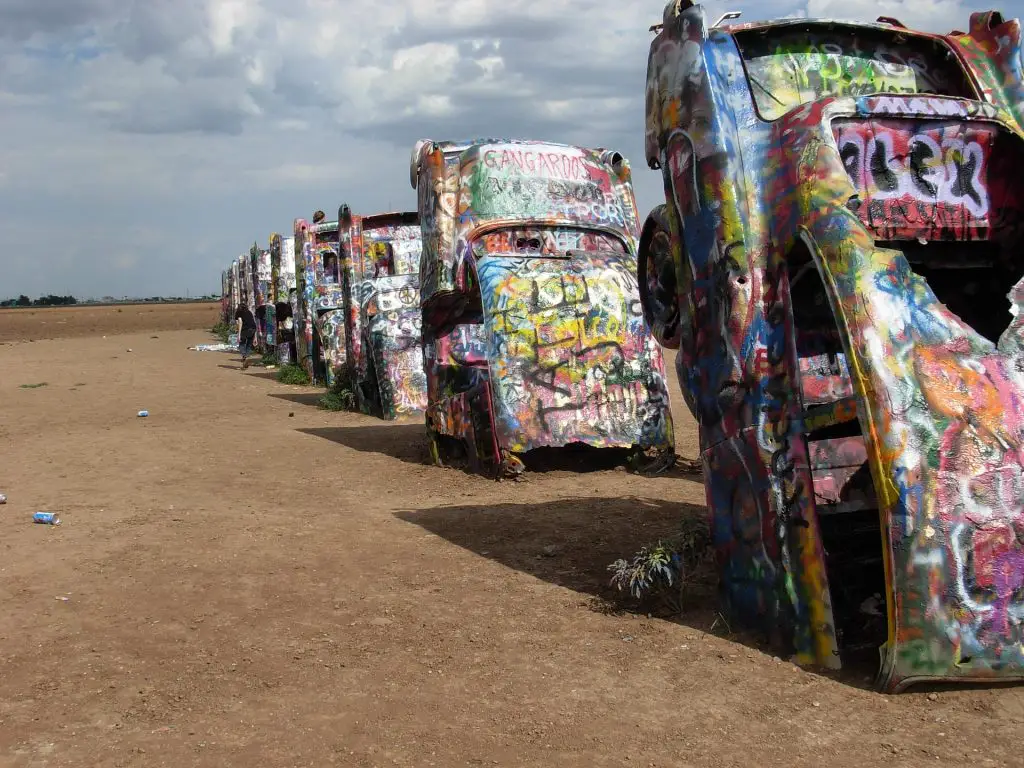 Amarillo is a city in the Texas Panhandle that is well worth a visit. Here are three things you can do to see its surrounding beauty:
1. Go for a drive through the countryside. Amarillo is surrounded by stunning scenery, and there are plenty of great roads to explore. Be sure to stop at some of the small towns along the way – they're full of charm. One of the best is Texas 207 Highway Scenic Drive – check it out if you are staying in Amarillo. A unique place you can drive to is the Cadillac Ranch with Cadillacs buried nose-down in a field,
2. Visit Palo Duro Canyon. This beautiful canyon is just a short drive from Amarillo, and it's definitely worth a visit. There are plenty of hiking trails to explore, and the views are simply breathtaking.
3. Take a walk through one of Amarillo's parks. The city has several beautiful parks, and they're all worth taking some time to stroll through. You'll see plenty of flowers, trees, and wildlife, and you might even get lucky and see a rainbow or two.
Stay in Atrea Inn Amarillo for the best design and central location. With the evening entertainment and a buffet breakfast, it's a great place for a beautiful and relaxing stay in the city.
Fort Davis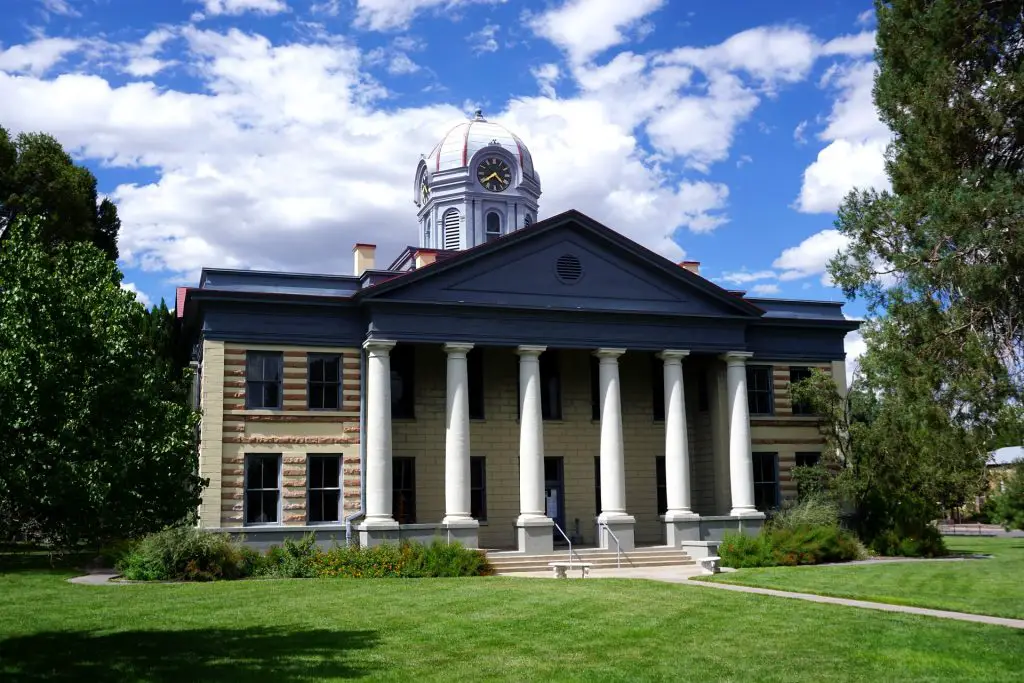 If you're looking for a little bit of history, a whole lot of Texas charm, and some of the best stargazing in the country, then look no further than Fort Davis. This small town in West Texas is home to beautiful landscapes, unique wildlife, and rich history. It's also the highest town in Texas thus having a bit cooler temperatures and mountain scenery.
Here are some of the best things to do if you are visiting Fort Davis:
Check out the Fort Davis Scenic Drive. This seventy-mile-long scenic drive takes you through some of the most beautiful landscapes in the state, including the Davis Mountains and the McDonald Observatory. It is especially beautiful during the sunset.
Head up to the McDonald Observatory. This world-renowned astronomical research facility offers public tours and stargazing programs that are sure to leave you starstruck.
Stay in The Hotel Limpia right in the center of the town. It has a restaurant, an outdoor pool, and even a garden.
Port Aransas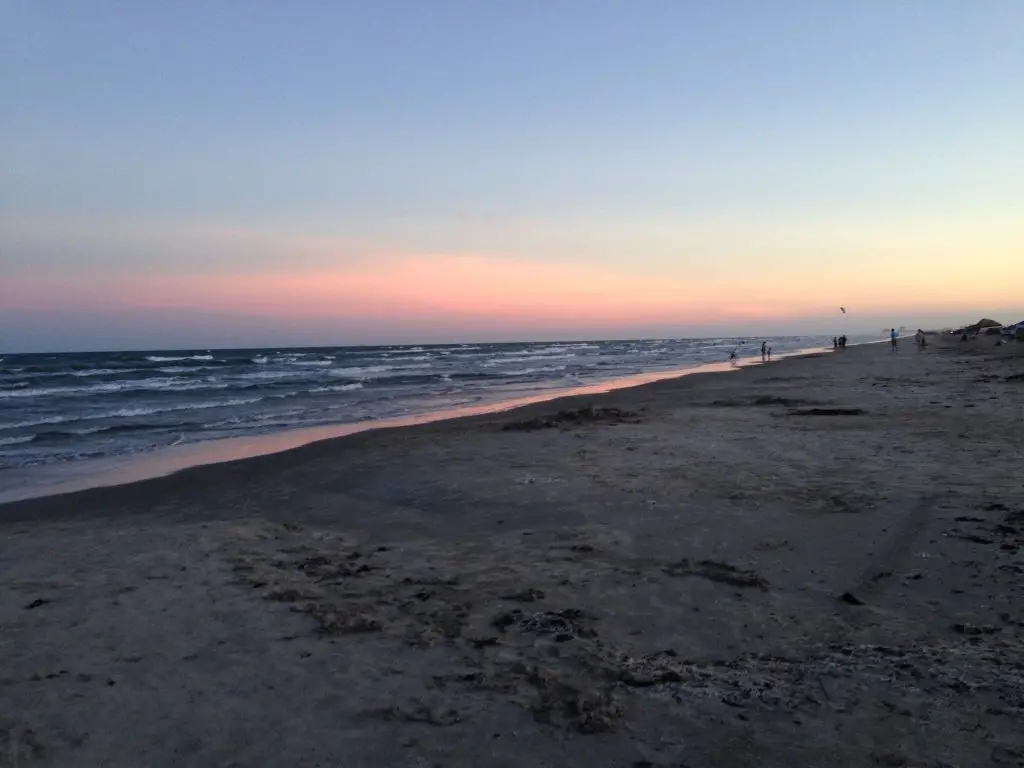 Port Aransas is a small town located on Mustang Island off the coast of Texas. The island is home to beautiful beaches, nature trails, and a variety of shops and restaurants. Visitors can also enjoy fishing, boating, and windsurfing. The town is also known for its wildlife, including dolphins, pelicans, and seagulls.
There are three main reasons to visit Port Aransas: the beaches, the nature trails, and the shops and restaurants. The beaches are some of the best in the country and offer a great place to relax or play. The nature trails provide a chance to see the island's wildlife up close. Finally, the shops and restaurants offer a wide variety of goods and services.
Centrally located place to stay in Port Aransas is Alister Square Inn. It offers a free breakfast and is just a walk away from the beach and Port Aransas Nature Preserve.
No matter what your interests are, you're sure to find something to do in Port Aransas.
Wichita Falls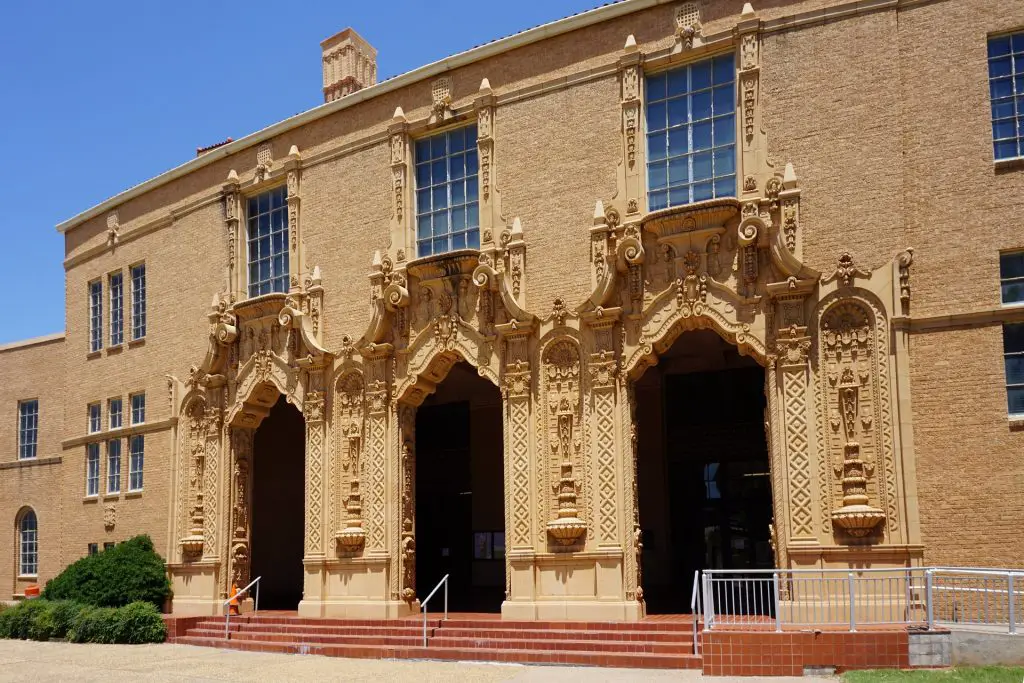 Wichita Falls is one of those places that are just naturally beautiful. The falls for which the city is named are stunning, and the nearby lakes offer plenty of opportunity for outdoor recreation. In addition, Wichita Falls is home to a number of excellent museums and cultural attractions. If you're looking for a place to relax and enjoy the great outdoors, Wichita Falls is definitely worth a visit.
Here are a few things to do in Wichita Falls to see its beauty:
1. Have a walk and a picnic lunch at Lucy Park. Located in a bend of the Wichita River, Lucy Park offers breathtaking views of waterfalls.
2. Take a walk or hike through trails at the Lake Arrowhead State Park. The scenery is simply gorgeous.
3. Visit the Kell House Museum. This historic house is beautifully preserved, and it's surrounded by an enchanting garden. Touring the Kell House is a great way to learn about Wichita Falls' rich history.
Stay in Tru By Hilton with a good breakfast, nicely designed rooms and a great location in Wichita Falls.
---
Travel tips and tricks:
I highly recommend trying these tools for yourself – not only will you save money, but you'll also create memories that last a lifetime. Happy travels!
---