Some of the links in this post are affiliate links. This means if you click on the link and purchase the item, I will receive an affiliate commission at no extra cost to you. All opinions remain my own.
Have you ever had just a few hours to explore a city? Well, Bergen was this kind of exploration for me. With just a few hours in this marvelous city, I had to choose the things to see carefully. Below you'll find some of the most characteristics things to do in Bergen, which are conveniently located close to each other.
Bergen is the second-largest city in Norway, and it is one of the most beautiful cities in the country. Bergen is really easy to get to from many European countries. Its airport is connected to more than 70 other cities, and it is a stop for many cruise ships. Bergen is surrounded by seven mountains and most of the urban area is on or close to a fjord or bay.
If you want a quick glance at what Norway looks like, I really recommend spending a few days in Bergen. There are a lot of activities to choose from in the surroundings – you can go Segwaying, hiking, mountain-biking, have a fjord cruise, or travel on a day trip to the famous Trolls tongue cliff – Trolltunga. Many of the reasons to visit Norway can be uncovered while visiting Bergen.
Things to do in Bergen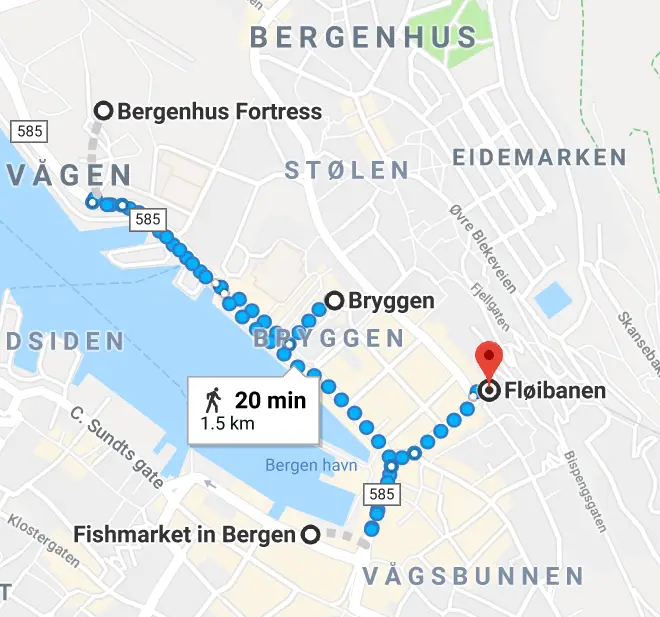 To quickly see the sights Bergen is famous for, you'll need to go to Bryggen. It was a wharf in medieval times, and it is still a popular and lively place to see. After a stroll along with the colorful wooden historic houses, you'll easily reach the fish market. And to top off the short visit to Bergen, go to the funicular and just in 6 minutes reach the top of one of the mountains surrounding Bergen.
Bergenhus Fortress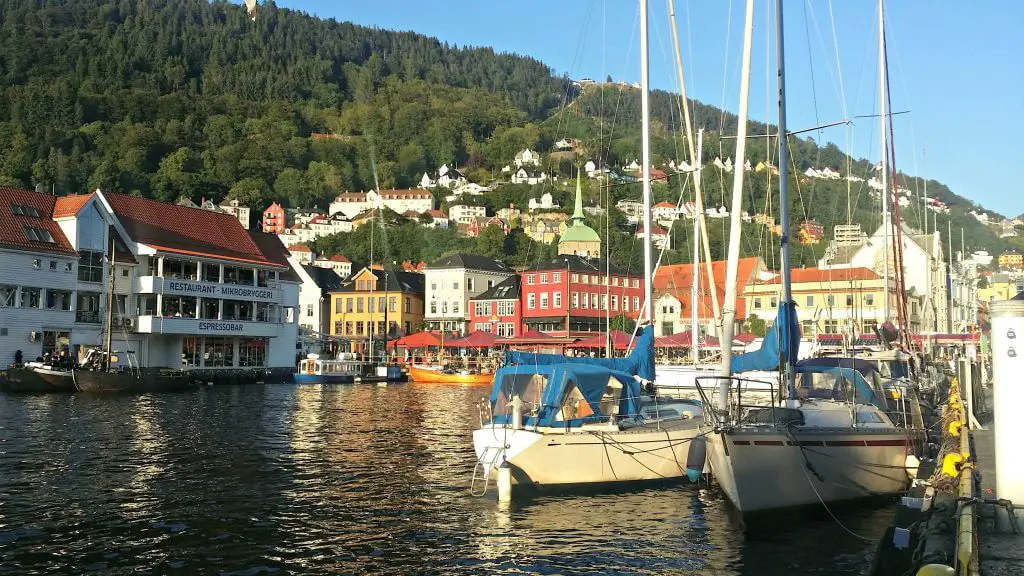 Bergenhus fortress is a good place to start a walk around Bergen. The fortress is one of the oldest and best-preserved castles in Norway. It is conveniently located at the entrance to the harbor. From there the famous landmark of the Bryggen is already visible.
Bryggen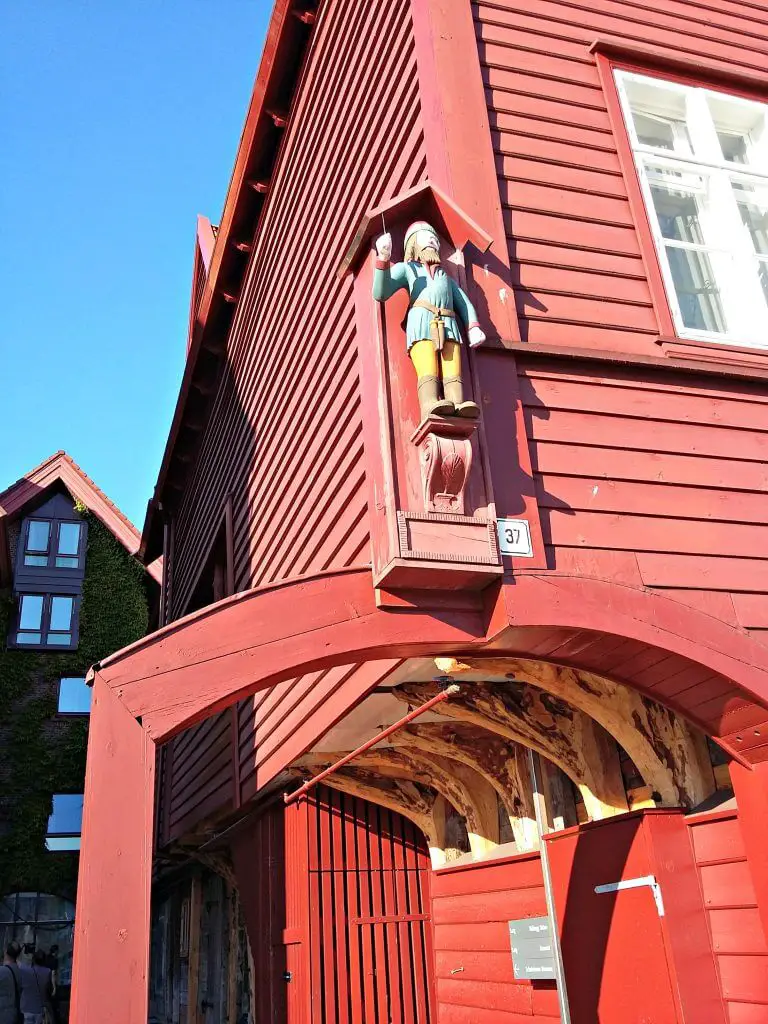 Bryggen is a group of wooden-clad boathouses, where goods were stored at the time of the harbor. Currently, it hosts different shops, pubs, and museums. It is colorful and renovated, and you can almost imagine how it would have looked like at the Hanseatic League times.
Bryggen was listed as a UNESCO World Cultural Heritage site in 1979.
Go along the colorb=ful wooden houses, and you'll end up near the fish market.
Fish Market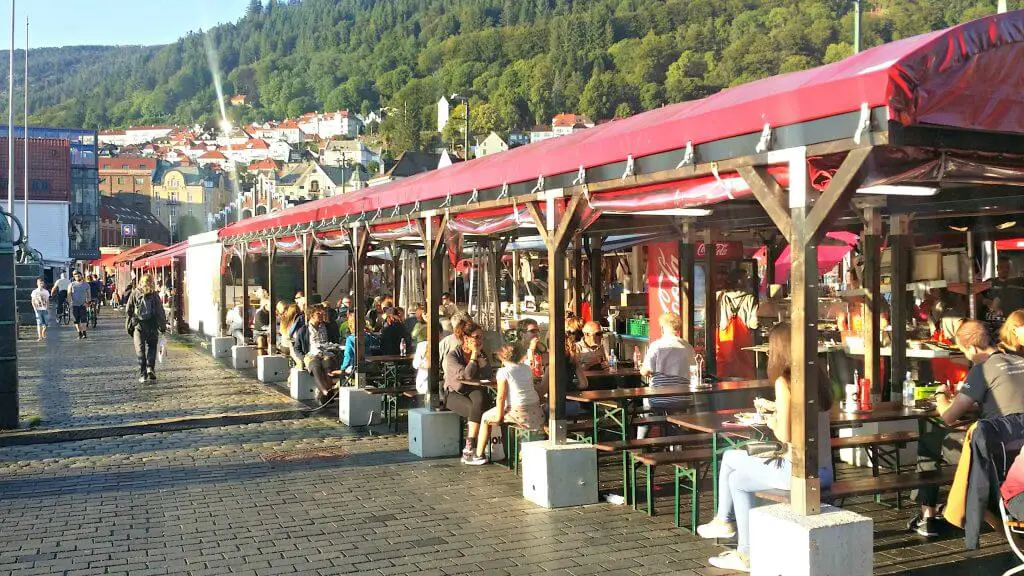 There is a great variety of food available on the market, not just fish. However, it is fascinating to see the beautifully arranged local seafood catch, sample some fresh local delicacies and even try out how a wale tastes.
Like everything in Norway, the fish market is a bit pricey. However, this is a unique experience, so I recommend to try something from the seafood variety.
Mount Floyen and the Funicular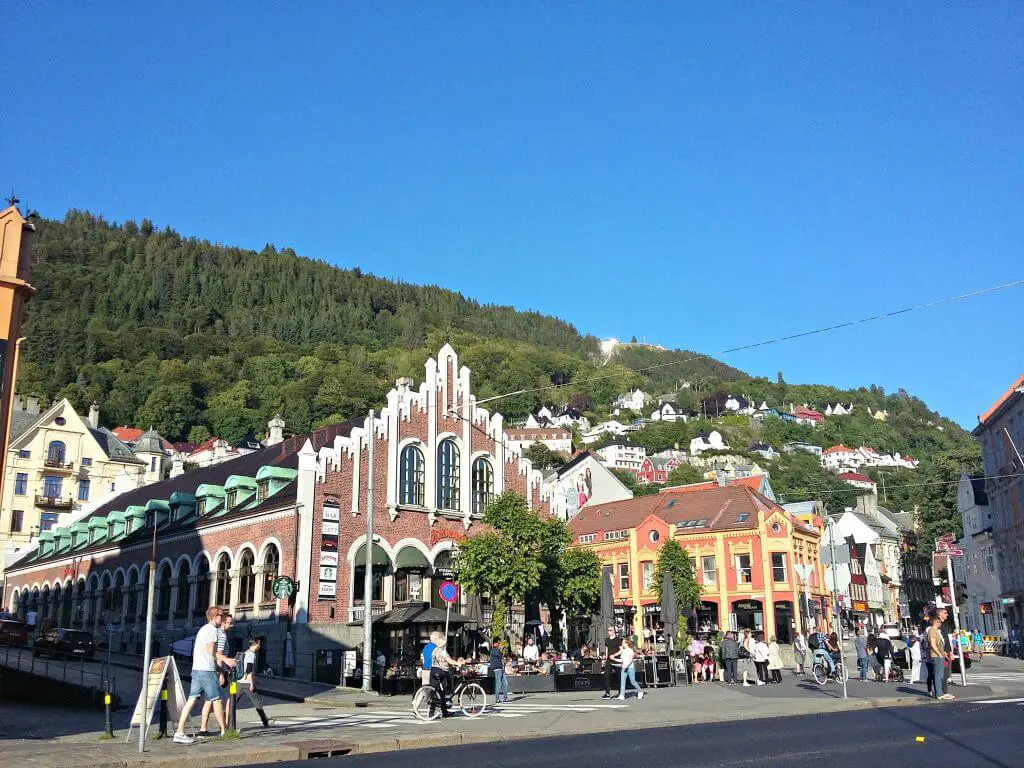 Bergen is surrounded by seven mountains. If you are lucky to visit the city for a day without rain, I highly suggest taking a funicular to Mount Floyen. It takes just 6 minutes from the center of the city.
The views from the top of the mountain are beautiful – you can see the city, nearby islands, and the surrounding fjords. It is possible to rent a bike or go hiking the mountain.
What to eat in Bergen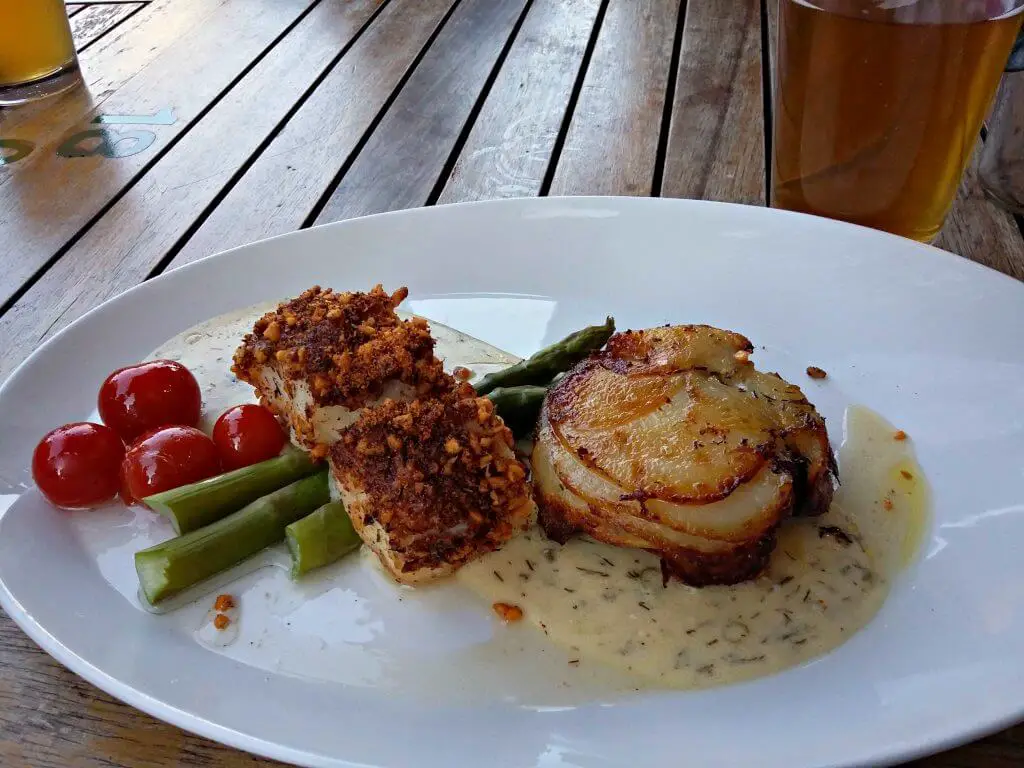 Cafe Opera is a great place to have lunch. It is a bit pricey, but so is every other place. For around 20 Eur it is possible to have a tasty meal (including some fish). If you want a beer as well, it will be around 10 more Eur.
I chose this cafe, because it was close to the center, had some great food options and – most importantly – offered outdoor seating with a view of a park. This is a good way to enjoy a meal and see a glimpse of how the locals go about their day.
Top tours in Bergen
If you have more time in Bergen and don't want to organize a tour just for yourself, check out some of these organized tours:
Your turn
Would you like to visit Bergen? Do you like exploring cities with a long history? How do you tell if you have "seen" a city and don't have to go back to explore it more?
---
---