Some of the links in this post are affiliate links. This means if you click on the link and purchase the item, I will receive an affiliate commission at no extra cost to you. All opinions remain my own.
Want to escape the winter cold to a warmer place during your vacation? Here are some of the best warm winter vacations in the USA so that you can choose the place according to how warm it is there during wintertime.
For each winter vacation destination, you'll see an average high and low temperature during January. In almost all of these places, January is the coldest month of the year, so if you go there in December or February, you may expect warmer weather. And if you go in autumn, it will be even warmer.
However, the coldest month of the year offers some advantages as well. It's usually considered the low season so the hotel and rental car prices may be lower. There will be fewer tourists, it will be easier to go on hikes, explore beautiful beaches, and do other activities that require you to be physically active.
So check out these beautiful winter destinations and warm yourself during the winter!
Other vacation destinations in the USA:
And if you wish to see Europe, here is also a list of the best winter sun destinations in Europe.
Maui, Hawaii
Recommended by Diane from Travels With Eli
Temperature:
79 °F January average high
65 °F January average low
The tropical island of Maui, Hawaii is a great USA vacation destination in the winter.  Maui is located in the middle of the Pacific Ocean, over two thousand miles from the west coast of the contiguous United States.  Because of the island's close proximity to the equator, the weather is absolutely perfect all year long. Maui also has so many incredible beaches!
The beaches and perfect weather aren't all that Maui has to offer, there is also a lot to see and do on the island of Maui.
You can watch the sunrise and then take a hike on a dormant volcano in Haleakala National Park.  Or, take a snorkeling tour to see the variety of marine life in the Molokini Crater.  If you would rather not take a tour, the snorkeling is also incredible from the North end of Kaanapali Beach.
Spend a day driving the legendary Road to Hana. The narrow winding road takes you past waterfalls, black sand beaches, unique nature walks, the charming town of Hana, and the Kipahulu district of Haleakala National Park.  Spend a few nights in Hana to really experience all that the east side of the island has to offer.
Everglades National Park, Florida
Recommended by Victoria from Guide Your Travel
Temperature:
78 °F January average high
54 °F January average low
If you're trying to escape the cold and enjoy some winter sun Florida is the best place to go in the United States.
The state is known for beaches, palm trees, and sunshine but also for the impressive Everglades National Park. The mangroves are absolutely beautiful and there is a lot of native wildlife. This is a fantastic place for hiking, camping, fishing, and much more.
One of the best things to do in the Everglades is a kayak tour through the mangroves. Spot rare birds and even alligators and enjoy peace and tranquility on the water.
The Everglades is actually very comfortable during winter and not as hot and humid as in summer. Located less than an hour from Miami they're easy to reach and a fantastic day trip or weekend getaway. A lot of visitors go on airboat tours but they're very loud and actually disturb the delicate ecosystems in the park. Kayaks are a much better option and also far less touristy.
If you prefer to stay on land go hiking on easy trails like the Bobcat Boardwalk which is a beautiful way to experience this incredible National Park.
Winter is the best time to visit and will mean you'll most likely encounter fewer other people.
Miami, Florida
Recommended by Hannah from Just Bathrobe Thoughts
Temperature:
76 °F January average high
60 °F January average low
Rich with places to see, things to do, and venues for all tastes, Miami is the perfect winter destination – no matter what you're looking for.
Its reputation as a party destination is well deserved, but post-COVID migration has transformed the city from a haven for locals and "snowbirds" to a brimming technology hub and business center for the United States.
Miami is the quintessential "choose your own adventure" destination. There is so much more to the city than the festivities it's famous for.
You can indulge in the ever-expanding variety of restaurants the city has to offer – from infamous Cuban cuisine to Asian-Fusion to the New York restaurants like Carbone and COTE that have planted their flag in this growing hub.
You can enjoy a day of relaxed luxury at the Bal Harbour shops (and take a walk on the nearby beach afterward).
You can go surfing, boating, paddleboarding, or simply swim in the bright turquoise water.
One of the best-hidden secrets in Miami is getting a day pass for the Standard or the Ritz Carlton in South Beach… those views, both of the pool itself and of the beach, are well worth the cost of admission.
The Vizcaya Museum is also a must for the art-loving traveler.
Overall, Miami is the perfect place if you're looking to savor the sun and sample a little glamour while you're at it. 
Key West, Florida
Recommended by Cami Neves from Travel Cami
Temperature:
74 °F January average high
64 °F January average low
Key West in Florida is a beautiful place to visit in Winter.
The island, located in the Florida Keys, is the southernmost city in the United States and is well known for its friendly locals, incredible restaurants, and paradise-like vibes. It is like a little piece of heaven just off the coast of Miami.
What makes Key West such a good winter destination is the excellent weather it offers. While the city offers warm temperatures all year round, it is between the months of December and March that the weather is most pleasant – many people say it gets WAY too hot during summer!
The best things to do in Key West include enjoying the beach, exploring all the restaurants and bars in Duval Street, and visiting the Key West Butterfly and Nature Conservatory. For those who love being on the water, activities such as snorkeling with dolphins and going on champagne sunset cruises are also very popular! You can read about more things to do in Key West here.
An insider tip to visiting Key West is to make sure you book resort lodging in advance. The city is very popular with tourists looking for a good time, so many hotel rooms are booked up months in advance.
Orlando, Florida
Recommended by Planningaway
Temperature:
71 °F January average high
49 °F January average low
Orlando is a perfect place for a warm winter vacation. Orlando is located in central Florida. It is home to some of the best amusement parks in the world including:
DisneyWorld
Universal Orlando
SeaWorld
Discovery Cove
Winter is the best time to visit these parks. The weather is absolutely wonderful. During the holiday season, Disney World is the most magical time of the year. There are decorations, shows, and even a special holiday party you can attend. 
Universal has a "How the Grinch Stole Christmas" celebration and at the Wizarding World of Harry Potter, there is a Christmas projection show on Hogwarts Castle.
SeaWorld goes all out as well. There are ice skating shows, meetings with Santa, and so much more.  
Orlando also has some of the best resorts in the US.  Many are family-friendly and offer amazing pools.  Orlando is one of the best family vacation destinations in America.  
Orlando is also within an hour of some of the best beaches both on the Atlantic Ocean and the Gulf of Mexico. So after you enjoy the amusement parks you can head to the beach.  
Winter is the perfect time to go to Orlando!
Palm Springs, California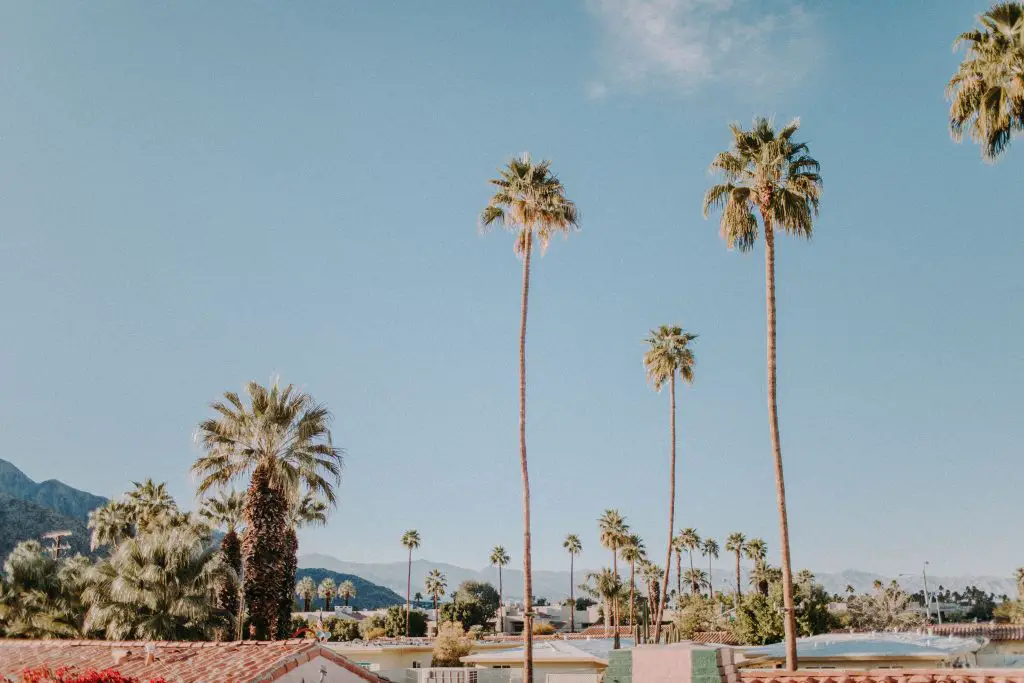 Temperature:
71 °F January average high
48 °F January average low
Palm Springs is a resort town in Riverside County California. The city is noted for its hot springs, golf courses, mid-century modern architecture, design elements, art and culture heritage, and recreational facilities.
One of the best attractions in Palm Springs is the Palm Springs Aerial Tramway. It takes you up in the mountains on a 10-minute ride that allows you to enjoy panoramic views of the surrounding mountains. At the top, there is a restaurant, a gift shop, as well as several hiking trails for the adventurous.
Hiking is a popular activity in winter. There are several canyons to choose from. One of the most popular hiking places in the Indian Canyon due to its unique terrain. If you are fond of plants, check out Palm Canyon.
Palm Springs is a warm winter destination as the winter temperature there in mid-day January is about 65-70 degrees Fahrenheit. This allows nice hikes, golfing, and other activities that might get too hot in the summer months.
And if you have children, you can easily go on a day trip from Palm Springs to Disneyland in Los Angeles and enjoy the warm sunshine on one of the many rollercoasters.
Anna Maria Island, Florida
Recommended by Paula from Paula Pins The Planet
Temperature:
69 °F January average high
56 °F January average low
If you are looking for a perfect sport for a warm winter vacation in the USA, Florida always comes to the top of the list. The sunshine state is a great vacation spot for sun, fun, and beach lovers all year long, including during wintertime. Now if you are looking at a real gem in Florida, and arguably, in the United States, you should consider Anna Maria Island.
Anna Maria Island has amazing things to do, from exploring the stunning pristine beaches with powdery sand and turquoise watercolor to outdoor activities such as hiking, kayaking, and bicycling. Winter is the best time to visit, because the temperatures are cooler, and considered the low season you will have will find amazing things to do, without having to share it with crowds that normally visit during the summertime, plus you will be able to find better deals on the accommodations.
Here you can really find the Old Florida style – a quench town with a slow lifestyle, making it a perfect spot for a warm vacation and a paradise place when I need to just slow down and relax. One of the highlights of the island is the local fresh seafood, such as the Waterfront Restaurant which serves excellent group tacos and great drinks. Another great thing to do on Anna Maria Island is to explore the Landmarks, such as the Historic Bridge Street with a fishing pier, great views of the bay, and loaded with Floridian-style restaurants and beach sides boutiques.
Anna Maria Island is located on the western side of Florida Central Gulf Coast, only one hour's driving from Tampa Bay, and you can get to Anna Maria Island by arriving at the Tampa International Airport another option is the Sarasota-Bradenton International airport which is located only 30-minutes driving to Anna Maria Island.
South Padre Island, Texas

Temperature:
68 °F January average high
54 °F January average low
South Padre Island is a safe and quiet vacation destination, except for March when it becomes a popular spring break destination with parties happening everywhere.
The island is connected to the mainland by Queen Isabella Causeway from the town of Port Isabel. It is 2.4 miles long and quite impressive.
South Padre Island offers a wide variety of water sports and other water-related activities. Kiteboarding is popular, but if you are looking for something calmer you might want to try out deep-sea fishing trips or dolphin-watching excursions.
This is a great warm winter vacation option if you are looking for a cheap family vacation place in any winter month.
Biscayne National Park, Florida
Recommended by James Ian from Parks Collecting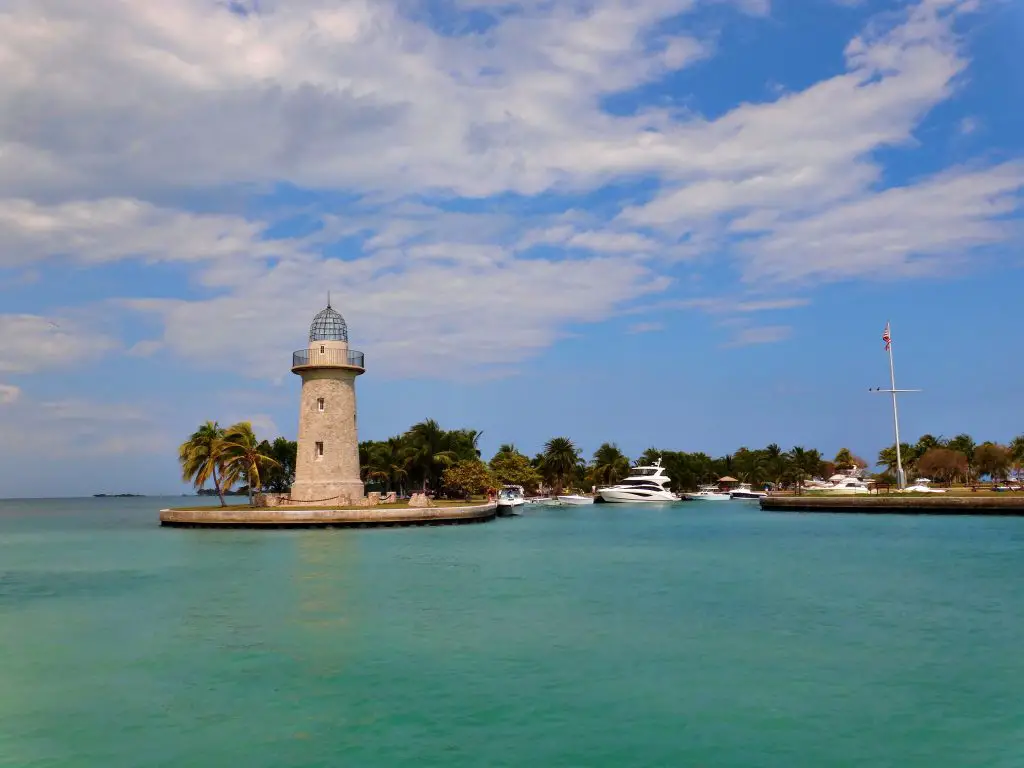 Temperature: 68 °F January average
Biscayne National Park is great to visit in winter. The hurricane season is over and, without the heat, humidity, and afternoon thunderstorms of summer, the weather is perfect.
The park consists of a few islands off the coast of Florida but is mostly (95%) water. 
There is plenty to do, but the most popular activity is snorkeling.  You can take a snorkeling or diving trip from the mainland without needing to visit the islands.  The waters are filled with tropical fish and there are several shipwrecks inside the park.  Some, like Mandalay, are shallow and perfect for snorkeling, while others are deeper and best suited for diving.
There is even more to, however.  If you like to be active, there are guided kayak tours around the crystal clear Jones Lagoon.  You can also take sailing trips around the islands, with stops for a swim and picnic at one of the islands, Boca Chita or Adams Key.  For an even more relaxed visit, you can take a half-day cruise across Biscayne Bay and around the islands, where you'll get great views of the beautiful Boca Chita Lighthouse and learn all the history and ecology of the national park.  
The Dante Fascell Visitor Center and main departure point are just one hour south of Miami. Most people drive directly there, but in the winter months (November – April), you can also take a trolley from nearby historic downtown Homestead. It's common to visit the national park as a day trip from the mainland, but there are two campgrounds on the islands if you'd like to stay longer.
St. Augustine, Florida
Recommended by Jenny from Traveling Party Of Four
Temperature:
66 °F January average high
48 °F January average low
St. Augustine is a historical city where you can experience a personal connection to history while enjoying modern-day comforts and activities. Unfortunately, St. Augustine is often overlooked in favor of other Florida cities like Miami, Orlando, and Tampa. However, it has plenty of personalities to offer visitors looking for a place to relax, explore, and learn about Florida's history. In addition, the climate remains pleasant year-round, making it the perfect winter vacation destination in the USA.
St. Augustine is known as the oldest city in the United States. The city retains much of its original character and old-world charm with its Spanish fortresses, cobblestone streets, and colorful houses dating back to the 18th century. It is an alluring destination with its friendly locals, beautiful homes, historical period buildings, delicious eateries and bars, and championship-caliber fishing, as well as its picturesque beaches, sunsets, and wildlife sanctuaries. 
There is an abundance of things to do here in this quaint little city. Here are just a few ideas for your itinerary.
Visit Castillo de San Marcos, built back in 1672 to protect colonial settlements from potential invasions by pirates. The Castillo de San Marcos is the oldest masonry fort in North America; it's also UNESCO World Heritage Site.
Stroll down St. George Street, where you'll find beautiful architecture, history-filled pubs, charming shops, culinary treats, upbeat music, and the best people-watching benches in the world.
Take the kids to the Saint Augustine Alligator Farm, founded in 1893, where you learn about these fascinating creatures firsthand. In addition, the Farm has an overhead course for climbing and ziplining through the treetops.
The Festival of Lights is a uniquely St. Augustine tradition that celebrates the holiday spirit with various activities for all ages, with over 1 million lights illuminating local landmarks, shopping districts, and neighborhoods.
Tips when visiting St. Augustine.
For quick and easy parking, use the Historic Downtown Parking Facility. Alternatively, if you are staying in the city, book lodging with parking.
Wear sunscreen, even if it's a cool day.
Stay hydrated.
San Diego, California
Recommended by Lisa from Planning Away
Temperature:
65 °F January average high
49 °F January average low
San Diego is a great warm-weather winter travel destination. Located in Southern California, San Diego has the perfect temperature of around 70 degrees year-round.
San Diego has so much to offer. It is home to one of the best zoos in the country as well as the San Diego Zoo Safari Park. There are many museums including the USS Midway which is an actual aircraft carrier you can explore. Old Town San Diego is a fun area full of Mexican culture and delicious food.  
The white sand beaches in the San Diego area are exceptional even in the winter.  If you head north near Carlsbad, you can actually swim in the water in December ( there is a power plant that pushes a stream of warm water into the ocean). Surfing is a way of life in San Diego and is a fun activity to try! 
San Diego is an amazing winter vacation destination!
San Antonio, Texas
Recommended by Mary
Temperature:
63 °F January average high
41 °F January average low
San Antonio is an exciting city in the southwest of Texas which offers year-round sun and activities everyone in the family will enjoy. Known for its colonial heritage and such historic landmarks as the Alamo and many other Spanish missions, San Antonio offers a unique perspective on Texas' past along with forward-looking attractions.
Winters in San Antonio are mild, with colder days only in the 50s, and the average temperature in the 60s. It's perfect weather to bike along the Mission Trail connecting the Alamo and other missions without suffering from any summer humidity. During the holidays, the famous San Antonio Riverwalk is decked out with thousands of Christmas lights for an illuminated display. The Riverwalk is always a good idea, with its outdoor cafes, bars, and shops. Plus, the Natural Bridge Caverns, an underground cave system, hosts Christmas in the Caverns with festive activities in a remarkable natural setting.
It is usually cheaper to visit San Antonio after Christmas, though. A bus from Dallas is at its cheapest price, $33, in February, so consider a romantic Valentine's Day getaway. You can enjoy a top-rated romantic dinner at Biga on the Banks with your boo. 
For family vacations, San Antonio is well-equipped to entertain little ones, too. Take your pick from SeaWorld San Antonio, Six Flags Fiesta Texas, or the San Antonio Zoo for family-friendly adventures. No matter who you're traveling with, San Antonio is an ideal, underappreciated destination perfect for a warm vacation this winter.
Carlsbad, New Mexico
Recommended by James from Wnaderus Living
Temperature:
62 °F January average high
33 °F January average low
The town of Carlsbad in southern New Mexico is located only one hour from two incredible and diverse national parks. There is not a lot to do in the town but is rather known for the national parks located a short drive away. The best time to visit is during the winter because of the cooler temperatures and snow-capped mountains. Carlsbad is incredibly hot during the summer and even fall months which makes winter ideal.
Carlsbad Caverns National Park is only 30 minutes away and is famous for its limestone caves and incredible hiking trails. It is a very family-friendly park and feels as if you are being transported into an underground world. One of the chambers alone is over 4,000 feet long and 255 feet high! You can either walk or take an elevator down into the cave which makes it accessible for everyone.
Located 1 hour from Carlsbad is Guadalupe Mountains National Park, which is actually located in Texas. Guadalupe Peak is the highest natural point in all of Texas at 8,751 feet and can be hiked via an 8.4-mile trail. The trail is very steep, which makes hiking in the winter much more enjoyable with temperatures only around 50-70 degrees. There are so many different hikes and viewpoints in the national park with McKittrick Ridge being the most beautiful. 
The best way to stay close to the national parks is to camp, whether it be in an RV or tent. There are a good number of campsites nearby with Sunset Reef Campground being the best! It is located only 10 minutes from Carlsbad Caverns and 30 minutes from Guadalupe Mountains National Park.
Charleston, South Carolina
Recommended by Disha from Disha Discovers
Temperature:
59 °F January average high
40 °F January average low
Charleston, South Carolina is one of the best warm winter vacations in the USA. Referred to as the "Holy City," this charming Southern city has so much to offer! Known for its historic charm, beautiful architecture, romantic vibes, and delicious food, you'll leave Charleston feeling rejuvenated.
Winter is a great time to visit Charleston because there are fewer crowds. As a result, you'll feel like you have the whole city to yourself. And, hotel prices are cheaper in winter. Moreover, the Charleston Wine + Food festival happens during winter. This one-of-a-kind event allows you to sample all kinds of wine and foods. Also, winter in Charleston means oyster season. If you're a seafood fan, you're in for a treat.
Charleston is brimming with things to do. First, walk along the Battery. It's a promenade and fortified wall along the sea. Next, snap a selfie in front of the picturesque Pineapple Fountain. After that, check out Rainbow Row. This is a collection of thirteen historic and colorful homes. You should also visit Fort Sumter National Monument which played an integral part in American history. If you want to learn more about Charleston's history, visit the Historic Charleston City Market and the Old Slave Mart Museum. You can even have a little beach getaway while you're in Charleston. Head over to Folly Beach, grab a pineapple whip, and stroll along the shore. Last but not least, end the night getting spooked out on a Charleston ghost tour where you can learn more about the spooky past of the city.
An insider tip for visiting Charleston is to try as many Southern delicacies as you can. Poogan's Porch is one of the best restaurants in the entire city. Be sure to try She crab soup, shrimp and grits, fried green tomatoes, and fried chicken.
Joshua Tree National Park, California
Recommended by Riley from The Parks Expert
Temperature:
59 °F January average high
37 °F January average low
If you're looking for a warm winter getaway, Joshua Tree National Park is the perfect place to go.
Joshua Tree National Park is one of the best places in the US to visit in winter. It has fantastic weather and beautiful scenery that will make your trip unforgettable. 
If you love nature then this place will be perfect for you. There are plenty of things to do in Joshua Tree including hiking, finding oases, visiting cactus gardens, scenic drives, and more. 
You can hike through spectacular desert landscapes with trees that look like they're from another planet, take photos next to boulders as big as houses, or relax in an oasis surrounded by palm trees. If you want something more active than just walking around admiring nature then go on a climbing adventure at Jumbo Rocks or Indian Cove. 
No matter which activities you choose, you'll be left breathless with awe at the beauty of Joshua Tree.
Even if there is some wintry weather during your visit, snow-covered Joshua Trees are one of the most beautiful sights. 
You won't regret spending your winter holiday at this national park with its stunning views and unique attractions. Come discover all that this national park has to offer during your next trip out west!
Sedona, Arizona
Recommended by Lydia from Lost With Lydia
Temperature:
58 °F January average high
33 °F January average low
Sedona is a magical place of red rock hikes, exciting recreational activities, mystical vortexes, and great weather. 
Sedona receives the most visitors in the spring and the fall. By visiting in the winter, you will not only escape some of the crowds but the hotel prices will be more affordable. 
Typical winter temperatures in Sedona have highs in the '60s (°F) and lows in the '30s (°F). It is quite chilly in the mornings but you'll be able to shed layers by the end of the day. Snow in Sedona is not very common, but the region sees a light dusting of snow from time to time. Snow is a beautiful sight in Sedona to see in contrast to the red rocks, but be sure to use extra caution in hiking if the conditions are icy. 
This region has so much to do, allow yourself at least 3 days in Sedona to experience what it has to offer. It is the perfect destination for hiking with trails for all skill levels. The most iconic trail is Devil's Bridge Trail, which is 4.2 miles and 564 feet of elevation gain. Even in the winter, expect crowds. Parking is limited at the trailheads, so arrive before sunrise and have a backup plan for a different trail if you can't find a spot. 
Another popular activity in Sedona is a Pink Jeep Tour! On the tour, you will get a taste of off-roading, learn about Sedona from your guide and enjoy incredible red rock views. 
Finally, explore the town of Sedona and enjoy the delicious food options. Sedona is also a great region for wine and there are several winery tour options to get a taste of the wine region. 
Napa, California
Recommended by Aimee from Snap Happy Travel
Temperature:
57 °F January average high
39 °F January average low
Napa is just over an hour's drive from San Francisco and is consistently ranked as one of the cutest small towns in California. It is one of the most popular wine destinations in the world, in fact, there are over 400 wineries in Napa! The most famous wine variety grown here is Cabernet Sauvignon and one of the best wineries to taste this (and other delicious wines) is Buena Vista Winery on Old Winery Road. You can book a guided wine tour or you can rent a bike from town and cycle to some of the wineries yourself.
One of the most unique things you can do in Napa in Winter is to book a sunrise hot air balloon ride over the wineries and stunning surrounding scenery. Golf too is a popular Winter activity with five golf courses nearby, the best is Silverado Resort Golf – a PGA Championship course.
The weather in Napa is quite warm during the winter months, averaging about 15 Celsius (59 Fahrenheit). So, it's ideal temperatures for a walk along the gorgeous Napa riverfront and visiting Oxbow Public Market, where local artists and crafters sell their unique wares. You're sure to pick up an awesome souvenir here!
Napa is one of the best cities in California for foodies, with one of the most famous (and highly-rated) restaurants in the world, French Laundry located just outside of town. This 3 Michelin-star restaurant has a long waiting list, so advance booking is essential! In Napa town and a little more budget-friendly are The Dutch Door and Contimo Provisions, which are both highly recommended.
Napa Valley is a great destination for your 30th or 40th birthday celebration.
Staying a few nights in Napa is highly recommended and the Napa Valley Marriott is reasonably priced and features a huge outdoor pool with an adjoining fire pit and luxurious rooms.