Some of the links in this post are affiliate links. This means if you click on the link and purchase the item, I will receive an affiliate commission at no extra cost to you. All opinions remain my own.
In this blog post, we will discuss some of the best reasons to visit Berlin – one of the most popular cities in Europe.
Whether you're looking for a city break or an amazing vacation destination, Berlin is definitely worth considering!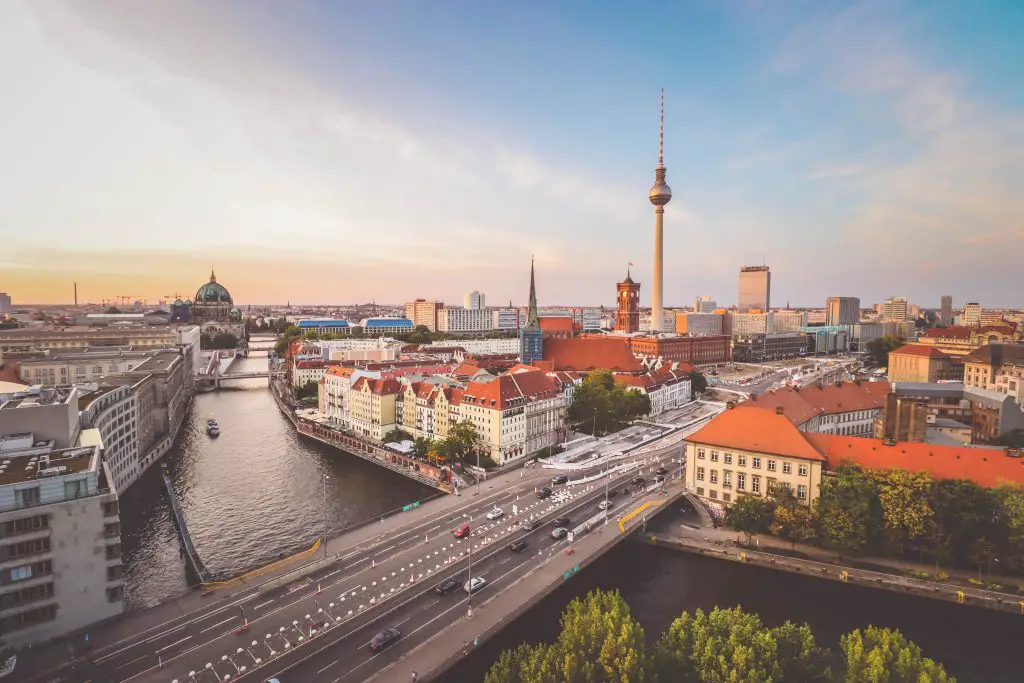 The city is home to some of the best museums in the world
Berlin is a city with a rich history that is evident in its many museums.
Museum Island, located in the center of the city, is home to five world-renowned museums. The Berlin State Museums, which include the Pergamon Museum and the Alte Nationalgalerie, are some of the most visited museums in the world. And for good reason – they house an extensive collection of art and artifacts from across the globe.
If you're looking for something else, Berlin also has several smaller museums that are worth visiting. The Egyptian Museum and Papyrus Collection, for example, houses one of the largest collections of Egyptian artifacts outside of Cairo. And the Museum of Natural History is home to a wide variety of exhibits, from dinosaur bones to stuffed animals.
No matter what your interests are, you're sure to find a museum in Berlin that piques your curiosity.
There are plenty of historical landmarks to explore
The Berlin Wall is one of the most famous landmarks in the city, and it is a must-see for any visitor. The wall was built in 1961 to divide East and West Berlin, and it stood for nearly 30 years before it was finally breached in 1989.
Today, the wall is a symbol of freedom and unity, and its memorial is one of the most popular tourist attractions in the city.
Other historical landmarks worth exploring include the Brandenburg Gate, the Reichstag building, and TV tower. These landmarks offer a glimpse into Berlin's past, and they are sure to fascinate any visitor.
The food scene is thriving and diverse
When it comes to food, Berlin is a city that has something for everyone. Whether you're craving a hearty German meal or looking for something a little more exotic, you'll be able to find it here.
Some of the must-try German meals are:
Currywurst: a sausage covered in curry sauce
Käsespätzle: a dish made with egg noodles, cheese, and onions
Schnitzel: a breaded and fried pork or veal cutlet
Spätzle: a type of egg noodle
Rote grütze: a dessert made with berries, cream, and sugar
The city's diverse population means that there are restaurants serving cuisine from all over the world, and new eateries are popping up all the time.
Berlin is also home to some of the best beer in the country, so be sure to raise a glass (or two) while you're here!
Berlin is a great city for shopping
When it comes to shopping, Berlin is a great city for both locals and visitors. There are a variety of stores to choose from, ranging from high-end boutiques to discount outlets. And no matter what your budget is, you're sure to find something to suit your taste.
Berlin is also home to a number of department stores and malls, so if you're looking for a one-stop shopping experience, you'll definitely find it here.
Plus, with the city's excellent public transportation system, getting around to all of the different shops is a breeze.
It's a great place to party and have fun
Berlin has long been known as a party city, and for good reason. The nightlife here is legendary, and there are plenty of bars and clubs to keep you busy until the sun comes up.
Some of the most popular clubs are:
Berghain
Anomalie Art Club
Stattbad
But Berlin is more than just a party town – it's also a great place to relax and have some fun. The city has a number of parks and public spaces, as well as a thriving arts and culture scene.
There's plenty of nature and greenery to enjoy
Berlin may not be the first city that comes to mind when you're planning a nature getaway. However, this bustling metropolis is home to an impressive array of green spaces, from parks and gardens to forests and lakes.
In fact, almost a third of the city is covered in trees and vegetation. There is a zoo in one of the biggest parks in Berlin. This makes it the perfect place to escape the hustle and bustle of city life and enjoy some time in nature.
The city is affordable compared to other European destinations
Compared to other European destinations, Berlin offers travelers an opportunity to experience an exciting city without breaking the bank.
Accommodation is one of the significant expenses when traveling, and Berlin provides visitors with an array of affordable options. From budget-friendly hostels to mid-range hotels, there are plenty of places to stay that won't cost a fortune.
Food and drink are also reasonably priced in Berlin. The city is renowned for its street food, which is both delicious and affordable. Whether you're craving a traditional German sausage or a vegan falafel wrap, you'll find plenty of options that won't put a dent in your wallet.
Transportation is another area where Berlin is affordable. The city has an extensive public transportation system, including buses, trains, and trams. Visitors can purchase day passes or multi-day tickets that provide unlimited travel on all modes of transportation. This makes getting around the city both convenient and cost-effective.
Berlin is easily accessible via plane, train, or bus
One of the best things about Berlin is that it is very easy to get to. No matter how you are traveling, there are plenty of options for getting into the city.
If you are taking a plane, Berlin has two international airports. If you are taking a train, Berlin is well-connected to the European rail network. And if you are traveling by bus, there are several companies that offer direct service to Berlin from other European cities.
Berlin is a great base for day trips
Berlin isn't just a city of historical significance and cultural vibrancy; it also boasts an exceptional location that makes it a prime base for a variety of day trips.
The excellent transportation system, combined with Germany's top-notch infrastructure, ensures you can venture out of the city for a day and return by nightfall.
Here are some reasons why Berlin is the ideal starting point for many memorable day trips:
Potsdam: Just a short train ride away from Berlin, Potsdam is often the first day trip on a traveler's list. With its historic Sanssouci Palace, Cecilienhof, and a charming old town, this city offers a perfect combination of Prussian history and picturesque landscapes.
Sachsenhausen Concentration Camp: Located in Oranienburg, this former concentration camp serves as a chilling reminder of the atrocities of World War II. A visit here is a sobering experience but essential for those who wish to understand a significant part of Germany's history.
Spreewald: Known as the "Venice of Germany", the Spreewald is a unique biosphere reserve with a network of channels and rivers. Here, visitors can take a traditional punt boat ride, savor Spreewald pickles, and enjoy the serene nature.
Leipzig: Another city steeped in history, Leipzig is just over an hour away from Berlin by train. It's known for its rich musical heritage (attributed to names like Johann Sebastian Bach), its pivotal role in the Peaceful Revolution, and vibrant arts scene.
Baltic Sea: The coastline of the Baltic Sea is a beautiful escape, with resorts like Rügen and Usedom offering sandy beaches, chalk cliffs, and a refreshing marine ambiance.
Having Berlin as a base allows travelers to immerse themselves in the rich tapestry of Germany's history, culture, and natural beauty, all within reach of a short drive or train ride. So the versatility of day trips from this city is one of the best reasons to go to Berlin.
---
---