Some of the links in this post are affiliate links. This means if you click on the link and purchase the item, I will receive an affiliate commission at no extra cost to you. All opinions remain my own.
The history, natural beauty, and lively cultural scene make it one of the most fascinating countries. It attracts globetrotters from all corners of the globe. It boasts a diverse range of urban centers, each possessing its own allure and countless attractions. This blog post will uncover the top four urban hubs in Germany and delve into the captivating activities and experiences awaiting you. 
Whether you're passionate about history, drawn to the wonders of nature, or simply crave an authentic taste of German cuisine, these destinations guarantee an extraordinary voyage that will leave an indelible impression. Prepare to embark on an exploration of Germany's lesser-known treasures and unearth the distinctive qualities that make each city an absolute must-visit location.
Munich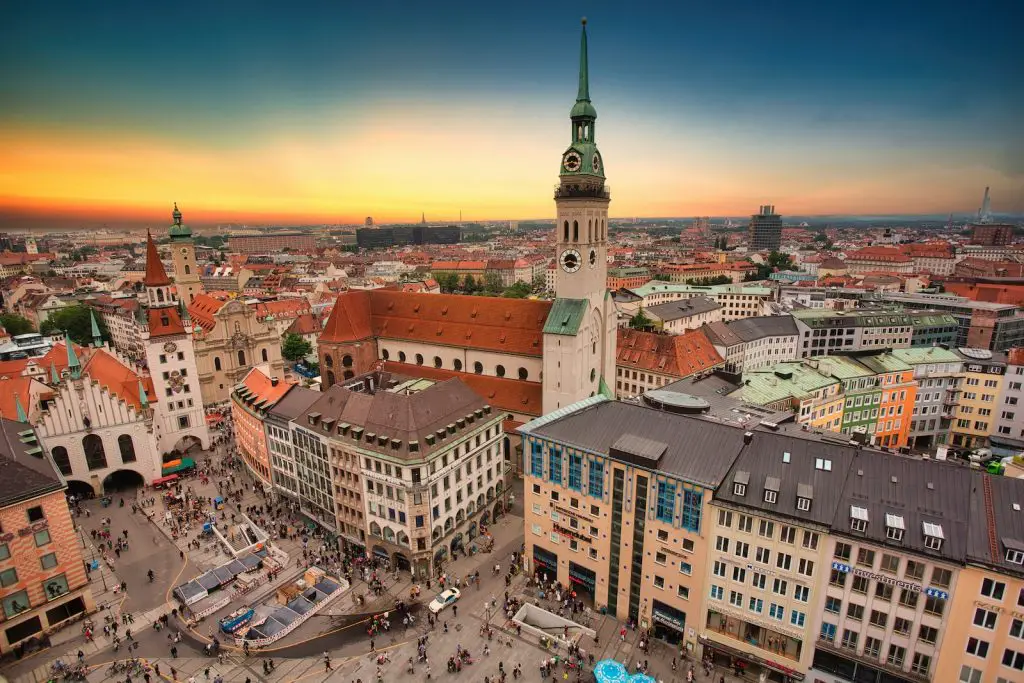 Munich, the capital city of a German state known as Bavaria, stands as a bustling center that harmoniously merges a storied past with modern elements. Recognized globally for its annual celebration called Oktoberfest, Munich presents a plethora of experiences that extend far beyond its renowned beer establishments. 
Initiate your expedition at the emblematic Marienplatz, the city's central square, where you can admire the intricately designed frontage of the Neues Rathaus (New Town Hall) and witness an enthralling Glockenspiel performance. For a taste of Bavarian regality, venture to the lavishly adorned Nymphenburg Palace, encompassed by exquisite gardens and picturesque lakes. 
Art aficionados can indulge in Munich's artistic legacy by exploring the Alte Pinakothek, which houses an exceptional array of European masterpieces, or engaging with contemporary exhibits at the Pinakothek der Moderne. Remember to relish the gastronomic delights Munich has to offer.
Hamburg
Standing as the second-largest city in Germany, Hamburg presents a diverse array of attractions tailored to suit all inclinations. Commence your expedition at the renowned harbor vicinity, where you can witness the animated bustle of one of Europe's most bustling ports and explore the awe-inspiring International Maritime Museum. Saunter leisurely along the picturesque Speicherstadt, a colossal complex of red-brick edifices and enchanting waterways, boasting the status of the world's largest warehouse district. 
For a rendezvous with nature, seek refuge in the verdant sanctuary of Planten un Blomen Park, an idyllic retreat ideal for leisurely picnics and tranquil afternoon strolls. Hamburg's nightlife emanates an equal degree of allure, courtesy of its vibrant music scene and the legendary Reeperbahn district, celebrated for its vivacious assortment of bars, clubs, and theaters.
Dresden
Dubbed the "Florence on the Elbe," Dresden unveils a myriad of awe-inspiring landmarks and cultural gems making it one of the top European destinations. Embark on your exploration at the resplendent Dresden Frauenkirche, an exquisite Baroque marvel that has been meticulously resurrected to its former grandeur following its devastation during the tumultuous era of World War II. 
Immerse yourself in the city's opulent cultural heritage by venturing to the illustrious Zwinger Palace, an architectural marvel that harbors museums and art collections spanning numerous centuries. Connoisseurs of art will be spellbound by the internationally acclaimed Gemäldegalerie Alte Meister, housing masterpieces by esteemed luminaries including Raphael, Rembrandt, and Vermeer. For a serene interlude, partake in a leisurely stroll along the picturesque banks of the Elbe River or venture into the idyllic splendor of Dresden Heath.
Frankfurt
Frankfurt, a vibrant metropolis known as Germany's bustling financial center, offers a captivating amalgamation of contemporary skyscrapers, historic allure, and a thriving cultural milieu. As you traverse the dynamic streets of the city and engage in interactions with its inhabitants, acquainting yourself with a few fundamental phrases in German can significantly enrich your sojourn. If you are looking to learn German, you can start your German adventure with Lingoda. 
While many denizens of Frankfurt are proficient in English, demonstrating an earnest attempt to communicate in German can bridge cultural divides and foster deeper connections. Initiate your linguistic journey by mastering uncomplicated salutations such as "Guten Tag" (Good day) or "Danke" (Thank you), gestures that can convey respect and gratitude effectively. 
Engage in amiable exchanges with locals at traditional Apfelwein establishments, where you can practice ordering "Ein Glas Apfelwein, bitte" (One glass of apple wine, please) and initiate discussions on local customs and recommendations.
In summary, the finest cities of Germany offer a plethora of captivating encounters that cater to the preferences of every voyager. From the historical enchantment of Munich to the maritime charisma of Hamburg and the resplendent architectural wonders of Dresden, each city possesses a distinctive essence and an assortment of enthralling attractions awaiting exploration. 
Whether one immerses themselves in the opulent tapestry of Bavarian heritage, indulges in gastronomic pleasures, or marvels at world-renowned collections of art, the cities of Germany pledge an indelible odyssey. While it is noteworthy that English enjoys widespread usage, endeavoring to acquire rudimentary German phrases can enrich interactions with locals and deepen one's grasp of the country's cultural tapestry. 
Therefore, gather your belongings, embrace the spirit of exploration, and set forth on a voyage through Germany's premier cities, where history, culture, and allure intertwine to forge an unparalleled sojourn for the discerning traveler.
What to read next?