Some of the links in this post are affiliate links. This means if you click on the link and purchase the item, I will receive an affiliate commission at no extra cost to you. All opinions remain my own.
There's nothing quite like a traditional European Christmas market. The sights, smells, and sounds of the season come alive in these festive outdoor markets, and Riga's Christmas market is one of the best.
If you're planning a trip to Latvia this December, be sure to add a visit to the Riga Christmas market to your itinerary.
Here's what you need to know to make the most of your experience.
When we are talking about a Christmas market in Riga, you'll need to know that there are actually multiple markets to choose from. The main Christmas market is located on Dome Square in the Old Town Riga, and another smaller Christmas market is in the Esplanade park – within a walking distance from the Old Town. There will be several pop-up Christmas markets on weekends in various places in Riga, and you can also check out the Central market during Christmas time.
Riga Christmas market on Dome Square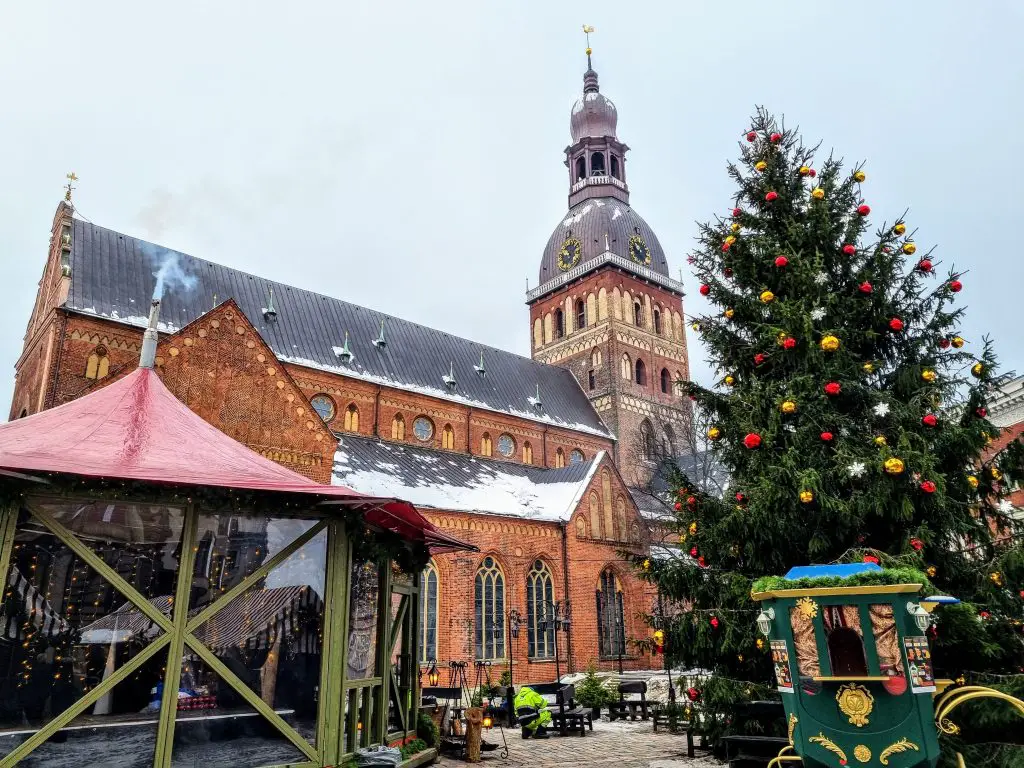 This could be considered the main Christmas market. The location of Doma laukums Christmas market is like out of a storybook – in the heart of the Old Town of Riga, surrounded by narrow cobblestone streets, charming buildings, and overlooked by the majestic Dome Cathedral.
There are numerous booths selling all kinds of Christmas-themed souvenirs and food. You'll be able to buy here jewelry made of amber and silver, gingerbreads, mulled wine, sauerkraut and sausages, wooden spoons and other utensils, wool socks and mittens, honey, and many other handmade goods.
Kids will be able to meet Santa Claus at certain times, ride a pony, and be entertained by dwarfs. During the weekend days, there will be live music, Latvian folk dance performances, and other attractions.
If you have smaller children that use a stroller, keep in mind that there are cobblestone streets in the Old Town. If your wheels are small and not made for snow and rougher terrain, visiting this Christmas market might be uncomfortable for your child.
To avoid crowds, we recommend visiting during the week rather than on weekends. You'll still get to enjoy all the market has to offer without having to fight your way through throngs of people. Trust us, it's worth it!
Address: Doma laukums 1, Centra rajons, Rīga, LV-1050
Working dates: 27.11.2022 – 01.01.2023
Working times: Monday-Thursday: 11:00 – 21:00, Friday-Saturday: 10:00 – 22:00, Sundays: 10:00 – 20:00
Riga Christmas market near Esplanade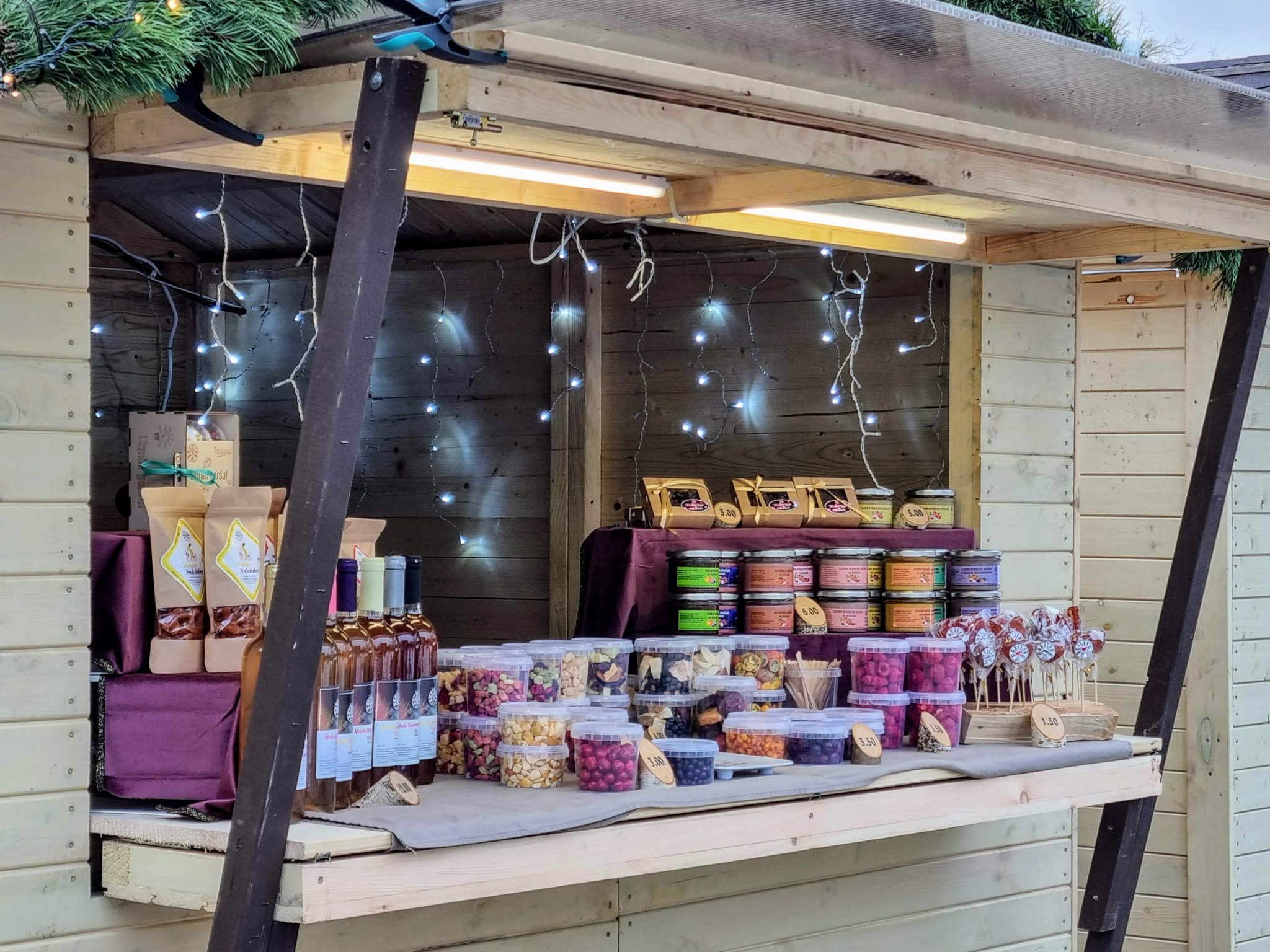 In the Esplanade park, you'll find another Christmas market in Riga. This one also has all the charm of Christmas complete with the decorations, small wooden booths, and the handmade souvenirs characteristic of Latvia.
Children will be happy to see the bunnies and ride on a Ferris wheel. Adults can enjoy a glass of mulled wine, and buy some tried raspberries, amber earrings, or fuzzy slippers as a practical and usable Christmas gift.
Address: Brīvības bulvāris 23, Centra rajons, Rīga, LV-1050
Riga Central Market in Christmas time
The Central market is a landmark that should be on your must-see list when you are visiting Riga no matter what time of the year it is. This place is a bustling mix of cultures and things that are just fascinating to experience. The market is housed in amazing buildings that used to be Zeppelin hangers a hundred years ago.
There are a few separate hangers dedicated to a group of goods, for example, meat, fish, gastronomy, clothes, and so on. You can find here almost anything, starting from fresh produce from farmers and continuing with knock-off designer bags and yummy pastries.
During Christmas time in addition to the usual goods, you'll be able to find here mulled wine, gingerbread, souvenirs, and a bit of Christmas decorations. This won't be the instagrammable Christmas market that you can read in the destination guides about, but it will surely impress with the surprises you can see here.
And as this is a permanent market for everyday people, you'll be able to find similar souvenirs as in the other markets but probably less overpriced.
Address: Nēģu iela 7, Latgales priekšpilsēta, Rīga, LV-1050
Working dates in 2022: All days
Working times: Monday-Sunday: 7:00 – 18:00, but you should be there early as in the reality most of the stalls close around 14:00
Pop-up Christmas markets in Riga
There will be several pop-up Christmas markets happening just for a few days. If you are visiting Riga on these dates, consider going to some of these markets in unique locations.
Getting There and Around
You can get to Riga by flying to the Riga International Airport. From there, you can take a Taxi or 22. bus to the center of the city.
When you are in Riga, you can use public transportation or taxis to get around. One of the most affordable taxi services is Bolt – it is similar to Uber in other countries.
Where to stay in Riga
If you are looking for a nice hotel that won't break the bank and that is within a walking distance from the Old Town and Christmas markets in Riga, check out Radisson Blu Latvija Conference & Spa Hotel. One of the best features of this hotel is Skyline Bar on the top floor. You can sip a cocktail with panoramic views of the city below and enjoy a cozy winter evening after a walk through the beautiful city.
A visit to the Riga Christmas market is a must-do for anyone spending winter in Latvia. These festive outdoor markets are the perfect place to get into the holiday spirit, whether you're browsing stalls for presents or enjoying some traditional Latvian dishes. Just be sure to go during the week to avoid the crowds!
Frequently Asked Questions
Does Riga have Christmas markets?
Yes, there are multiple Christmas markets in Riga. You can find a traditional Christmas market in the Old Town in Dome Square.
What is the Riga Christmas market location?
There are actually multiple Christmas markets, and the most famous ones are located in Doma laukums and Esplanade Park.
What to buy in Riga Christmas markets?
Amber jewelry, knitted socks and mittens, honey, Riga Black Balsam, gingerbread, and other goods made by craftsmen.
Is Riga nice at Christmas?
The Old Town Riga and the city center are decorated for Christmas, there are lights everywhere. Shops and cafes have Christmas-themed decorations and the mood is festive. Riga looks best when there is snow at Christmastime.
Is Riga a walkable city?
Many major attractions are located in the city center and near the Old Town, and this turns Riga into a very walkable city.