Some of the links in this post are affiliate links. This means if you click on the link and purchase the item, I will receive an affiliate commission at no extra cost to you. All opinions remain my own.
Winter has a magical way of painting cities across the USA with a shimmering, snowy touch. Each destination, from bustling urban centers to tranquil mountain towns, offers its unique winter charm.
Winter enthusiasts can choose from vibrant festivities in iconic cities or seek solace in quieter, snow-blanketed retreats.
In this guide, we're unveiling 9 top snowy winter weekend getaways.
Whether you're craving urban sparkle or mountain calm, your perfect frosty adventure awaits. Dive in and discover your next winter wonderland.
Snowy Winter Weekend Getaways in the USA:
New York, New York
New York, New York transforms into a winter wonderland during the snowy months. The glittering lights of the Rockefeller Center Christmas Tree beckon, while Central Park invites visitors for enchanting sleigh rides.
For those on a budget, there are numerous free things to do for families in New York. Ice skate at Bryant Park's Winter Village, marvel at festive window displays along Fifth Avenue, or simply indulge in a snowball fight in the park.
New York's magic, coupled with its snowy embrace, makes it an unforgettable winter break destination.
Cleveland, Ohio
Cleveland, Ohio offers a picturesque snowy retreat overlooking the vast Lake Erie. As snow blankets the city, the shimmering lights at Public Square become a focal point.
One of the best things to do in Cleveland during winter is to visit Edgewater Park, where the lake's icy expanse creates mesmerizing views. Don't miss out on the cultural richness of the West Side Market, perfect for warming up with local treats.
Whether you're strolling through the city's historic neighborhoods or embracing the chill by the lake, Cleveland ensures a memorable winter experience.
Aspen, Colorado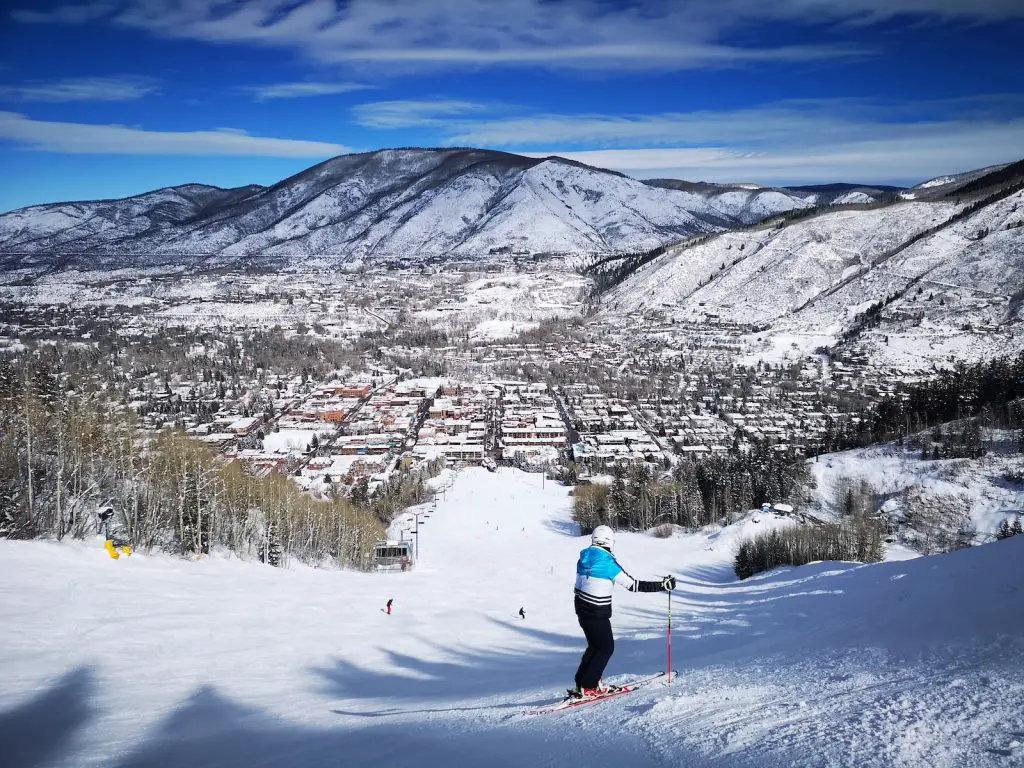 Aspen, Colorado is synonymous with a pristine winter paradise. Nestled amidst the Rocky Mountains, its world-class ski resorts draw enthusiasts from around the globe.
But even if skiing isn't your thing, Aspen's downtown exudes a cozy ambiance perfect for winter strolls. Warm up with a cup of cocoa at local cafes, or immerse yourself in the town's vibrant arts scene.
As the snowflakes dance through the air, the beauty of Aspen makes it an ideal destination for a snowy winter break.
Burlington, Vermont
Burlington, Vermont, set by the serene Lake Champlain, captures the essence of a New England winter. The historic downtown, adorned with twinkling lights, offers a warm embrace against the cold.
A must-visit is the Church Street Marketplace, bustling with shoppers and brimming with winter charm. Nearby, snowy trails beckon for tranquil walks or exhilarating snow sports.
As you gaze out over the frozen lake or cozy up in a local café, Burlington serves up the perfect snowy winter retreat.
Lake Placid, New York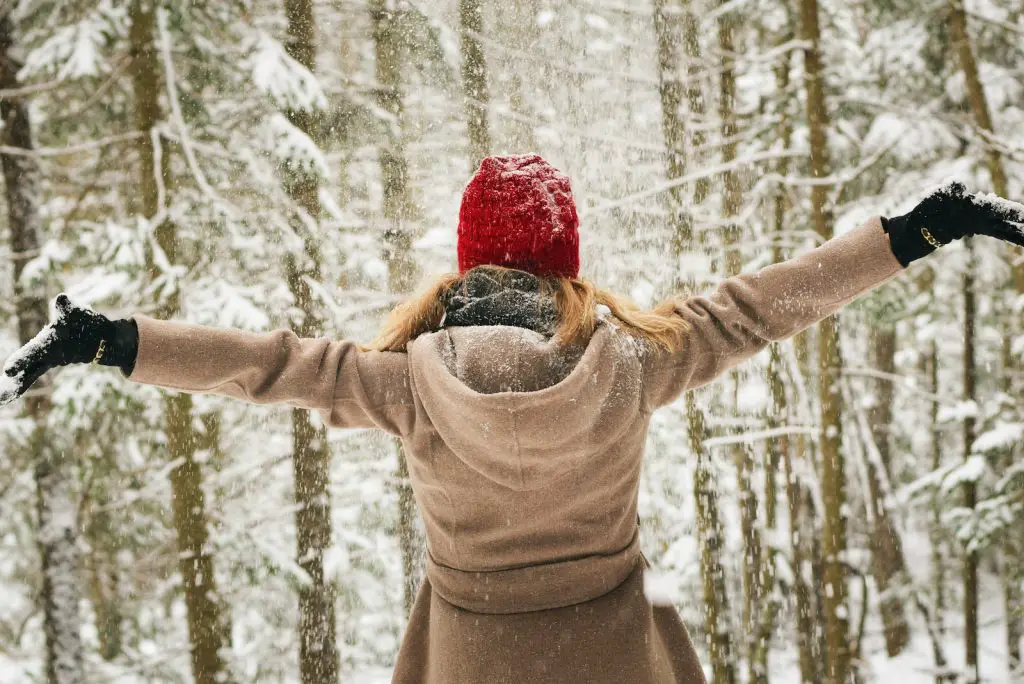 Lake Placid, New York, with its majestic Adirondack Mountains, is a haven for winter enthusiasts. Steeped in Winter Olympics heritage, it's a landscape filled with snowy trails and frozen lakes.
Engage in thrilling activities like ice skating or bobsledding, drawing inspiration from past champions. The town itself radiates a quaint charm, with boutique shops and cozy eateries waiting to be explored.
Whether you're chasing adrenaline on the slopes or seeking serenity by the fire, Lake Placid delivers an unmatched snowy winter break.
Stowe, Vermont
Stowe, Vermont stands as a beacon of winter beauty in the heart of New England. Dominated by the majestic Mount Mansfield, it's a snowy sanctuary for skiers and snowboarders alike.
But beyond the slopes, Stowe's charming village atmosphere beckons. Delight in horse-drawn sleigh rides, or warm up with artisanal treats in local cafés. The iconic Stowe Recreation Path offers serene snow-covered walks, presenting nature's quiet splendor.
For a blend of exhilarating adventure and tranquil moments, Stowe is the snowy winter destination of dreams.
Anchorage, Alaska
Anchorage, Alaska offers a winter experience like no other. Set against a backdrop of towering mountains and expansive wilderness, the city is a gateway to the surreal beauty of the Arctic.
One can't miss the mesmerizing dance of the northern lights, a natural spectacle that lights up the cold nights. Dog sledding adventures provide an authentic taste of Alaskan culture. Within the city, the Tony Knowles Coastal Trail unveils snowy landscapes and chances to spot native wildlife.
Embracing both urban comforts and raw nature, Anchorage promises an unforgettable snowy winter break.
Minneapolis, Minnesota
Minneapolis, Minnesota truly embraces its wintry side. The city, known for its iconic skyline, is equally beautiful blanketed in snow.
A must-see is the frozen Minnehaha Falls, a natural wonder transformed by the cold. Dive into winter festivities with ice skating at Lake of the Isles or exploring the snow-covered paths of Loring Park. Downtown offers a warm refuge with its bustling eateries and vibrant arts scene.
Whether you're indulging in outdoor activities or soaking in the urban winter ambiance, Minneapolis is a snow lover's dream destination.
Truckee, California
Truckee, California, nestled near the iconic Lake Tahoe, is a snowy retreat that's both charming and exhilarating. It's a gateway to some of the Sierra Nevada's finest skiing destinations.
The town's historic core, marked by wooden facades and atmospheric eateries, provides a warm haven against winter's chill. Explore the vibrant Donner Memorial State Park, a wonderland with snow-laden trees and tranquil scenes.
Whether carving up the slopes or sipping hot cocoa downtown, Truckee perfectly encapsulates the magic of a snowy winter break.