Some of the links in this post are affiliate links. This means if you click on the link and purchase the item, I will receive an affiliate commission at no extra cost to you. All opinions remain my own.
Is there a better way to celebrate Christmas than by taking in the sights and sounds of Europe? From the markets in Germany to the Christmas lights in London, these destinations will get you into the spirit of the season. So grab your family and friends and get ready for a European holiday you'll never forget!
---
Travel tips and tricks:
I highly recommend trying these tools for yourself – not only will you save money, but you'll also create memories that last a lifetime. Happy travels!
---
Table of contents:
Reykjavik, Iceland
Recommended by Victoria of Iceland Trippers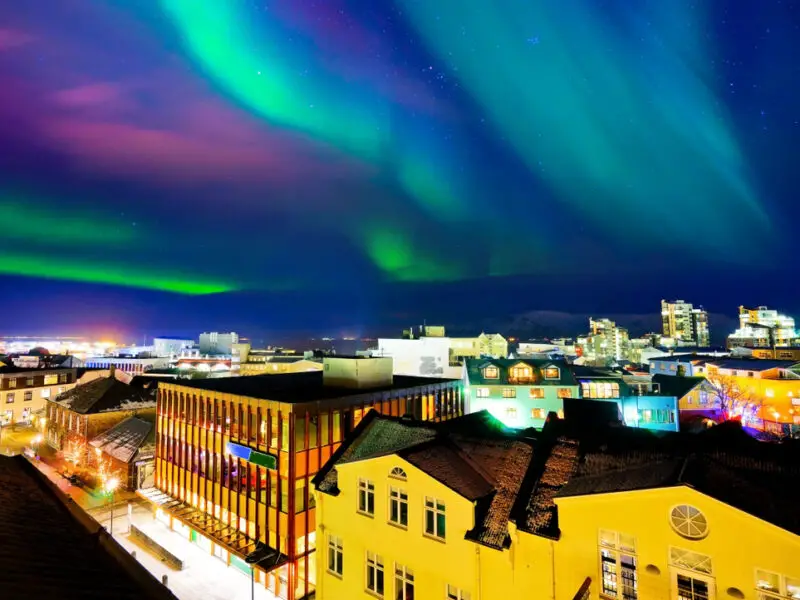 One of the best Christmas destinations in Europe is Reykjavik, Iceland. After all, this incredible city is positively brimming over with holiday cheer, as evidenced by the incredible holiday lights displays that pop up starting in mid-November. 
And while all of the lights in the city are mesmerizing, you can't visit the city without seeing the Yule Cat (a 5-meter-tall statue made of 6,000 lights) at Lækjartorg, the Oslo Christmas Tree in Austurvöllur Square (it gets its name because it's brought here from Norway), and Skólavörðustígur street that leads up to Hallgrímskirkja church, 
Next, enjoy a beautiful Christmas concert at Harpa before doing a bit of shopping on Laugavegur where carolers will since immortal Christmas tunes while local street vendors serve up fragrant roasted nuts. 
Another one of the best things to do in Reykjavik, Iceland is to do some last-minute shopping at local Christmas markets like Yule Town at Ingólfstorg, The Christmas Market in Heiðmörk, and The Christmas Village in Hafnarfjörður. 
Just don't leave the city without enjoying a decadent Christmas buffet. It's locally referred to as jólahlaðborð and all of the restaurants in the city will offer a special holiday menu that features amazing traditional foods like  Síld (pickled herring), Laufabrauð (a thin flat bread), and Hangikjöt (smoked lamb). If you can, indulge in a sumptuous buffet at Jómfrúin Scandinavian Kitchen. 
Finally, spend the night in the amazing Hlemmur Square Hotel and Hostel. It features exquisite, contemporary, well-appointed rooms that make it feel more like a boutique hotel than a hostel.
Oslo, Norway
Recommended by Bradley from Dream Big Travel Far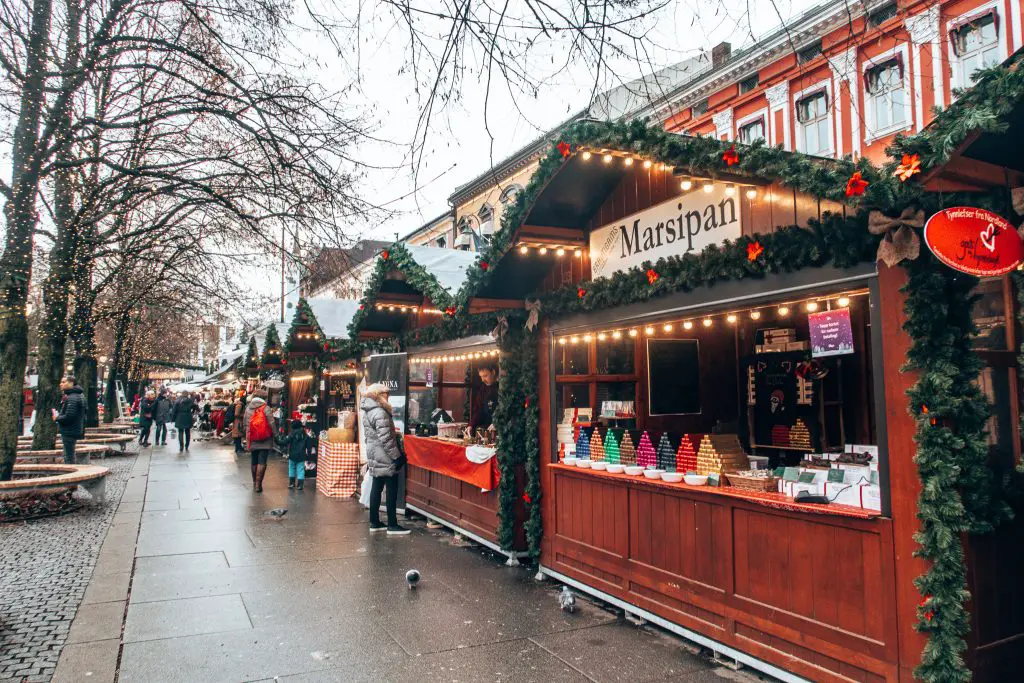 One excellent European destination during Christmastime has got to be Oslo. There's a reason why it's especially popular around December, and that is its festive marketplaces. Wandering the city's Christmas markets has got to be one of the top things to do in Norway. 
Exploring Christmas in Winterland, or Jul I Vinterland as it's known in the local language, is indeed a one-of-a-kind experience for everyone. Located on the bustling Karl Johan street across from the Royal Palace, this is perhaps the most popular Christmas market in the country.
Here, one could stroll along vintage wooden stalls and find everything from Norwegian cured meats to authentic hand-woven sweaters. Not to mention the fantastic range of light bites and beverages: meaty sausages, delicious biscuits, waffles, and mulled wine, to name just a few.
Besides local delicacies, there are also stalls offering traditional crafts, including Viking jewelry and special glassware. These can be fun to look at, but also to buy and share with loved ones back home.
The festive mood will only be better for those visiting with the family. The activities and rides will keep even the littlest ones entertained throughout the day. From attending free concerts and participating in gingerbread workshops to gliding across the skating rink and meeting Santa himself!
Lausanne, Switzerland
Recommended by Caroline from Veggie Wayfarer
When you think of Christmas, most people immediately think of snow, steaming cups of Glühwein en fairytale little wooden chalets filled with aromatic foods. This is the perfect description of Switzerland during the Christmas period. Add in a pristine lake surrounded by snow-capped mountains and you have made it to the best place to spend Christmas in Europe, the Vaud region, and especially the city of Lausanne.
The Christmas markets in Lausanne, also known as Bô Noël have turned into a veritable winter festival in the last years which starts middle of November and runs all the way through to the 31st of December. The city is transformed into a sea of lights and very unique light installations, and chalets with delectable traditional Christmas fair mushrooms up across the little city.
Head to Place Saint-François for a covered Christmas market or try some delicious local cuisine at the Place d'Europe Christmas Market. The very hip neighborhood of Flon has a small outdoor skating rink which is fun for both young and old.
If you are looking for a centrally located, budget-friendly hotel you might consider the 4-star Continental hotel, located right opposite the main train station and around the corner from the metro, which takes you across town in a matter of minutes.
London, United Kingdom
Recommended by Paulina from the Uk Every Day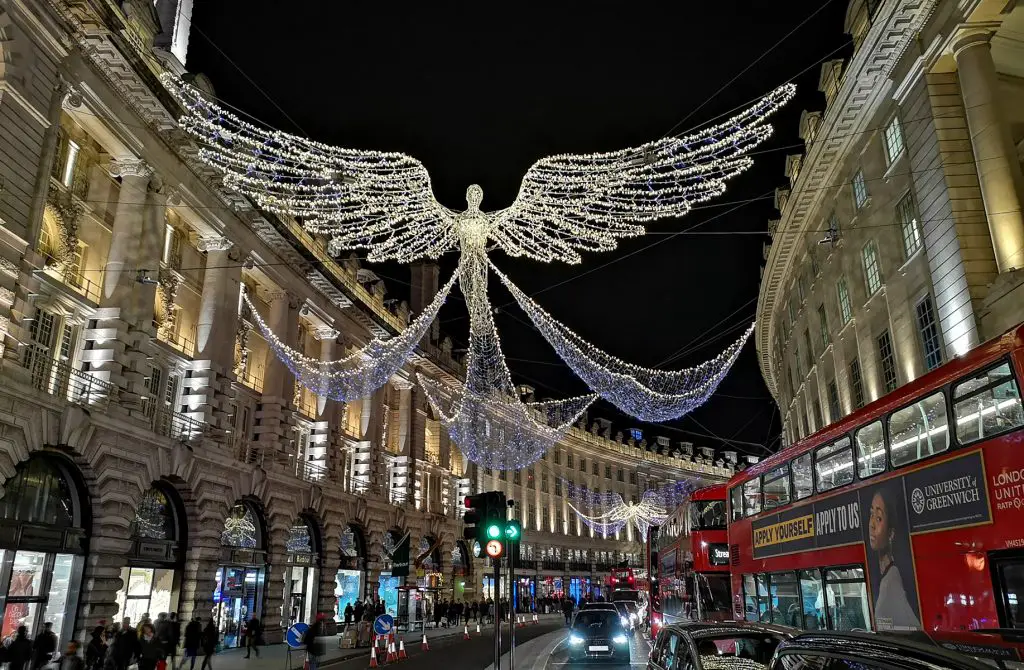 London is one of the most festive capitals in Europe with many airports around the city so getting there for Christmas can be relatively easy. This vibrant city is abundant in winter attractions so a visit to London can offer a magical experience.
One of the best things to do in London in winter is to search for the most beautiful Christmas decorations. You will find them among others on Oxford Street, Regent Street, or New Bond Street. Impressive decorations over the most famous streets will take your breath away.
There are also many winter events in December such as Lumiere London or Lightopia Festival. However, the most popular place is Hyde Park with its Winter Wonderland. If you love Christmas markets, you might want to also visit Covent Garden or Leicester Square.
For the best winter experience, it is recommended to stay in the heart of London. With an unlimited budget, you can book accommodation in the clouds. Shangri-La The Shard Hotel located in the tallest building in London offers incredible views of the city. However, for those who are looking for something cheaper – Travelodge London Covent Garden is also set in a great location, close to many attractions in London.
Valkenburg, The Netherlands
Recommended by Cosette from KarsTravels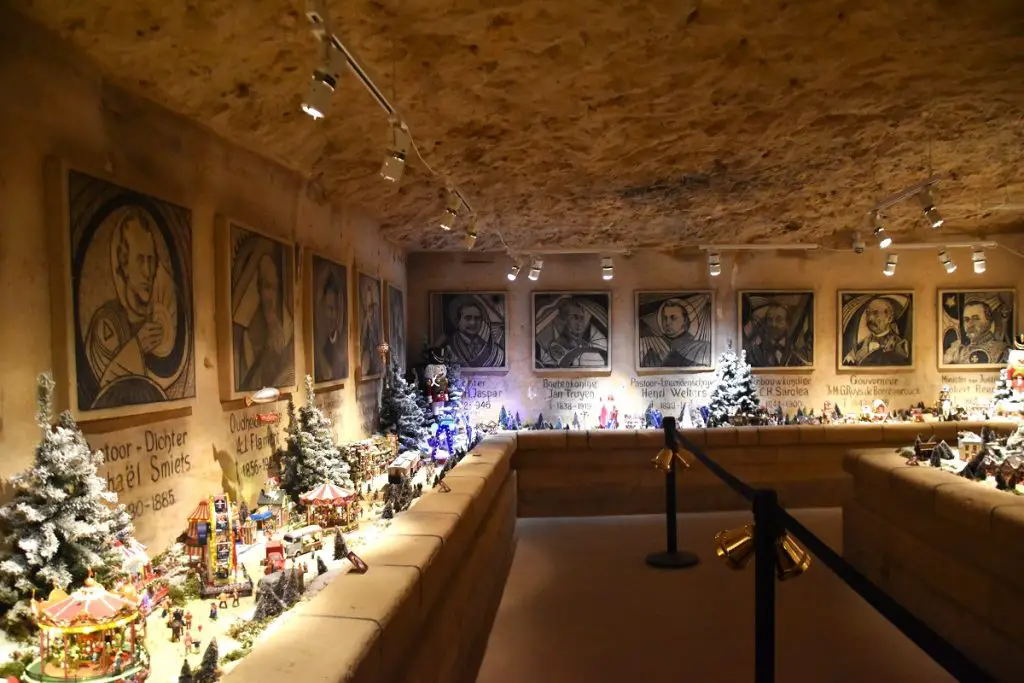 Valkenburg is a town all the way in the South of the Netherlands, near the border with Belgium. Here the Christmas markets are held in caves, which gives them a special ambiance. For years marl was removed from quarries, leaving over a series of caves with corridors. In November and December Christmas markets in Valkenburg are held here and other fun Christmas activities.
There are 4 caves open with Christmas activities. Fluweelengrot has the largest indoor event in the Netherlands. Mergelrijk has a 30-meters long Christmas story in miniature on display. Gemeente grot has the oldest underground Christmas market in Europe. Wilhelmina grot is a small cave with the Christmas story on display. It's inside a mountain and part of Winter Wonderland. On top of the mountain are a bobsled ride, a small Christmas market, a toboggan run, and a 30-meter-high Christmas tree. There's a cable lift going up the mountain.
Further, there's a Christmas Fairytales Parade on Wednesday and Saturday. On the weekend you can walk one of the 4 Route d'Amuse. Self-guided walking routes with stops at restaurants with an amuse bouche. The whole town is festively decorated with Christmas lights.
Weekdays have fewer crowds than Saturdays and Sundays. When visiting on the weekend, try to come early, later on, the waiting lines are long. The caves have a pleasant temperature of 12°C/53°F year round. A unique souvenir would be one made of marl, such as a candleholder or nativity scene.
Within walking distance of the caves is Fletcher Hotel De Burghoeve. 
Paris, France
Recommended by Martha from May Cause Wanderlust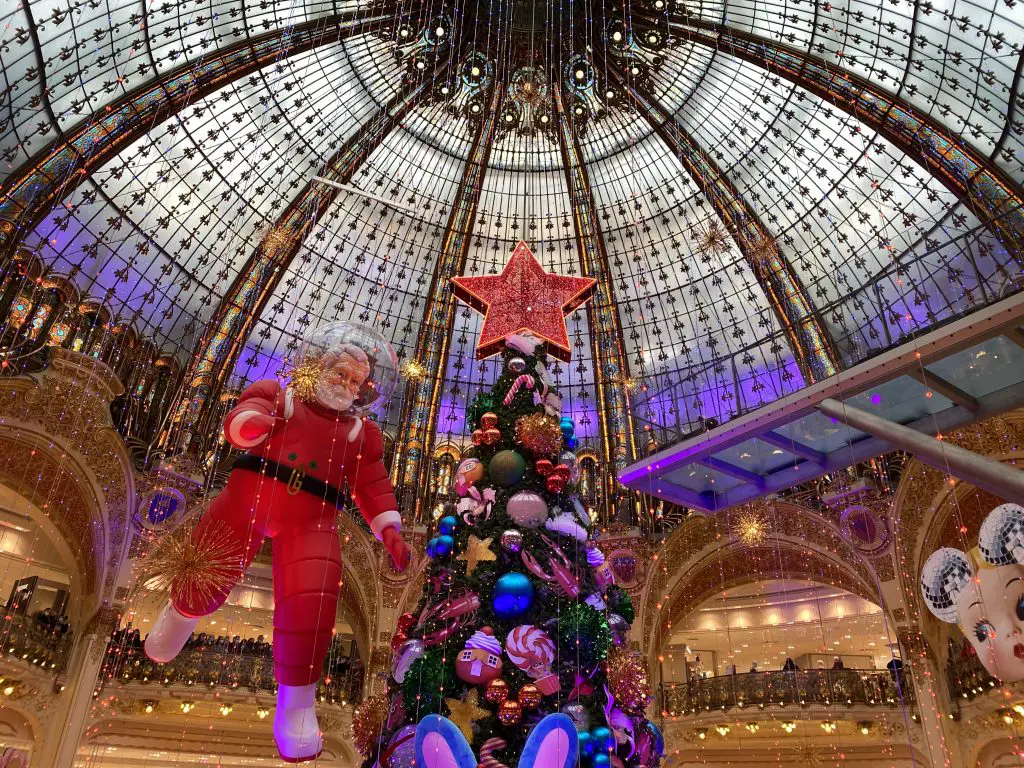 Paris is a great place to spend Christmas because the already beautiful city sparkles in the festive period! 
The smart Haussmann streets light up and Paris's grand department stores deck themselves out in their glittery finest. In particular, the decorations inside the already spectacular dome of Galleries Lafayette is not to be missed!
There are also many Christmas Markets (or Marchés de Noël) around the city. The biggest one is The Magic of Christmas, or La Magie de Noël, at Tuileries Garden. This market has fairground rides, including a large Ferris wheel.  There's plenty of mulled wine (vin chaud) available and also a champagne bar. But the best thing about La Magie de Noël is the huge range of hot food stalls. You can take your pick from raclette, pretzels, onion soup, garlic snails, omelet, and crepes.
You can also find other Christmas markets at Notre Dame Cathedral, the Eiffel Tower, Montmartre, and La Defense.
In general, winter is a great time to visit Paris compared to the rest of the year, because it is quieter, with far fewer crowds. There are lots of things to do in Paris in winter, even if the weather is bad. These include world-class art and impressive museums, magnificent churches, ostentatious theatres, arthouse cinemas, and historic covered markets. 
Berlin, Germany
Recommended by Ali from Berlin Travel Tips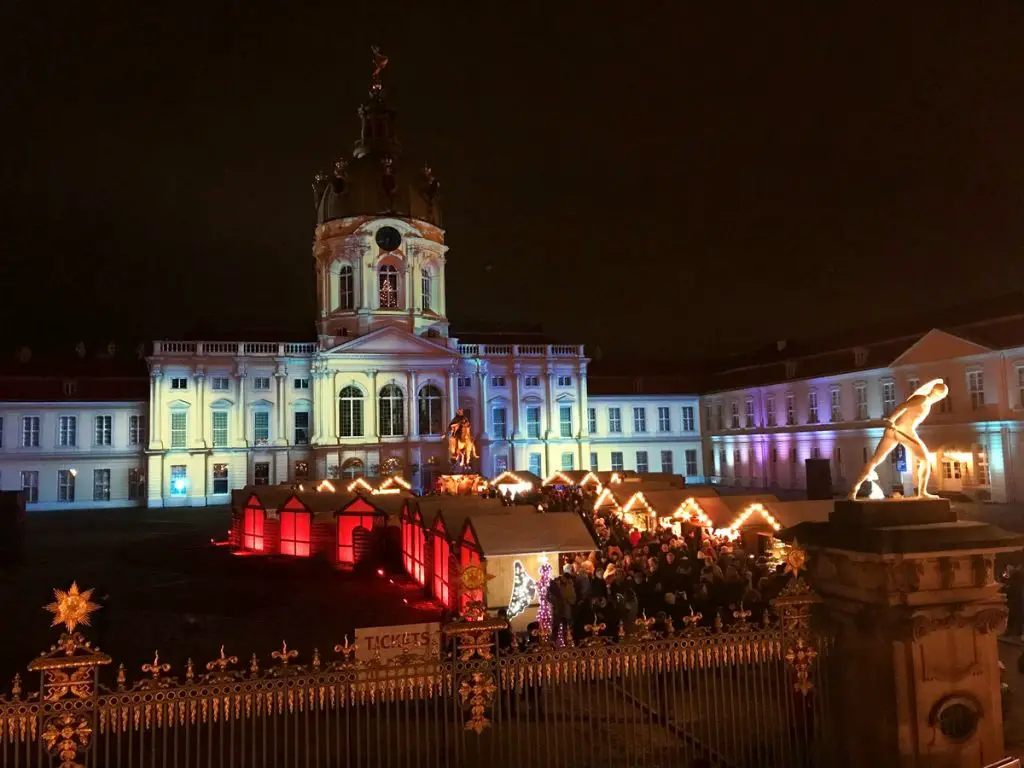 Many cities in Europe, especially in Germany, have one main Christmas market and a few other small ones. Berlin is unique in that it has more than 50 Christmas markets spread throughout the whole city. And while some are more popular than others, there isn't really one main market.
The Gendarmenmarkt Christmas market is a crowd-pleaser with locals and tourists alike. This is one of the prettiest squares in the city, which means it's also a beautiful Christmas market. There's a 1 euro entry fee, but it's a small price to pay for such a great experience.
Another impressive one is the Charlottenburg Palace Christmas market, set in front of the palace. This one has a cozy atmosphere that oozes tradition. Be sure to go to the top of the Hungarian food hut for a nice view of the market and palace.
But there are so many other markets to see! Lucia at Kulturbrauerei is a local favorite with a Nordic theme. Potsdamer Platz and Rotes Rathaus are great if you're traveling with kids since they have ice skating and other kid-friendly activities. Berlin also has a vegan Christmas market, markets aimed more at shopping or art, markets focused on certain cultures and more.
Christmas markets are a fun place for a simple meal and a mug of mulled wine, but you can also leave with some interesting Berlin souvenirs. Your mug has a deposit, but you can forfeit it and keep it, especially if it has Berlin and the year on it. Stalls throughout the markets sell decorations, toys, winter hats and scarves, chocolates, and many other great gifts.
Berlin is a big city, so where you stay depends on your interests. But a fantastic hotel worth a little splurge is the 25Hours Hotel. Book a "jungle" room for floor-to-ceiling windows that overlook the Berlin Zoo and Tiergarten park.
Seville, Spain
Recommended by Paulina from Paulina on the Road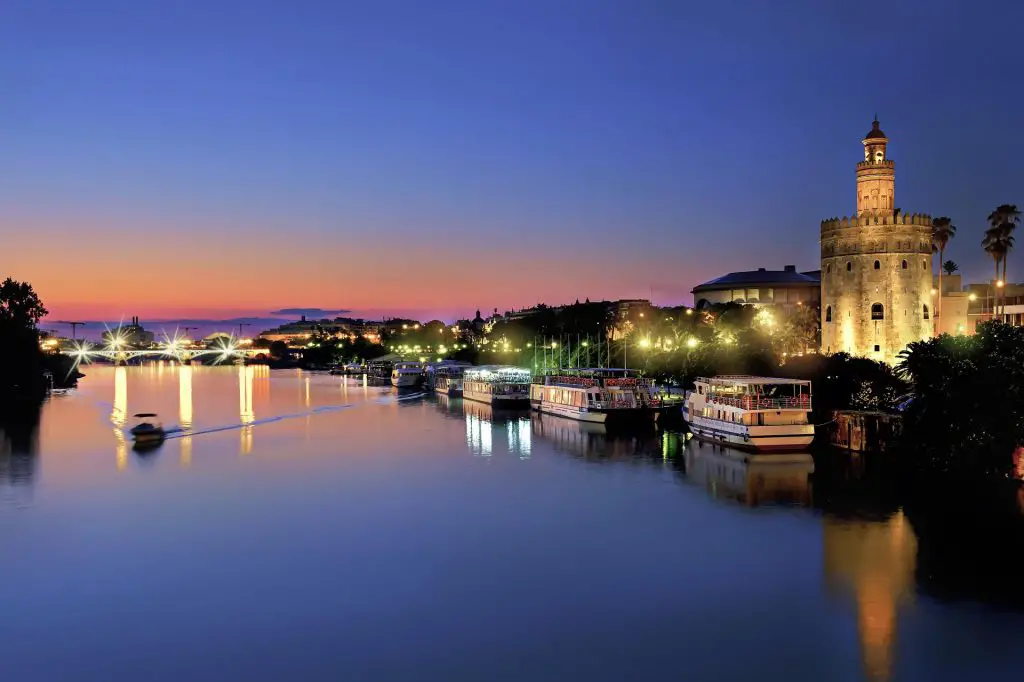 Christmas is meant to be the best time of the year and it should be celebrated at a place with a true Christmas spirit. A getaway to Seville on Christmas can be worth your expectations for a cheerful celebration. It is one of the most beautiful cities in Spain for more than one reason. It has world-class sights like Plaza Espana, Alcazar Palace, Cathedral, Metropol Parasol, and more. With marvelous bars and exciting food culture, Seville is the right place to bring you all the Christmas vibes.
Situated in the south of Spain, this Andalucian capital is comparatively warmer in December as compared to Northern climates. When you visit here in December, you'll see the whole city sparkling with lights all over.
If you want to kick start the Christmas season in the most fairy tale manner, do not miss out on the switch-on time in the city. On this day, all the Christmas lights of the city are switched on and locals and tourists gather in one place to witness this magical view. You will also see random music pop-ups on the streets of Seville. You can enjoy these pop-up concerts at the historical center and around the nearby streets. They move from one plaza to another and sing melancholy holiday songs known as villancious.
As a tradition, locals love to visit nativity scenes during Christmas. You must not miss these exhibitions on Jesus and Virgin Mary. They are performed in detail and are so vast that you will feel tiny in front of it. Then, celebrate the 12 seconds countdown at the Plaza Nueva and enjoy the 12 grapes-eating tradition.
Tip: Book hotels and attractions in advance to avoid rush hour.
For your stay, you can consider the best hotels in Seville with pools like the Melia Lebreros.
Nuremberg, Germany
Recommended by Paul D'Souza from Paulmarina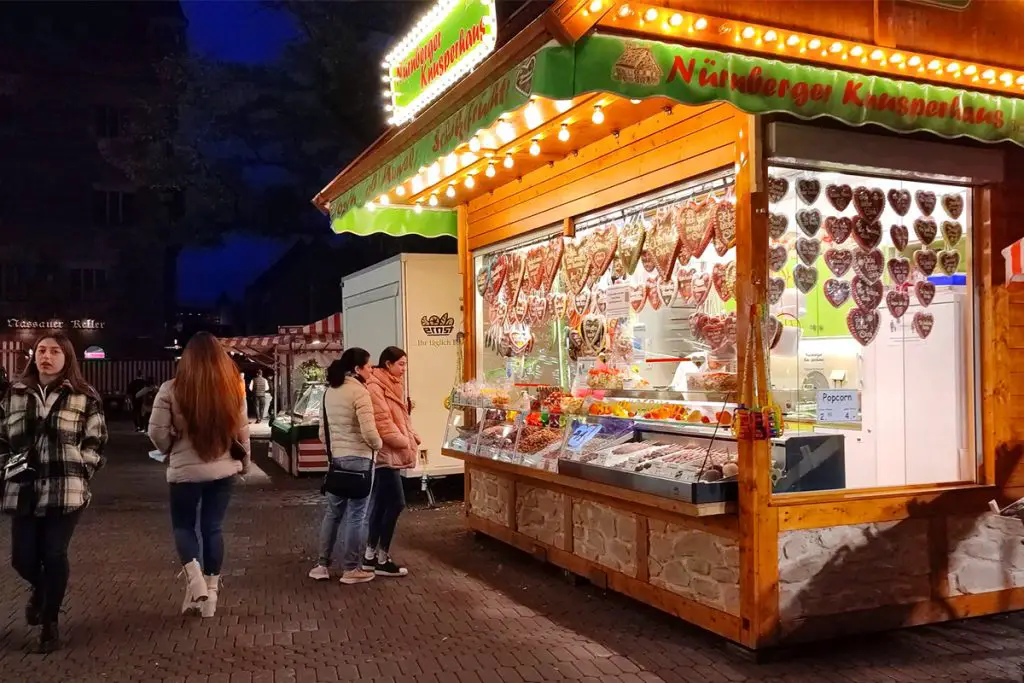 Nuremberg is known for the classic Christmas market held in the inner city every year in December. The old buildings in the market square, known as Hauptmann, make for a perfect setting.
The time before Christmas is known as Advent and this is when people get into the Christmas mood with food, song, and decorations. Visitors from all over the world can take part in these German traditions in the Nuremberg Christmas market.
The market stalls are open every from 10 am to 9 pm, which gives one plenty of time to enjoy the setting and everything that the market has to offer.
The city is known for the Nuremberg Lebkuchen or the Elisenlebkuchen, which are spiced moist add soft large cookies. A large communion wafer and mostly candied fruits and nuts are turned into these wonderful cookies. The best Lebkuchen can be, of course, found in the Christmas market.
Other local food specialties to look out for are the Nuremberg Bratwurst sausages which come in a bun, roasted coated almonds, roasted chestnuts, mulled wine known as Glühwein, and all the various Christmas cookies.
Discover more fun and exciting things to do in Nuremberg Germany.
Bruges, Belgium
Recommended by Paulina from Paulina On The Road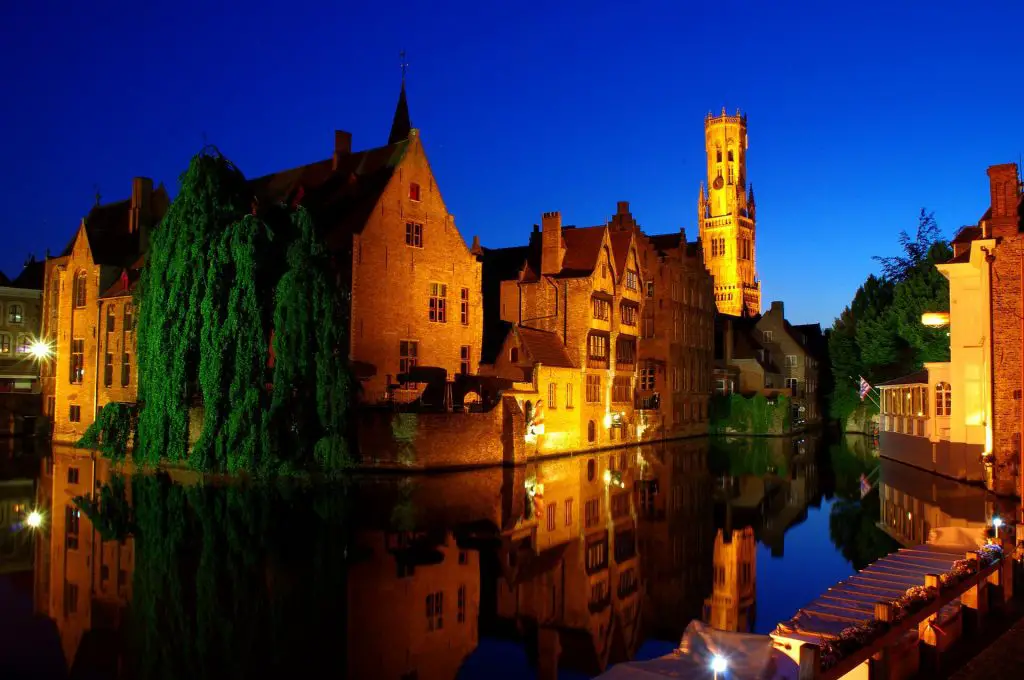 Why spend the holidays in the picturesque Belgian city of Bruges? Having Christmas in Belgium is a great idea for many reasons. In the spring and summer, Bruges is flooded with visitors. By December, most tourists have left this World Heritage site, so you can celebrate Christmas in Bruges with the locals.
Visiting Bruges around Christmas is like entering a scene from a holiday card. The historic town in Belgium's Flemish area sparkles with lights, Christmas markets, and gothic cathedrals, giving it the feel of a place straight out of a storybook.
The market in Bruges is a little different than in other cities. The locals call the festivities the "Winter Glow", which seeks to welcome people of all faiths and to highlight not only the market but all of Bruges in the colder months. Nonetheless, the classic Christmas market remains a major appeal.
Market Plaza (Grote Markt) is the city's main square and the hub of celebrations. More shopping and entertainment await only three minutes away at Simon Stevinplein. As you wander the streets of Bruges, you'll see step gables, elaborate brickwork, and interesting weather vanes. That Belgium belongs to the group of nations known as "low-country" is shown by the fact that it has so many canals. In December, Bruges is much less crowded, making it the perfect time for a walk around the canals. The Christmas market at Market Square is the main attraction for most tourists in Bruges. The Belfry, built in the 15th century, looms approximately 300 feet above the square.
Tip: Try to avoid visiting on Weekends to avoid the rush. Also, take some cash and credit cards with you.
You can stay at Charlie Rockets for a great experience. Wondering where to eat in Bruges? Try out That's Toast! 
Lugano and Locarno, Switzerland
Recommended by Zoe from Together In Switzerland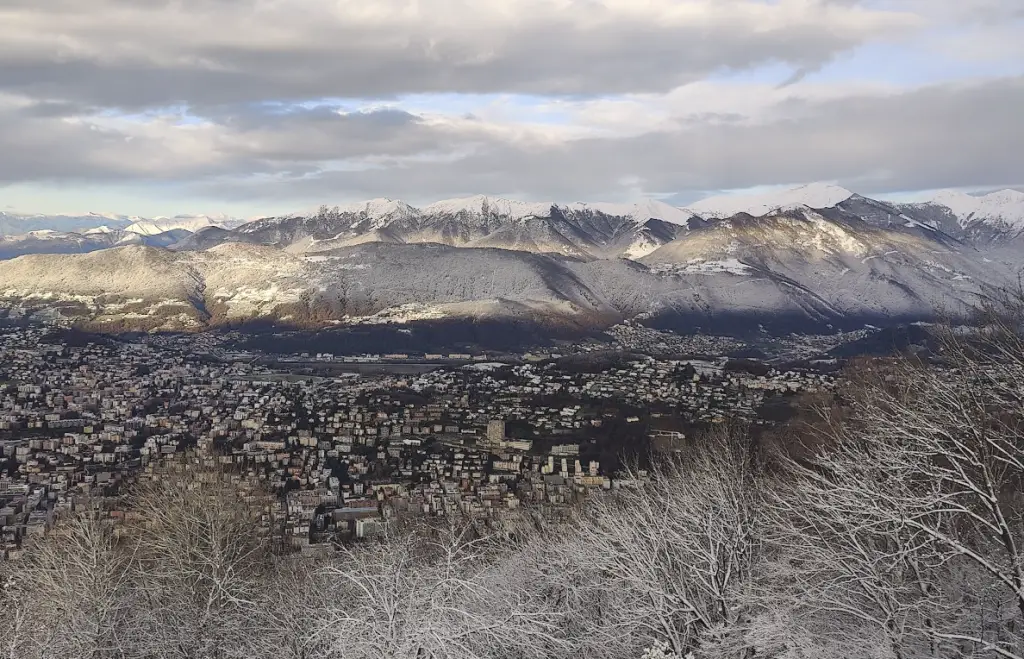 When researching for a festive Christmas vacation, get inspired with a winter trip to Lugano and Locarno in Switzerland. Both are located in the Southern Ticino region of Switzerland, it's an easily reachable location by flying to Milan Italy, and taking a 1-hour train North.
The Christmas celebrations start towards the end of November, with the local Christmas markets being set up for December in Lugano and Locarno. The market stands are always filled with delicious Swiss treats (warm winter drinks, local cheeses, Swiss wines) and local gifts for yourself and your loved ones. It can of course get chilly during winter in Switzerland, but if you didn't bring enough clothes, the markets are also great to buy something warm to wear!
If you enjoy skating on an ice rink, Locarno is a must-visit as they have a huge skating rink at the main Piazza Grande square. It's perfect for a (possibly) snowy afternoon with local music and a fun atmosphere.
For an evening tip: Walk the peaceful city streets of Lugano, lit up with sparkly lights, and spend the evening at one of the cozy restaurants such as the La Cucina di Alice restaurant. From here you can enjoy the evening darkness while looking out towards Lake Lugano. The alternative is to walk along the lakeside all the way to Parco Ciani beach, which is the perfect, romantic spot for looking back at the city lights. 
After a long day exploring both Lugano and Locarno, pick a night's stay at a relaxing hotel such as the Continental Parkhotel Lugano. It's the perfect walking location from the city center of Lugano and from the lakeside promenade. 
Strasbourg, France
Recommended by Anne Charlotte from Carlota's Web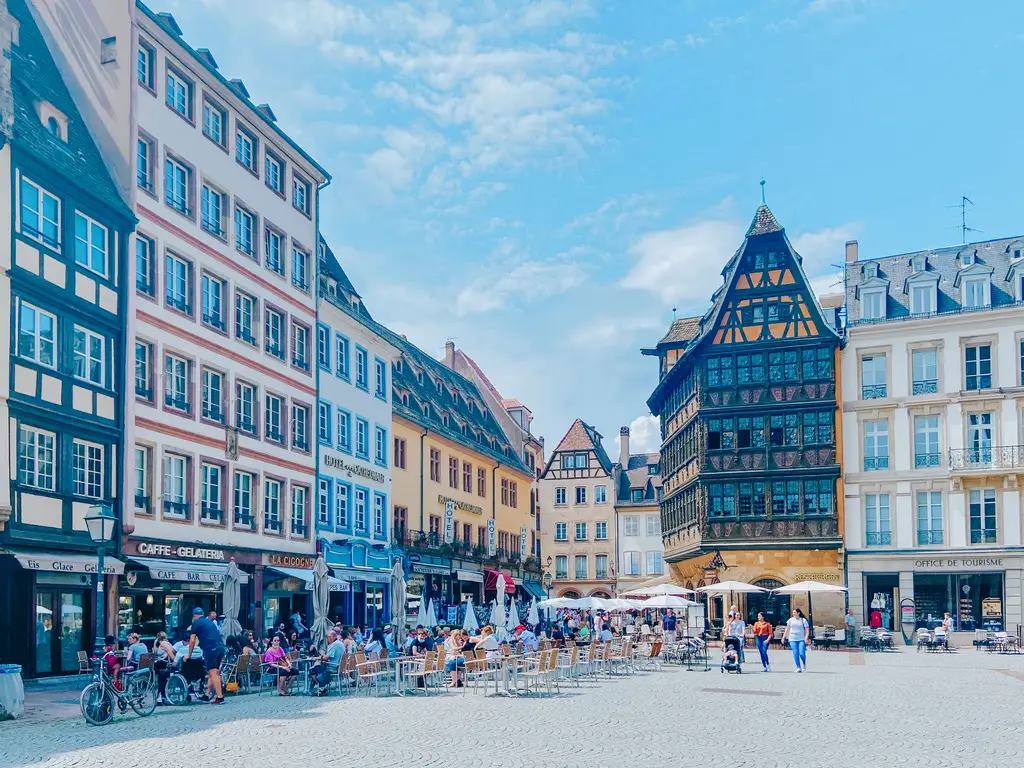 Strasbourg is a picturesque town located in Alsace, an eastern region of France on the border of Germany.
In 1988, the historical center of Strasbourg was entered into the illustrious list of World Heritage sites of UNESCO.  This includes Strasbourg's cathedral and the area known as Petite France. 
When you travel there, you will feel like you have taken a step back in time due to its half-timbered medieval-looking buildings.
As if that wasn't enough, Strasbourg is also well known for its outdoor Christmas Market which is held on the Grande Ile on Place Kléber.  It is one of the oldest markets of this kind in Europe, dating back to 1570.
During Christmas time, the cinnamon-scented and illuminated streets will bring childhood memories of the Christmas past back to life.
At the heart of Place Kléber standing watch over the little chalets selling unique arts and crafts and delicacies lies the highest decorated Christmas tree in Europe.
To get away from the crowds, take the tram to the Park of L'Orangerie which opened in the 19th century.  Don't be surprised to see storks laying around on top of trees. It also has a small zoo which is free to access.
For convenience, sleep in one of the hotels located close to the train station as you can be sure that they'll have an elevator. Hotel Arok is a great option with a hearty breakfast, spacious room, and its own little library if you are in the mood for cozying up by a fire with a good read.
Since the hotel is located close to the train station, you can easily explore some of Strasbourg's surroundings by train to discover the charming town of Colmar or Mulhouse, or rent a car and head over into the Vosges mountains to relive some history.
Mainz, Germany
Recommended by Phil from JOURNICATION Travel Blog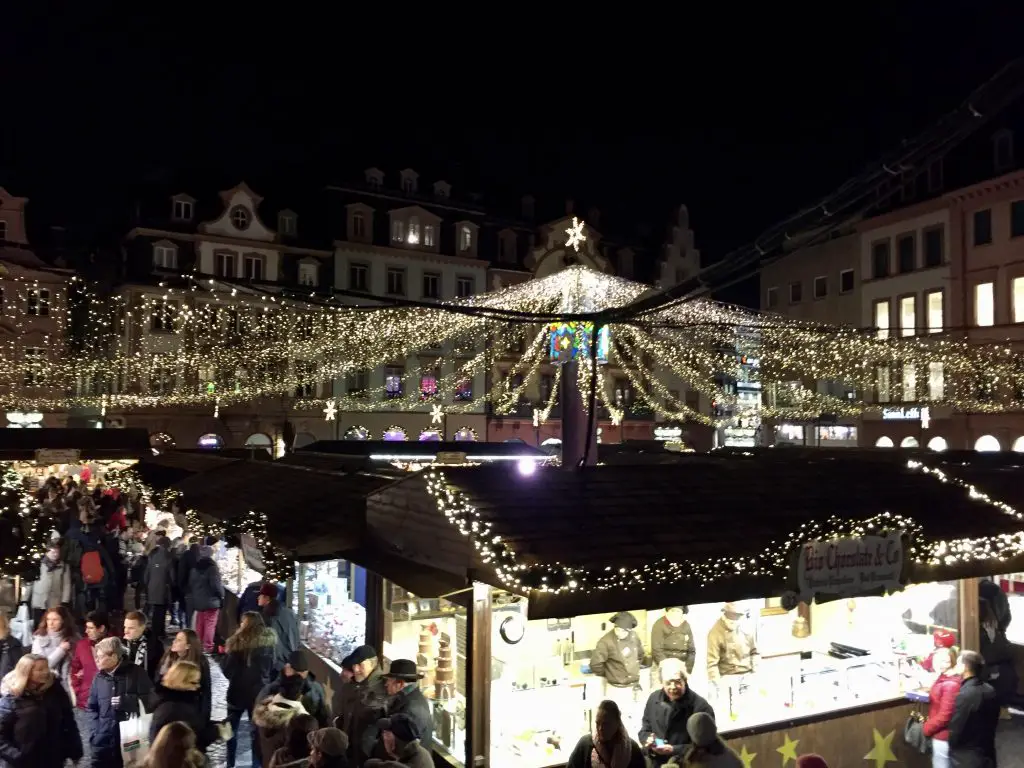 Mainz is a superior destination for the Christmas season in Germany. The weather is wintry cold, but snow is rare. Above all, this makes it convenient to get there.
Christmas markets open in Mainz as early as the end of November every year. In many different places in the city, there are then small huts with the typical German Christmas market drinks and food. Locals meet here for a warming mulled wine or treats from the grill.
The Christmas market on Domplatz square is particularly beautiful. In the shadow of the massive Mainz Cathedral, great strings of lights are strung, giving the square a very special atmosphere. If you have only one day in Mainz or less, this is the place to go!
However, the famous Christmas markets are not everything. There are other great things to do in Mainz during the Christmas season: during this special time, events and concerts are held all over the city to get people in the mood for Christmas. The streets of the cozy Old Town are festively decorated and special winter drinks are on the menu of cafes and restaurants everywhere.
Mainz is also a great destination from Christmas markets in Wiesbaden, the capital of Hesse, or nearby Frankfurt am Main.
Zagreb, Croatia
Recommended by Kristin Lee from Global Travel Escapades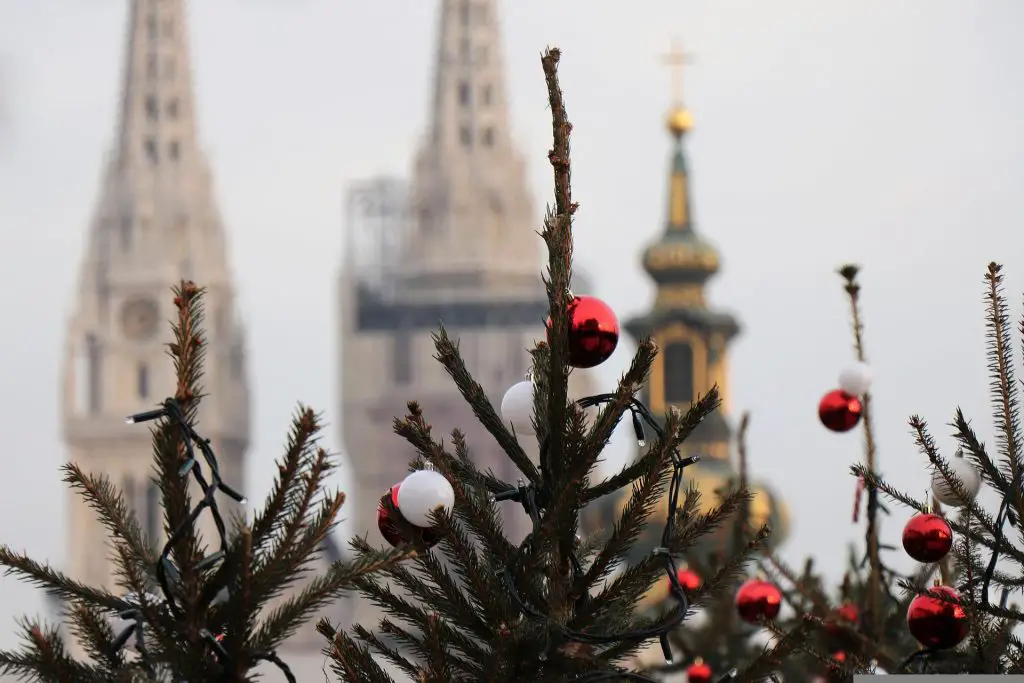 An amazing destination in Europe that simply comes alive during Christmas time is Zagreb. During the wintertime, the entire city becomes illuminated with lights, and there are all kinds of holiday festivities for visitors and locals to partake in.
For instance, the most popular Christmas market is Advent, which is composed of 25 smaller Christmas markets spread throughout Zagreb. The giant Christmas market features over 100 stalls selling traditional Croatian food, an abundance of beautiful Christmas decorations, and lots of handmade gifts. In addition, a unique fact about Zagreb is that Advent has received the title of Best Christmas Market in Europe three times in a row (2016-2018) by European Best Destinations.
There are also plenty of other things to do in Zagreb during December! You can go ice skating at Zagreb's Ice Park in Tomislav Square, visit one of the 30+ museums around the city, or enjoy some live Christmas music at Zrijevac Park.
If you're looking for somewhere to stay during your time in Zagreb, consider The Westin Zagreb. It's located in the center of Zagreb's Lowertown and will provide you with easy access to lots of tourist attractions.
Whether you're looking for a festive Christmas market or plenty of things to do, Zagreb is the perfect destination for your holiday getaway this year!
Dublin, Ireland
Recommended by Mary from Be Right Back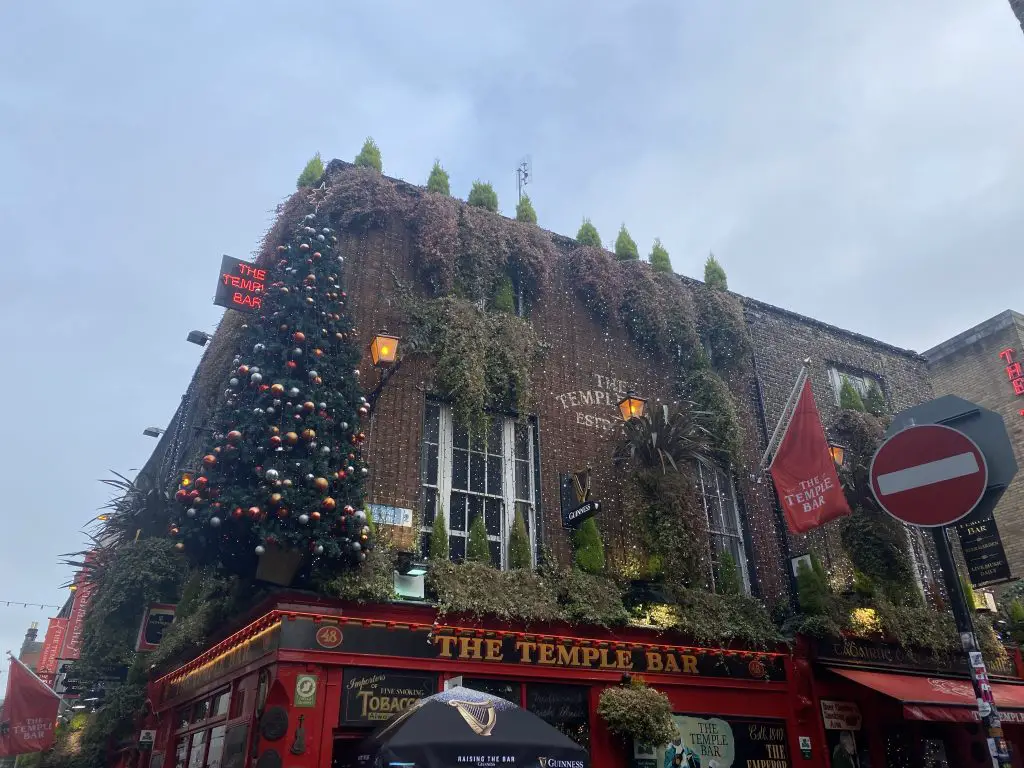 Dublin is one of the best Christmas destinations in Europe. Dublin at Christmas turns into a magical wonderland that will delight anyone who loves the Holiday season. In December, the streets of Dublin light up with lots of Christmas decorations. The main two streets that anyone should visit are Grafton Street and Henry Street. The stores on these two shopping streets really go out with hanging nutcrackers and tree decorations. Of course, during your visit, you'll want to check out the Temple Bar Pub and its hanging Christmas tree! 
What makes Dublin so special at Christmas on top of the decorations is the buskers. At that time of the year, buskers, who are live street performers, start singing all the Christmas songs and gather crowds making it look like mini Christmas concerts!
During your time in Dublin, there are two Christmas markets you should visit. The first one takes place at Dublin Castle while the second one takes place at the Guinness Storehouse. These are Christmas events that anyone in Dublin should attend at least once. 
If anything, one thing to remember when spending Christmas in Dublin is to book long in advance. This is a buzzing season for Dublin and hotels fill up quickly. To be near the city center, you can stay at the Clayton hotel. 
Cambridge, United Kingdom
Recommended by Katie from Flip Flops Included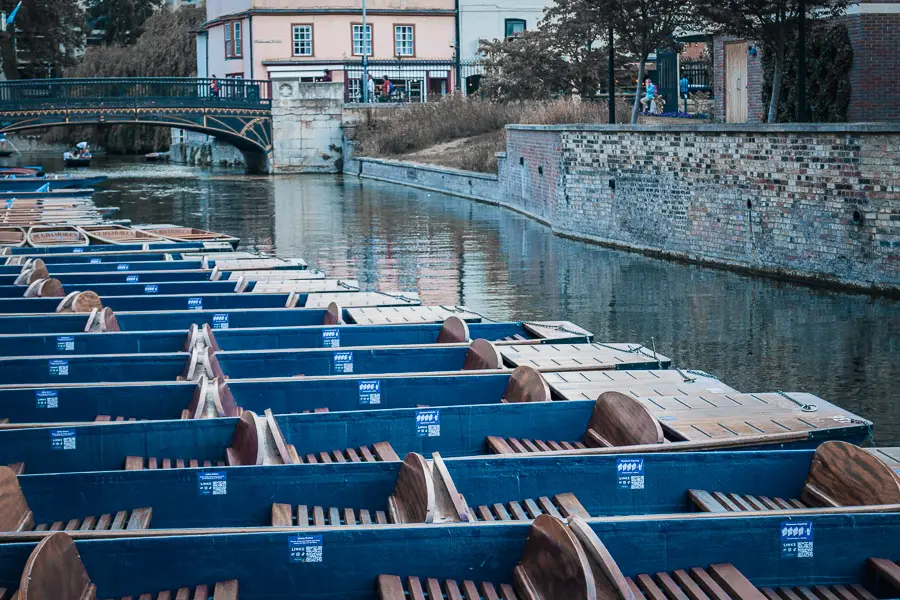 Cambridge is a quintessentially English city. Its cobbled lanes and iconic architecture make it the perfect backdrop to your Christmas celebrations. On a crisp winter's night, the historic buildings and strings of Christmas lights ooze festive charm. There's plenty to keep you busy on a trip to Cambridge at Christmas.
One of the world's most famous Christmas Carol services, Carols From King's, takes place in Cambridge. The Christmas Eve service forms part of many people's Christmas preparations the world over. Whilst that ceremony is in fact recorded at the start of December, there's still a live service on Christmas Eve that anyone can attend.
For more Christmas cheer, book a punting trip along the River Cam. Bring your own hot drinks and snuggle up under a blanket to enjoy some of the best views of Cambridge as you glide through the water. If you're lucky enough to be in town during the annual Christmas Carols on the River, make sure you book a ticket for this unique event.
In keeping with the wintery theme, don't miss a visit to one of Cambridge's best museums, the Polar Museum. Full of fascinating tales of Antarctic exploration this place is sure to give you chills.    
Stay at the luxurious Gonville Hotel. The Winter Terrace offers a Christmas cocktail menu and delicious festive food. You can even book a complimentary chauffeured spin around town in the hotel's own Bentley. Now that's a real Christmas treat.
Malaga, Spain
Recommended by Joanna from Andalucia In My Pocket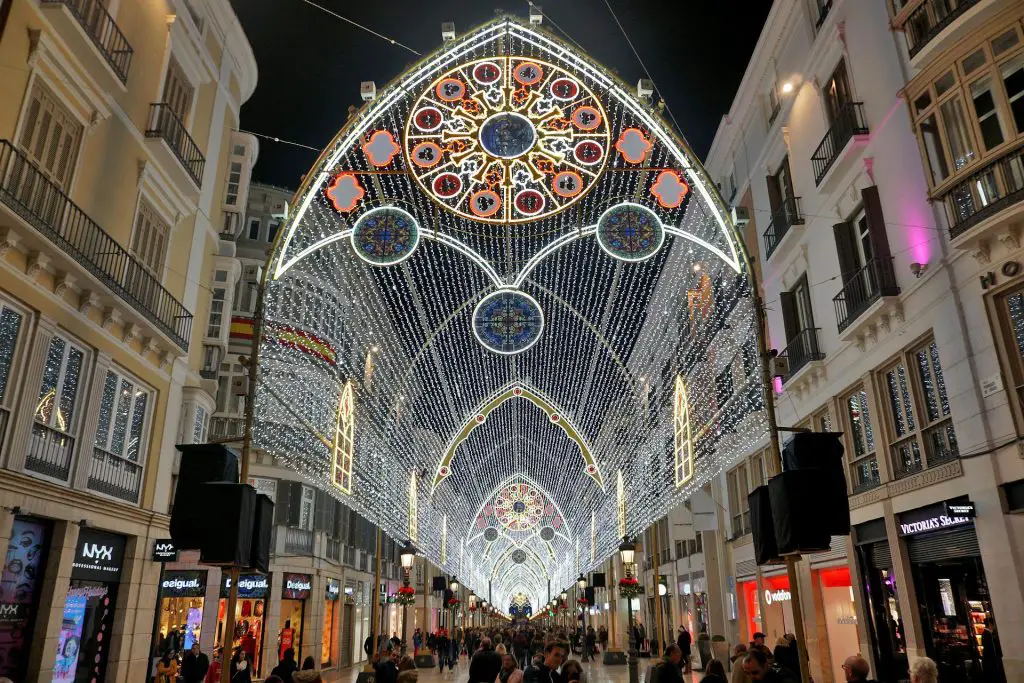 Malaga makes a wonderful trip for the Christmas holidays. The city knows how to celebrate, and, besides the wonderful decorations, you are almost guaranteed great weather as well. Visiting Malaga in winter is a great idea if you are looking for some warmth and sunshine.
Before the winter holidays, the city gets dressed in beautiful decorations and a magical tunnel of lights, which is installed every year on Calle Larios – the largest pedestrian area in Malaga. Each year, the person who turns on the lights is no other than Antonio Banderas, who is a proud local of Malaga. So, if you want to see the actor in real life, you should definitely attend the ceremony of turning on the lights. The light displays change each year, so you can visit Malaga every year for Christmas, as you will find different lights.
Around the city you will also find plenty of cultural events taking place at the museums around Malaga, free of charge. Many churches, official businesses, and even shops will display their own nativity scenes, which are a tradition in Spain. The most impressive Belén is usually at the Corte Ingles shopping center.
Malaga has its own Christmas market, where you can buy presents made by local artisans, as well as traditional Christmas food and drinks. Besides Malaga, you can also travel to the nearby towns of Torremolinos and Fuengirola for other lovely Christmas markets.
Vienna, Austria
Recommended by Milijana from World Travel Connector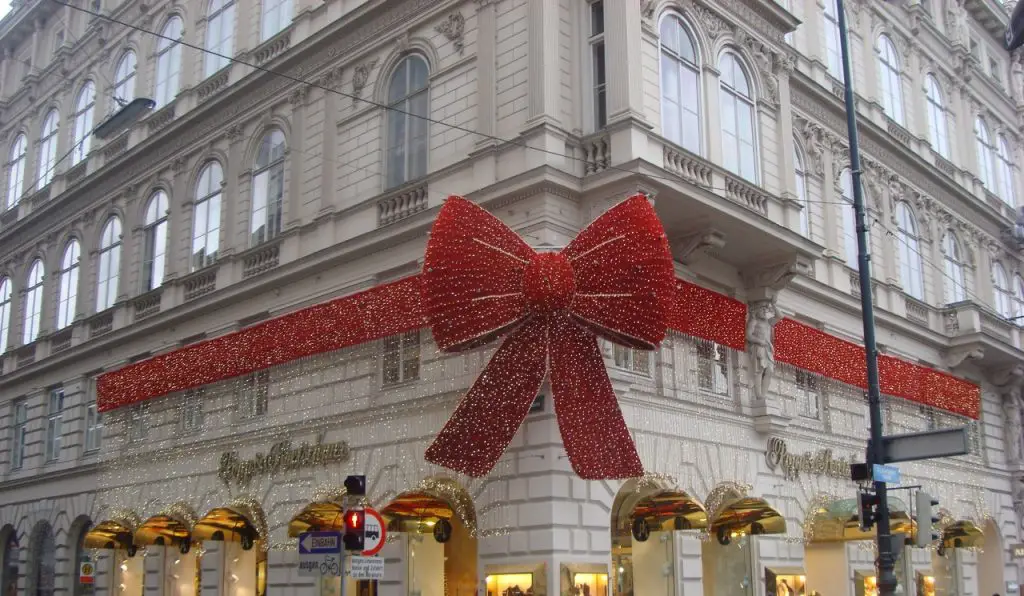 Gorgeous Vienna in Austria is a top Christmas destination in Europe. 
Vienna is known for holding some of the most incredible European Christmas markets. The entire city of Vienna comes in a matchless joyful vibe at Christmastime.
The Christmas markets in Vienna are spread across the city, while the streets of Vienna glitter and shine in the light of thousands of Christmas candles and bulbs. 
Strolling Christmas markets in Vienna is the best way to enjoy the festive season in this beautiful European capital. There are several popular Christmas markets in Vienna like the Stephansplatz Christmas Market, the Christmas market in Karlsplatz square, the Christkindlmarkt at the Rathausplatz Square, the Christmas market at Maria-Theresien Platz, Belvedere Christmas market, and Freyung Christmas market. 
Each of them is unique and magnificent in its way. For example, the Belvedere Christmas market traditionally holds an art exhibition, and the Freyung Christmas market has stalls with organic products. 
Cruising the Christmas markets in Vienna grants lots of fun and joy. If you feel cold while strolling Vienna Christmas markets, warm yourself with the Austrian Christmas punch (Weihnachtspunsch) and Austrian sausages (Bratwurst). Or, head to the famous Vienna cafes for warm coffee and delicious Sacher cake.
However, if you love classical music, go to Mozart and Strauss Concert at the Golden Hall. Or, listen to Vivaldi's Four Seasons Concert in Karlskirche.
For a fabulous stay in Vienna, choose the 4-star Austria Trend Hotel Astoria Wien on the famous Kärtnerstraße shopping street in the city center. The elegant hotel is within walking distance of all the main attractions in Vienna. 
Edinburgh, United Kingdom
Recommended by Elina from Empnefsys & Travel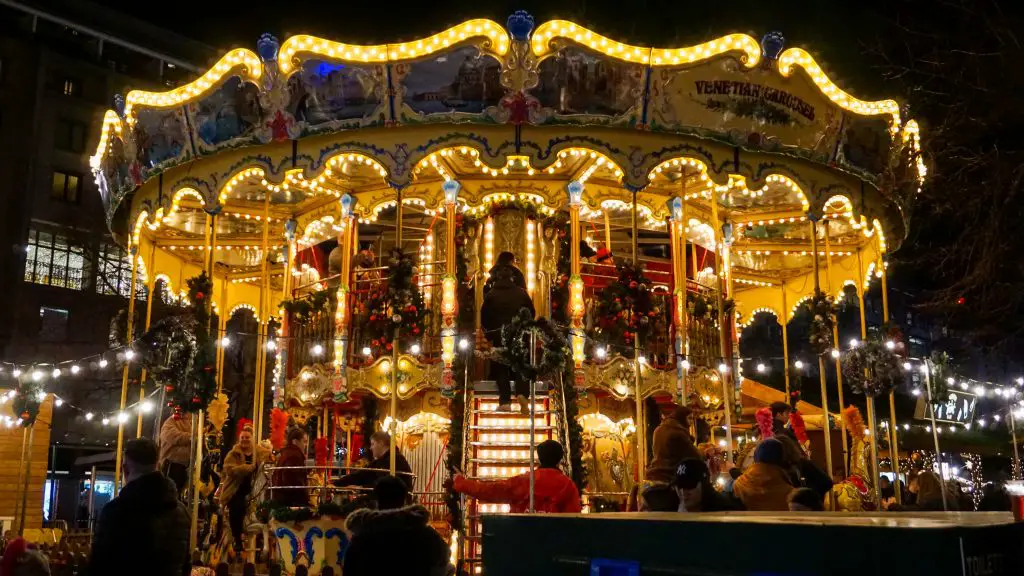 Edinburgh is a magical destination to spend Christmas. The whole city is dressed up for the occasion and many special events appear everywhere. Listen to Christmas carols, ride fun fair attractions, walk among light displays, and much more while gazing at Edinburgh Castle.
The center of the show is inevitably the Edinburgh Christmas Market. It is located between the Old and New Town, directly below the castle, creating a mesmerizing view. There, expect to find all the usual Christmas market activities, from stalls selling street food from around the world to locals selling hand-made goodies and traditional drinks. Kids will enjoy the activities at the Santa's Grotto, teens would definitely want to get a spin at the Star Flyer, while the whole family could enjoy the Big Wheel. Of course, there is an ice rink nearby and a pop-up tent for festive shows.
Besides the market, Edinburgh has plenty of other activities to keep you occupied. Every year, local attractions organize special events for the festive period. Theatres and churches organize special concerts, while the Edinburgh Castle and the Botanic Garden light up with spectacular light displays.
To enjoy the most of your stay, choose a central hotel near Princess Street or the Old Town to be in the heart of the celebrations. And if you didn't already have enough, extend your stay past Christmas to enjoy another one of Edinburgh's popular events, Hogmanay leading into the New Year. Hogmanay is a tradition going back years in Scotland that celebrates the new year with parades, songs, and lots of dancing. As a bonus, on the 1st of January go to nearby Queensferry for Loony Dook, a fun event where everyone dresses up in costumes and heads for a dip in the Forth of Firth.