Some of the links in this post are affiliate links. This means if you click on the link and purchase the item, I will receive an affiliate commission at no extra cost to you. All opinions remain my own.
Turning 30 is a major milestone in anyone's life and what better way to celebrate than with a romantic getaway with your significant other? Whether you're looking for adventure, relaxation, or a combination of both, there are plenty of options for couples to explore on their 30th birthday.
In this blog post, we'll share some of the best 30th-birthday destination ideas for couples to help you plan the perfect getaway to mark this special occasion.
From exotic beaches to bucketlist destinations, we've got you covered with suggestions to suit all tastes and budgets. So, grab your partner and get ready to make some unforgettable memories as you enter your 30s together!
Table of contents:
Bali, Indonesia
Recommended by Victoria of Guide Your Travel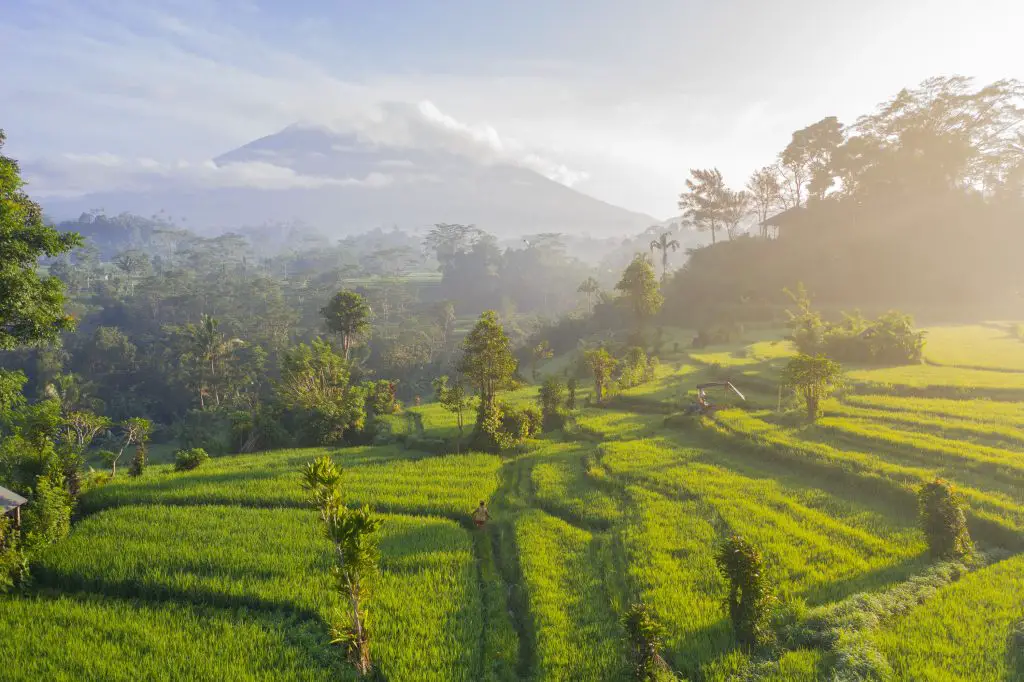 Bali, known as the Island of the Gods, is a popular destination for couples seeking a romantic getaway in Indonesia. The island's natural beauty, rich culture, and stunning beaches make it an ideal spot to celebrate a 30th birthday together as a couple, including plenty of romance and fun. 
Ubud, the cultural heart of Bali, is one of the top must-see destinations for couples. It offers a perfect romantic atmosphere with its lush jungles, stretches of rice paddies, temples, and rivers running through the area. It's no surprise why travelers flock to Ubud. Plenty of activities include cycling through rice fields, taking in breathtaking views, or exploring hidden waterfalls. 
Bali's south around Seminyak is also a popular location and a fantastic choice if you want to enjoy romantic dinners to celebrate your 30th with your significant other. The walk from Seminyak to Canggu is also highly recommended for couples in love and there are so many things to see along the way.
The Gili Islands off the coast of Bali are also worth a visit for couples looking to relax and be close to nature. Also offering an array of activities such as diving, snorkeling, kayaking, and exploring on a bike or walk, you shouldn't miss out on this destination. Get your romantic click at sunset on the crystal clear waters and many trendy beach bars right by.
You will be satisfied with whichever of the three islands you choose. However, the best getaway on Gili Trawangan, the biggest island, is the Villa Ombak Hotel, with its central beachfront location.
Seoul, South Korea
Recommended by De Wet & Jin of the Museum of Wander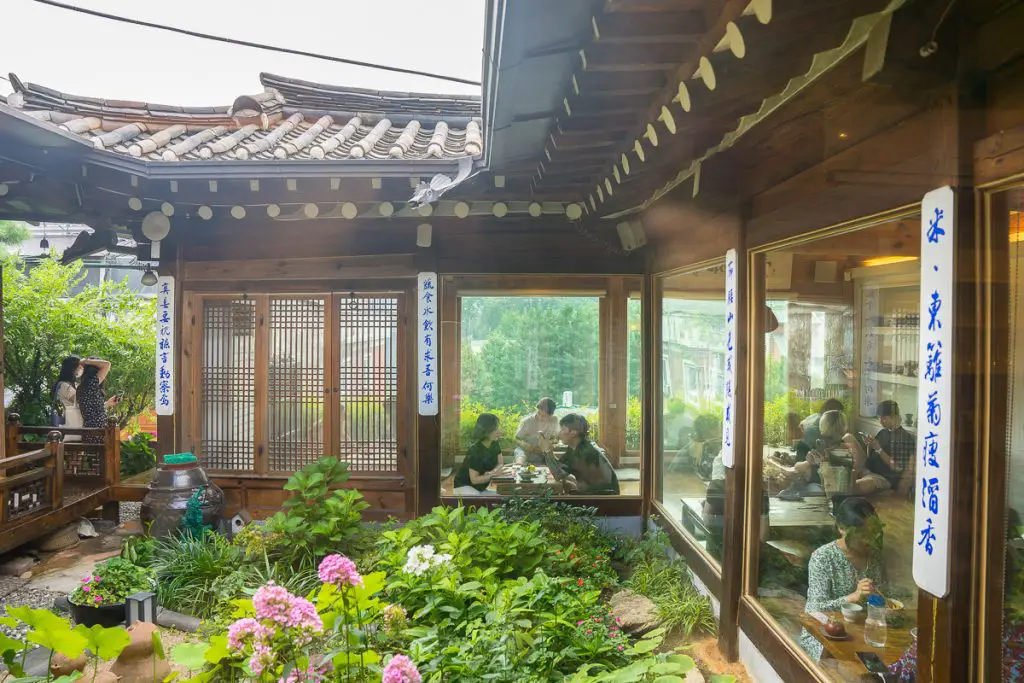 Look no further than Seoul when planning a unique and exciting 30th birthday trip. South Korea's capital packs a punch with world-class infrastructure, exceptional food, historical and modern attractions, shopping, and unbelievable nightlife. It truly is a city of the future and past.
Seoul is a 24-hour city with something happening around the clock. The city has a bit of a cult status thanks to the Korean pop culture we've seen on Squid Games, K dramas, or the uber-popular BTS. But that's just the beginning – Seoul will blow your socks off once you're there.
Gyeongbokgung Palace, a royal palace from the Joseon Dynasty, is the city's most famous attraction. A unique way couples (or solo travelers) can enjoy the palace is to rent traditional hanbok clothing, followed by a photoshoot. Frolicking around the palace in Korea's traditional costume in front of a professional photographer is an enjoyable experience, and you'll have the ultimate souvenir of your Seoul trip.
Nearby the palace, Bukchon Hanok Village is a charming traditional neighborhood where you can stroll around and take selfies. There are also a few teahouses where you can enjoy drinks and snacks.
Foodies and hungry people alike will love Seoul for its incredible food scene. To try some of the best Korean street food all in one place, head to Gwanjang Market in central Seoul. The most famous snack here is bindaetteok, a mung bean pancake, but you'll find every Korean snack under the sun here. 
A birthday needs a celebration, right? Seoul has some of the best nightlife on the planet. For a good night out, start in Hongdae or Itaewon and see where the night takes you. 
Seoul is a year-round destination, but remember that winters are freezing and summers are steaming. Autumn is an excellent time to visit Seoul for beautiful foilage and good weather.
The Ibis Styles Ambassador in Myeongdong has a great location and easy access to the subway. 
Paris, France
Recommended by Lisa of Waves and Cobblestones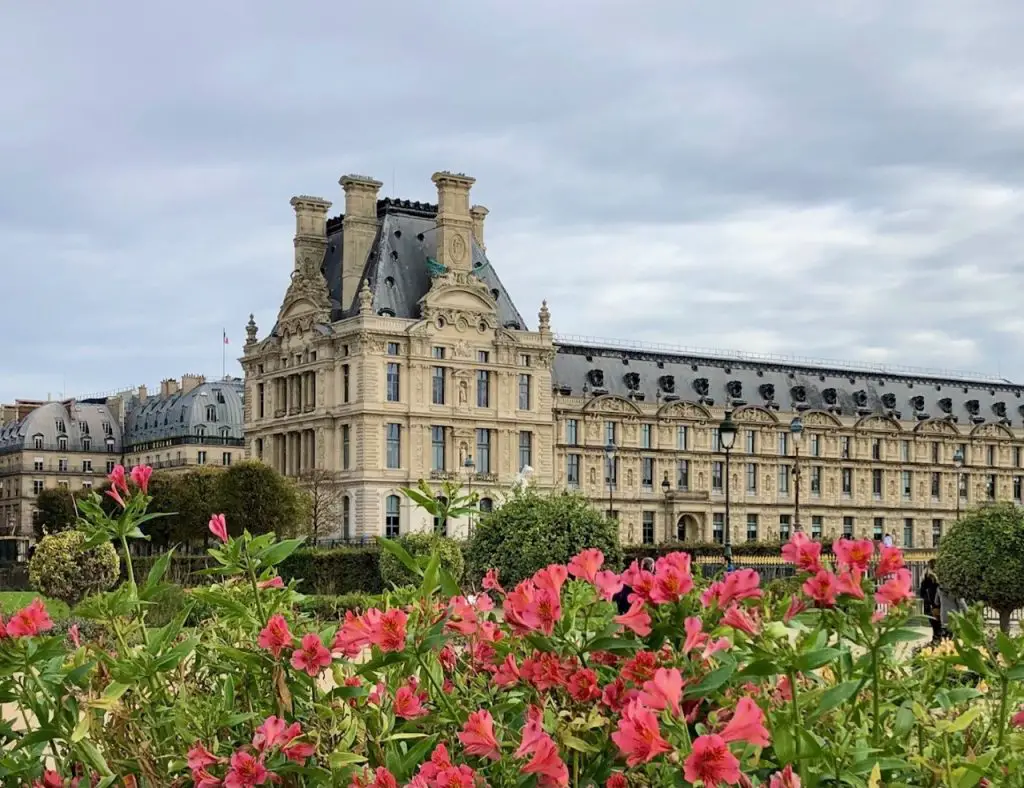 Ah, Paris!  The City of Light is an amazing place to celebrate a milestone birthday and is one of the most romantic destinations for couples.  Plus, there are so many incredible things to do and see in Paris! 
Relax and enjoy the beauty of Paris with a romantic dinner cruise on the Seine River.  So many of Paris' most famous attractions are located on the banks of the Seine.  A river cruise is always a great way to view iconic Paris landmarks such as the Eiffel Tower and the Cathedral of Notre Dame.  It's even more special at night when the monuments of Paris are illuminated. And be sure to watch for the Eiffel Tower's nightly lights show!
No trip to Paris is complete without a visit to the Eiffel Tower! Have a birthday celebration to remember with a fine dining experience at the restaurant Jules Verne on the second floor of the Eiffel Tower. Or toast each other with champagne from the tower's lofty summit while you take in the gorgeous panoramic views of Paris.
There is something special about Paris in every season, but the best time to visit is in the months of April-May or September-October.  This way you'll still get pleasant weather, but you'll avoid the crowds of tourists in the summer.
Stay at the Hotel du Cadran, a boutique hotel in Paris' Rue Cler neighborhood.  It's conveniently located midway between some of Paris' most iconic landmarks, the Eiffel Tower and Les Invalides, and is just a block away from a bakery with heavenly pastries!
Northern Patagonia, Argentina
Recommended by Audrey of Che Argentina Travel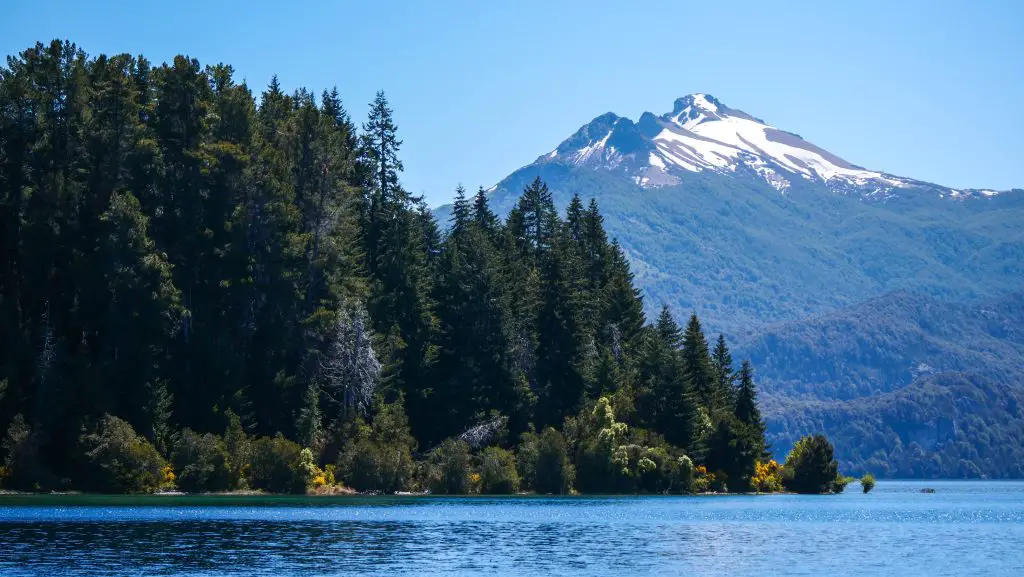 One idea for a memorable birthday adventure is a northern Patagonia road trip in Argentina!
Ideally, you'd want to spend at least two weeks enjoying the spectacular scenery, hiking opportunities, and delicious food this region has to offer.
Some of the highlights would include riding the Old Patagonian Express train in Esquel, exploring the wineries in Trevelin, hiking in the hippie mountain town of El Bolsón, and going on lake adventures in Bariloche – the boat tour to Isla Victoria and the Arrayanes Forest is a popular option. 
As far as food and drink go, Patagonia is renowned for its craft beer scene with no shortage of breweries to try. Local cuisine features a lot of Patagonian lamb, wild boar, and trout dishes. And if you have a sweet tooth, you'll be pleased to learn that there are plenty of artisanal chocolate shops to enjoy!
If you're looking to splurge on a hotel stay, the Llao Llao Hotel is about as iconic as it gets. This 5-star hotel is set on a hill overlooking two lakes and is surrounded by towering mountain peaks. 
Northern Patagonia is a destination that can be visited year-round, so it all depends on whether you're more of a hiker or a skier. The choice is yours! 
Natadola, Fiji
Recommended by Lanie of Make More Adventures
Fiji is usually known as a bucket list destination. The islands are stunning, you have many options for high-end resort hotels, and Fiji is a romantic place for couples to celebrate a 30th birthday.
June to September is generally the best time to visit Fiji, though it is gorgeous year-round. While it does rain often during the rainy season (November-April), the rain typically doesn't last long. Fiji is located in the Southern Hemisphere, so July and August are the coolest months, and January and February are the hottest months.
Fly into Nadi and make your way to your resort. Intercontinental Fiji Golf Resort and Spa is located about an hour south of Nadi International Airport. Luxury transfers and taxi rides are available, as are rental cars. If you arrive before check-in, you can choose to stop at The Garden of the Sleeping Giant and the Sabeto Mud Baths, both of which are located near each other.
The gardens are a beautiful place to wander and the mud baths are a fun way to begin your Fiji adventure. They also offer massages at the mud baths.
Fiji offers many choices for day tours and evening shows. Island tours are popular and generally include a boat ride, snorkeling, and learning about Fijian culture. Some of the tours stop in local villages.
Robinson Crusoe Tours leaves from a boat ramp located just a few minutes' drive from the Intercontinental Fiji Resort. They offer tours during the day and dinner shows at night. Both day and night options are available to book separately or together.
With so much to do in Fiji, it is easy to find activities, but save time to swim in the adult-only pool at Intercontinental Fiji, especially during the sunset. Lay on a bed in a beachside cabana and walk along the beautiful beach outside of the resort. Every room at Intercontinental has a balcony with a day bed and an outdoor bathtub where couples can relax after a day exploring Fiji.
Venice, Italy
Recommended by Joanna of The World in My Pocket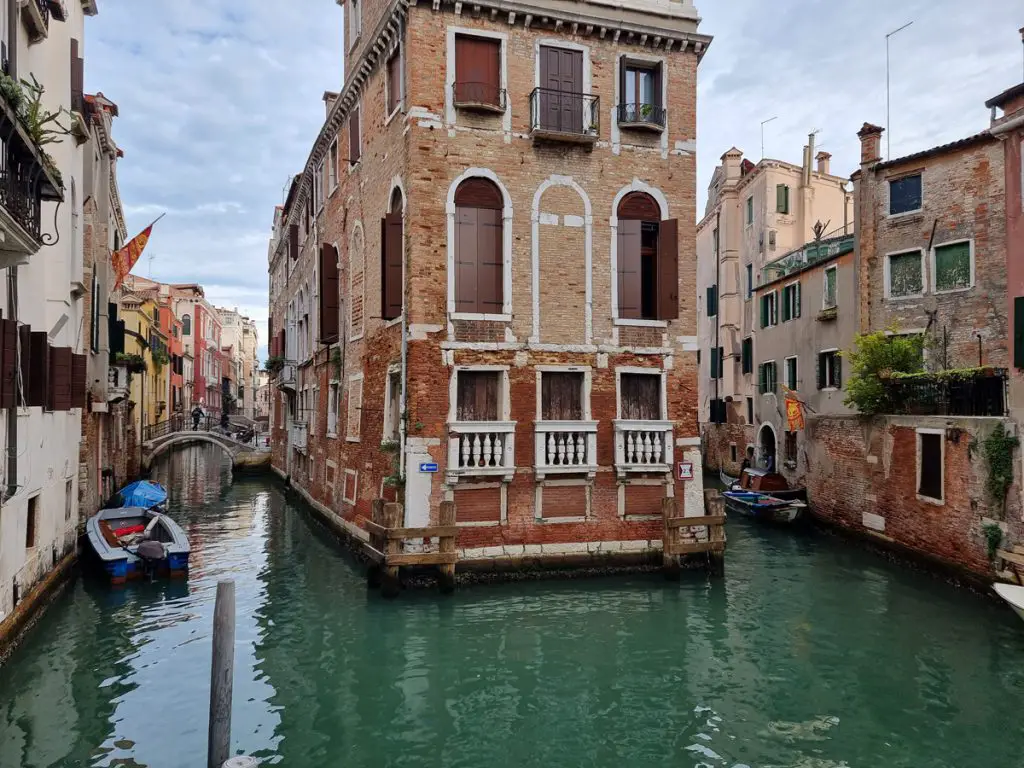 Venice is a great destination for a couple's 30th birthday, even better when this celebration is out of the tourist season. This is the best time to visit Venice to have it all to yourself. The best times of the year to visit Venice are either late autumn, winter, and early spring. If you want to experience a unique atmosphere in Venice, visit during February, when the carnival takes place. There will be a lot of people, but you will also get to witness a different side of Venice.
Venice has always been a special destination for couples. There is something about the narrow canals that make this Italian city so romantic. One of the must-dos when visiting Venice is going on a charming gondola ride. You can make it even more romantic by choosing to go on a gondola ride at sunset.
Another romantic and unique thing to do in Venice is attending an opera performance at the Teatro La Fenice. The theatre has such an incredible interior!
You can get away from the crowds in Venice by exploring the less popular areas, which are as beautiful as the rest of the city: Cannaregio, Castello, and Giudecca. Make sure to also enjoy the street food in Venice, which includes a great selection of typical pastries, fried fish cones, and the traditional mozzarella in carrozza.
Venice can be expensive, but it's worth paying more and staying in the city, rather than choosing a cheaper hotel room in the nearby Mestre. Walking at night in Venice, you will have the entire city to yourself! A great hotel to stay at is Palazzo Barocci.
Whitsundays, Australia
Contributed by Jolene from Wanderlust Storytellers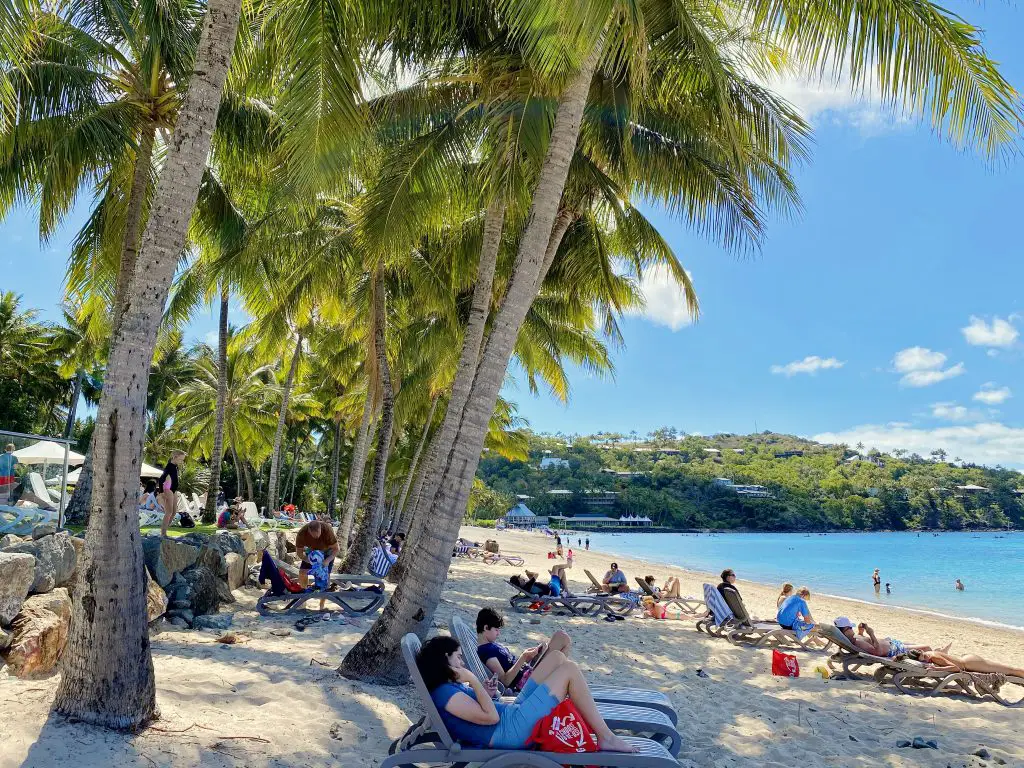 Visiting the Whitsundays as a couple for a 30th birthday is an experience that promises both relaxation and adventure. Situated in Queensland, Australia, this stunning area is renowned for its breathtaking natural beauty and crystal-clear waters.
Couples visiting the Whitsundays can take full advantage of the region's stunning scenery and endless activities. From sailing around the breathtakingly beautiful 74-island archipelago to snorkeling in crystal-clear waters.
For those looking for a bit of adventure, the Whitsundays provide an array of activities to choose from. From jet skiing to helicopter tours.
Couples looking for a unique underwater experience can explore the depths of the Great Barrier Reef. It is home to an abundance of marine life including, dolphins, whales, sea turtles, and an array of colorful fish.
Base yourself at either Hayman Island or Hamilton Island.
For an incredibly intimate and luxurious birthday trip, head to Hayman Island. Spanning over 3 kilometers, this tropical paradise is renowned for its unspoiled natural beauty and stunning white sand beaches. The island offers exclusive accommodation options with stunning views. InterContinental Hayman Island Resort has some incredible accommodation options.
For an island with more options for things to do and places to eat, head to Hamilton Island. It is a paradise for couples who love to stay busy. Hamilton Island is home to some of the most luxurious resorts in Australia, which offer stunning views of the surrounding Whitsunday islands and the Great Barrier Reef. Visitors can enjoy a range of activities, from swimming with dolphins to sailing and fishing charters to exploring the many islands.
The best time to visit the Whitsundays is between April and November. This is because the weather tends to be warmer and more pleasant during this period.
London, United Kingdom
Recommended by Paulina of the UK Every Day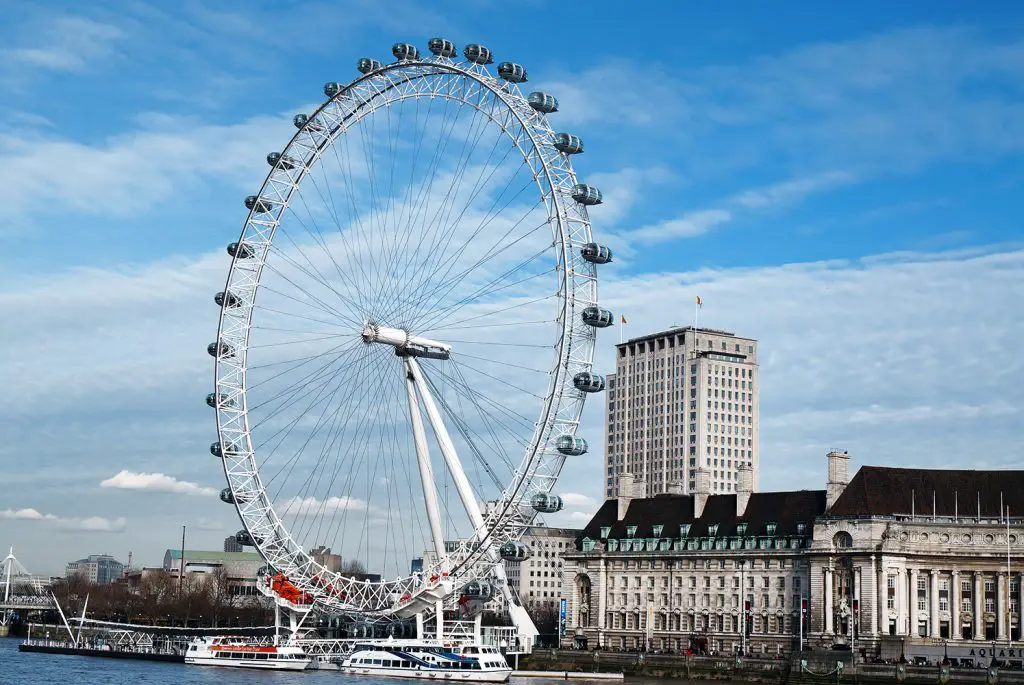 London – a city with many unique attractions and well connected with multiple international airports is one of the best places to celebrate a 30th Birthday. Couples will love the variety of choices from sipping champagne in the tallest building in Western Europe to learning more about the Royal Family.
One of the best things to do in London for couples is to admire the capital from the iconic landmarks. Whether, it is Shard, London Eye, or Sky Garden, those panoramic views will take a breath away. Moreover, if the budget allows, staying in Shangri-La The Shard Hotel will be an unforgettable experience.
The best time to visit London is during winter when all the Christmas lights are switched on and many annual events take place. Winter decorations and award-winning festivals such as Lightopia will make your 30th Birthday even more magical.
During cold evenings, couples can also enjoy a variety of shows in one of the best theatres in London. Novello Theatre with a history of over 100 years and Sondheim Theatre with its beautiful Edwardian style is a place that cannot be missed. Those Grade II listed buildings and many other iconic landmarks make London a top destination to visit for couples.
Tasmania, Australia
Recommended by Natalie of Curious Campers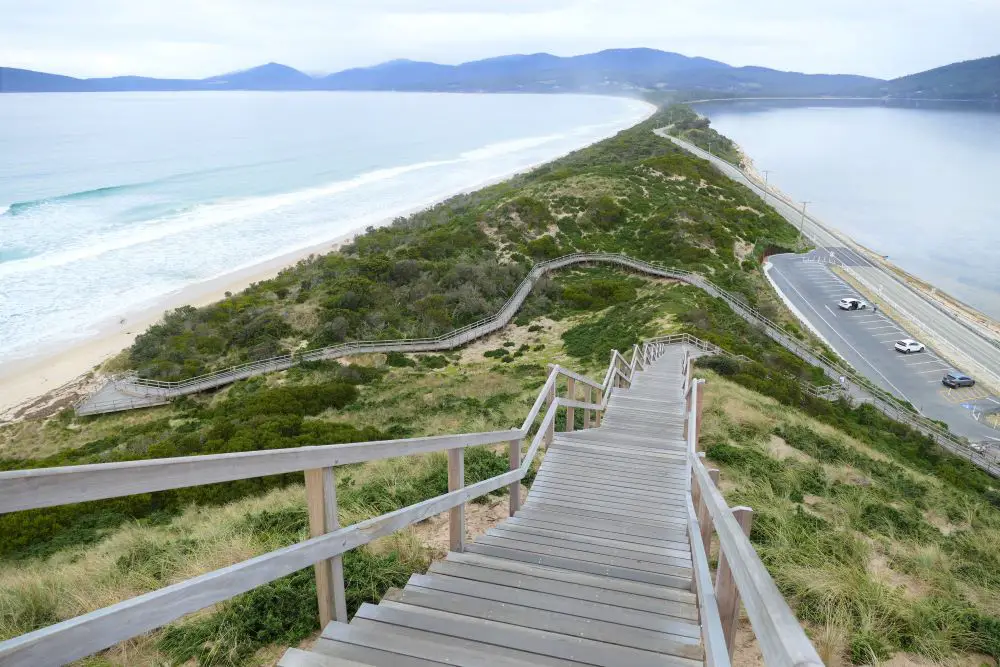 Tasmania is Australia's smallest and southernmost state. What makes it such a great birthday trip idea is that it has something for everyone. It is a treasure chest for nature lovers. Over 40% of the island is protected by national parks that have everything from ancient rainforests to alpine glacier lakes. If you like a food tour, Tasmania has a delicious artisan food scene with every region offering gourmet and handcrafted culinary experiences.
A great place to start a birthday trip for couples is Bruny Island where you can combine stunning landscapes and great food. There is Bruny Island whiskey, honey, oysters, chocolate, cheese, and wine to savor. Then try the Bruny Island Nature Cruise. From the zippy rubber duck-style boat, you can spot seals, dolphins, and whales and get a great view of the island's 300m high dolomite cliffs. Bruny Island is 30 minutes from Hobart.
From Hobart, drive 4 hours to Cradle Mountain, one of Tasmania's most dramatically beautiful locations. The walk around Dove Lake is one of the best in Tasmania. There are short walks through mossy pencil pine forests or mountain hikes to breathtaking lookouts. Keep an eye out for wombats and kangaroos along the trails. There is lots of cute lodge-style accommodation in Cradle Mountain, and Cradle Mountain Highlanders is one of the best.
Spring and autumn are perfect times to visit Tasmania. It can be very busy there in summer (December/January). Winter is also chilly but a fun nice time to visit – but some of the mountains might be inaccessible because of snow however you can go whale watching at Bruny Island. You can fly directly to Tasmania from most Australian cities or catch a ferry from Victoria and take a car with you.
Krabi, Thailand
Recommended By Abbey of Trips On Abbey Road 
One of the best places you could visit on your 30th birthday vacation trip is Krabi, Thailand. If you have never been to Krabi you are in for a treat. Most people like to island hop and explore other places in Thailand, so it is recommended to spend 3 days in Krabi. If you have more time on your hands go for there is plenty to explore. 
The best area of Krabi to stay in is Ao Nang. This is where you will find all the best nightlife, beach hotels, and the pier where you can jump on a long tail and hit the water. 
Krabi is known for its laid-back beach town vibe, romantic sunset views, and ultimate food culture. When the sun is shining, like most days in Krabi from November to March you are going to want to take an island-hopping cruise from the Ao Nang Pier.
For things to do at night check out the nightly food market in the center of Ao Nang. The food court options are endless. With all types of street food from Pad Thai and local food to cheesy french fries.  After dinner, you will be within walking distance to the strip with clubs for a nightcap or go head across the street for a stroll on the beach. Either way would be a great way to end your birthday night.
The Centara Beach Resort is an amazing place to stay right in the center of Ao Nang. Imagine waking up every morning with a beautiful view of the beach, or sleeping off your big birthday night with a trip to the in-house spa the next day for a couples massage on the beach. 
Tuscany, Italy
Recommended by Milijana of World Travel Connector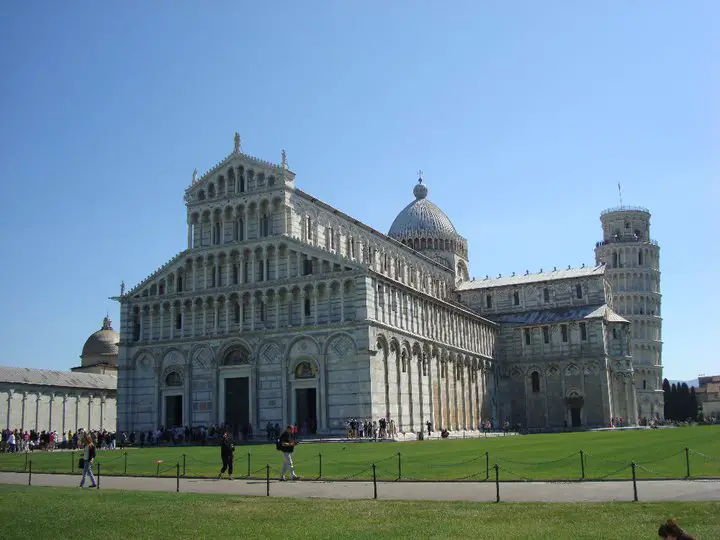 Beautiful Tuscany is a world-renowned destination in Italy. Tuscany is home to gorgeous cities like Florence, Siena, and Lucca. Besides that, Tuscan medieval hilltop towns and villages are among the most beautiful in Italy. Tuscany is famous for its rolling hills, Chianti vineyards with wine cellars, stunning ancient castles and fortresses, charming farmhouses, and gorgeous Tuscan villas.
The region is perfect for road-tripping. You can visit Tuscany on a seven-day or a ten-day road trip. Fly to Florence airport or Pisa airport in Tuscany, rent a car at the airport, and hit the road with your better half. Make a base in central Tuscany and book a room at Boccioleto Resort in Montaione. Places like Florence, the Chianti vineyards and wineries, Siena, Pisa, Lucca, and San Gimignano are within a two-hour drive max. Tour Tuscany from Montaione. Visit Chianti wine cellars, choose horseback riding in Sienna, see the Square of Miracles in Pisa, stroll San Gimignano in a sunset, visit Uffizi gallery, and have a romantic walk next to the River Arno in Florence.
Tuscany is a top romantic destination in the world. The best time to travel to Tuscany is from May to October. Go for a Tuscany road trip and have one of the most romantic birthday celebrations ever! 
Niagara Falls, Canada
Recommended By Mayuri from Canada Crossroads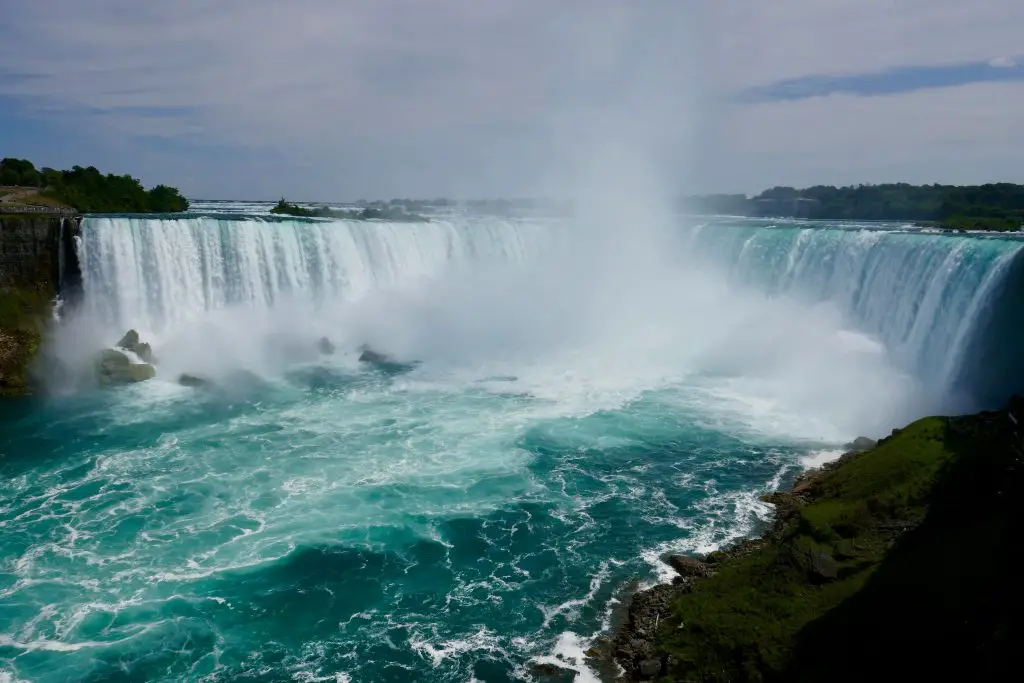 Niagara Falls is an ideal destination for a romantic 30th birthday getaway for couples. With its spectacular waterfalls, lush greenery, and various activities, Niagara Falls provides something special for even the most discerning couple. 
For outdoor adventurers, Niagara Falls offers a variety of activities such as hiking, biking, and bird watching. The falls themselves are one of the most amazing natural wonders in Canada, so couples should be sure to visit them during their stay. 
There are also numerous attractions to explore, from the Niagara Butterfly Conservatory to the Journey Behind the Falls, where visitors can get an up-close and personal look at the thundering waterfalls.
For a truly romantic experience, couples should consider taking a boat tour of the falls and taking in the breathtaking beauty of this natural wonder. There are also plenty of great restaurants, bars, and clubs to explore in Niagara Falls, providing couples with plenty of options for a romantic evening out.
If you wish to relax and take it easy, consider booking one of the hotels with the best view of Niagara Falls such as Hilton Niagara Falls. 
The 30th birthday celebration doesn't need to stop there! Niagara Falls also offers a variety of other activities, such as wineries, casinos, and hot air balloon rides. These are all great ways to make your 30th birthday one to remember.
Florida Keys Road Trip, United States
Recommended by Kylie from Between England And Everywhere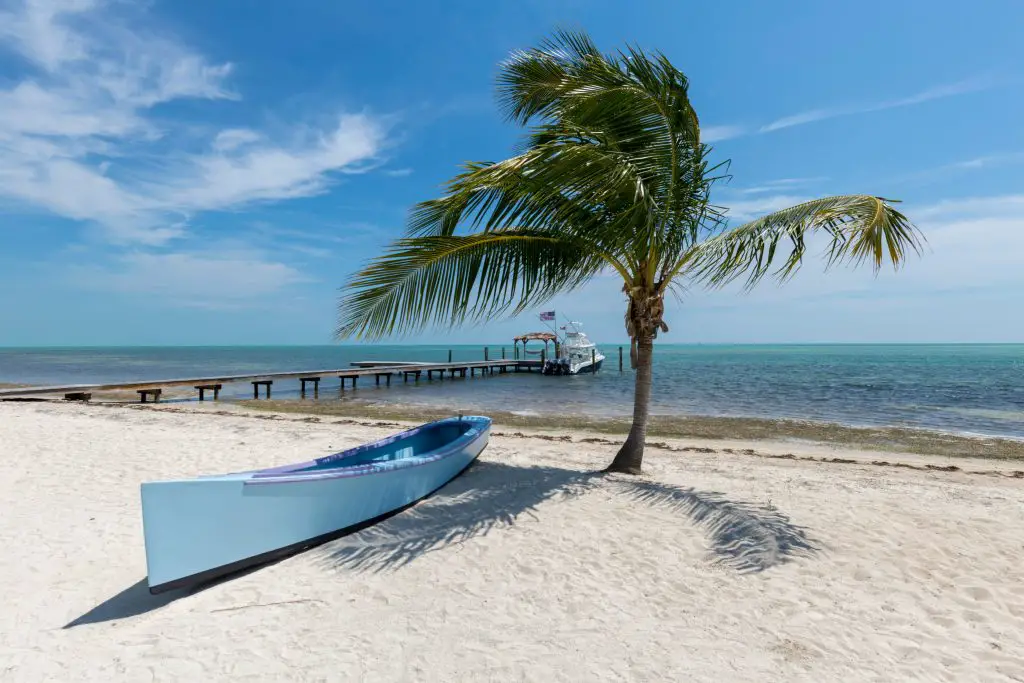 A great 30th birthday trip idea for couples is a Florida Keys road trip in the USA! When flying into Miami International Airport (MIA), there are plenty of rental car companies, conveniently located to pick up a car. The journey to Key West, the southernmost place in the continental USA, is 112 miles away. But what makes it a unique trip, is that the 'Overseas Highway' crosses 29 of the islands that are connected by 42 bridges, the longest being 7 miles in length!
There are plenty of things to do in the Florida Keys, especially along the stretch between Marathon and Key West. A visit to The Turtle Hospital in Marathon is a must-see where sea turtles are rescued, rehabilitated, and then released back into the wild. A fun activity for couples is to play mini golf at Boondocks, the southernmost course in the USA. When in Key West, wander along Duval Street and enjoy frozen slushy cocktails from The Flying Monkeys, and eat Key Lime Pie. Other things to do for couples include tandem parasailing, going on a kayak or jet ski tour, snorkeling, and more!
A good time to visit the Florida Keys is in December. Hurricane season finishes at the end of November and visitors can benefit from slightly lower costs before peak season arrives around Christmas.
The Ibis Bay Beachfront Resort is a lovely hotel to stay at with complimentary breakfast, free parking, and a shuttle bus to downtown Key West. Don't forget to mention during booking if visiting for a 30th birthday, as there is a chance for guests to be upgraded to a better room if there is one available. The beachfront rooms have awesome views and hammocks on the patio area. 
Las Vegas, United States
Recommended by Michelle of Moyer Memoirs Empty Nest Travel Adventures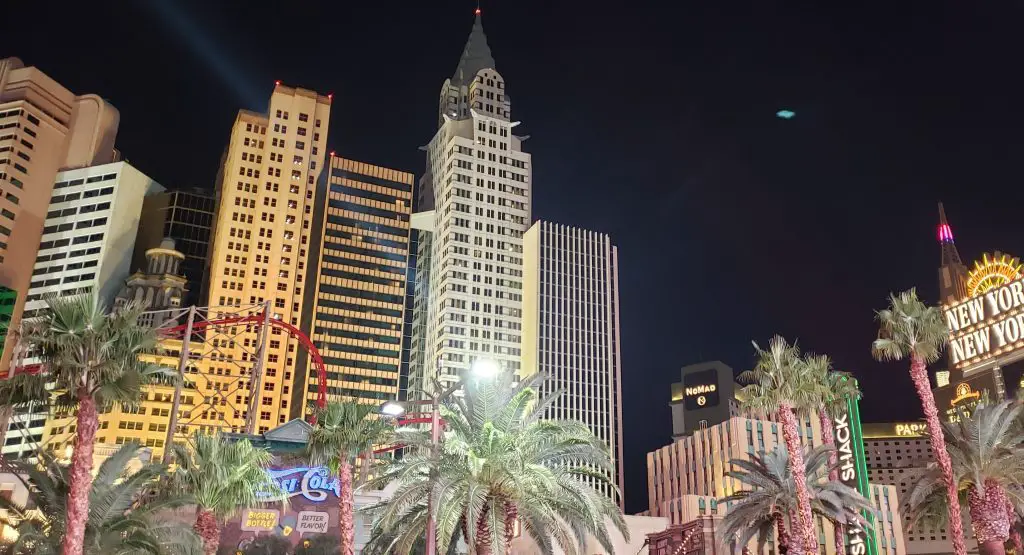 Celebrating a special birthday in Las Vegas is a great idea for couples since there are so many activities to do that will make it an extra-special vacation experience. The Las Vegas strip has activities for active travelers, travelers that indulge in great food, gamblers, sightseers, and travelers that enjoy grand entertainment on a stage. The venues are large or small, at all hours of the day, and at unique locations with elaborate or modern settings, all worth an obligatory selfie!
The one activity that a couple should do in Las Vegas is book tickets to a show. The Las Vegas shows are over-the-top and like no other. There are performers that have residencies in Las Vegas or those that have special appearances, but each show will provide an amazing amount of entertainment for a special birthday celebration.
Once the show is over, make sure to stop at all the romantic things to do in Las Vegas including the gondola ride through the canals at the Venetian Hotel and then the High Roller, which is the second highest ferris wheel in the world. Finally, make sure to take a photo with your significant other in front of one of the Welcome to Las Vegas signs. There are numerous other activities on the strip that cater to couples and will complement any birthday trip.
The Flamingo Hotel, one of the Caesar properties, is located at the center of the strip. It is an excellent hotel choice since it has easy access to the High Roller and many other fun restaurants, bars and activities next to it on the Linq Promenade. The bonus of the Flamingo Hotel is the garden courtyard which houses a wildlife habitat, complete with flamingos, that is free to the public.
Cinque Terre, Italy
Recommended by Amber from Amber Everywhere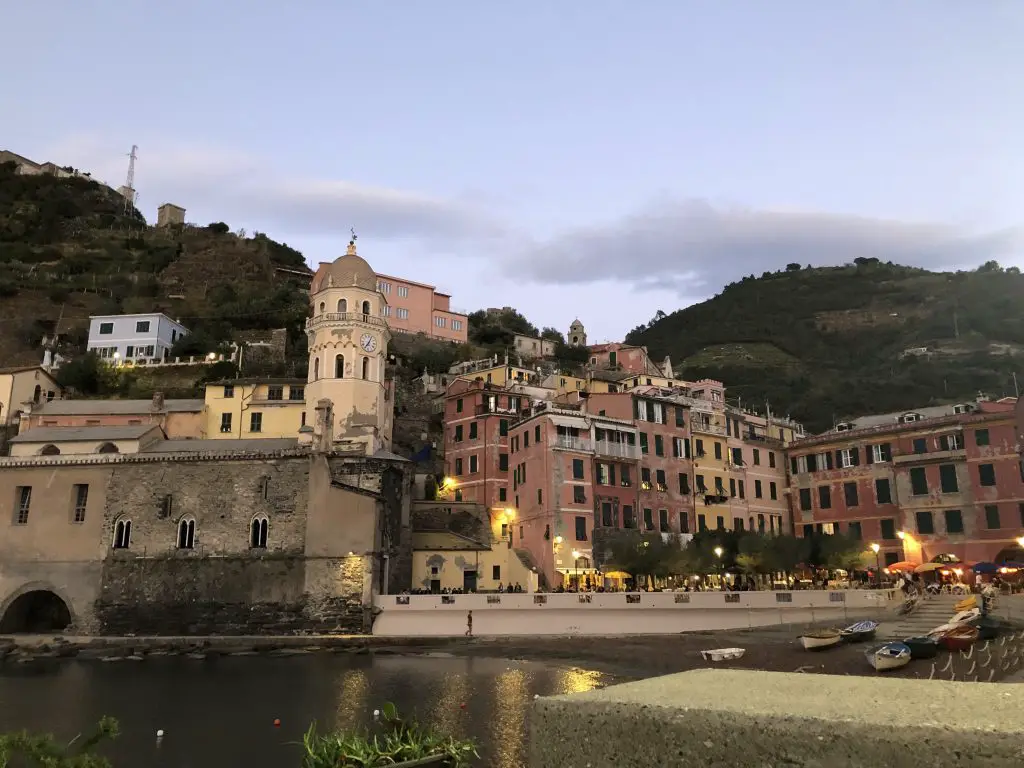 Nestled into the Italian coastline are the infamous five towns, or Cinque Terre, of Liguria: Monterosso al Mare, Vernazza, Corniglia, Manarola, and Riomaggiore. Cinque Terre attracts visitors from around the world with its brightly colored houses and distinctive charm. You can see one town or all five, as they're connected by a train line and a collection of hiking trails.
One of the top reasons to visit Italy is for the stunning landscapes, and Cinque Terre has them in spades. The hikes in the area offer incredible views of the sea, vineyards nestled into steep hillsides, and the coastline. One of the most scenic hikes is from Riomaggiore, the southernmost of the Cinque Terre, to Portovenere, a seaside village near La Spezia. 
You'll find that each of the Cinque Terre has its own feel, aesthetic, and charm. Be sure to grab a nice seat before sunset, an especially beautiful and romantic affair. You can grab a spot at a restaurant, where the tables will likely be lined up and facing out over the sea, or just sit along a dock or pier. 
Cinque Terre is a very crowded spot in the summer, so you'll want to consider a trip during the shoulder season to beat the crowds. September and October is a great time to visit Cinque Terre, both for the cooler temperatures and additional breathing room as you explore.
You can save money by staying in La Spezia, the nearby commercial center, or choose a charming hotel within one of the five towns, like Hotel Marina.
Marbella, Spain
Recommended by Cristina of My Little World of Travelling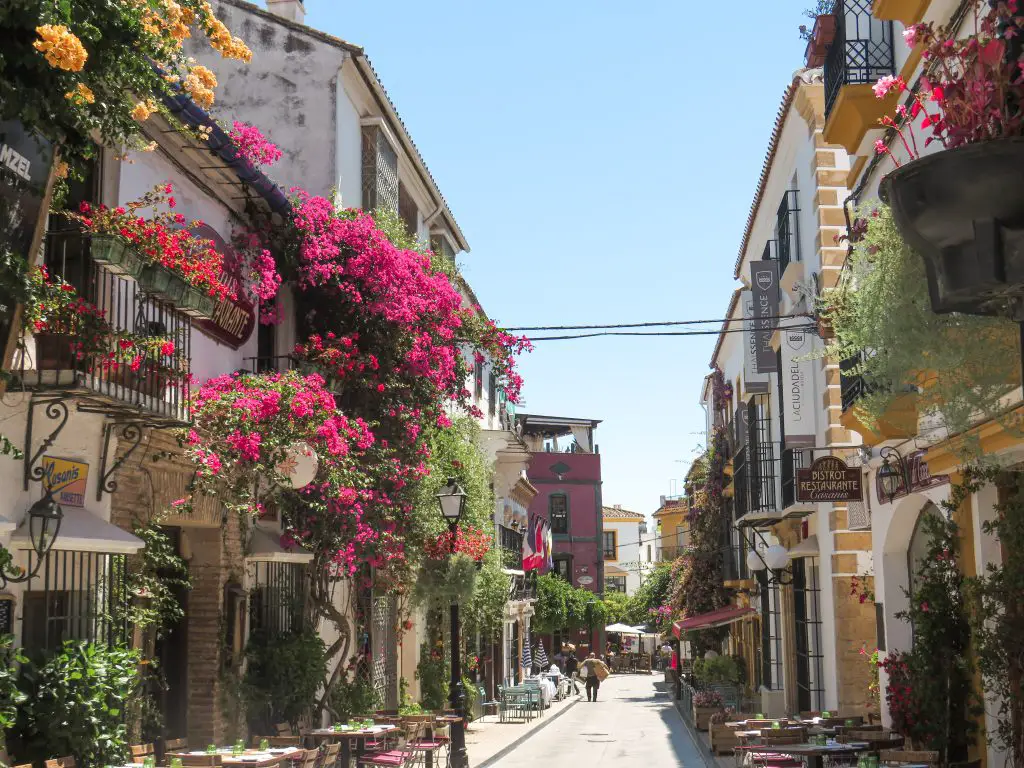 If you are looking for a sunny destination to celebrate your other half's birthday, Marbella, situated in the south of Spain, is an excellent option.
Marbella has plenty of activities for all travelers. You can enjoy the sunshine at one of Marbella's beaches, wander its charming old town, do some luxury shopping at Puerto Banús marina, go on a scenic hike, and much more.
For a romantic getaway, there are two activities couples should do in Marbella.
One is to explore Old Town Marbella. It is the most enchanting place in the town. Walk on beautiful whitewashed streets with bougainvillea flowers and blue pots hanging down the walls, discover historical monuments, and have a romantic meal at a Michelin-star restaurant like Skina.
The second activity that couples love is going on a sunset cruise. Sunsets in Costa del Sol are breathtaking, and by taking a cruise, you also get a different perspective of Marbella.
In addition to these activities, if you visit Marbella in summer, you can enjoy a relaxing day at the beach. Cabopino Beach is a quieter beach that couples love, but if you prefer a lively atmosphere, Marbella is home to famous beach clubs such as Nikki Beach.
Regarding accommodation, there are endless options, including adults-only hotels. Amàre Beach Hotel Marbella is perfect for couples. This adults-only hotel is next to the beach and offers stunning rooms and facilities to enjoy with your favorite person.
Generally, you can visit Marbella all year round. However, summer offers a lively atmosphere, and you can do water activities, whereas winter is perfect for couples who prefer a quieter experience, sightseeing and going on day trips.
Galapagos, Ecuador
Recommended by Ines of RandomTrip
Want to make a trip of a lifetime and create memories of the best birthday ever? Galapagos Islands' paradise awaits you! Be ready to enjoy exciting adventures in one of the most unique destinations in the world! You'll share your beach towel with sea lions, take a swim with turtles and penguins, paddle into pelican and flamingo lagoons, and dive under lava tunnels amongst some of the most biodiverse waters. It will feel like you're inside your own private Bday Nature Documentary!
If the word "Galapagos" rings a bell is probably from Darwin and his Theory of the Evolution of Species, as it was on these enchanted islands that he wrote some of the observations for "The Origin of Species". 
The Galapagos National Park is a protected ecosystem located about 1000km west of continental Ecuador (the country of which is part of) where animals live freely without fear of human harm (the park is protected since 1959 and there are several rules to take into account).
To get to Galapagos, you must fly from Quito or Guayaquil and bear in mind that from the 18 main islands and several islets, there are only 3 where you can stay and explore on your own: Santa Cruz, San Cristóbal, and Isabela. Each one is interesting in its own way, with different fauna and flora and its particularities. If your trip is only for a few days, Santa Cruz would be an excellent gateway as it's the bigger and most heterogenous one, perfect for a first approach. If you can extend your trip, definitely include the other two. The best way to move between islands is by speedboat and it's super easy. 
Although there is no bad time to visit the Galapagos, the best would be to avoid peak tourist seasons. Christmas, Easter, and Summer holidays make the prices rise, the most famous tours sell out faster and everywhere is more crowded than a special trip for two deserves.
Stay in Hotel La Isla in Santa Cruz where you can enjoy a relaxed romantic dinner and assimilate and comment on all that you both lived that day. 
Tulum, Mexico
Recommended by Mal of Raw Mal Roams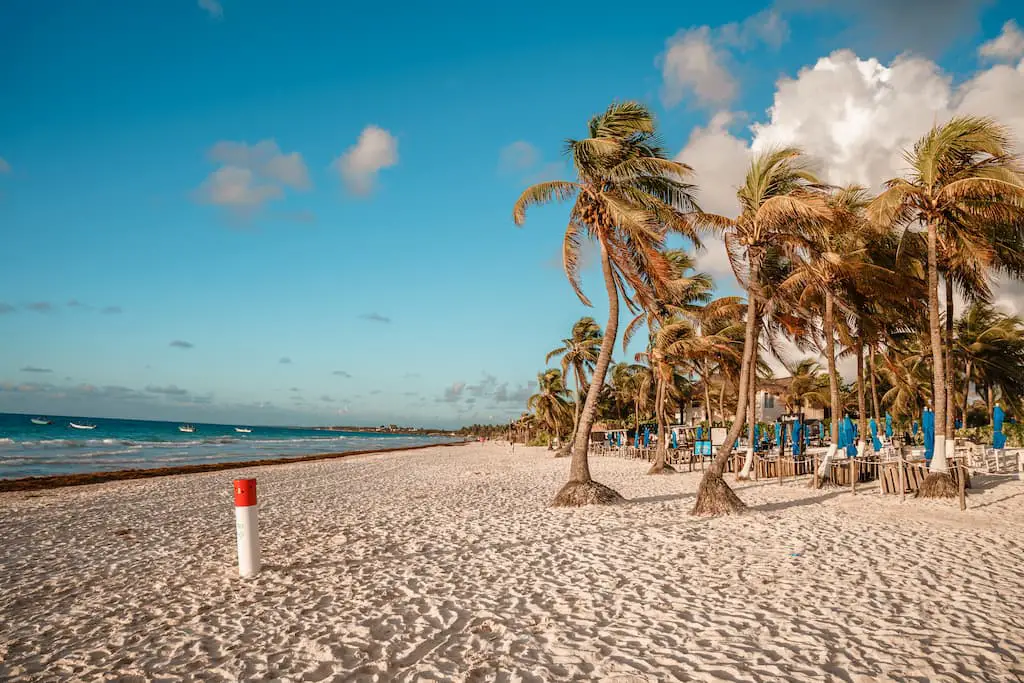 Tulum is the perfect destination for couples looking to celebrate a special event such as a birthday or anniversary. With its stunning beaches, romantic boho hotels, superb dining venues, and a myriad of activities and tours that can suit any travel style, Tulum is a place that will provide an unforgettable and unique experience.
When it comes to things to do in Tulum, you can't miss out on its stunning beaches. Spend a day in style in one of Tulum's chic beach clubs, such as Vegalume or Coco Beach Club, and enjoy the vibey atmosphere and superb cocktails served straight to your lounger. If you're a nature-loving couple, you will enjoy exploring Tulum cenotes, where you can spend a fun day swimming, snorkeling, and robe jumping into the cenote pool.
And, for a memorable evening, take a romantic sunset cruise along the coast aboard a luxury catamaran and enjoy the golden hour while sipping a glass of bubbly.
To make your trip even more special, stay by the beach! Tucked right by the Playa Paraiso and boasting good facilities and attractive boho beach decor, Ikal Tulum Hotel is an excellent pick! If you're looking for more affordable Tulum resorts for couples, check out hotels in downtown or Aldea Zama, such as Villas Geminis Boutique Condohotel.
The best time to visit Tulum is between December and April when there is plenty of sunshine with temperatures not too hot but warm enough for enjoying the beach without too much rainfall.
San Diego, United States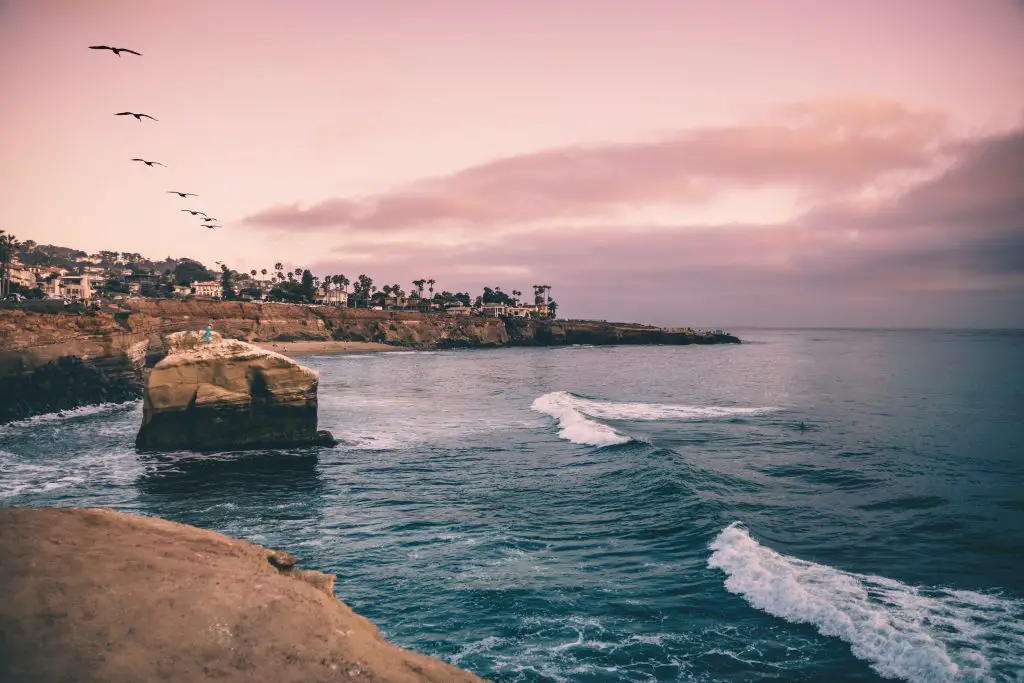 San Diego is a great destination for a 30th birthday trip for couples, offering endless possibilities for fun and relaxation. Located in Southern California, San Diego boasts beautiful beaches, great weather year-round, and a diverse range of activities to suit all interests.
If you're looking for only a weekend getaway, you can enjoy the center of San Diego for two days. The Gaslamp Quarter in downtown San Diego is a popular destination for couples, with its lively atmosphere and abundance of restaurants, bars, and nightlife. Spend the day exploring the area's shops and attractions before heading out for a night on the town.
For a more laid-back experience, couples can explore Balboa Park, which offers beautiful gardens, museums, and theaters. The park also hosts regular events and festivals throughout the year, making it a fun and unique birthday party destination.
If you have more time in San Diego, there is a lot more to explore nearby. For a day trip, couples can head to La Jolla Cove to soak up the sun, swim in the ocean, and enjoy stunning ocean views.
For those seeking outdoor adventure, Torrey Pines State Reserve offers hiking trails and stunning ocean views. Couples can spend the day hiking the trails and enjoying a picnic lunch with a view or head down to the beach for some sun and relaxation.
When it comes to accommodation, the Pendry San Diego is a great option for couples looking for a luxurious and romantic stay. Located in the heart of the Gaslamp Quarter, the hotel offers stunning views of the city skyline, as well as a rooftop pool and multiple restaurants and bars.
Fesdu Island, Maldives
Recommended by Paula of Truly Expat Travel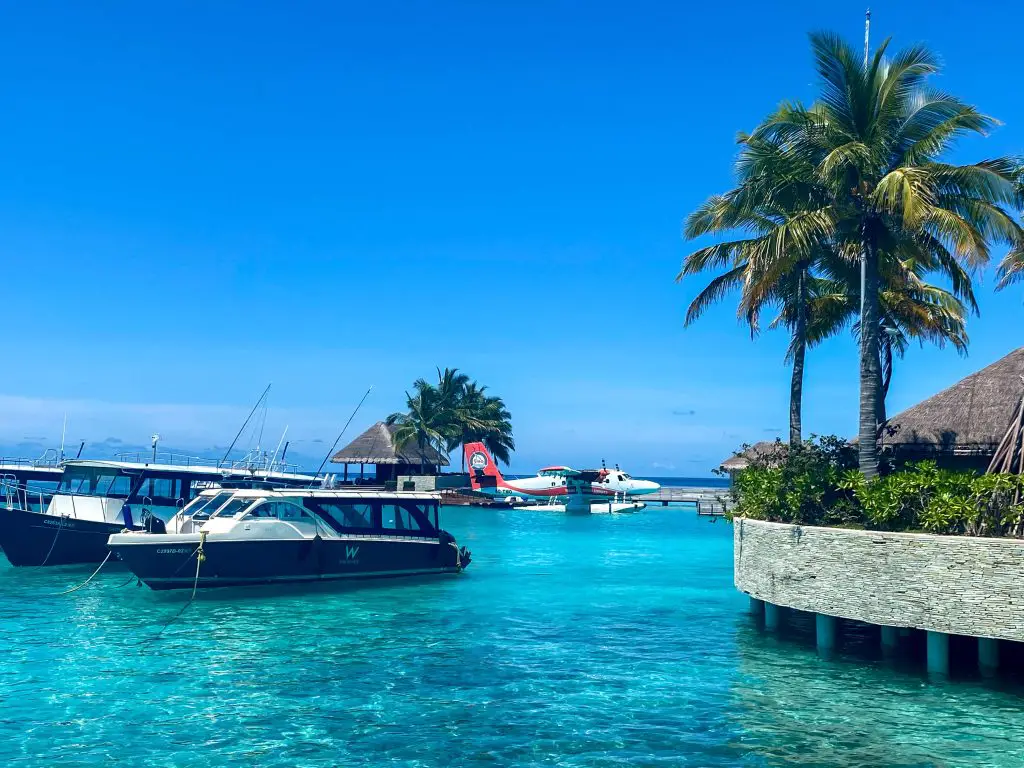 Maldives is known for its crystal clear water and white sandy beaches, so it is the perfect destination for a romantic getaway. Maldives is approximately 90,000 square kilometres; however, only 289 is land, and the islands are grouped into 26 atolls, with only 200 inhabited. The best time to visit this beautiful part of Asia is between November and April, as there is less rain and lower humidity. 
Before booking your ideal destination, you will need to consider a few things, how you will arrive at your destination, what type of accommodation you are after and what your budget will be. Maldives can be expensive, but this fantastic trip doesn't have to be if you do a little research before you go. 
There are three modes of transport, seaplane, boat and land transport. Of course, anything in Male will be more affordable, but if you want the entire Maldives experience, then a seaplane or boat is the best option. Although an overwater bungalow is what most people expect from the Maldives, there are other beautiful options, like hotel rooms and beach bungalows. In addition, you can choose international resorts or local boutique-style accommodations with boarding options. These include having everything prepaid and everything besides drinks or paying for everything as you go. 
However, the one thing each island has in common is the same fantastic crystal-clear water. Most resorts offer complimentary snorkelling or day and night trips elsewhere. With the ocean as your playground, take advantage of the complimentary water sports at your resort. If you want more, other options include scuba diving, sailing and motorised water sports. 
The W Maldives is the perfect location for a romantic time away, with many complimentary island activities, fantastic restaurants, and bars, beautiful overwater bungalows and beach hut options, and friendly staff. Here is all you need to know about Thw W Maldives reort.
---
---