Some of the links in this post are affiliate links. This means if you click on the link and purchase the item, I will receive an affiliate commission at no extra cost to you. All opinions remain my own.
Ubud is a bustling town in the center of Bali, Indonesia. This green paradise is the perfect spot to make a home base from which you can travel all around Bali. In this post, you'll find the best day trips that you can go on from Ubud to see the most beautiful places on the island.
Bali has incredible diversity and sights for every taste. You'll find magical temples, stunning volcanos, lush rice terraces, instagrammable swings, breathtaking waterfalls, all kinds of water sports, and even paragliding!
So read on and get some inspiration for items to add to your Bali travel wish list!
Mount Batur Hike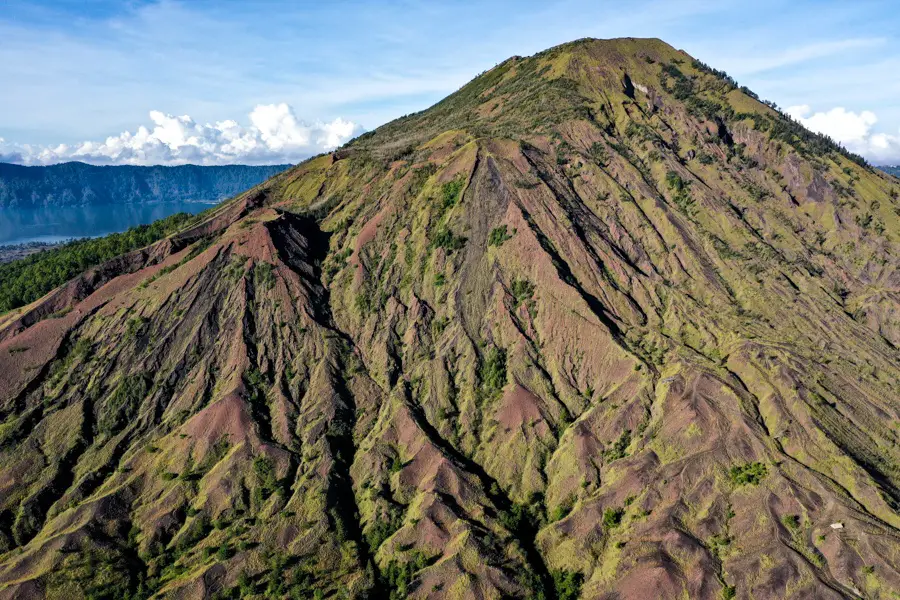 The Mount Batur hike in Bali is one of the best day trips on the island. This is a very popular volcano for sunrise trekking in Indonesia, and it's not very hard to do from Ubud, with a driving time of about 60-90 minutes.
Most people do Mount Batur with a tour. Many tour packages are available, including hotel pickup and drop-off, plus a local guide for the trip. It's not quite as cheap as some of the shorter hikes in Bali, but the price is well worth it!
This Bali volcano hike is always a completely memorable adventure in its own way. Mt Batur is an active volcano with heat vents at the top where you can cook eggs, which is also fun to do for breakfast.
The hike is not too difficult and you don't need to be super fit to do it. However, shoes and a light jacket are highly recommended for climbing Mount Batur because the path is rocky and it can get a bit chilly at the top while waiting for sunrise.
The entire hike takes about 2 to 4 hours roundtrip, depending on your pace. A flashlight is also a good idea since you're hiking in the dark, although most tours provide the essentials like this.
Early morning trekking at Mount Batur is especially popular because you can catch amazing sunrise views from the top of the mountain, usually in a sea of orange clouds!
Recommended by David & Intan of The World Travel Guy
Nusa Penida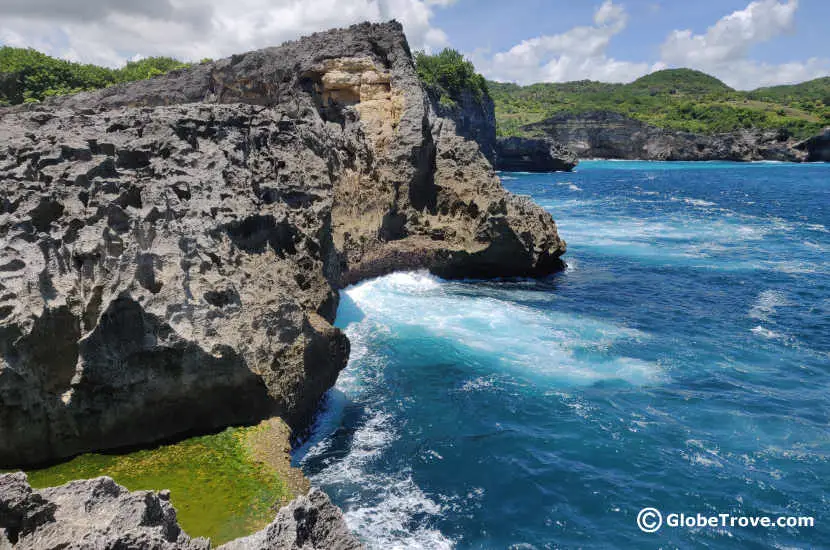 Nusa Penida is a gorgeous island that is just off the coast of Bali. It is relatively easy to get from Ubud. All you have to do is get to the harbor at Sanur. There are boats that take you across almost all times of the day. It's highly recommended to start early as there is much to see and do on the island.
Another way of visiting the island is to take a guided tour. It's also possible to rent a bike if you prefer to explore the island on your own. You can rent the bike just outside the ferry point.
There is a lot to do on the island. If you are headed here just for a day trip then carry water, pack your hat and start early. Two of the most popular sights on the island are Broken Beach and Angel Billabong. Set on the cliffs, not only do these give you a gorgeous view of the swirling sea, but they also are interesting geological formations.
If you are going to Nusa Penida, Kekling beach and T-Rex bay are also iconic must-see places. Diamond beach is another great place to kick back and relax. You will find loads of little eateries to enjoy a bite to eat at. Some have spectacular views, others offer great food, and still others have quiet spots after a hectic day.
Recommended by Penny of GlobeTrove
Sekumpul Waterfall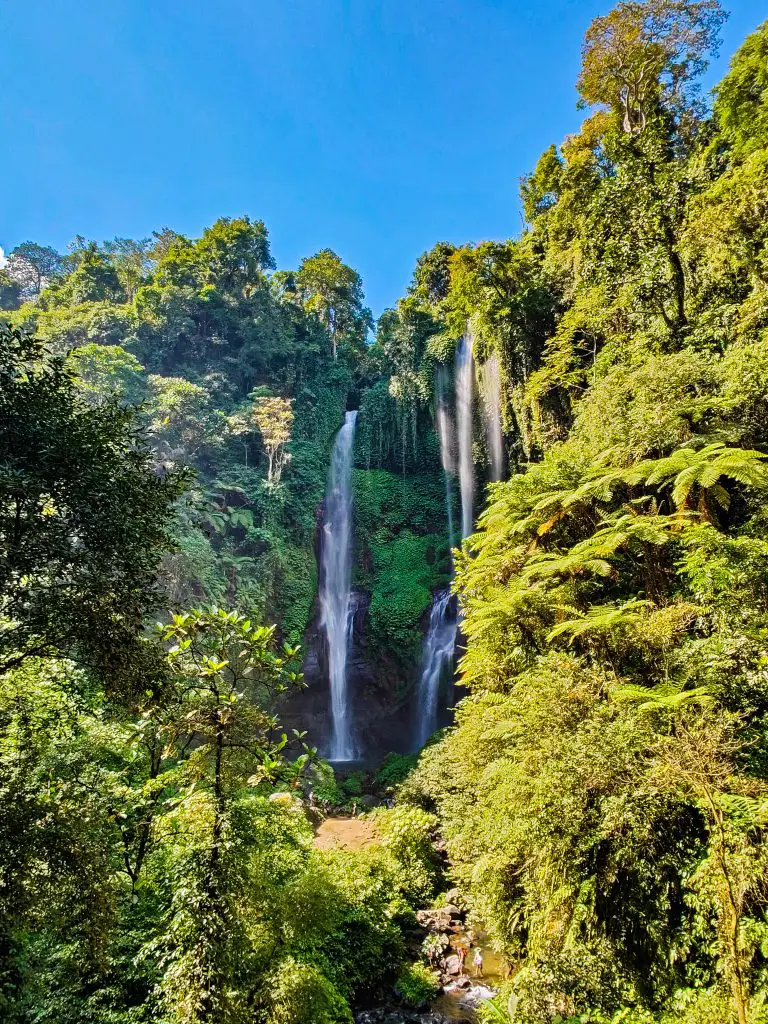 Looking for one of the best day trips from Ubud that takes you away from the crowds and into the deep northern reaches of Bali? 
If so then embark on a 2-hour, or 68 km, drive to Sekumpul Waterfall. 
And while you rent a scooter and drive here yourself, try to book a tour with a driver since the roads are extremely narrow, curvy, and difficult to drive. 
Therefore, only drive yourself if you have ample experience operating a scooter. 
Upon arrival, you'll need to purchase an entrance ticket (IDR 20,000) and hire a guide (IDR 150,000) who will take you down to the base of Sekumpul Waterfall and then to Hidden Waterfall. 
Along the way, you'll be able to take tons of gorgeous photos of this 100-meter-tall waterfall as you sample local Pandanus pancakes and learn all about the area from your local guide, making this a great addition to any Bali solo travel itinerary. 
If you can, try and get here early so that you can have the place all to yourself and go for a swim amidst the tranquil beauty of northern Bali. 
In total, a visit to the waterfall and the entire trek can take anywhere between two and four hours. It really just depends on how fast you hike and how much time you spend swimming at the base of the waterfall. 
You will also have to tackle walking up quite a few steep stairs on the way back up so keep that in mind before you walk down.
Recommended by Kelly of Girl with the Passport
RIUG Paragliding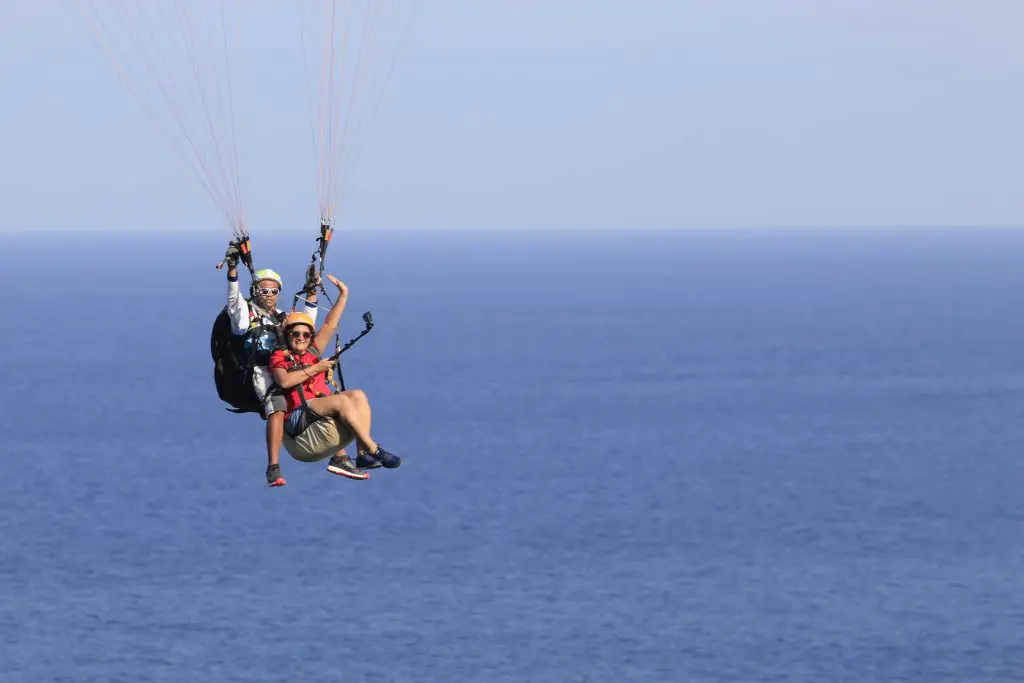 If you are not a water baby or not much into water sports like scuba diving, snorkeling, ocean walking, etc., people think that what else is even there to do in Bali?
Go for paragliding, and prove them wrong!
One of the best paragliding companies in Bali is RIUG Paragliding. You can hire a taxi from Ubud to reach the spot. It is around one hour drive from Ubud. It is advised to leave around 10-11 am to avoid excess traffic on the road.
As you reach the spot, go straight to the counter where you would need to pay for paragliding. Complete the payment formalities as soon as you can. And do sign up for the photos and videos. It is a memorable experience after all.
After making the payment, they will give you the keys to your locker, where you can put your hotel room keys, mobile, wallet, and other valuables.
That's it, you just need to sit and wait for your turn now. When your turn comes, the staff there will hand you a Go Pro, which they would tie to your wrist. Yes, you would have to shoot yourself while flying.
The pleasure of being away from the Earth is incomparable!
Being away from Earth makes you feel tiny. It makes the world appear diminutive, and the sky is the limit. Up there, nothing else matters.
The ride is for about 15 minutes, and then you would start to descend slowly and finally land (very smoothly) on the Earth.
Tips:
Ensure that the taxi driver waits and takes you back to Ubud. You would not be able to find a Grab from that spot as it is on the extreme outskirts.
Wear windproof clothing in case you are prone to catching a cold.
You would be about 150 meters above sea level. Just enjoy yourself while you fly. The experience is mind-blowing.
Recommended by Anukrati of Bulbul On The Wing
Jatiluwih rice terraces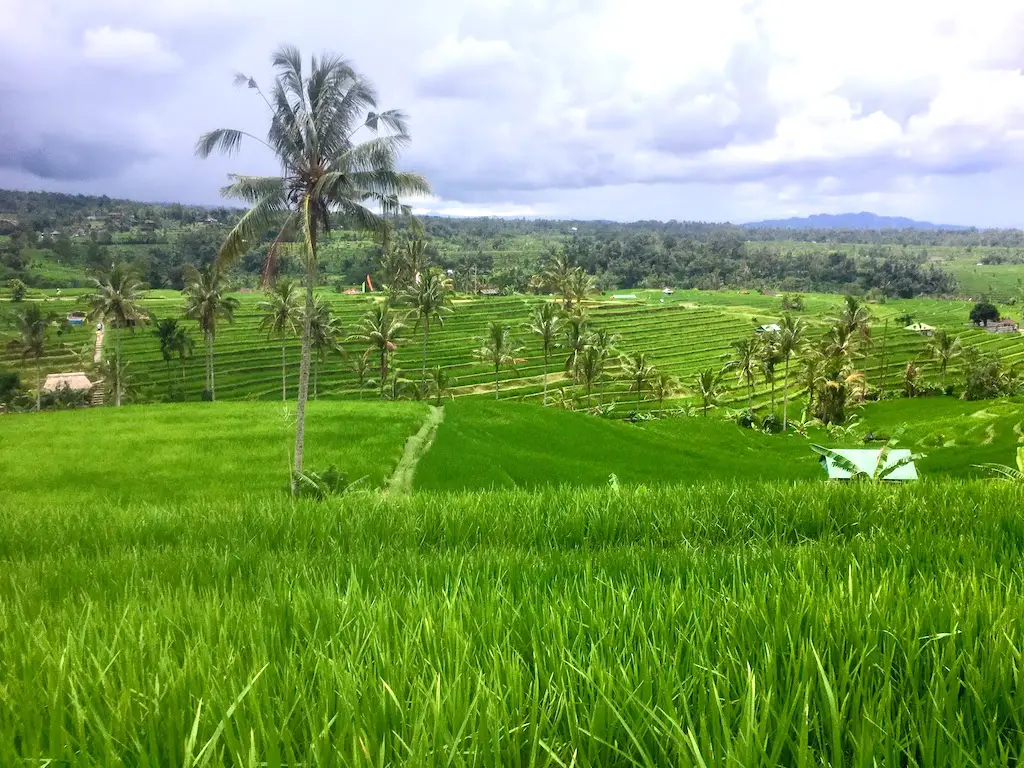 Spectacular Jatiluwih rice terraces are the largest rice terraces in Bali. On top of it, Jutiliwih rice fields are a UNESCO World Heritage Site.
Incredible Jatiluwih rice fields cover enormous 1480 acres (600 ha). Extensive Jatiluwih rice fields with the three main routes are a trekking paradise on earth. So, if you dream of taking a long walk among vast green rice fields in Bali, go to Jatiluwih rice terraces and trek the most incredible rice paddies in Bali for a few hours. 
But what is even more impressive than the size, Jatiluwih rice fields are cultivated only by people's hands (without machines). The rice fields are grown traditionally in line with Tri Hita Karana philosophy. This ancient Balinese philosophy commends harmony: harmony with nature, harmony with God, and harmony among people.
Therefore, UNESCO inscribed the Jatiluwih rice terrace on the World Heritage List.
The Jatiluwih rice fields entrance fee is 40k Indonesian Rupiah (about 4 USD). All money from the tickets is for the maintenance of the fields. Thus, the visitors support local communities, nature, and the heritage of Bali by buying tickets.
Visiting Jatiluwih rice fields is a popular day trip from Bali.
Spectacular Jatiluwih rice fields are in the rural area of the Tabanan province and 25 mi (40 km) from Ubud. They are about 80 min drive from Ubud. 
The Jatiluwih rice fields are usually visited by hiring a taxi, renting a scooter, or joining a tour in Ubud. But remember, if you want to see the greenest rice fields in Bali, visit Jatiluwih rice terrace in the wet season from October to March.
Recommended by Milijana of World Travel Connector
The Pura Besakih Temple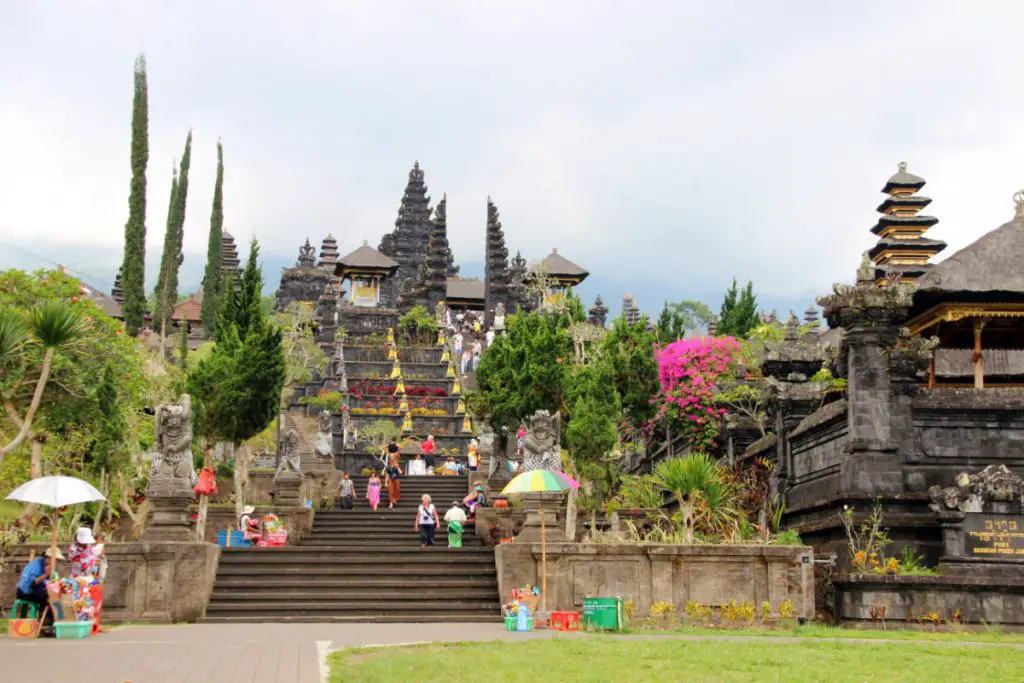 The Pura Besakih Temple, also known as the Mother Temple, is the most important temple on the island. Located on the slopes of the sacred Mount Agung, a visit to this temple is among the most fantastic things to do in Bali. As the mother temple, the Pura Besakih is of utmost importance to the Balinese people.
With archaeological remains over 2000 years old and being a Hindu place of worship since 1284, Pura Besakih is a religious complex made up of about 22 temples. The main and most visited is Pura Penataran Agung, with its characteristic pyramidal shape and built on 6 levels.  
Throughout the complex, you can appreciate the different mythological conceptions of Hinduism and its myths. As secondary constructions, the Pura Batu Madeg, Pura Gelap, Pura Kiduling Kreteg and Pura Ulun Kulkul also stand out.
The sobriety and finesse of Balinese religious architecture stand out in all the buildings, with its characteristic merus or Balinese pagodas.
Its more recent history has only fuelled the temple's supernatural belief. In 2017 a terrible eruption of the Agung volcano only slightly affected the religious complex, which was considered a miracle and a demonstration of the sacredness of this complex.
Without a doubt, it is a visit to do it calmly, enjoying the incredible natural environment and the large religious complex.
Located in the small town of Besakih, you can visit Pura Besakih by public transport or Bemo (collective van) via Ubud. You can also go by motorcycle, rented car, or private guide from any other point on the island.
Recommended by Laura of Travelers Universe
Tirta Gangga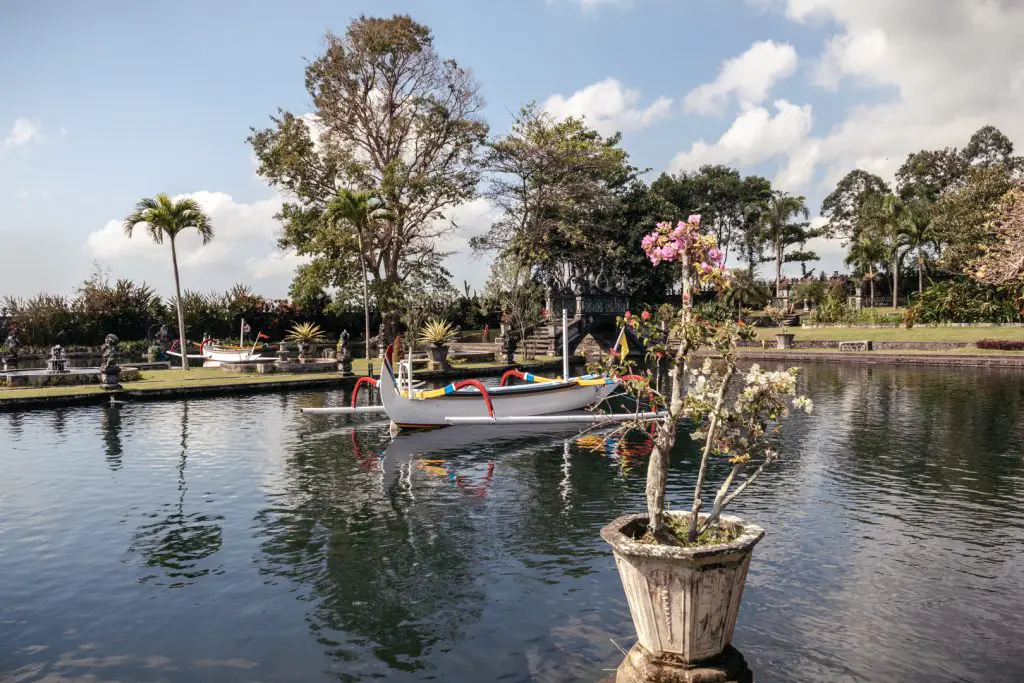 The beautiful Tirta Gangga is a must for any Bali itinerary! 
It's a Royal water palace that's famous for its many pools and fountains, stone carvings, and lavish gardens.
It was built in 1946 so has plenty of history, although it's undergone multiple restorations following Mount Agung's eruption in the 1960s. 
Tirta Gangga is a popular spot for photographers as the area is so beautiful, and you could easily spend hours here even though the site is relatively small. 
However, this place's highlight must be the huge koi fish that reside in the waters! You can even purchase some fish food here and feed them which is super cool. 
Tirta Gangga is located in East Bali and is around 60 km (37 miles) from Ubud. Usually, the drive takes around 1.5 hours but it all depends on how bad the traffic conditions are at the time! 
The best way to get there is by hiring a scooter, which can cost you as little as 50,000 IDR per day ($3.30). 
However, if you're not confident driving a scooter around Bali, then you can hire a private driver to take you to some popular sites on the island. It's a great way to get around and is super cheap too. 
Tirta Gangga is undoubtedly one of the best day trips from Ubud, so make sure you add this place to your list! 
Recommended by Abbie of A Couples Calling
Uluwatu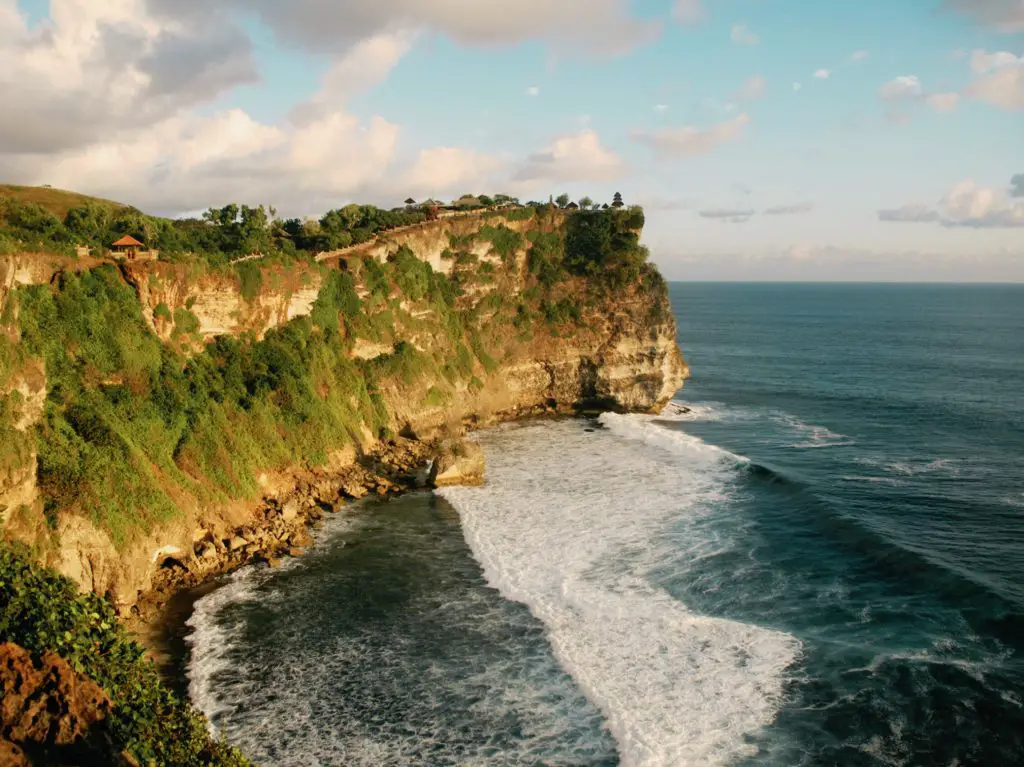 Uluwatu is located on the southwesternmost tip of Bali and it is well known for its dramatic shorelines, tranquil vibe, luxury villas, and pristine beaches. Uluwatu is a surfer's paradise because it has different beaches that are suitable for surfers from amateurs to advanced levels. 
The best way to go to Uluwatu from Ubud is by driving. The road trip is about 50 kilometers away and takes about 2 hours if the traffic is smooth. While there are so many things to see and do in Uluwatu, visitors are advised to pick one of their favorites for a day trip. For example, visit one of the many beaches under the plateau and enjoy a relaxing moment, or head to a surfing spot and catch the waves.  
Apart from beaches, the region is also filled with trendy cafes, beach clubs, outdoor bars, and cultural parks like Garuda Wisnu Kencana Cultural Park (GWK). Having said that, the Uluwatu Temple is the main attraction of Uluwatu – it is one of the many most iconic sacred sites in Bali, and it is also one of the best places in Bali to view the sunset. The best time to get there is the late afternoon because the Kecak Fire Dance performance starts at 6 pm daily by the cliff at the other end of the temple. Get there early and get the best seat because these shows get full rather quickly in peak season.  
Recommended by Kenny at Knycx Journeying 
Ijen Volcano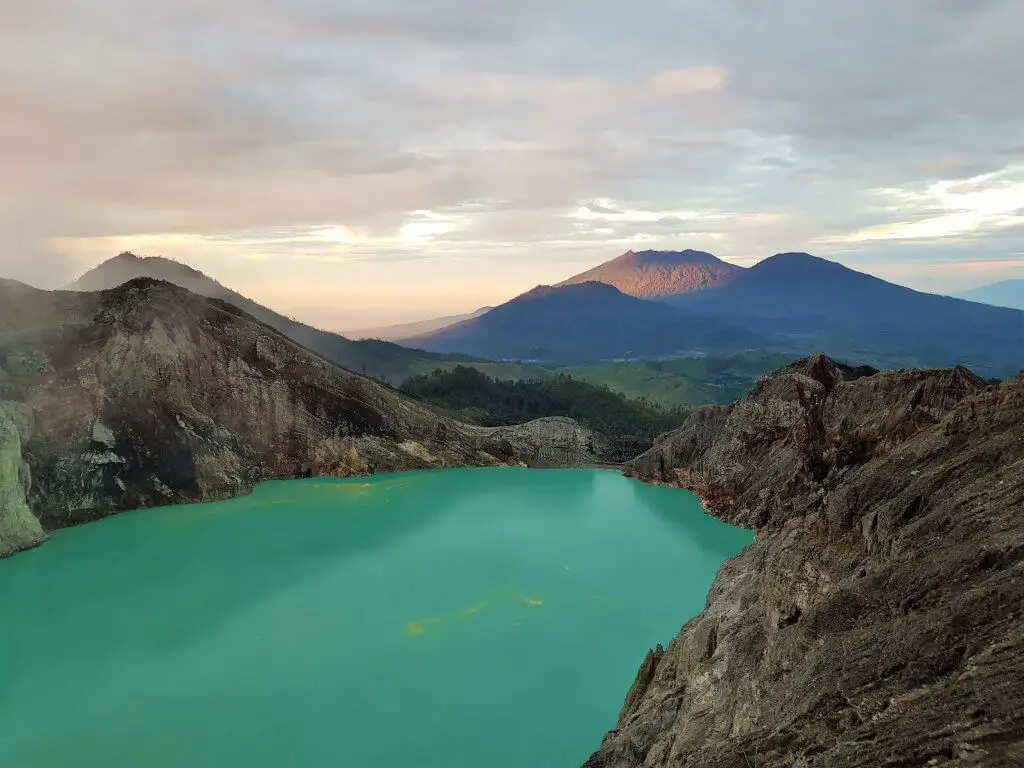 If you're up for a longer adventure, it's possible to seek out a tour to Mount Ijen. It's a stunning volcano located on the nearby Java island and looks like out of this world. The Ijen Volcano is famous for its acid lake in the crater of the volcano and striking blue fire that comes out near the lake and can be observed at night.
Tours to Mount Ijen from Ubud start in the evening, as you'll have to spend a few hours on the road to reach it. When the volcano is reached, there is a few-hour hike to the top. The aim is to get there at night to see the famous blue lights in the crater.
On your way up you'll see many sulfur miners carrying this material out of the crater and down the mountain. Your guides will also provide face masks to protect you from the gas that sometimes is quite strong at the top of the volcano. Just follow the instructions of the guides and you'll be safe!
After checking out the turquoise lake and the flames in the crater you'll gave to hike up to the top of the Ijen volcano to observe the sunrise. It's quite stunning as it gives color to the lake below and the nearby volcanos.
After that, you will hike back down and will return to Ubud. On your way back there is usually also breakfast included in the trip.
Munduk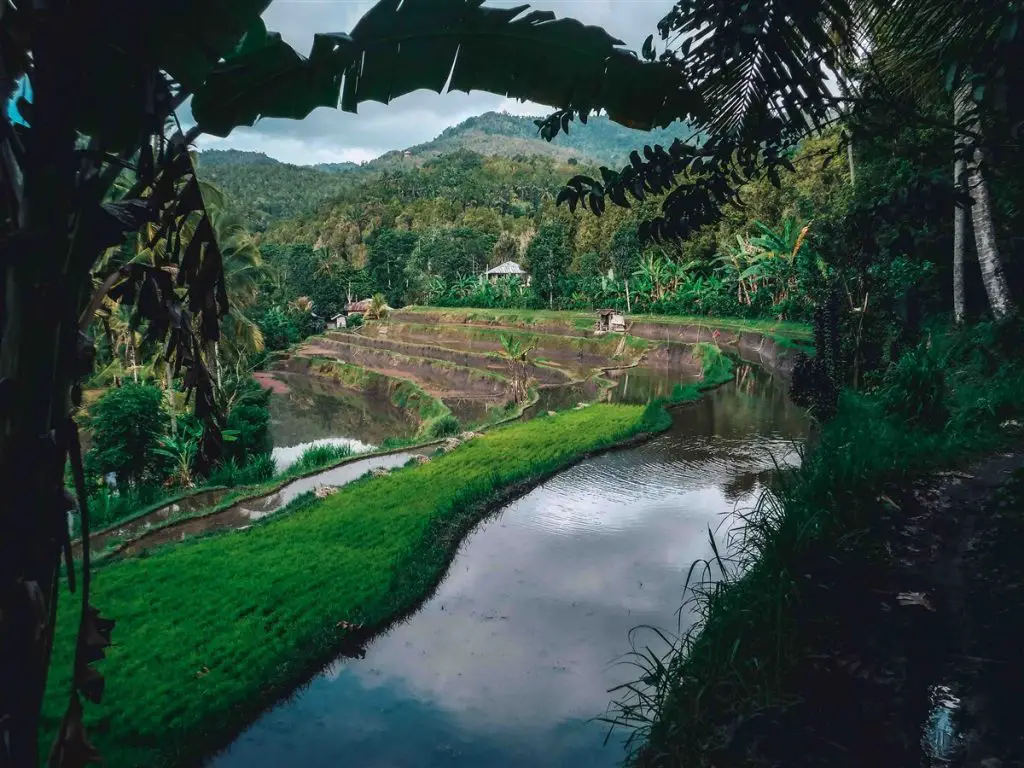 If you're looking for a great day trip from Ubud, then the tiny town of Munduk in the north of Bali is a fantastic choice. Munduk is an excellent place to go if you want to explore Bali in an authentic way. It's away from the tourist crowds in the south of Bali and you get an insight into traditional Balinese day-to-day life. Aside from a few resorts, there are only guesthouses in Munduk and a few local restaurants. It's also surrounded by some beautiful rice terraces.
One of the best things to do in Munduk is to explore its many waterfalls. There is a hike you can do here, that is called the "Munduk waterfall trek". Depending on the route you take it takes you from the center of Munduk to three or four gorgeous waterfalls. The waterfalls are called Red Coral waterfall, Labuhan Kebo waterfall, Melanting waterfall, and Golden valley waterfall. Walking from one waterfall to another you pass by beautiful natural scenery. You won't see many tourists on the trail; chances are you will have the waterfalls all to yourself. If you're hungry there's a cute eco cafe next to Golden Valley waterfall. The best restaurant in the center of Munduk is Warung Classic. From Ubud, it takes around 1,5 hours by motorbike or taxi and about 2 hours by shuttle bus to reach Munduk. It's more convenient to rent a motorbike for the day to do this trip. Many other sights on the way to Munduk are also worth a stop, like the twin lakes Tamblingan and Buyan and the Ulun Danu Beratan temple.
Recommended by Annelies at Travelers and Dreamers
Tegalalang Rice Terrace
Nestled right on the edges of Ubud is the iconic Tegalalang Rice Terrace, which embodies the lush landscape this Balinese town is known for. It's a picturesque hillside with rice paddies arranged in terraces according to the local "subak" system, which is believed to have originated from the sage Rsi Marakndeya back in the 8th century. 
Hands-down one of the best places to visit on the island, the scenery is reason enough to visit. With luscious multi-level terrains and massive coconut trees lining the view, it truly is a sight to behold. 
However, Tegalalang Rice Terrace also has some fun activities to keep you entertained, including an adrenaline-pumping giant swing!  As you're strapped in and pushed back and forth, you'll be suspended above the magnificent panorama, which is an experience like no other.
Finally, don't forget to snap a photo in the colorful "Love Bali" sign near the entrance. The vibrant and whimsical design of the letters stands out against the sprawling green backdrop, and this makes for a superb picture!
The place is very accessible by car and takes only 20 minutes to drive from Northern Ubud, or even faster on a motorcycle.
Just a stone's throw away, stop by Alas Harum Bali too. This is a coffee plantation with equally stunning views of rice paddy fields that offers a fun coffee-tasting experience. Here, you can meet some Asian palm civets and learn about how the famous Indonesian Luwak coffee is made.
Recommended by Bradley at Dream Big, Travel Far
Nusa Lembongan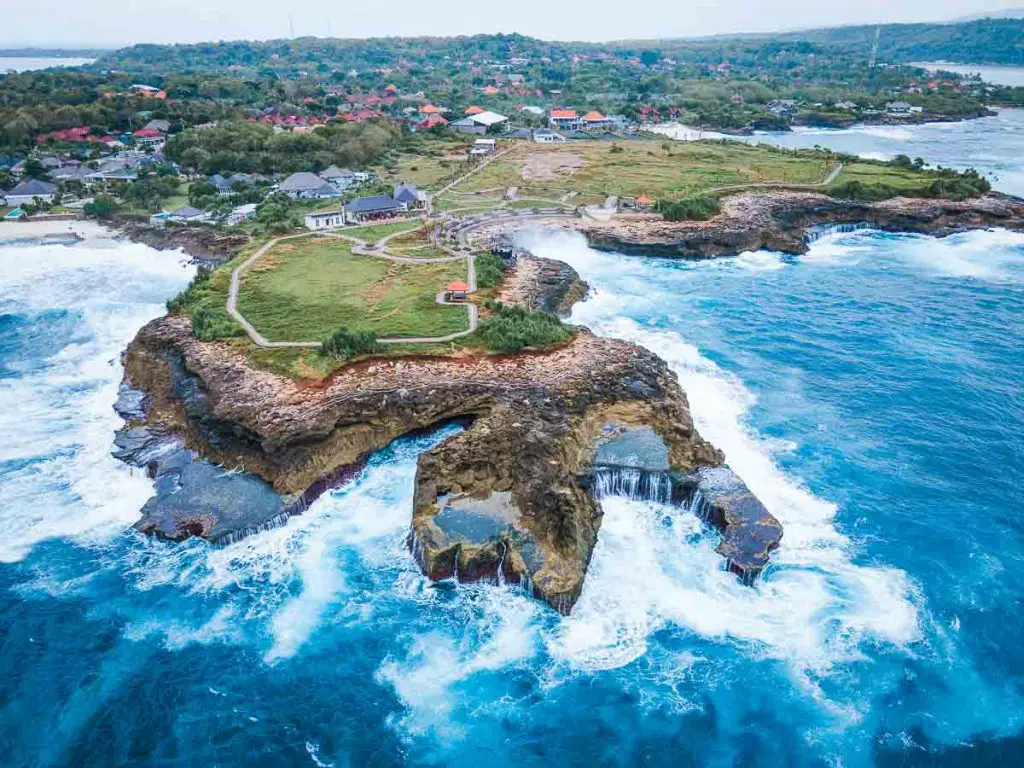 Featuring world-class diving, and stunning cliffs with raging turquoise waves, Nusa Lembongan is a beautiful little island located just off the coast of Bali, perfect for a day trip from Ubud. Technically a part of Bali, Nusa Lembongan is the perfect place to relax and escape the hustle and bustle of the mainland.
Even though the island is relatively small, there is plenty of things to do in Nusa Lembongan to fill the day. The island is home to some of the most beautiful beaches: lounge at Secret Beach or watch the sunset from Dream Beach or Mushroom Bay. Watch the waves crash at the blowhole, Devil's Tear, being careful not to be pulled out by the tide.
Cross the famous Yellow Bridge, connecting another nearby island Nusa Ceningan to the best spot don't the island: the Blue Lagoon. Be awe-struck at the glistening blue waters and the towering cliffs, mildly resembling the shape of a heart.
Learn about Nusa Lembongan's seaweed farming culture, with low tide seeing farmers wade out into shallow waters to harvest the seaweed, drying them on the street. Or taking a mangrove tour with a local guide's traditional paddling boat.
Many tour operators in Ubud offer day trips to Nusa Lembongan. Alternatively, you can take a speed boat from Sanur Beach, Kusamba, or Patang Pai, towns all within a one-hour drive from Ubud. The boat ride takes approximately 20-45 minutes, depending on your ferry port departure.
Once you arrive on the island, you can rent a scooter to get around, or plenty of tour operators offer guided tours of the island.
Recommended by Catherine at Nomadicated
Kanto Lampo Waterfall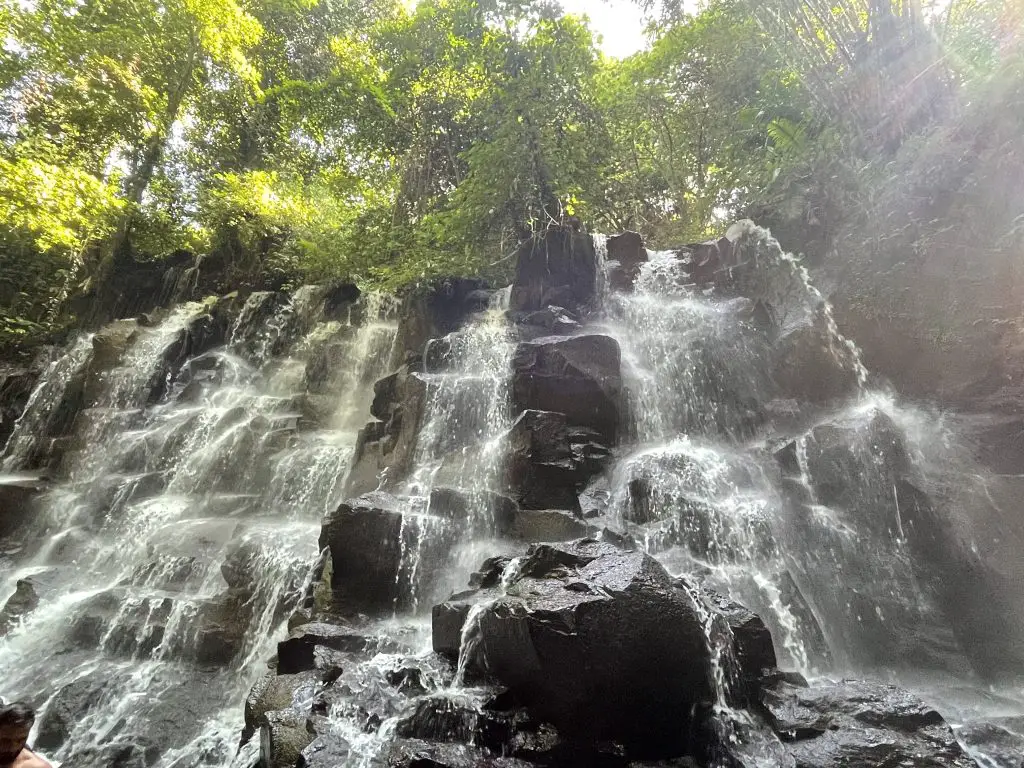 If you're looking for an amazing day trip from Ubud, look no further than the Kanto Lampo Waterfall. This stunning natural cascade is situated roughly half an hour from Ubud and is a great place to cool off from the Balinese heat. 
Given its location, the best way of getting there is to hire a driver for the journey. If you've been around Ubud, you'll know that there is an abundance of drivers offering a range of tours including Kanto Lampo. However, make sure to haggle on the price as they'll undoubtedly highball you. The cost of a trip for two people should cost around 200,000 rupiahs. 
Whilst using Grab or Gojek is more affordable and still an option, it would mean waiting around for a return journey that may not arrive for some time. Make sure to check out How to get around Bali in 2022 for more information.
Once you arrive, signs will direct you to a ticket booth as the local government charges 10,000 rupiahs per person. You'll then descend for five minutes down the winding stairs and finally come to the beautiful waterfall. 
Whilst the water initially looks deep, the furthest it comes up to is your waist so even for not the most confident swimmers, you'll be absolutely fine. Standing in the waterfall itself is an amazing feeling, even if the water is slightly cold! Make sure to be careful when climbing the slippery rocks. 
Waiting for you will be an array of guides offering to take pictures of you. There is not a set price for the guide's services as they will only ask for a donation. Admittedly, you may not want to pay for someone to take pictures but the pictures are truly a once-in-a-lifetime experience so it's absolutely worth any change you have. As the guides do this day in, day out, they're very experienced in getting the best angles.
Top Tip: Make sure to bring a towel and arrive in your swimwear!
Recommended by Alex and Leah at Alex and Leah on Tour
Bali Swing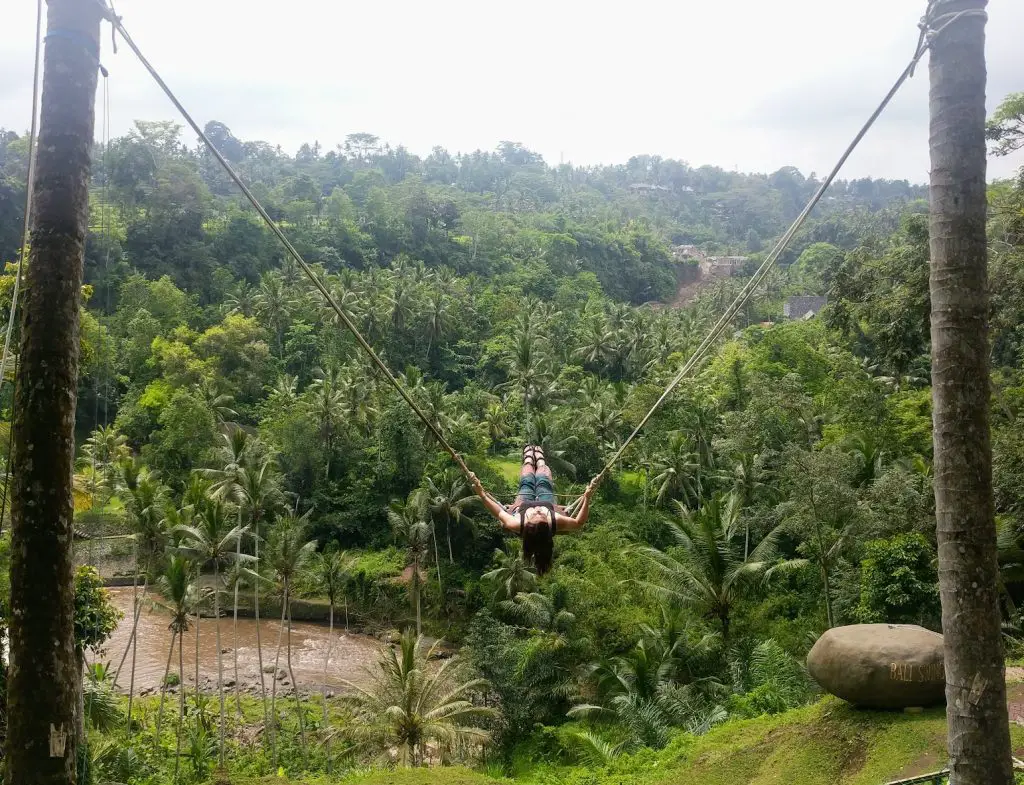 One of the most iconic day trips from Ubud that is at the top of many travelers' lists is a visit to the famous Bali Swing. There are a few different locations with swings in Bali, but just 4km from Ubud you will find the picturesque backdrop of lush green rice paddy fields and jungle terrain and many different swings to enjoy.
Most people take a trip here as a combination package with other tours as it will only take 3 – 4 hours of your day. The facility opens from 8 am and it is best to head there early as it is an extremely popular tourist location and you don't want to have to wait long in line!
One of the highlights is the beautiful wood love nests that are perched high up in the trees, another is the enormous rock you can climb for photos with the paddy terraces. But best of all you have so many different choices of swing. There are several you can enjoy solo, some that you can enjoy with someone else, and even a few bigger swing beds that you can experience with the whole family. You're safely harnessed in the bigger swings and the best one will take you 78m off the ground. 
An added bonus is that your lunch is included too overlooking a mini waterfall. If you like to create Instagram-worthy photos and great memories, visit the Bali Swing Ubud.
Recommended by Kerry Hanson at VeggTravel
Aling Aling Waterfall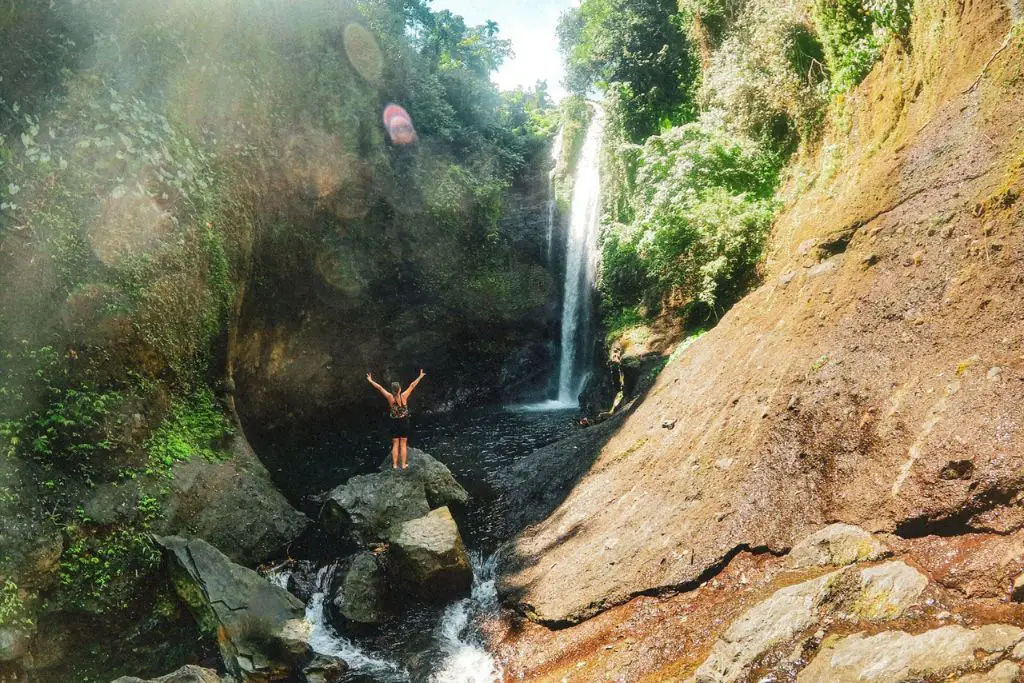 One of the best day trips from Ubud is a visit to Aling Aling Waterfall in North Bali. Aling Aling is a magnificent 30ft waterfall that falls into a sacred pool in the Sambangan Secret Garden. It's surrounded by lush forest, rice fields, and cliff formations which produce a total of seven stunning waterfalls. 
Aling Aling Waterfall is the tallest and most beautiful but is prohibited to swim. However, the other six waterfalls which can be found within the Secret Garden are where the fun really begins! These waterfalls are smaller, so it becomes possible to jump from them into their pools, there are jump platforms at 5m, 10m, and 15m. 
Another wonderful thing about these waterfalls is the three hiking options available to reach them, depending on activity level. A short trek will take 15 minutes while the long trek, through the rice fields, is 4 hours. 
The most exciting thing about these waterfalls is the chance to enjoy a natural rockslide. The rockslide is formed on the waterfall known as 'Kroya' and is a fun adrenaline-fuelled activity!
Like any day trip from Ubud, it's best to organize a driver for the day. The journey to Aling Aling Waterfalls takes around 2 hours from central Ubud. It is common to combine a visit to the Sambangan Secret Garden with another fun activity such as a visit to Jatiluwih Rice Terrace.
Be sure to take plenty of water and snacks for a visit to Aling Aling as there are no shops along the hiking path!
Recommended by Abi at I'm Going On An Adventure
Bali Sunrise Swing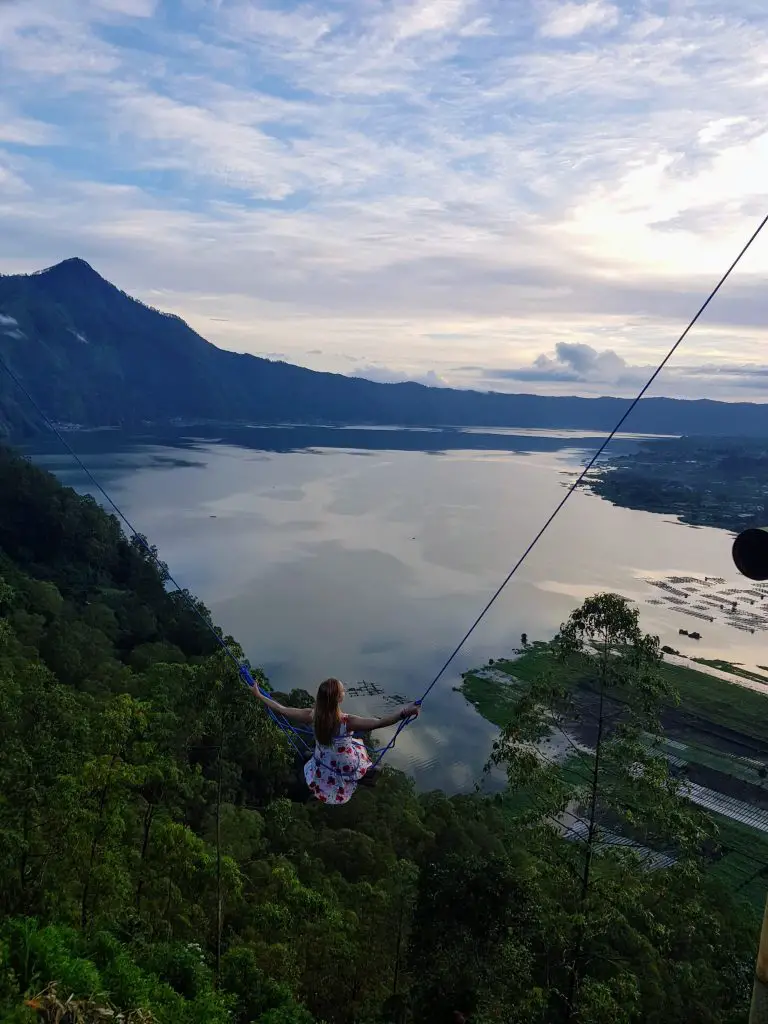 If you wish to go on a road trip to see the sweeping views of Mount Batur and the lake below it, Bali Sunrise Swing is the right place for you. Located around 1,5 hours from Ubud, this is a great destination to include on a day trip.
The Sunrise Swing is actually a name for a place with multiple swings, viewing platforms and photo arrangements, where you can get a shot with you with the background of either Mount Batur or the Bali sea on the other side. For a small fee, the locals will help you to swing far above the trees with breathtaking views. They'll also take photos of you if you wish – with the experience of the best angles for stunning pictures.
Despite the name, this place can be visited at any time of the day. The picture above was taken during sunset, and it was gorgeous then as well. Just be mindful that it gets really dark right after sunset, so you have to be a confident driver to get back to Ubud in the evening, when the mountain roads have not the best visibility.