Some of the links in this post are affiliate links. This means if you click on the link and purchase the item, I will receive an affiliate commission at no extra cost to you. All opinions remain my own.
Ubud, a captivating and culturally rich town in Bali, has long been a popular destination for travelers seeking a unique and transformative experience.
Nestled amidst lush landscapes, this charming town offers a blend of tradition and modernity, making it an unmissable destination for those looking to immerse themselves in Balinese arts and culture.
I've spent more than a week in Ubud while exploring the surrounding areas. For me, the best part in Ubud was that the hotel was lushly green and had a really warm pool. It was also a short walk away from the temples, art shops, and great restaurants.
With its vibrant art scene, stunning temples, and picturesque rice terraces, there is no doubt that Ubud is worth visiting for both first-time travelers and Bali regulars.
In addition to its cultural offerings, Ubud is also well-known for its diverse culinary scene, ranging from traditional Balinese cuisine to modern gourmet dining experiences.
Its boutique hotels and villas provide comfortable and luxurious accommodation options for visitors, making it a perfect base from which to explore the island's many attractions.
Key Takeaways
Ubud offers a rich cultural experience with its vibrant art scene and stunning temples
The town boasts a diverse culinary scene and comfortable accommodation options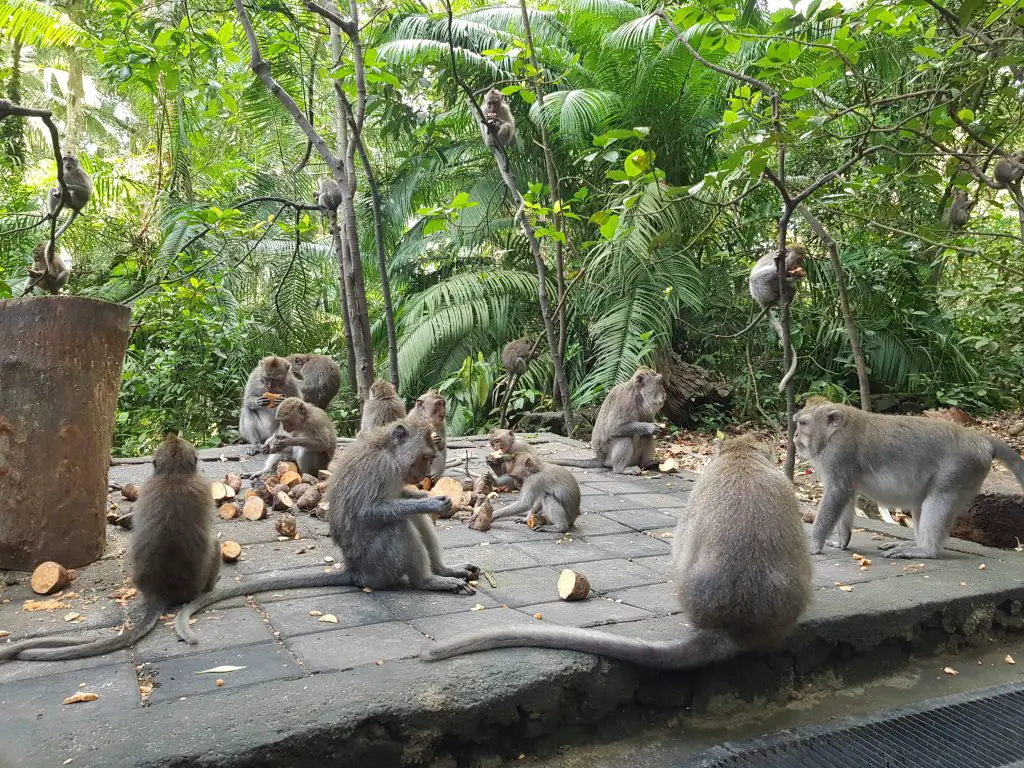 What Makes Ubud Unique
One of the defining features of Ubud is its rich cultural heritage. The town is often referred to as the cultural center of Bali, with its abundance of artistic and historical landmarks that take visitors on a journey through time. A prime example is the Ubud Royal Palace, an important symbol of Balinese history and a testament to the town's strong connection with its royal past.
Tradition plays a vital role in the daily life of the locals in Ubud. The town is known for its numerous ceremonies and festivals that showcase a deep-rooted connection to Balinese customs. This genuine display of authenticity is a refreshing experience for many visitors who want to immerse themselves in local traditions.
The natural landscape of Ubud is another reason for its uniqueness. With its picturesque rice terraces and tropical jungles, these serene surroundings offer tranquility and inspire a sense of awe for the beauty of Bali.
Moreover, the heartfelt hospitality of the Ubudian people is unparalleled. Known as one of the friendliest communities in the world, locals go above and beyond to make visitors feel welcome in their tranquil town.
Ubud is a haven for those seeking wellness and relaxation. The town has an abundance of spas and retreat centers that focus on nurturing the mind, body, and spirit through traditional Balinese healing practices.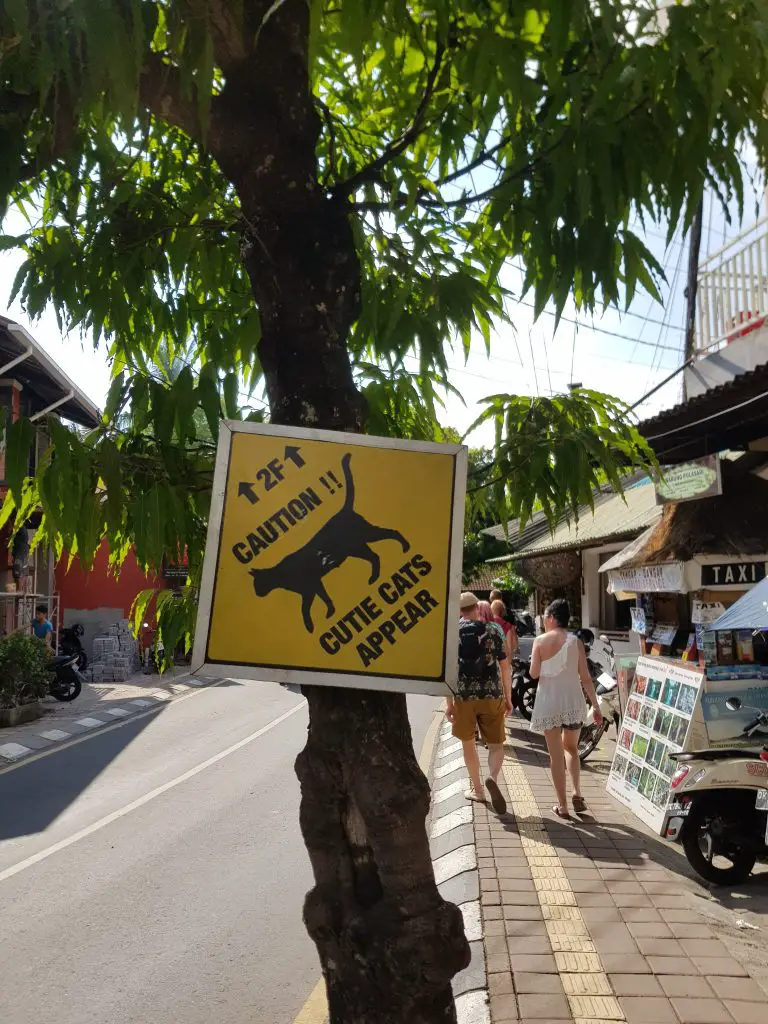 Tourist Attractions of Ubud
Ubud is a popular destination in Bali, known for its rich culture, stunning landscapes, and numerous tourist attractions. One of the most famous sites in Ubud is the Sacred Monkey Forest, a sanctuary that is home to over a thousand long-tailed macaques. Besides observing the playful monkeys, visitors can also explore beautiful temples and statues within the forest.
In addition to the Monkey Forest, there are several other must-see temples in Ubud. The Puri Saren Agung, also known as the Ubud Palace, is a historical royal palace that features traditional Balinese architecture, stunning stone carvings, and beautiful gardens.
Ubud is also known for its vibrant art scene. Komaneka Fine Art Gallery showcases contemporary works of talented Indonesian painters. On the other hand, the Neka Art Museum displays a vast collection of traditional and modern Balinese art. For those interested in Balinese craftsmanship, a visit to the numerous artisan workshops in the area, such as wood carving and silversmithing studios, is a must.
Nature enthusiasts will not be disappointed with the picturesque landscapes and lush vegetation that the region offers. The Campuhan Ridge Walk is a popular trekking path that offers scenic views of hills and valleys. For more adventurous tourists, there are opportunities to engage in extreme sports such as white-water rafting and ATV riding.
The Art Scene of Ubud
One of the most notable aspects of Ubud's art scene is its Ubud Art Market, a bustling marketplace that showcases the mastery of local artisans. Here, visitors can find hand-carved wooden sculptures, intricate textiles, and exquisite jewelry, all crafted with care and skill.
Wood carving is a prominent art form in Ubud, with many skilled craftsmen residing within the area. Many artisans use traditional techniques to create intricate designs that exemplify the beauty and spirituality of Balinese culture. The variety of wood-carved items ranges from small souvenirs to impressive, life-sized statues, displaying the expertise and dedication of Ubud's wood carvers.
Balinese dance is another major component of Ubud's art scene. Visitors can witness captivating performances that showcase the rich Balinese culture and heritage. Traditional Balinese dances are a unique blend of storytelling, music, and movement, creating an atmosphere that is both mesmerizing and deeply spiritual. In Ubud, several venues host regular dance performances, allowing everyone to immerse themselves in this captivating art form.
Artists in Ubud are not limited to traditional art forms. Many contemporary artists also call this town their home, blending traditional Balinese styles with modern techniques and global influences. Galleries and studios are scattered throughout the town, providing plenty of opportunities for visitors to explore the works of local painters, photographers, and mixed-media artists.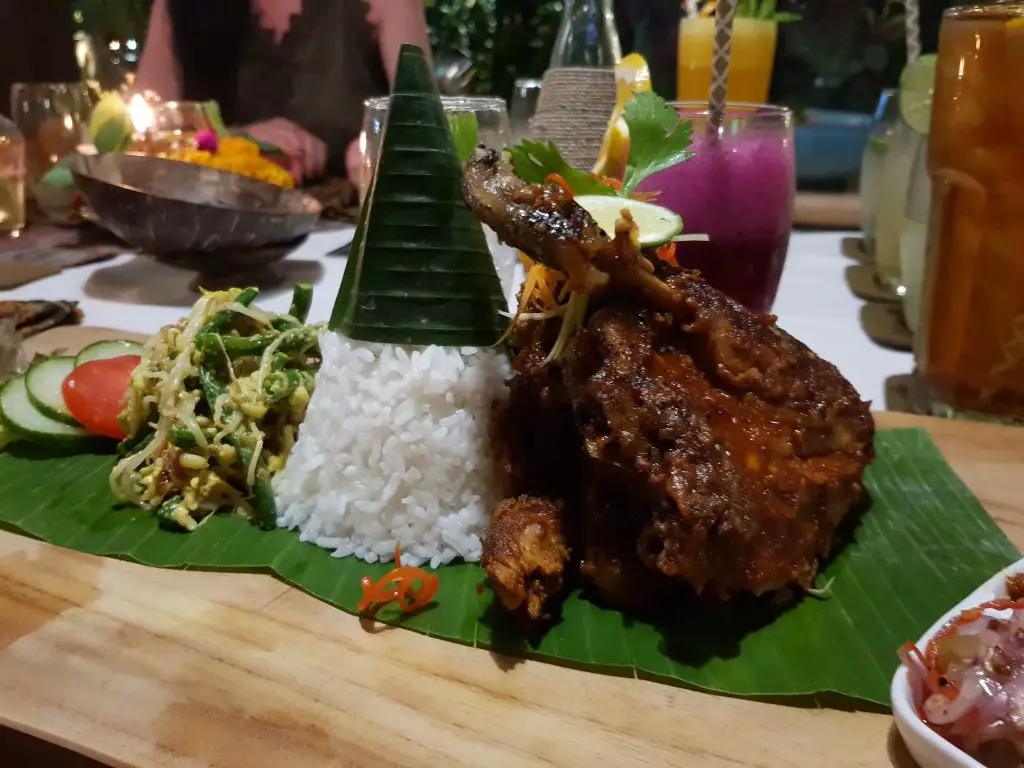 Food & Dining in Ubud
Ubud is a culinary paradise known for its diverse range of dining options, catering to everyone's taste buds. The variety of restaurants and cafes in the area offer something for everyone, from traditional Indonesian food to contemporary international cuisine.
One of the must-try dishes in Ubud is Babi Guling – a Balinese roast pig. It is a signature dish of the region and can usually be found in local restaurants, known as warungs. Babi Guling is typically served with rice, vegetables, and various sambal (Indonesian chili-based sauce) to enhance the flavor.
Besides traditional meals, Ubud has no shortage of delicious snacks to satisfy those afternoon cravings. You can find an assortment of mouthwatering treats in local markets, shops, and street food vendors. Some popular choices include sweet Balinese cakes, sticky rice rolls, and fried bananas.
For those seeking international flavors or exotic fusion dishes, there is a range of diverse restaurants to choose from. These establishments often serve a mix of Asian, Mediterranean, and Western cuisine. Additionally, for health-conscious travelers, there are plenty of vegetarian and vegan eateries that offer delectable meat-free options.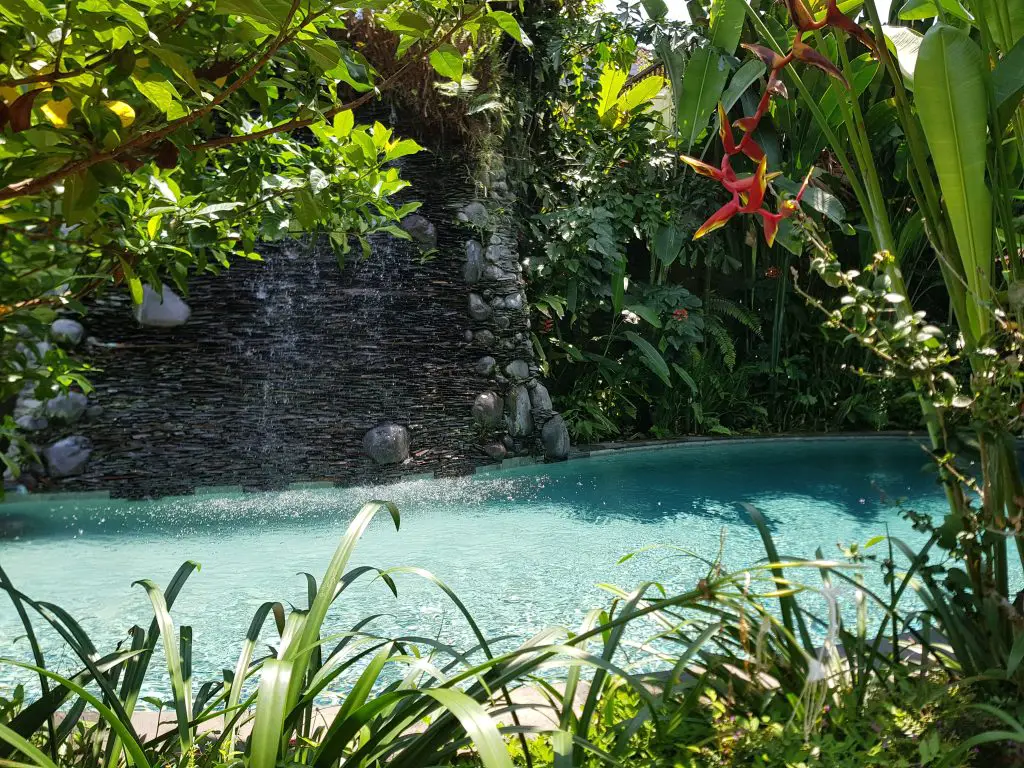 Accommodation Options
Ubud offers a variety of accommodation options to suit every traveler's needs and preferences. From luxurious resorts to affordable guesthouses, visitors can find the perfect place to stay during their time in Bali.
High-end travelers may be drawn to the stunning Maya Ubud Resort & Spa, a luxury hotel nestled in a secluded valley by the Petanu River. This resort boasts lavish amenities such as a beautiful pool, lush gardens, and a world-class spa, all surrounded by picturesque views.
For those on a mid-range budget, there are numerous hotels offering a balance of comfort and affordability. Among them is the Ayung Resort Ubud, which features breathtaking jungle views and a serene atmosphere. Situated in a lush, green valley, guests can enjoy the enchanting bamboo forest surroundings while still experiencing top-notch facilities.
Budget-conscious travelers can also find an array of cheap hostels and guesthouses in Ubud. One such option is Nyoman Sandi Guest House, conveniently located just 1 km from the town center. Offering cozy accommodations in a prime location, guests can easily explore the heart of Ubud without breaking the bank.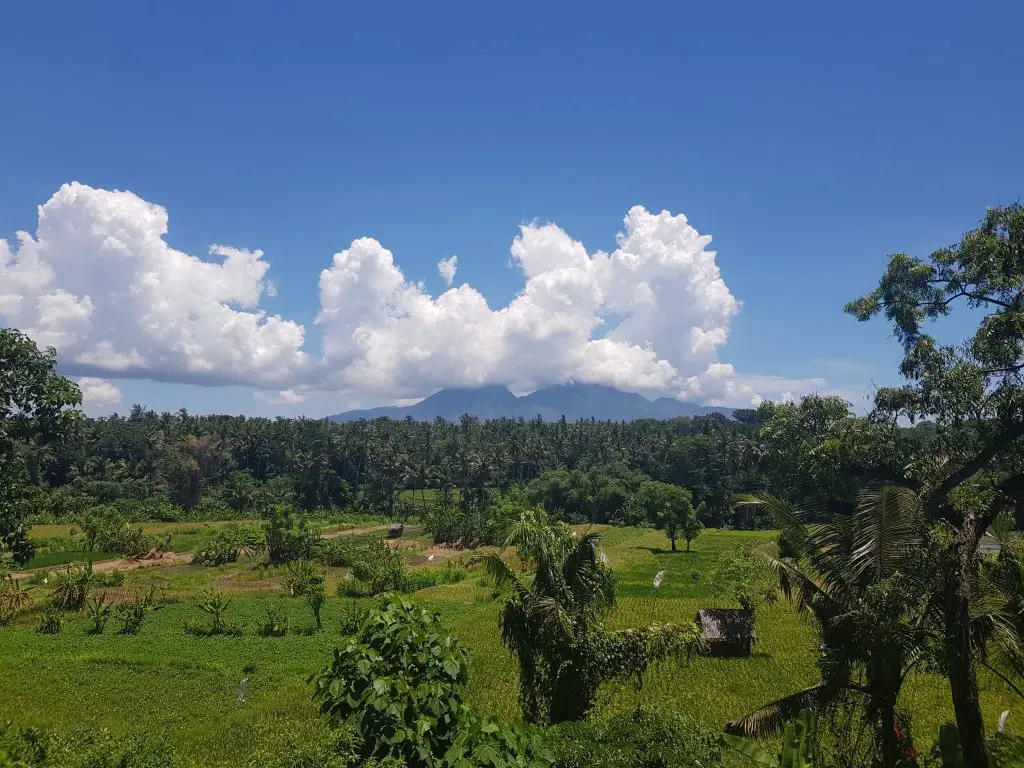 Travel and Transport
Ubud, being a popular tourist destination in Bali, offers a variety of transport options for visitors. Travelers can choose from renting a car, scooter, or motorbike to explore the picturesque countryside and the vibrant town. Scooters are commonly used in the region due to their ease of maneuvering through the narrow streets and busy traffic.
Renting a motorbike or scooter is quite easy in Ubud, as many local shops offer affordable daily rates. It is important for travelers to carry a valid international driving license and ensure they adhere to safety precautions while driving.
For those who prefer a more comfortable and air-conditioned mode of transport, car rentals are available as well. Travelers can either hire a car with or without a driver, depending on their preferences and routes.
Ubud's central location on the island allows for easy access to other popular destinations such as Seminyak. Traveling between these locations can be done using private transportation or booking a seat on a shuttle bus, depending on the traveler's budget and desired level of comfort.
---
---