Some of the links in this post are affiliate links. This means if you click on the link and purchase the item, I will receive an affiliate commission at no extra cost to you. All opinions remain my own.
If you're looking for a breathtaking and picturesque city to visit, Girona is your perfect destination. This city in northeastern Spain is filled with cathedrals, bridges, and colorful houses that will make your Instagram feed pop. Although you could easily spend a week exploring all that Girona has to offer, here are the highlights that you can't miss if you're only visiting for one day.
Northern Catalonia's largest city Girona was one of my Barcelona day-trip destinations. This marvelous city has a beautiful old town which can be seen in some of the Game of Thrones series. It is located around 100 kilometers north of Barcelona and can easily be reached by train or car. One day trip to Girona is a great idea if you are spending some time in the area.
On my recent trip to Barcelona, Spain I had booked hotels near the city but wanted to explore more of its surroundings. As it turns out, there are a lot of options on what to visit near Barcelona with a rental car – like a day trip to Montserrat, viewing ruins from Roman times in Tarragona, and going on several hikes along the Costa Brava. However, the trip to Girona will stay in my memory as a peaceful and really enjoyable experience of Gothic architecture and an amazing walk around the old city's stone walls.
Game of Thrones locations
In this detailed post by Amanda from Sedimentality, you can find many locations in Girona, which can also be seen in the famous Game of Thrones show. While walking through the old town of Girona, you may notice several stairs, buildings, and bridges from the show. So if you are a hardcore fan of the series, it would be good to watch some youtube videos for inspiration of what to see in Girona.
Church of St. Felix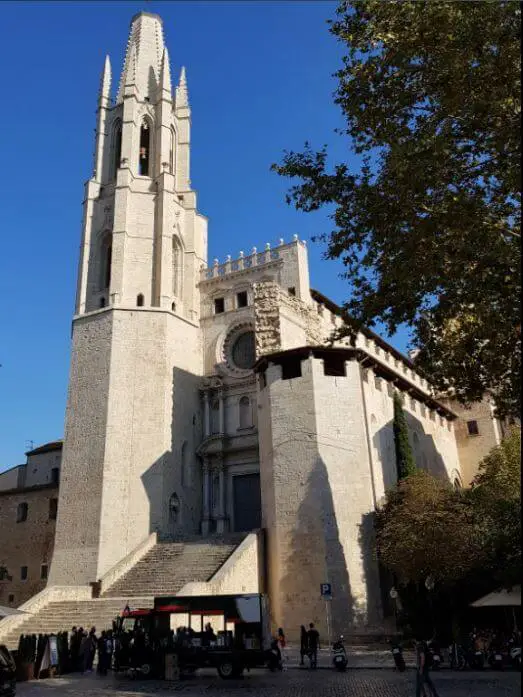 The Church of St. Felix has quite a high tower and can be seen from afar when the old town of Girona is approached. It was the main church in Girone before the construction of the Cathedral of Girona. It is possible to go inside the church from one of the sides free of charge.
Cathedral of Girona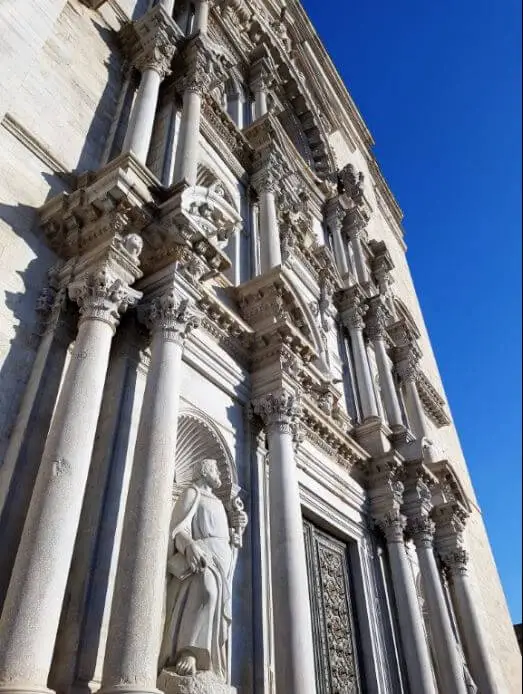 Cathedral of Girona is a Roman Catholic church built in Gothic style. This is an impressive building and probably the most famous from Girona, as it is always featured on the postcards from the city. Stairs leading to the Cathedral were filmed in Game of Thrones series. There is an entrance fee to visit the building from the inside.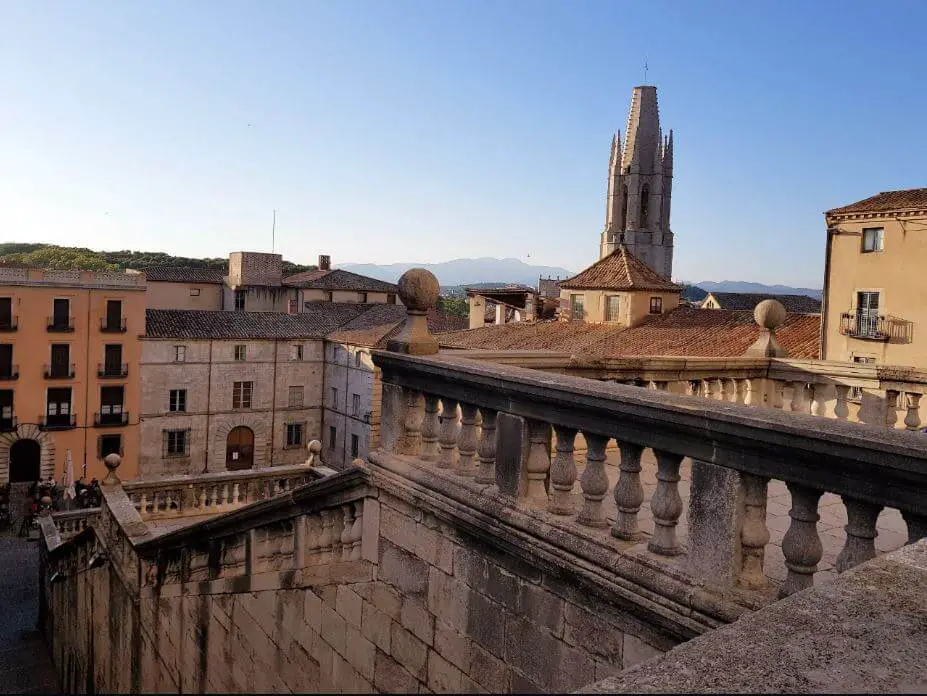 I visited Girona at the beginning of October when the high season has ended in Spain. In my opinion, this was the best time for a visit, as there weren't as many tourists in all of these famous places, but the weather was still very warm. So it was possible to take pictures like this – full of evening warmth and without crowds of tourists.
Muralles de Girona – City Wall Promenade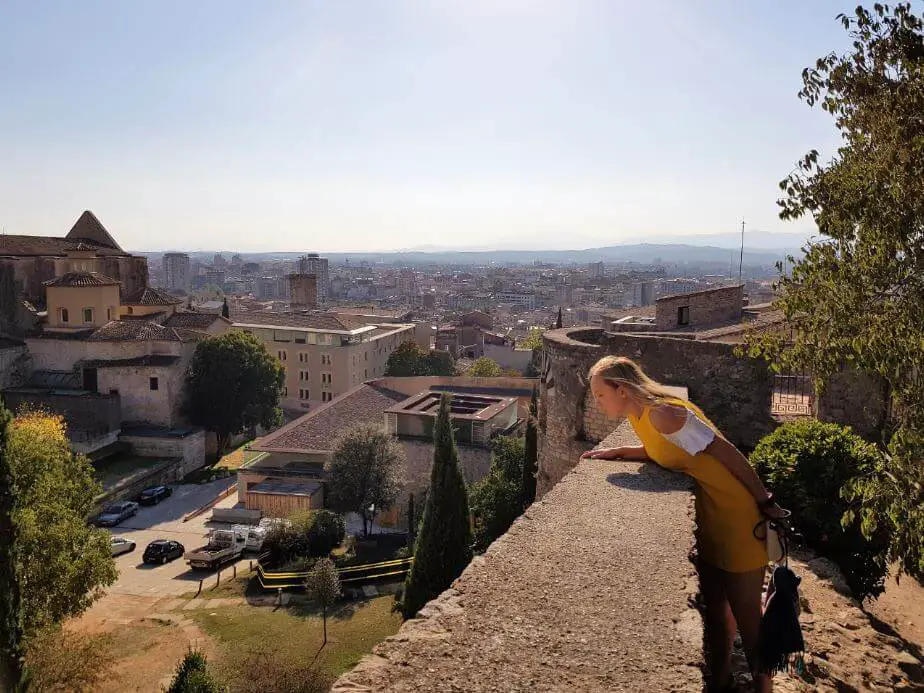 There is a big stone wall surrounding Girona. It is a bit of a climb to get on the wall, but it is totally worth it. It is possible to see the whole city from the wall, including the Cathedral and maze of streets in the old town. You can even see the Pyrenees in the distance.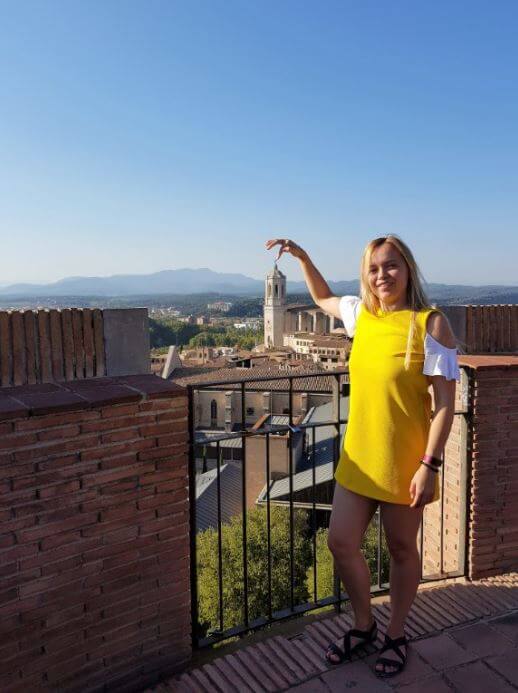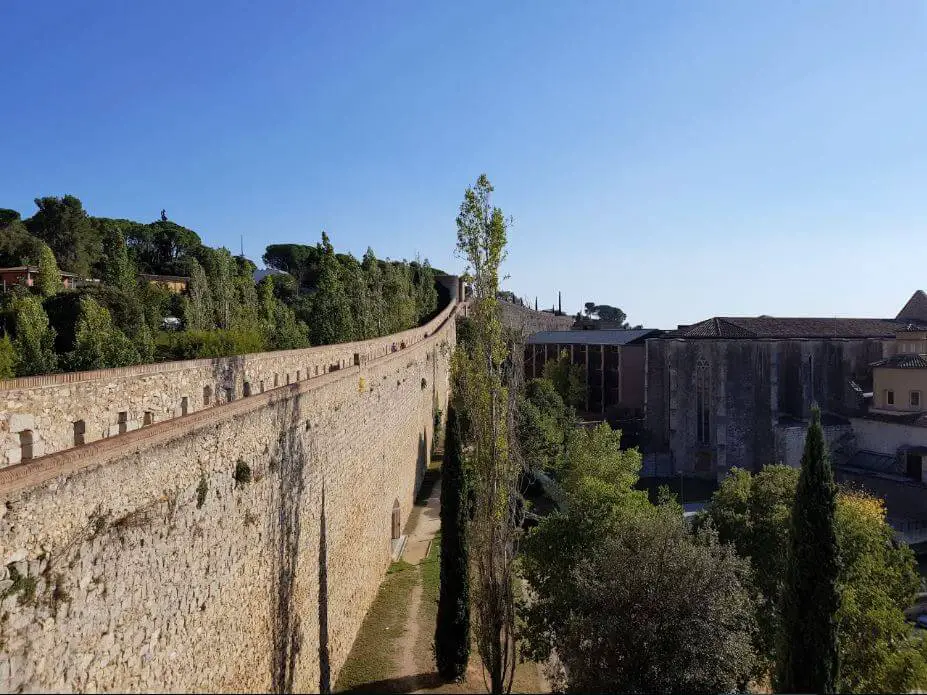 There are several guard towers, which can take you even higher. The views from the wall are really beautiful, and access to it is free.
It took me about half an hour of walking to go all the way from the Cathedral to the end of the wall. But this walk allowed me to explore Girona from the above, which is not possible for many other cities. As there weren't many other tourists, the walk was peaceful and very picturesque. This promenade on the wall was something unique, so I certainly suggest it to anyone visiting Girona.
Bridges across Onyar – Pont de Pedra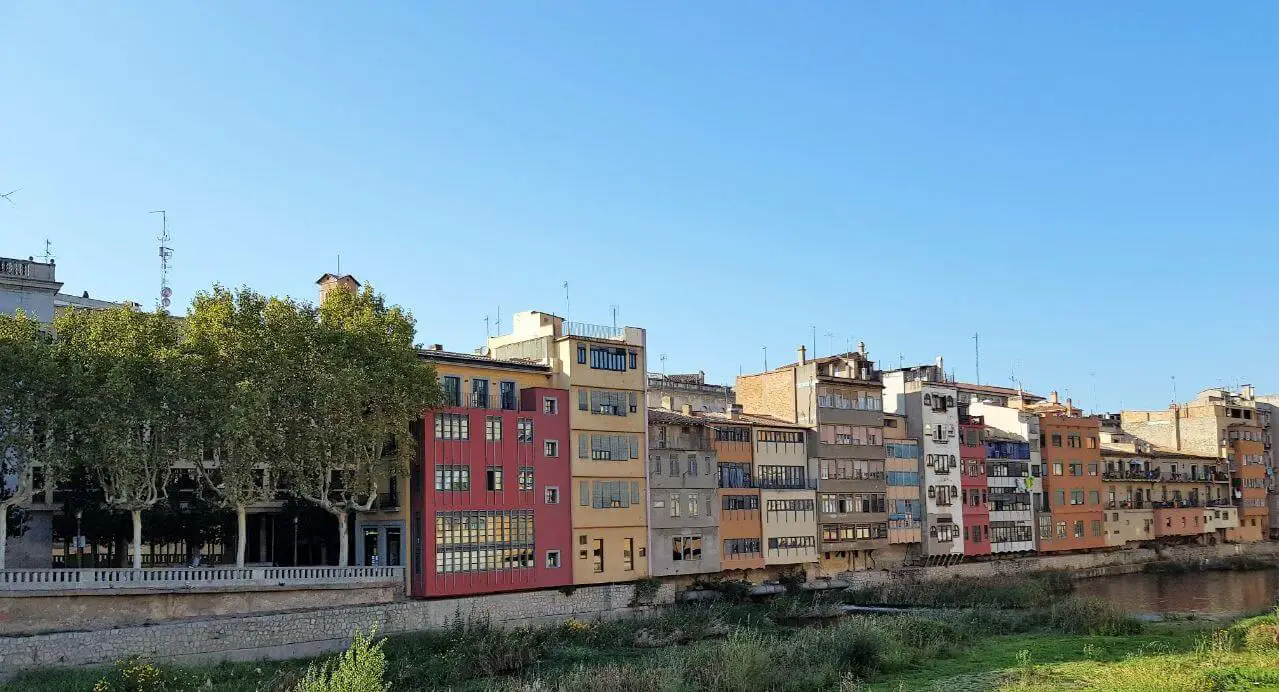 This stone bridge is one of the most iconic places in Girona. It crosses the Onyar river and has a view of colorful houses on the river banks. There are several bridges that connect the beautiful buildings surrounding the river.
Pont de les Peixateries Velles – Eiffel Bridge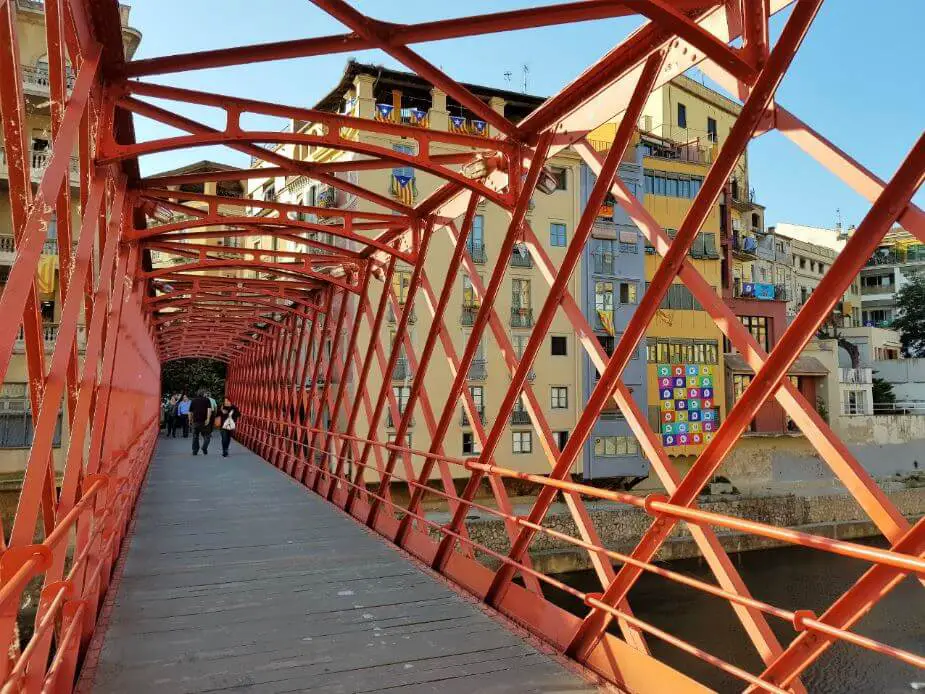 Another bridge connecting the banks of Onyar is the Eifel bridge constructed by Gustave Eiffel before the famous tower in Paris. The colorful houses can be seen from this bridge as well.
Parc de la Devesa
Near the old town, there is a big park – it is impossible to miss it on the map. Around the park, there are several free parking spots, if you are going to Girona by car.
Top tours in Girona
If you prefer a guided tour, check these ones which can be pre-booked online:
Your turn
Do you like wandering through the old towns of cities like Girona? Do you enjoy and know the architecture of the old buildings, like Gothic, Romanesque and other styles? How do you visit travel destinations more often – in the high or low season?