Some of the links in this post are affiliate links. This means if you click on the link and purchase the item, I will receive an affiliate commission at no extra cost to you. All opinions remain my own.
Looking to rent a car in Barcelona, Spain?
You've come to the right place! Although I don't live in Spain, I have visited Barcelona several times and rented a car twice. I'm here to guide you through the process of renting a car in Barcelona, Spain, and help you feel confident about the experience.
By the end of this blog post, you'll have a clear understanding of the car rental process in Barcelona and receive answers to the most common questions about driving in this beautiful city.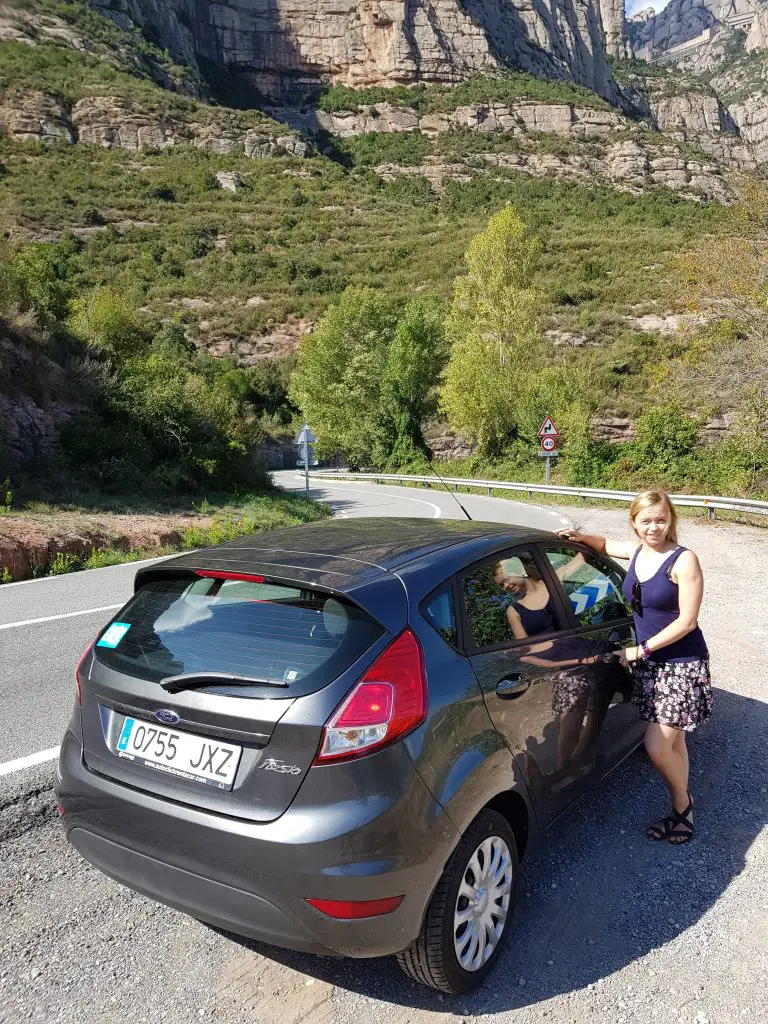 First and foremost, let's talk about the best place to rent a car in Barcelona, Spain. During my visits, I've had a great experience with Discover Cars, which I highly recommend. In this article, you'll learn why Discover Cars is my go-to choice for car rentals in Barcelona.
If you've come across mentions of Barcelona car rental scams, don't worry – we'll address those concerns to ensure you're not blindsided by hidden fees. You'll also learn about car insurance in Spain, which is essential for all car rentals in the country.
Eager to uncover the secrets of renting a car in Barcelona, Spain? Let's dive in, beginning with the process of renting a car in Barcelona with Discover Cars, and concluding with a FAQ about car rentals in Barcelona.
Renting A Car in Barcelona With Discover Cars
One of the things that you should do when planning a trip to Barcelona is to rent a car beforehand. Not only does it save money, but you'll also be sure that you will secure a vehicle and can plan your vacation itinerary around the city without worrying about transportation.
There are several reasons why I recommend booking your rental car with Discover Cars:
This site compares rental car offers from multiple affordable companies, so you'll be sure to get the best deal.
The price that you see on Discover Cars includes all fees, taxes, and insurance – so you don't have to worry about any hidden costs that might come up once you are at your destination.
Many people have had a great experience booking with Discover Cars and have left reviews about each rental car company. This is useful if you want to ensure your experience will be hassle-free.
Booking a rental car with Discover Cars is really straightforward, and I can show the process below.
Book Your Car Online with Discover Cars
You start by choosing a pick-up location and the dates for which you'll need the car.
One thing to note is that many car rental companies have fees for working outside of business hours. So if your arrival or departure is at night, you might want to consider using a taxi to get to the hotel and renting a car in the morning in the city.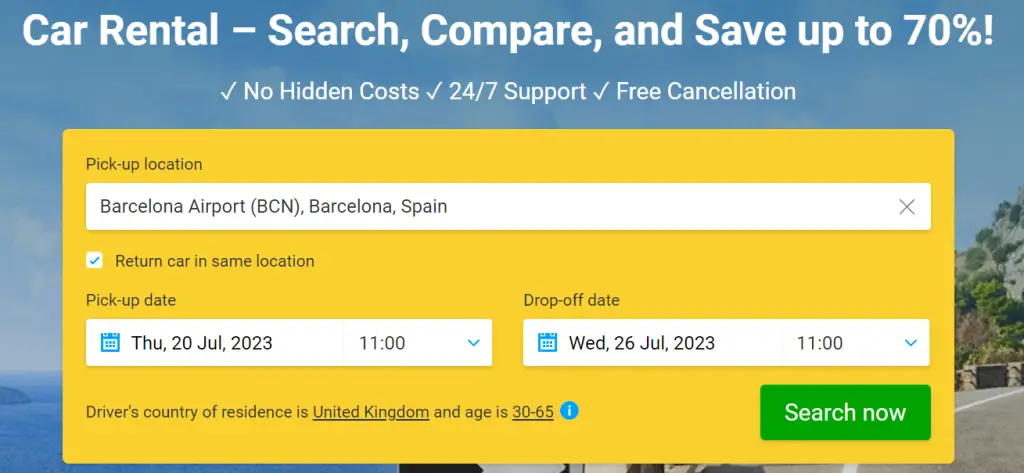 Once you have selected your pick-up location and travel dates, you'll get a list of available cars and a lot of options on how to filter them to best support your needs.
Pay attention to the pick-up location and in Barcelona you can rent a car at the airport or in the city.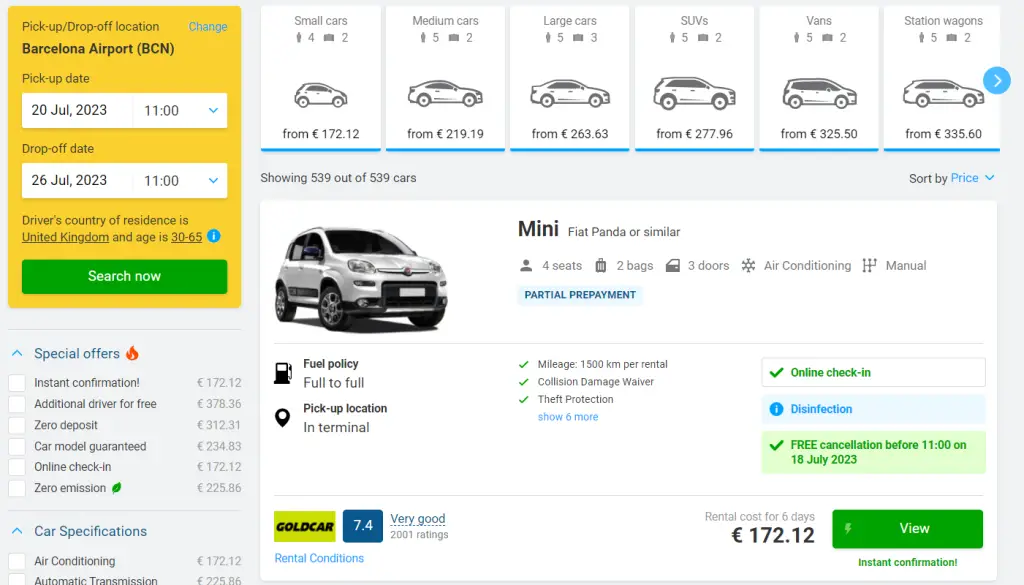 When you have chosen a car for renting, you'll see more detailed information about the booking. All of this is important, but pay attention to these things specifically:
Pick-up location – even if you choose the airport, the rental car company might be located a bit further away and you'll be required to use a shuttle service. This is free and the pick-up instructions are usually simple.
Business hours – if your flight is outside of business hours, there might be an additional fee for the rental car.
Fuel policy – remember this for the time when you are returning the car. If you have less fuel in the car than is expected by the policy, you might be required to pay extra.
Rental conditions – the blue link at the bottom specifies additional conditions like the driver's age, required documents, and the refundable security deposit.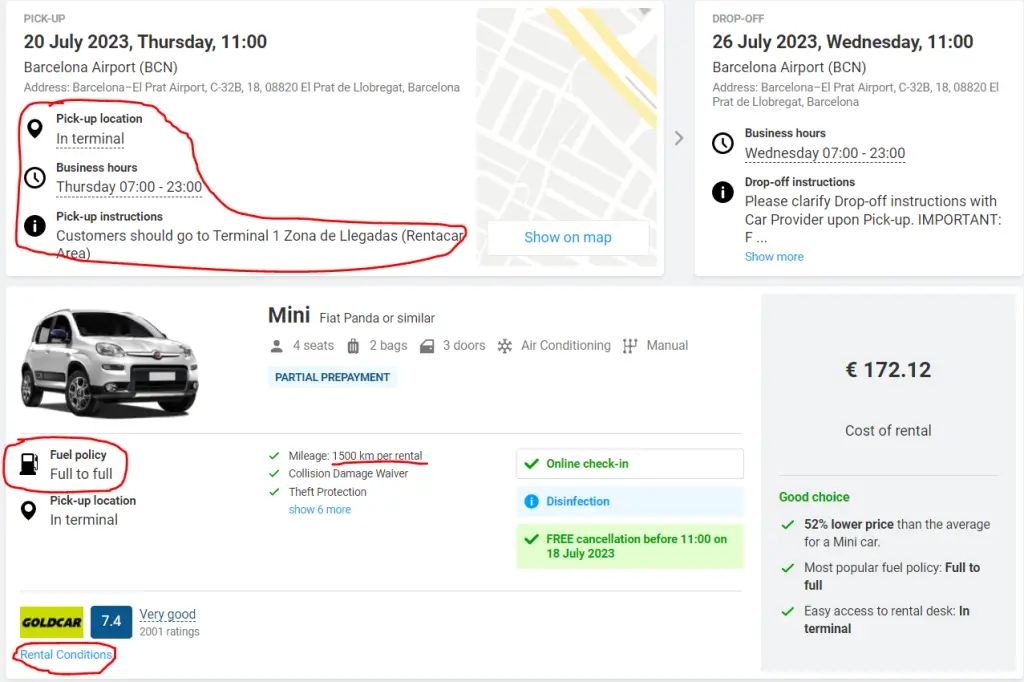 When planning your car rental adventure in Barcelona, it's important to be aware of the driver's requirements. The minimum age to rent a car is 21 years old, but keep in mind that drivers under the age of 25 may be subject to a young driver fee. On the other end of the spectrum, some companies may have a maximum rental age, and drivers over a certain age may need to pay a senior driver fee. To be eligible for car rental, your driver's license must have been issued by authorized authorities at least one year prior to the start date of your rental.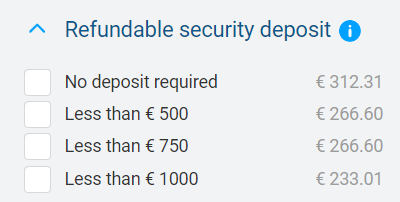 Many companies will also ask for a refundable security deposit. The amount varies a lot from € 0 to € 1000.00, so you have to check with your specific company in their rental conditions. This amount will be reserved on your credit card and returned to you after the rental period ends unless the car's bodywork is damaged and that money is used to cover the repairs.
And that's it – an easy process on how to rent a car in Barcelona, Spain.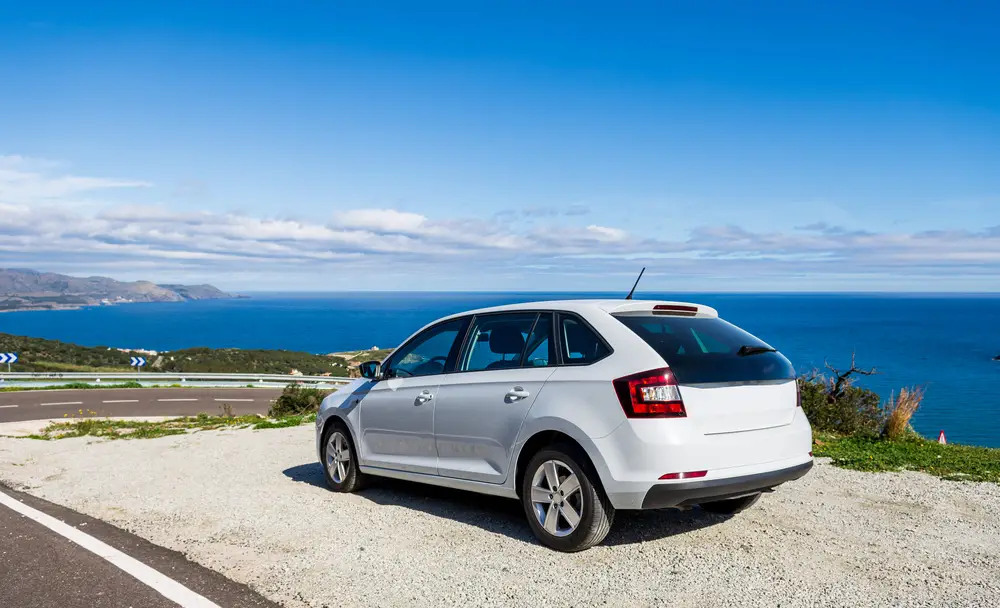 Tips for Driving in Barcelona and Spain
If you're planning to rent a car and drive around Barcelona and Spain, you're in for a fantastic adventure. There's so much to explore, from the bustling city streets of Barcelona to the picturesque countryside of Spain. But before you hit the road, I've gathered some useful tips to make your driving experience smooth and enjoyable.
First and foremost, let's talk about the basics. In Spain, we drive on the right-hand side of the road, just like in most European countries. Be aware of this when you're behind the wheel, especially if you're used to driving on the left. It might take a little while to get accustomed to, but with a bit of patience and practice, you'll feel right at home on the Spanish roads.
Next up, speed limits. It's essential to follow the speed limits while driving in Barcelona and Spain. In urban areas, you can expect a limit of 50 km/h (31 mph). On main roads outside cities, the speed limit is typically 90-100 km/h (56-62 mph), while on highways, it can be as high as 120 km/h (75 mph). Keep an eye out for speed limit signs, as they may change depending on the area and traffic conditions. Remember, safety first!
Parking can be a bit challenging in Barcelona and other Spanish cities, as spaces can be limited. It's important to familiarize yourself with the different parking zones, indicated by colored lines on the curb or road. Blue lines indicate paid parking, while green lines are reserved for residents, and yellow lines mean no parking is allowed. Keep some change handy for parking meters, or better yet, download a parking app to make the process easier.
Now, let's talk about roundabouts. Roundabouts are quite common in Spain, and they're used to keep traffic flowing smoothly. When approaching a roundabout, give way to traffic already in the circle, and signal your intentions before entering or exiting. It might feel a little intimidating at first, but after a few rounds, you'll get the hang of it.
Fuel stations in Spain can be self-service or full-service. While self-service stations are more common, don't be surprised if an attendant comes to help you out at a full-service station. Make sure you know what type of fuel your rental car requires, as diesel and gasoline pumps can look similar. And remember the golden rule: never leave your vehicle unattended with the keys inside while fueling!
Finally, let's discuss navigation. While GPS systems and navigation apps are incredibly helpful, it's always a good idea to have a backup plan. Consider carrying a paper map or downloading offline maps on your smartphone. This way, if you lose signal or your GPS malfunctions, you'll still be able to find your way around.
Driving in Barcelona and Spain can be an unforgettable experience, filled with stunning scenery and exciting adventures. By keeping these tips in mind, you'll be well-prepared to navigate the roads with ease and confidence.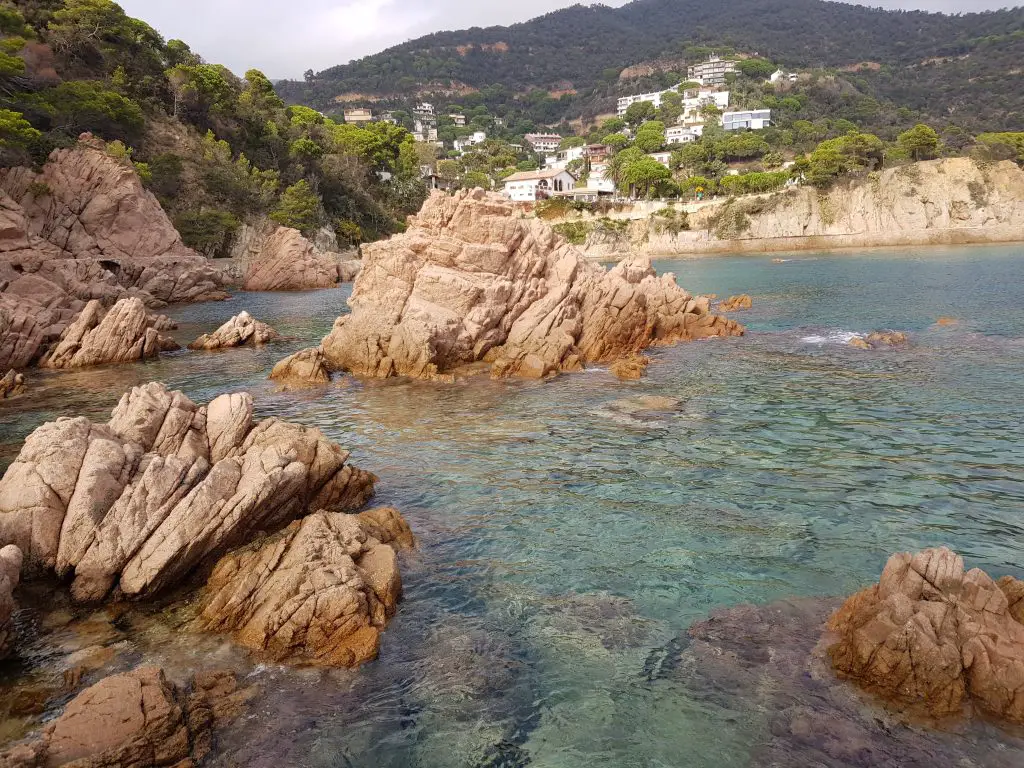 5 Tips for Renting a Car at Barcelona Airport
If you're planning to rent a car at Barcelona Airport to explore the vibrant city and its breathtaking surroundings, you've made a great choice. To help you get started, I've put together a few handy tips to ensure a smooth car rental experience right from the moment you land.
Book ahead of time: One of the best tips I can give you is to book your rental car well in advance. This not only guarantees you a vehicle but also often results in a better deal. Plus, having your rental car sorted out before your trip allows you to focus on other aspects of your adventure, like planning your itinerary or researching local attractions.
Choose the right car: Take some time to think about the type of car you'll need for your Barcelona adventure. Are you planning to cruise around the city or embark on a thrilling road trip along the coast? If it's the former, a smaller, fuel-efficient car might be perfect, while a larger vehicle or even a convertible could be ideal for the latter. Also, consider factors like luggage space, legroom, and transmission preferences when selecting your rental car.
Compare rental companies: Barcelona Airport is home to several reputable car rental agencies, so it's worth spending some time researching and comparing their offers. Discover Cars can help you with that as there in one search you get offers from multiple trustworthy rental car companies and can compare the offers side by side. Remember, the cheapest option may not always be the best, so look for a balance between price and quality.
Inspect the car: Before driving off in your rental car, make sure to give it a thorough inspection. Check for any existing scratches, dents, or other damages, and make sure they're documented in your rental agreement. This way, you won't be held responsible for any pre-existing issues when you return the car. Additionally, ensure that all the necessary documents, such as the vehicle registration and insurance papers, are in the glove compartment.
Understand the insurance: Rental car insurance can be a bit tricky, but it's essential to know what you're covered for in case of an accident or damage to the vehicle. Most rental companies offer basic insurance, but you can also purchase additional coverage for added peace of mind. Make sure you're aware of any deductibles and what the insurance covers before signing the rental agreement.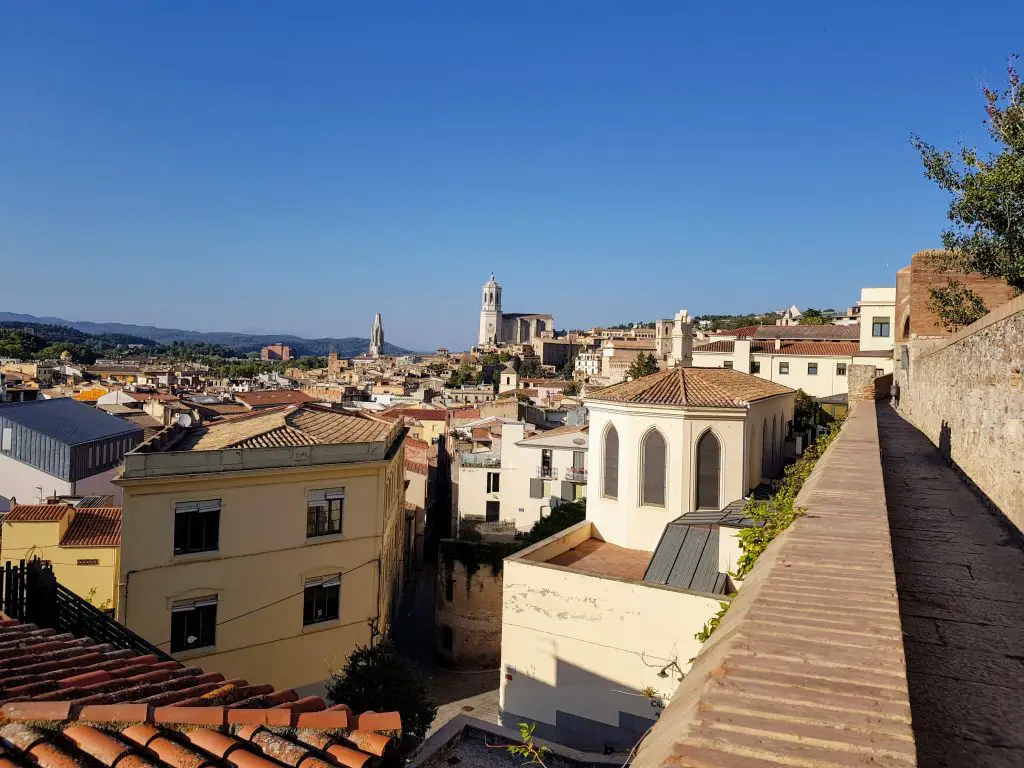 What are Common Car Rental Scams in Spain?
While renting a car in Spain can be a fantastic way to explore the country, it's essential to be aware of some common car rental scams that you might encounter. Don't worry, though; with a little knowledge and vigilance, you can avoid falling victim to these sneaky tactics. So, let's dive into some of the common car rental scams in Spain and learn how to steer clear of them.
One common scam you might come across is the "hidden fees" tactic. In this scenario, you book a rental car at an unbelievably low price, only to discover various additional charges when you pick up the vehicle. These fees could be for things like extra insurance, mandatory roadside assistance, or even obscure taxes. To avoid this, always read the fine print and ask the rental company for a detailed breakdown of the costs before you finalize your booking. Or better yet, book with Discover Cars. The price that you see on the website is the final price and you won't get any fees after that.
Another scam to watch out for is the "fuel policy" scam. Some rental companies might advertise a full-to-full fuel policy, meaning you pick up the car with a full tank of gas and return it full as well. However, when you get the car, you might find that the tank is only half full or even less. In this case, make sure to notify the rental company immediately and have them correct the issue or adjust the fuel policy accordingly.
The "damage scam" is another one to be aware of. When you return your rental car, the company might claim that you caused some damage to the vehicle, even if you didn't. To protect yourself from this scam, always inspect the car thoroughly when you pick it up and take photos or videos of any existing damage. When you return the car, repeat the inspection process and have an employee sign off on the car's condition.
The "upgrades and extras" scam is yet another tactic employed by some rental companies. They might try to upsell you on unnecessary extras, such as GPS systems, child seats, or additional insurance. While some of these extras might be helpful, it's crucial to evaluate whether you truly need them. For instance, your smartphone's navigation app could work just as well as a GPS system, or you might already have rental car insurance coverage through your credit card.
Lastly, the "unauthorized charges" scam involves unexpected charges appearing on your credit card after you've returned the rental car. This could be for things like tolls, parking fines, or even damage you supposedly caused. To avoid this, make sure you're aware of any charges you might incur while using the rental car, and keep a close eye on your credit card statement after the trip.
By being aware of these common car rental scams in Spain and taking the necessary precautions, you can rent a car with confidence and enjoy your Spanish adventure to the fullest.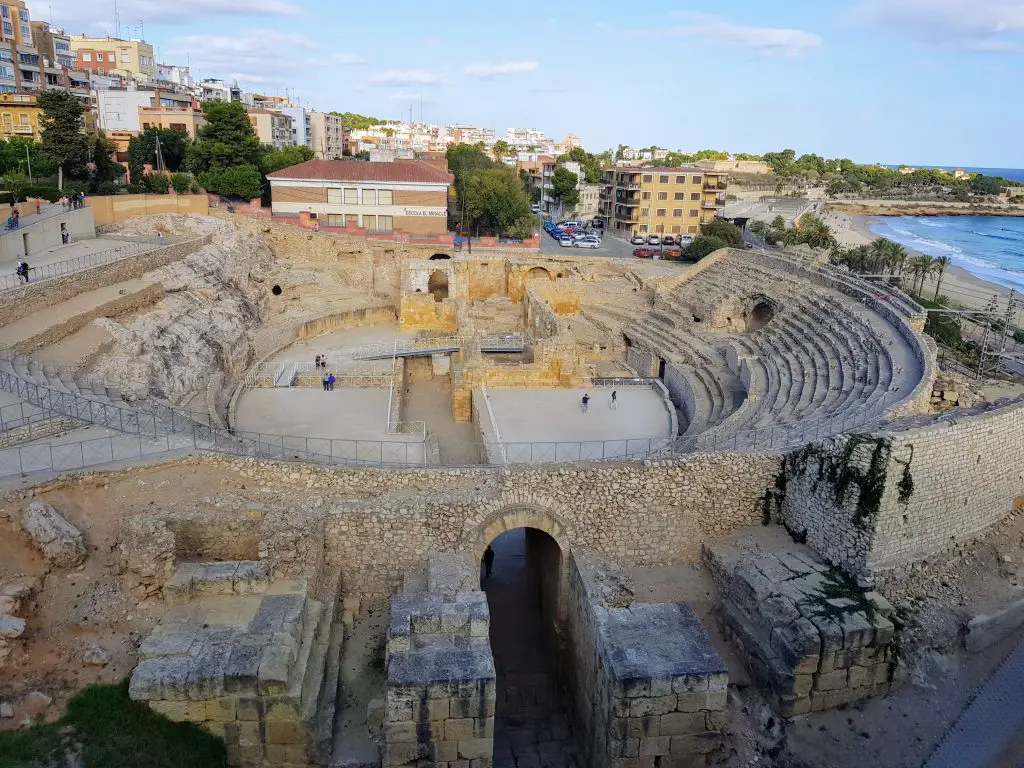 Renting A Car in Barcelona Airport: Frequently Asked Questions
Here are some common questions I get when talking about renting a car in Barcelona and specifically in the airport. If you have any other questions, please write them in the comments below!
Can I rent a car from Barcelona airport?
Absolutely! You can rent a car directly at Barcelona Airport (BCN). Major car rental companies have their desks in both Terminal 1 and Terminal 2. It's a convenient way to start your trip and explore the city and its surroundings. Consider booking your rental car online at Discover Cars to save time and ensure availability.
Is it easy to rent a car and drive in Spain?
Yes, renting a car and driving in Spain is generally easy and hassle-free. The roads are well-maintained, and the signage is clear. Remember that you'll need a valid driver's license and an International Driving Permit if you're from outside the EU. Remember to follow local traffic rules, such as speed limits and parking regulations.
What do you need to rent a car in Barcelona?
To rent a car in Barcelona, you'll need the following:
A valid driver's license: If you're from the EU, your national license is accepted. Non-EU residents may need an International Driving Permit along with their national license.
An identity card: A form of identification.
A credit card: Most car rental companies require a credit card for security purposes and for any additional charges (such as fuel, insurance, or extra services).
Minimum age requirement: Typically, you must be at least 21 years old to rent a car in Spain, although some companies may have a higher age limit. Drivers under 25 may also be subject to a young driver fee.
Do tourists need cars in Barcelona?
Tourists don't necessarily need cars in Barcelona, as the city offers excellent public transportation options, including buses, trams, and the metro. However, if you plan to go on road trips outside of the city and explore the surrounding regions, renting a car can provide more freedom and flexibility, making it a great choice for those who want to discover the hidden gems of Catalonia and beyond.
Is it worth getting a car in Barcelona?
If you plan to mainly explore the city itself, public transportation, walking, or biking are more convenient and cost-effective options. Parking can be challenging and expensive in the city center.
However, if you want to venture outside Barcelona and explore the beautiful countryside, charming coastal towns, or nearby attractions like Costa Brava, Montserrat, or Girona, renting a car can be worth it. It allows you the freedom to travel at your own pace and discover off-the-beaten-path locations.
Is it difficult to drive in Barcelona?
Driving in Barcelona can be challenging, especially for those unfamiliar with the city. Here are some factors to consider:
Traffic: As with any major city, traffic congestion can be an issue, especially during peak hours.
Narrow streets: Barcelona's historic center has many narrow, one-way streets, which can be difficult to navigate.
Parking: Finding parking in the city center can be tough, and parking fees can add up.
That being said, if you're comfortable driving in urban environments and plan to explore beyond the city, driving in Barcelona is manageable.
Are roads free in Spain?
In Spain, many roads are free to use, including most national roads (N-roads) and secondary roads. However, some highways, known as autopistas (AP-roads), are tolled. Toll roads are usually well-maintained and offer quicker travel times, but the costs can add up, especially on long trips. Free alternatives, called autovías (A-roads), are available, but they might be slower due to lower speed limits and occasional congestion.
Is there an Uber in Barcelona?
Yes, Uber is available in Barcelona. To check the availability of Uber in the city, simply open the app and verify its presence.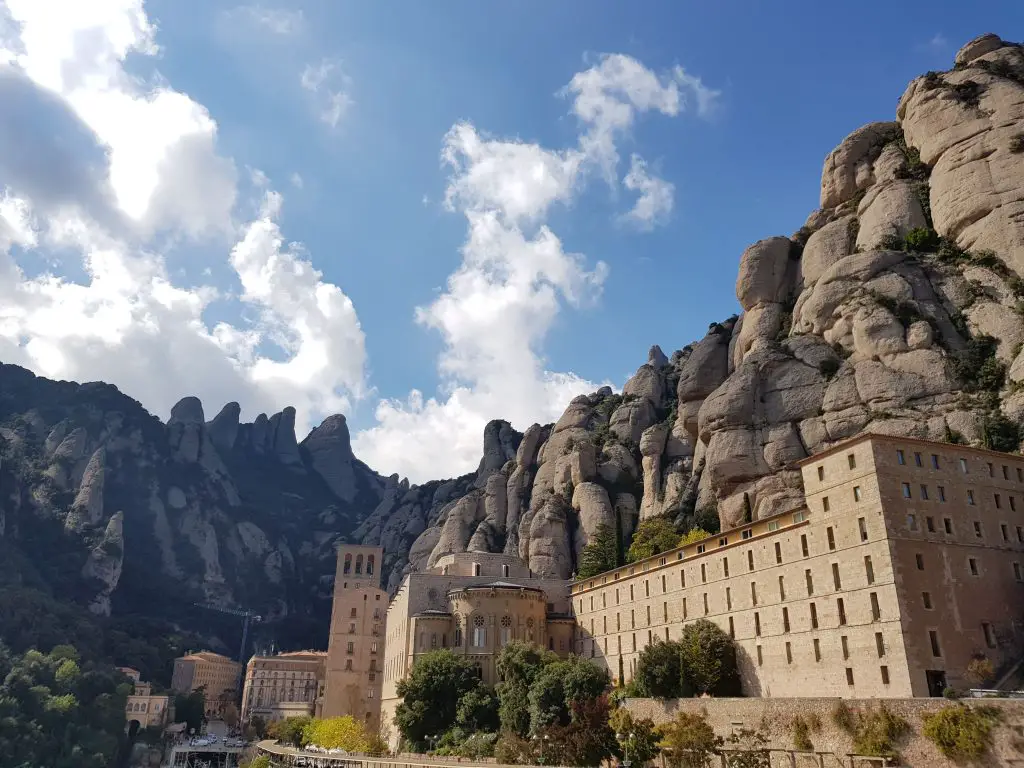 Exploring Barcelona and Beyond
Now that you have a rental car, you must be wondering – what to see near Barcelona? There are so many things to see and do that a one-week vacation won't be enough!
Costa Brava is a treasure trove of unforgettable experiences, and while it's hard to pick just three, these are definitely some of the top attractions to consider:
Montserrat: Nestled among the breathtaking mountain range, Montserrat is a truly magical destination. This majestic monastery is not only a significant spiritual site but also offers awe-inspiring views and an air of tranquility that is hard to find elsewhere. While there, don't miss the opportunity to explore the nearby hiking trails.
Tarragona: Steeped in history and brimming with charm, Tarragona is a must-visit coastal city in Costa Brava. Stroll through its ancient streets and soak up the rich Roman heritage, marvel at the impressive amphitheater, and meander through the well-preserved Roman walls.
Hike Costa Brava Coastal Trail: This stunning route, also known as the Camí de Ronda, winds its way along the rugged coastline, passing through idyllic coves, quaint fishing villages, and picturesque beaches. The trail is suitable for all fitness levels, with sections ranging from easy strolls to more challenging hikes. No matter which parts you choose to explore, you'll be rewarded with unforgettable views and memories to last a lifetime.
---
---