Some of the links in this post are affiliate links. This means if you click on the link and purchase the item, I will receive an affiliate commission at no extra cost to you. All opinions remain my own.
Barcelona is a very popular tourist destination in Spain. It is an amazing city with lots of attractions in the city itself and in the near distance. On my trip to Barcelona, I wanted to see more of its surroundings, so a day trip to Montserrat was a perfect way to explore a little bit more of Spain. There were other trips to smaller cities and hikes along the Costa Brava to experience more of that part of the country.
Montserrat is a mountain range, which stands out from the distance. There are multiple peaks of round rocks, which reminded me of fingers from the distance. I have been to several mountain ranges during my travels, but Montserrat looks quite different from anything I have ever seen before. The unusual mountain range attracts a lot of tourists with its beauty and history.
History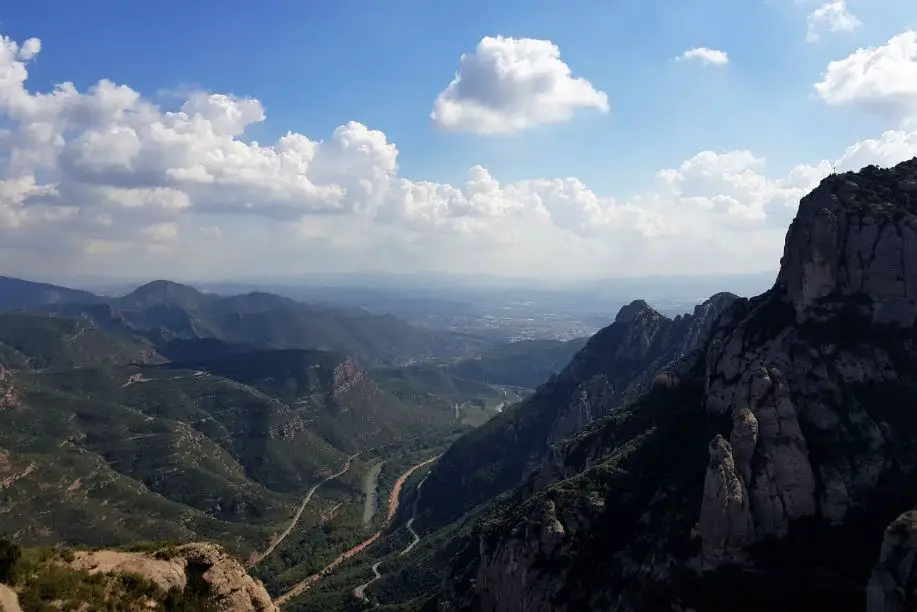 Around 880s a small group of shepherd children experienced visions of light descending from the sky above the mountains of Montserrat. This light gave them joy and happiness. For some time children and their parents witnessed such visions of light and overwhelming sensations, which made them believe that this is a sign from God.
When the same visions were experienced by the local vicar and a cave was found with an image of the Virgin Mary, this place became a religious sanctuary.
Benedictine abbey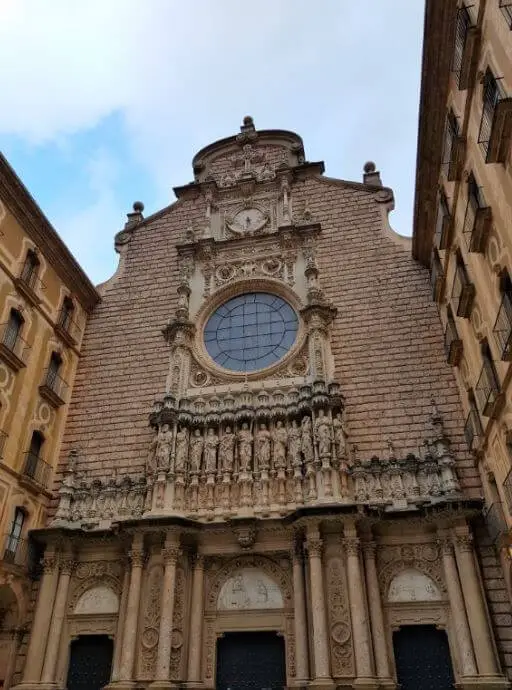 On one side of the mountain, a complex of buildings has been built. Santa Maria de Montserrat is a Benedictine abbey and it is home to the famous Black Virgin of Montserrat. The views of the abbey and surrounding mountains are simply breathtaking. For many people, Montressat stays as the highlight of a trip to Spain.
There is an information center in one of the buildings in the complex, where you can get a map of the surrounding mountains and hiking trails in them.
There is a funicular from the abbey which can take you even higher up the mountains. You can use either that or go on a hike to enjoy the magnificent surroundings.
Hiking in Montserrat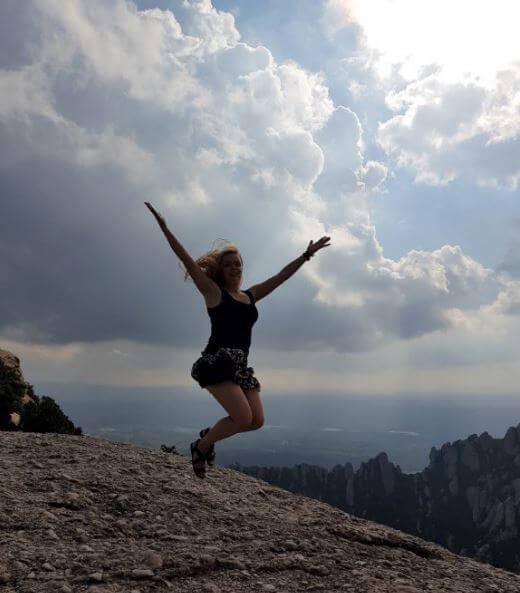 I always try to enjoy any destination by hiking in it. Montserrat was no different. Here is a handy guide to the possible walks that you can take in the mountains. I just followed the trails without any plan, but it was beautiful nonetheless.
The paths are well maintained and the terrain is quite easy. Just don't go off the trails, as the mountains can get steep and dangerous. When walking around, your way will always go upwards or downwards, so expect a little cardio exercise.
There weren't any options to buy food or drinks outside of the Abbey territory (at least I didn't see any). So if you are planning a long walk, be sure to take some water and snacks with you.
Montserrat Spain Choir Boy Performances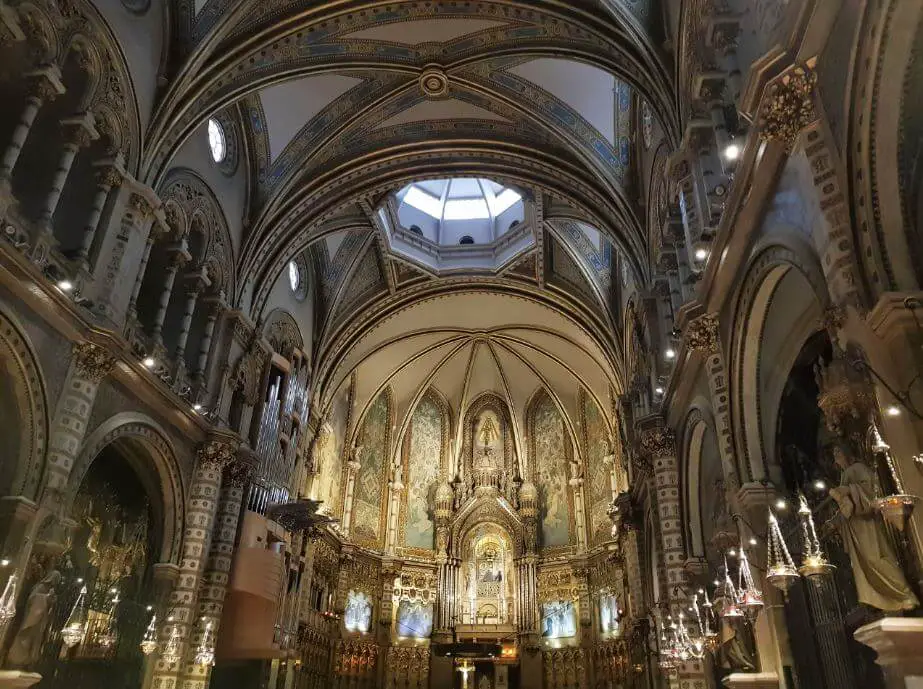 Every day (with some exceptions like Christmas) at 13:00 you can enjoy a Choir performance free of charge in Basilica. They are famous for Gregorian chants and other genres of religious choral music. Choirboys have recorded many albums and are popular throughout the world.
The Black Virgin of Montserrat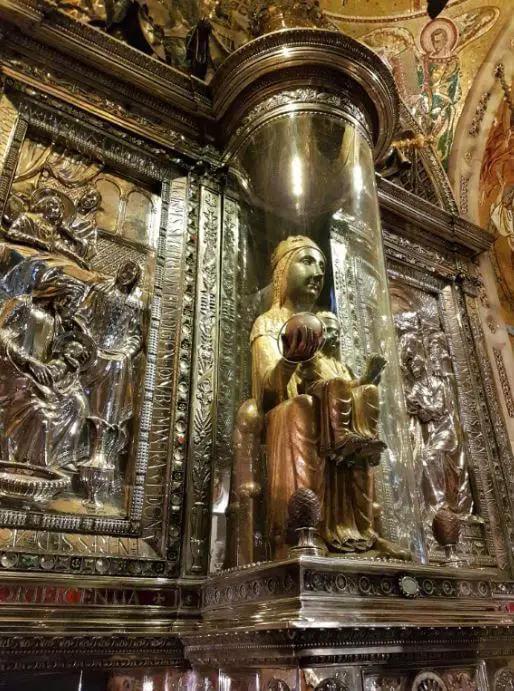 The small statue of the Virgin Mary and infant Christ is Catalonia's favorite saint and attracts a lot of Catholic pilgrims to Montserrat. It is believed to have been carved in Jerusalem in the early days of Church. It was created around the 12th century from dark wood. Legend says that the Benedictine monks built the monastery around this statue. In 1844, the Black Virgin of Montserrat was declared to be a patroness of Catalonia.
The statue is around 1 meter high. Virgin Mary holds an orb of the earth in her right hand. Christ's hand is raised as a blessing. Several generations of reconstructors have been painting the statue in black color, and a series of tests have revealed, that the original color of the statue was black as well.
Usually, there is a long queue of people, who want to see the statue close and touch the orb in the Virgin Mary's hands. I visited the Basilica at the beginning of October and on a workday, so there weren't that many people standing in the queue. The small statue is a stark contrast to the surrounding Basilica and its golden ornaments.
Getting to Montserrat, Spain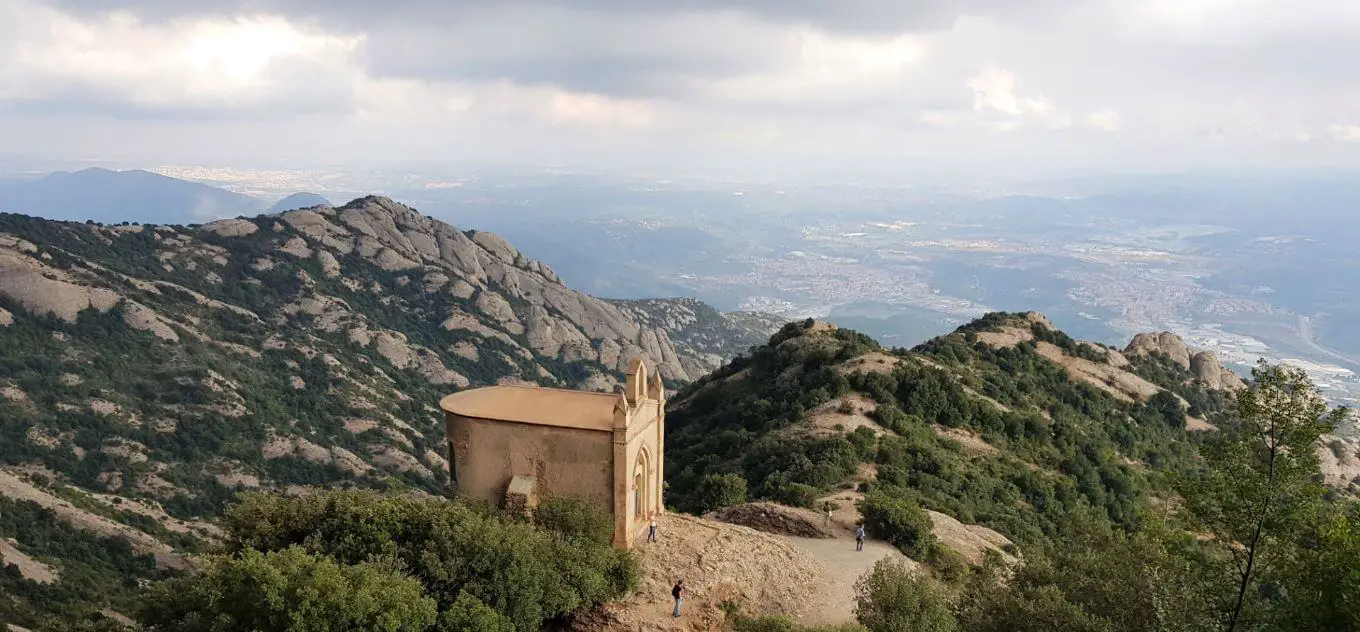 Montserrat is located around 45 kilometers from Barcelona and is easily accessible by bus, train, and car.
As I had rented a car for the week, I chose to drive to the mountains and then use the funicular to go up the mountain. I visited Montserrat at the beginning of October and on a workday, so there was plenty of free parking spaces near the funicular and only a handful of tourists. The weather was nice and warm, but not too hot for a hike. It was noticeably colder up in the mountains, so don't forget to take a warmer jacket, if you visit in the off-season.
There are different options to go by train from Barcelona and choose one from two options on how to go up to Montserrat – by cable car or funicular. The cable car is for people, who enjoy the adrenaline rush from heights.
Eating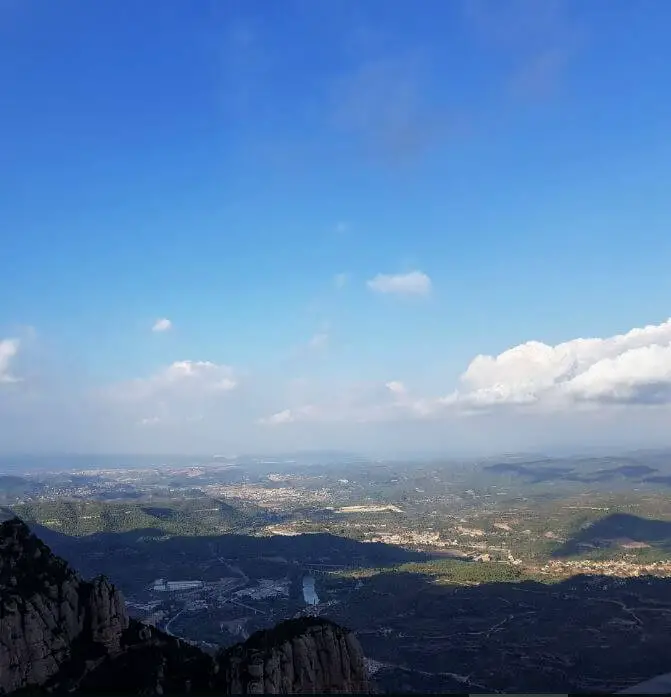 There are several places where you can buy lunch near the abbey. Catalonian food of good quality can be found there. However, they are quite expensive. So it is a good idea to take some snacks with you when you go to Montserrat. If you are considering to go on a hike, packed lunch will give you an option to choose the best lunch spot with the most amazing panorama view. And don't forget to bring some water with you.
Top tours to Montserrat
If you prefer an organized tour, check out these ones which can be booked online:
Your turn
Do you enjoy getting to know the history of the places you visit? Would you rather take a hike around the mountains, or investigate the museum and architecture of Montserrat?