Some of the links in this post are affiliate links. This means if you click on the link and purchase the item, I will receive an affiliate commission at no extra cost to you. All opinions remain my own.
Whether you're a solo traveler on a quest for authenticity, a family seeking fun and education, or a history buff hungry for past tales, day trips from Krakow offer something for everyone. And while Krakow may serve as your comfortable base, the real magic often happens when you step off the well-trodden path and delve into the heartland.
In the blog post that follows, we'll dive into our top day trip recommendations from Krakow, providing you with detailed descriptions, must-see attractions, and tips to enhance your experience.
For those with an adventurous spirit and a love for the open road, we recommend renting a car for your excursions. A rental car gives you the freedom to explore at your own pace, stop at will for that perfect photo, or simply take in the scenic Polish landscapes. Discover Cars, known for their reliability and customer service, is our recommended car rental service. It's the perfect companion for those seeking the freedom and flexibility of self-guided tours.
If you prefer a more structured itinerary or seek the insights of a local expert, guided tours offer an enriching alternative. They provide you with transportation, planned routes, and a wealth of information about each location.
Let's set off on this exciting journey together!
Table of contents:
Auschwitz-Birkenau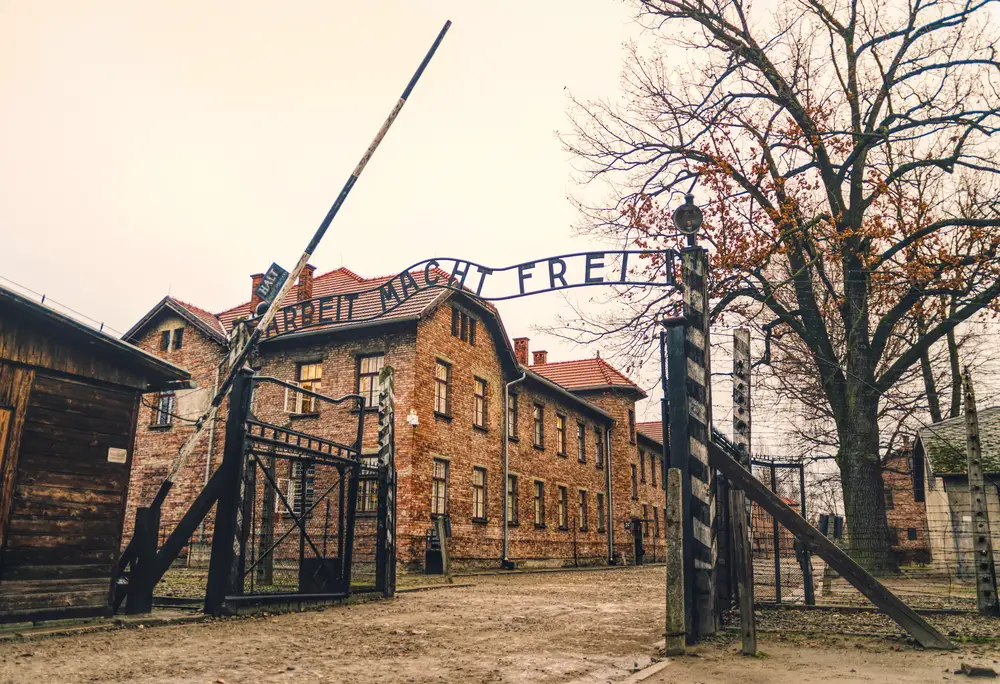 A visit to Poland isn't complete without acknowledging its deeply etched history, and no place serves as a stronger testament to that history than Auschwitz-Birkenau. Located a short drive from Krakow, it represents a chilling yet vital journey into Poland's wartime past.
This trip offers a rare chance to visit Auschwitz-Birkenau, the largest concentration camp complex established by Nazi Germany. An experienced guide, and certified historian, will lead you through this grim testament to human resilience and the indomitable spirit of survival. As you step through the ominous gates bearing the inscription "Arbeit macht frei" (Work sets you free), you'll be transported to a time of unimaginable suffering.
Explore the haunting remnants of Auschwitz I, where your guide will vividly explain the site's history. You'll tour the original barracks, where countless prisoners once lived, providing a haunting and tangible connection to the past.
The second part of your trip will take you to Birkenau, known for its role in the Nazis' horrific "Final Solution to the Jewish Question." As you stand on the site where mass exterminations took place, you'll gain a deeper understanding of the tragedies that befell millions during this dark chapter of history.
This day trip from Krakow is a sobering, important pilgrimage that offers a stark reminder of the past's atrocities while affirming the resilience of the human spirit. It's an excursion that is as enlightening as it is heartbreaking, a journey that leaves a lasting impression on every visitor.
Dunajec River Rafting & Zakopane Town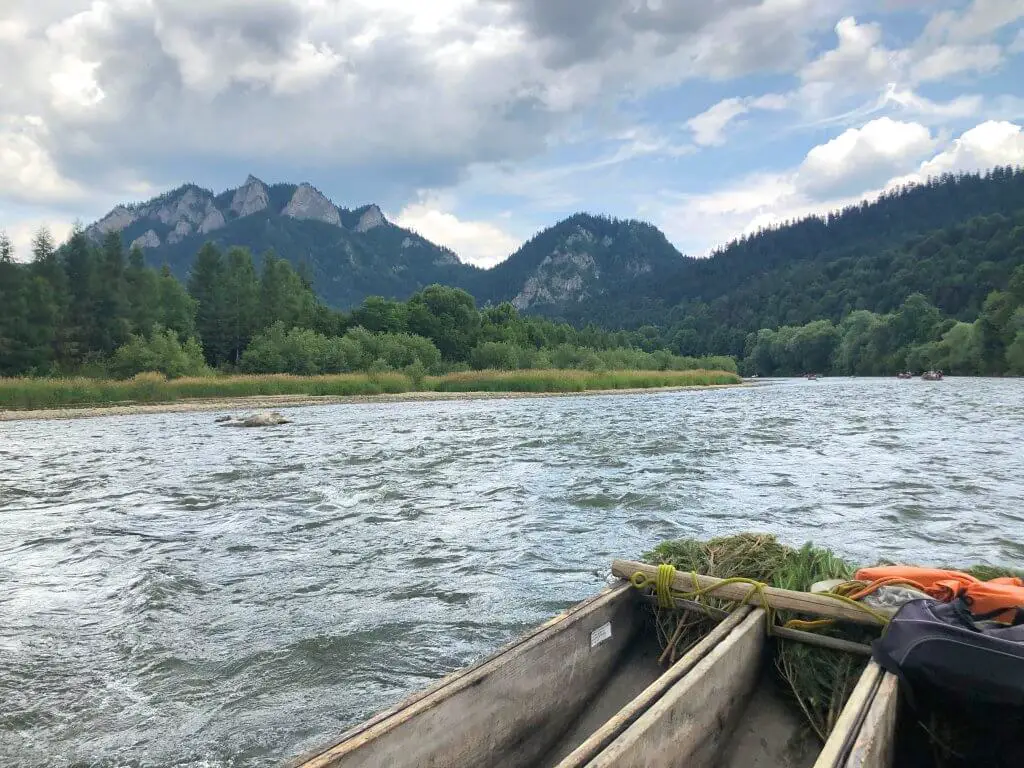 This day trip promises the thrill of navigating the Dunajec River, coupled with the charm of exploring Zakopane, the "winter capital" of Poland.
Your adventure starts with a scenic drive to the Dunajec River. On your way, indulge in a unique cultural detour with a visit to the 16th-century wooden church in Debno and a picturesque view over Niedzica Castle.
Once at the river, you'll board a traditional wooden raft and float down the Pieniny Gorge, where limestone cliffs rise dramatically against the skyline. Your guides will animate the stunning natural spectacle with interesting stories, making the 2-3 hour rafting trip a living narrative of Poland's wilderness.
The rafting concludes in Szczawnica, leaving you with unforgettable images of the Trzy Korony and Mt. Sokolica summits etched in your memory.
Next, visit Zakopane, situated at the foot of the Tatra Mountains. Begin with a panoramic view from Gubalowka Hill, reached by a thrilling funicular ride. Explore Zakopane's bustling bazaar and the lively Krupowki Street, known for its charming local stores and regional goods. Concluding your tour, visit a quaint wooden church on the city's outskirts, before returning to Krakow.
This action-packed day trip encapsulates the invigorating beauty of Poland's landscapes and the vibrant local culture, creating a refreshing retreat from city life.
Zakopane and Thermal Springs
Escape the bustle of Krakow and journey into the tranquillity of Zakopane and Chochołów, where the beauty of the Polish Tatra Mountains and the soothing properties of thermal hot springs await. This carefully curated trip invites you to experience the serenity of nature, the charm of highlander culture, and the delight of local gastronomy.
The adventure begins with a comfortable pickup from your Krakow accommodation, transporting you through picturesque landscapes toward Zakopane. En route, make a stop at Chochołów, renowned for its beautifully maintained wooden houses and listed as a UNESCO World Heritage Site. Here, you'll visit a traditional shepherd's hut to learn about the art of crafting Oscypek, the smoked sheep's cheese endemic to this region of Poland.
Arriving in Zakopane you'll be charmed by the distinctive highlander architecture, clothing, music, and food. Wander the bustling Krupówki Street, brimming with quaint souvenir shops and eateries offering local fare. Don't miss the opportunity to ride a funicular to the summit of Gubałówka Mountain, offering stunning views over the Tatra Mountains.
The final highlight of your tour is a visit to the Chochołów Thermal Pools. Here, indulge in the restorative properties of the thermal waters, a perfect way to unwind after a day of exploration. After this invigorating dip, you'll be transported back to Krakow, carrying with you the serene echoes of a truly refreshing day trip.
Wieliczka Salt Mine
Embark on a captivating journey into the depths of the Wieliczka Salt Mine, a UNESCO World Heritage site with over 700 years of salt mining history. This day trip from Krakow offers an unforgettable exploration of the mine's stunning underground architecture, guided by a local expert.
This adventure begins with a comfortable pickup from your Krakow accommodation. A brief, scenic drive takes you to the quaint town of Wieliczka, home to Europe's most renowned salt mine. Descend 135 meters underground, navigating through a labyrinth of corridors, chambers, and an astonishing 800-step stairway.
In this subterranean world, you'll discover the grandeur of St. Kinga's Chapel, an awe-inspiring church carved entirely from salt. Take a moment to absorb the tranquil atmosphere, capture photos, and marvel at this testament to the miners' craftsmanship and devotion.
The tour will lead you past dedicated points commemorating famous visitors such as Chopin and Goethe, while your guide shares legends and tales of the mine's past. You'll also witness the site of the world's first underground balloon flight over an eerie salt lake.
Before resurfacing, seize the chance to purchase unique souvenirs, that encapsulate your journey into the depths of the Wieliczka Salt Mine. A swift elevator ride later, you'll be back above ground, where your driver awaits to return you to Krakow.
This day trip invites you to delve into centuries of mining history, witnessing the incredible beauty created beneath the earth's surface, and emerging with a deeper understanding and appreciation for this extraordinary site.
Ojców National Park and Pieskowa Skała Castle
Trade the bustling city streets of Kraków for a day amid nature's charm. This guided tour will take you to the beautiful Ojców National Park, a haven of tranquility and an embodiment of nature's grandeur. Marvel at the picturesque landscape while gaining insights into the park's rich history, fascinating geology, and awe-inspiring architecture.
Commence your journey through the captivating Pradnik Valley, immersing yourself in its ancient Jurassic landscape and the towering Pieskowa Skała limestone cliffs. Then, prepare to be amazed by the Pieskowa Skala Castle, a perfect specimen of Poland's Renaissance palace architecture, nestled amid the magical gardens of the park.
You'll stop at iconic landmarks such as St. Florian's Gate, the Club of Hercules, and the quaint Little Church on the Water. This tour offers a unique blend of natural beauty, history, and culture. Immerse yourself in the allure of Poland's countryside and return to Kraków revitalized.
Hiking Adventure in Tatra Mountains & Thermal Baths
Engage with the splendors of nature on a guided day trip from Krakow, which takes you on an exploration of Poland's highest mountain range, the Tatra Mountains. This 10-hour tour offers a perfectly balanced mix of breathtaking hiking trails, scrumptious local food, and relaxation in the thermal pools, all set against the mesmerizing backdrop of Tatra National Park.
Starting with a convenient hotel pickup in Krakow, you'll embark on a scenic drive to Zakopane, the gateway to your hiking adventure. Whether you prefer the tranquil beauty of Morskie Oko Lake or the invigorating heights of Gąsienicowy Lake, these hikes offer mind-blowing vistas and ample opportunities for unforgettable photographs. A hearty Polish-style lunch awaits in a mountain hut, offering a chance to taste local delicacies.
The day culminates in a rejuvenating visit to Poland's largest thermal pools, where you can soak while enjoying the view of Tatra's granite and limestone peaks. This excursion truly showcases the best of Southern Poland's natural beauty.
Czestochowa
Embark on a spiritual journey to the iconic Jasna Gora Monastery, a revered hub of worship and a crown jewel of Polish Catholicism. Home to the famous Black Madonna painting, this sanctuary has been attracting countless pilgrims from around the world since the 17th century.
This comprehensive 8-hour tour, starting from the heart of Krakow, introduces the mesmerizing Jasna Gora Monastery and Sanctuary. Here, you can explore its significant treasury, enriched with timeless exhibits, and pay homage to the shrine of the Black Madonna, an epitome of divine grace.
Immerse yourself in the compelling history of the place, including the heroic defense of the monastery during the 1655 Siege of Jasna Góra. Also, join the devoted pilgrims in a contemplative journey through the Stations of the Cross, symbolized by majestic bronze statues enveloped by verdant greenery.
Warsaw
Revel in the pulsating heart of Poland on a day-long adventure from Krakow to Warsaw. This comprehensive journey brings to life the essence of Warsaw, Poland's capital city, offering a blend of historical narrative and modern vibrancy.
Setting out from Krakow, enjoy a leisurely drive across the scenic countryside, as you make your way to Warsaw's core. Experience the city's remarkable past at the Warsaw Uprising Museum, where interactive displays, poignant photographs, and firsthand accounts bring to life the courageous Polish resistance during World War II.
Continue your journey in Warsaw's Old Town, an embodiment of the city's resilience. As you stroll through the atmospheric Market and Palace squares, you'll be surrounded by picturesque cobbled streets, resplendent monuments, and vibrant eateries. Treat yourself to traditional Polish cuisine during your lunch break.
Cap off your day with an awe-inspiring vista of Warsaw from the Palace of Culture and Science's observation deck. Rising 114 meters above the city, it offers a panoramic view you'll not soon forget. The tour concludes with a comfortable ride back to your accommodation in Krakow, bringing an end to a memorable day of discovery.
Zalipie Village
Immerse yourself in the enchanting aesthetics of Zalipie, a village famed for its beautifully hand-painted houses, each telling its unique story.
This 6-hour excursion from Krakow allows you to explore the charming Polish countryside and learn about Zalipie's rich tradition of house painting that dates back to the 19th century.
With ample opportunities to capture stunning photos, this tour provides an intriguing glimpse into the vibrancy of regional Polish life.
Wadowice & Sanctuary of Divine Mercy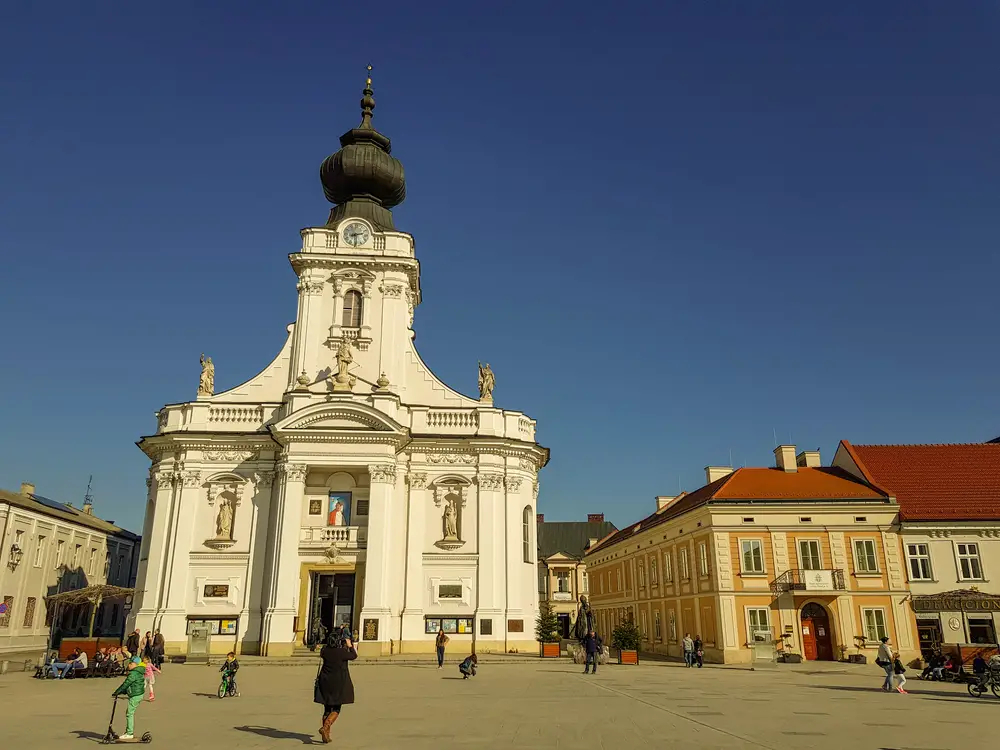 Embark on an enlightening half-day journey tracing the early life of Karol Wojtyla, who later became Pope John Paul II. This tour takes you through the heart of Wadowice, Wojtyla's birthplace, and Lagiewniki, the center of Divine Mercy and home to the miraculous painting of Merciful Jesus.
Your tour begins with a convenient pickup in Krakow, followed by a 40-minute drive to Wadowice. Immerse yourself in the history of the town square, visit Wojtyla's parish church where he was baptized and his high school. Next, explore the John Paul II Museum, providing insight into his life and spiritual journey.
Afterward, indulge in a local favorite – the papal cream cake known as kremowka, before heading to Lagiewniki. There, visit the Divine Mercy Sanctuary and JP2 complex, marvel at the miraculous painting of Merciful Jesus, and gain invaluable insights from a serving nun at the monastery.
A delightful local lunch concludes the tour before your return to Krakow, enriched by the inspiring legacy of Pope John Paul II.
Wroclaw
Venture beyond Krakow and immerse yourself in the vibrant tapestry of Wroclaw, a medieval gem that abounds with timeless allure. In this all-day exploration, we'll guide you through Wroclaw's best sights, from the stately Town Hall to the renowned University.
Discover the city's heart at the bustling Market Square and visit Slodowa Island. The charm of the city extends to the famous copper dwarves scattered throughout. A must-see is the Cathedral of St. John the Baptist, standing tall on Cathedral Island – the city's oldest part that exudes an air of medieval mystique.
The day wouldn't be complete without a visit to Wroclaw University, a beacon of Polish academia, and a leisurely stroll along the Odra River. Depending on your preference, enjoy the journey by train or by car, both offering ease of transportation between the cities. A day filled with discovery, this tour broadens your Polish adventure from Krakow to the enchanting city of Wroclaw.
---
---