Some of the links in this post are affiliate links. This means if you click on the link and purchase the item, I will receive an affiliate commission at no extra cost to you. All opinions remain my own.
If you're looking for a tropical paradise to visit, look no further than Bali!
This beautiful island is located in Indonesia and offers something for everyone. From stunning beaches to lush rainforests, there are plenty of reasons to visit Bali.
In this blog post, we will explore 13 of them!
So pack your bags and get ready to explore one of the most beautiful places on Earth!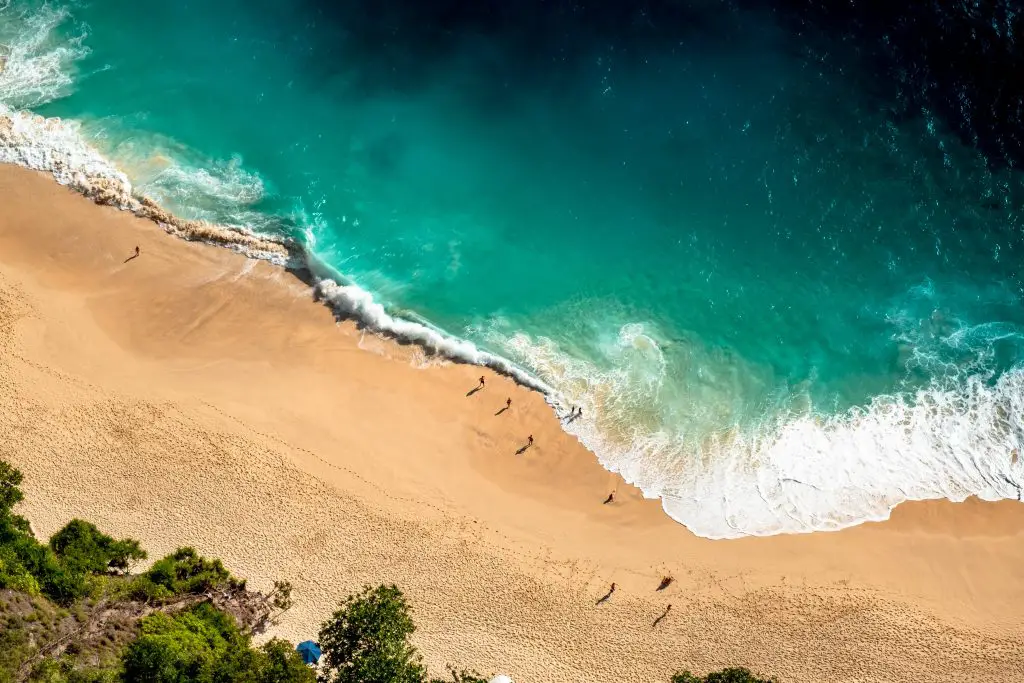 Stunning beaches
Bali is a true paradise for beach lovers, it's just one of the things you should know before traveling to Bali. The island is home to pristine beaches with gentle waves and soft white sand.
Visitors can find secluded coves, Surf spots, and family-friendly beaches all around Bali.
Some of the most popular beaches in Bali are Seminyak Beach, Kuta Beach, and Nusa Dua Beach.
But we highly recommend getting a scooter or a taxi and going along the shore in the search of smaller, more unknown beaches. These can be truly charming – with white sand, blue water, palms, cliffs, and just a few people around.
Tropical weather all year round
Bali enjoys tropical weather all year round.
The average temperature is around 28 degrees Celsius (82 Fahrenheit).
But it can be a bit hotter in September and October, with temperatures rising up to 34 degrees Celsius (93 Fahrenheit).
The best time to visit Bali is between April and October when the weather is dry and sunny.
But even during the wet season (November to March), Bali is still a beautiful place to visit.
Just be prepared for some rain!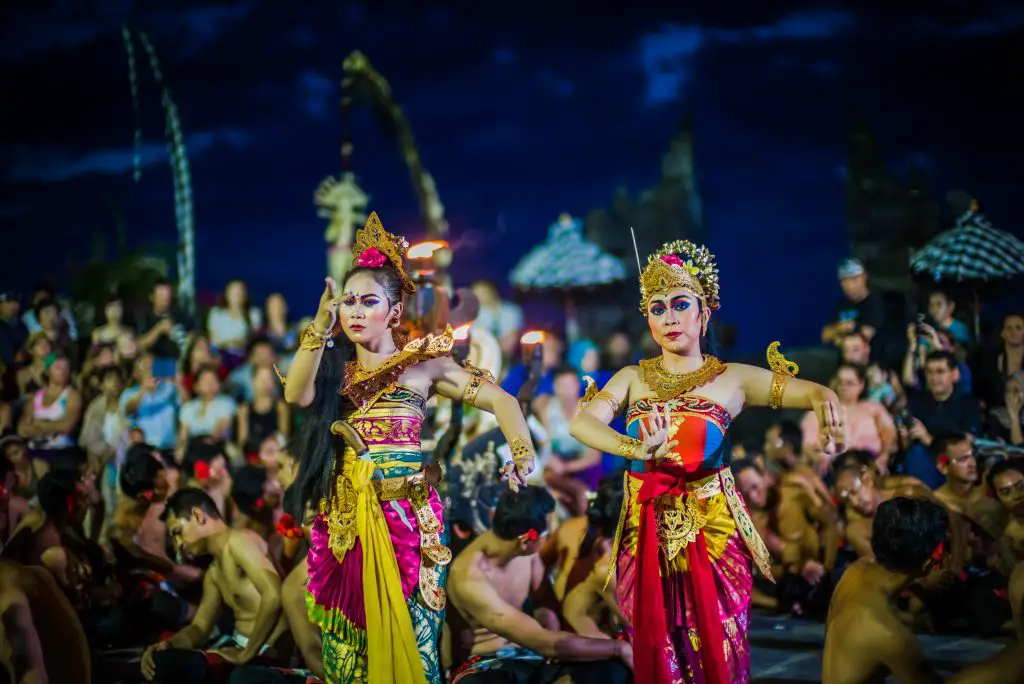 Colorful culture
Bali is an island in Indonesia that is renowned for its stunning beaches, lush vegetation, and friendly people. But there is another side to Bali that is often overlooked: its vibrant culture.
From the colorful temples and traditional dances to the unique foods and local arts, Bali has a wealth of cultural experiences to offer visitors.
One of the best ways to experience Balinese culture is to attend a traditional dance performance. The dances are often accompanied by gamelan music, and the performers wear brightly colored costumes.
Another way to immerse yourself in Balinese culture is to visit one of the many markets or festivals that take place on the island. Here you can try traditional foods, purchase locally made arts and crafts, and watch traditional ceremonies being performed.
Whether you're interested in history, art, or food, Bali has a cultural experience to suit everyone.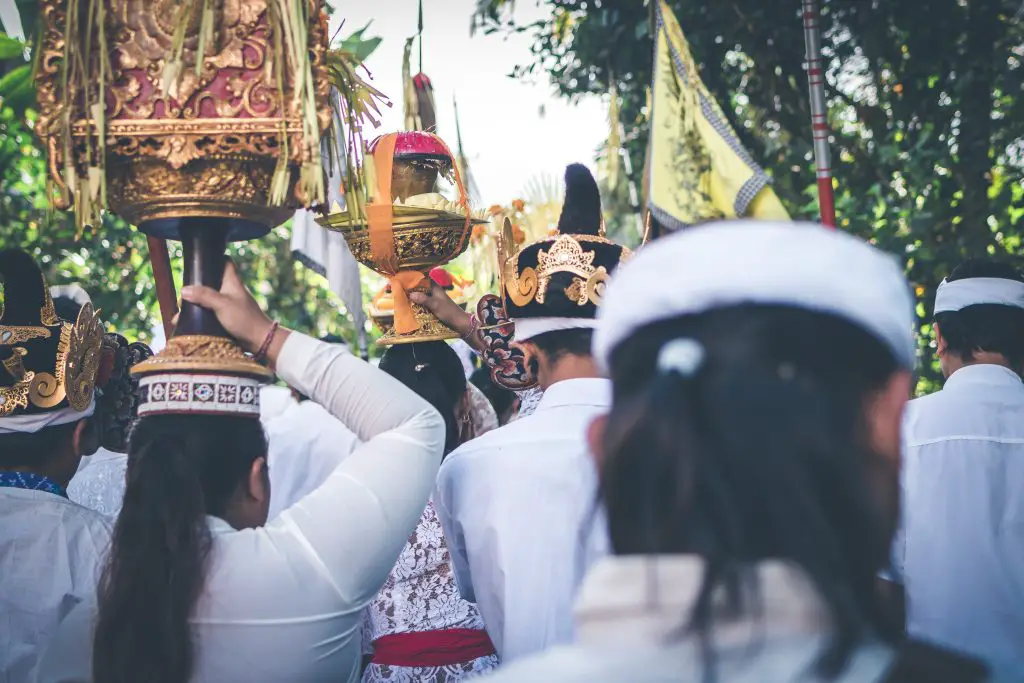 Fascinating religious practices
Bali is home to a fascinating array of religious practices.
From the ancient Hindu traditions of the island's original inhabitants to the more recent arrival of Islam, Bali has long been a place of religious diversity. This diversity is on full display in the island's numerous temples and shrines, which offer visitors a glimpse into the unique beliefs and practices of the Balinese people.
Some of the most popular temples to visit in Bali are the Uluwatu Temple, the Tanah Lot Temple, and the Pura Besakih temple complex.
Whether you're interested in exploring the island's rich history or simply want to enjoy its stunning natural beauty, visiting some of the famous temples is sure to leave you with lasting memories.
Beautiful accommodation options
Bali is a beautiful place with stunning accommodation options. You can find anything from private villas with their own infinity pools to five-star resorts with all the amenities you could ever want.
And, of course, there are also more affordable options for those on a budget.
No matter what your preferences are, you're sure to find the perfect place to stay in Bali.
Great and affordable food
Bali has some of the best food in Indonesia. From fresh seafood to traditional Indonesian dishes, there's something to suit every taste.
Some of the traditional Balinese foods you must try are nasi goreng (fried rice), gado-gado (a vegetable salad with peanut sauce), and satay (grilled meat skewers).
There are also many beautiful vegan cafes where you can get fresh and healthy food.
If you are less adventurous, you can also get some universally popular foods of great quality, such as poke bowls, burgers, pizzas, and pastas.
And best of all, it's very affordable. You can easily get a delicious meal for less than $5.
So next time you're planning a trip to Bali, be sure to leave room in your budget for some amazing food.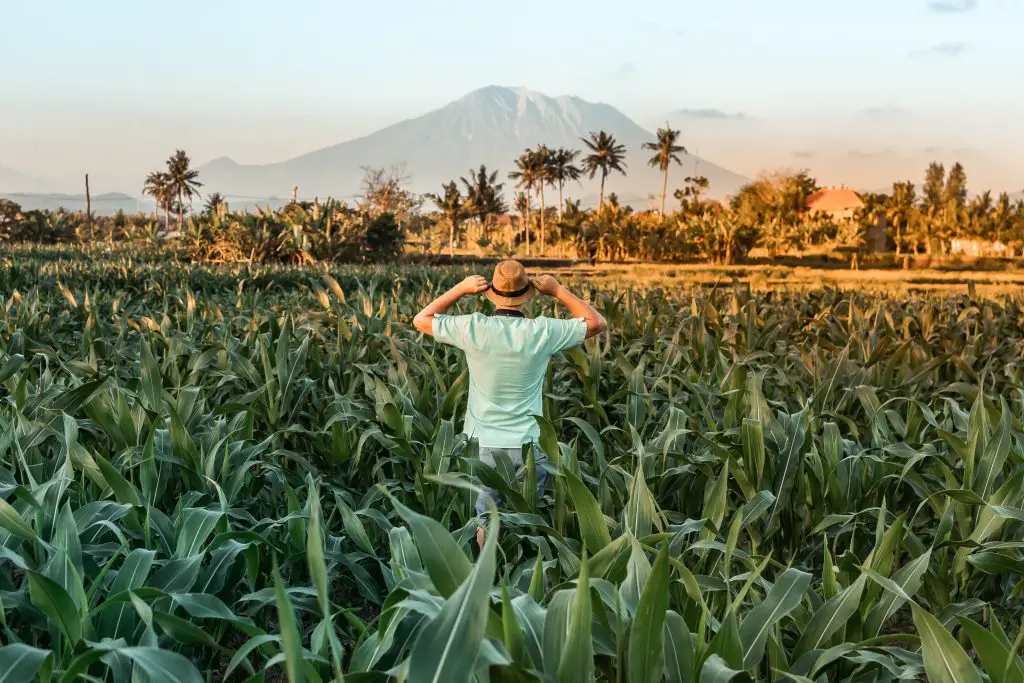 Volcanos, rice terraces, and other exceptional landscapes
Bali is an island with a diverse landscape. From the active volcanoes of Mount Batur and Mount Agung to the stunning rice terraces of Jatiluwih, there is much to explore.
You can easily rent out a scooter and go on a road trip to see some of these natural wonders. Just a few hours' drive can lead you to Mt Batur. You can hike the volcano if you want, or just go around Danau Batur and soak in the famous views.
On your way, you'll also see the rice terraces and other lush greenery.
Superb surfing options
Bali is a surfers' paradise. With its warm water, consistent waves, and beautiful beaches, it's no wonder that surfing is one of the most popular activities on the island.
Whether you're a beginner or an experienced surfer, you'll find plenty of great spots to surf in Bali.
Some of the most popular beaches for surfing are Kuta Beach, Legian Beach, and Seminyak Beach.
On the more popular beaches, you can often find a service where the local guys teach amateurs how to surf for an hour and then rent the surfboard to them for training purposes for another hour. This is a really fun and affordable way how to work out and try new skills.
So if you're looking for a place to catch some waves, Bali is the perfect destination.
Welcoming people
One of the best things about Bali is the people. The locals are some of the most welcoming and friendly people you'll ever meet.
They are always happy to help visitors with anything they need and are more than happy to share their culture with those who are interested.
If you want to learn more about Balinese culture, there are plenty of opportunities to do so. You can take a cooking class, go to a traditional Balinese dance performance, or even visit a local family's home.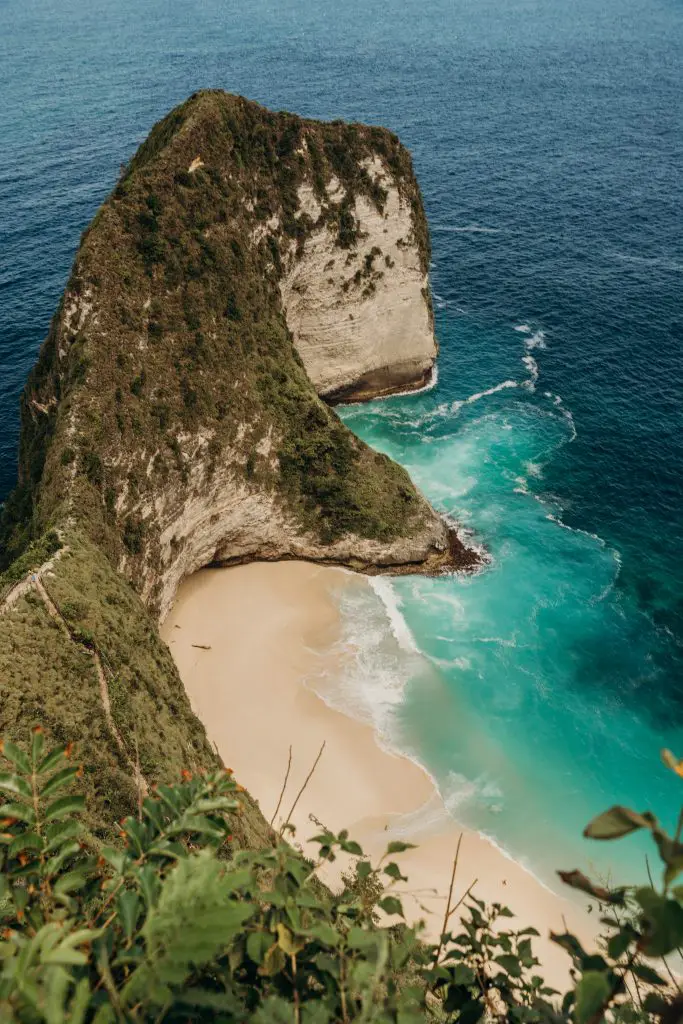 Nusa Penida, Gili islands, and other nearby wonders
Bali is not the only island worth visiting in Indonesia. There are also many other beautiful islands nearby, such as Nusa Penida, Gili Trawangan, and Gili Air.
These islands are all easily accessible from Bali and offer their own unique charm.
In Nusa Penida, you'll see some of the most stunning cliffside views, while Gili Trawangan is known for its laid-back atmosphere and beautiful beaches.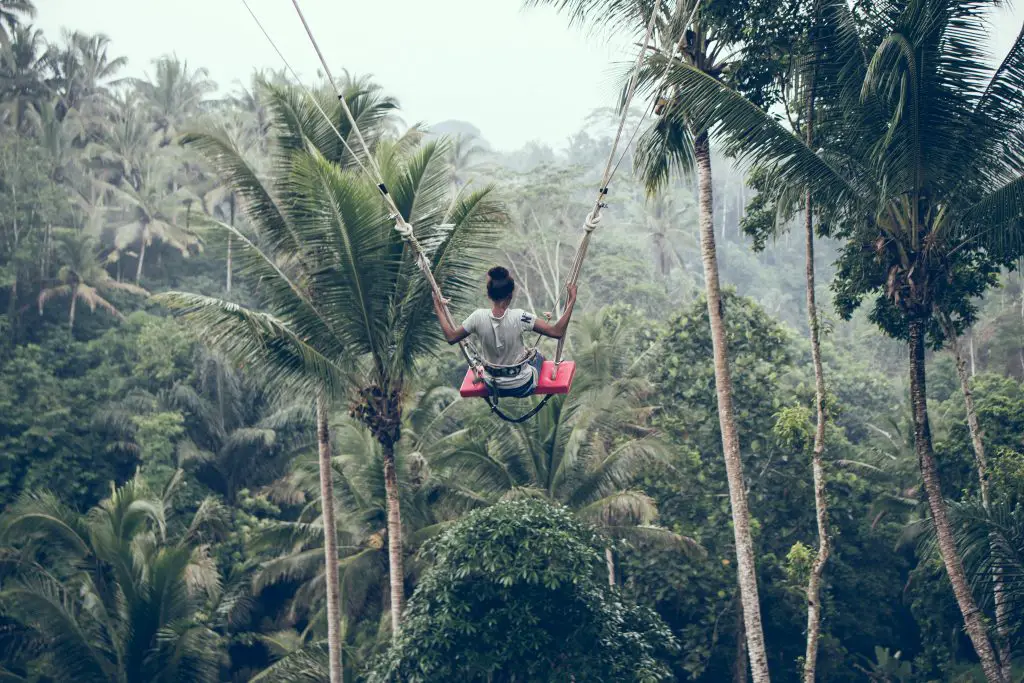 Bali swing experience
One of the most popular things to do in Bali is to swing on a giant swing. This is usually done with a partner, and you can swing high above the ground, enjoy the views, and even get a little bit of adrenaline rush.
It's a really fun experience, and you can find many different companies offering this service.
The most popular place to do this is at Tegallalang Rice Terraces, where there are several options to choose from.
But there are many other places now that have the popular swings for much cheaper and without queues. So if you go off the beaten path to some lesser-known beach or a rice terrace, don't be surprised to see the locals offering you to try out these swings.
Uncountable hidden waterfalls
Bali is home to many hidden waterfalls, and they are one of the best reasons to visit the island.
These waterfalls are often located quite nearby the roads and in not so difficult to reach places, but you have to look for them on a map beforehand, or get some suggestions and directions from the locals.
Some of the most popular waterfalls are Gitgit Waterfall, Banyumala Twin Waterfalls, and Nungnung Waterfall.
But there are many more, and you're sure to find one that suits your taste.
When you do find one, don't forget to bring your swimsuit so you can take a dip in the refreshing water.
Budget-friendly destination
Bali is a very budget-friendly destination, especially if you're coming from a Western country.
You can easily find accommodation for less than $30 per night, and food is also very affordable.
There are many cheap and delicious warungs (local eateries) all over the island, where you can get a hearty meal for less than $10.
And if you're on an even tighter budget, there are plenty of hostels and guesthouses that offer dormitory beds for around $15 per night. This is perfect for travelers who are backpacking in Bali.
Bali is a truly magical place, and there are so many reasons to visit. Whether you're looking for a place to surf, somewhere to relax or just a new adventure, Bali has something for everyone. So what are you waiting for?