Some of the links in this post are affiliate links. This means if you click on the link and purchase the item, I will receive an affiliate commission at no extra cost to you. All opinions remain my own.
Visiting theme parks can be a lot of fun if you are properly prepared. Bringing some important things with you on a day in a Disneyland park is a good idea, as you may save money, time, and sanity. So if you are wondering what to pack for Disneyland for specifically spending a day inside the theme park, here is a detailed guide on the essential items you'll need, and some nice-to-have items that will make your life much easier.
The Disneyland packing list is just a suggestion, please adjust it to your own specific needs. Many other people have found these items to be useful, but maybe there is something specific that you need for your special situation. So get inspiration from the Disney packing list below, but remember to adjust it to your own needs.
However, keep in mind that you'll have to carry these items throughout the day for multiple hours from ride to ride. I suggest keeping the things you pack to a minimum. If you miss something essential, it's always possible to buy it inside Disneyland and not stress about not packing anything beforehand.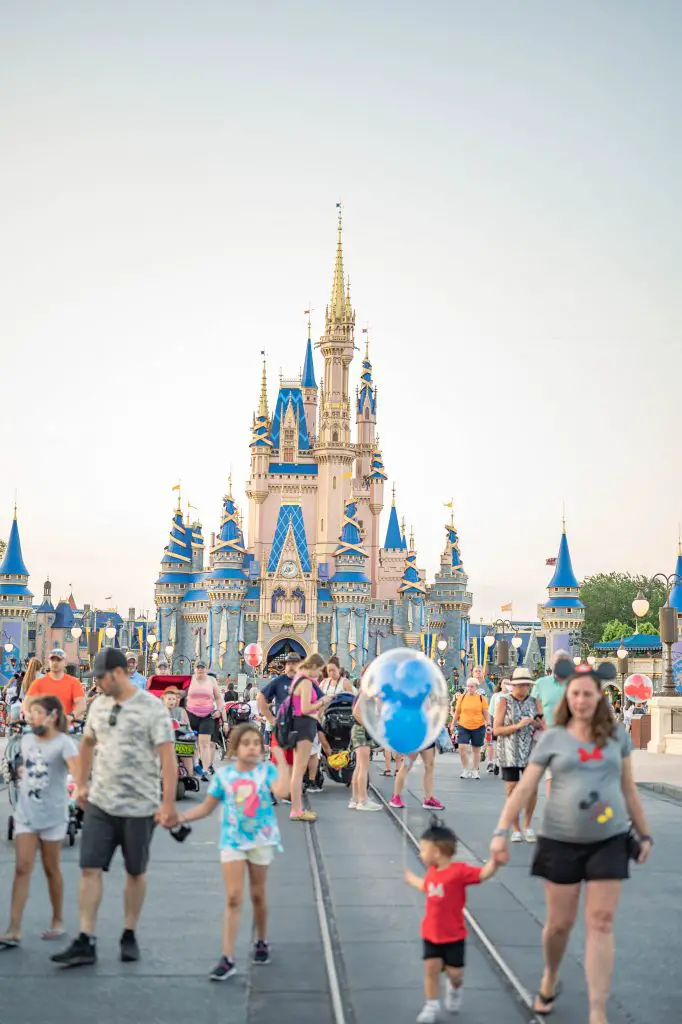 Essential items to pack for a day in Disneyland
Essential items that you should take to Disneyland are useful to just about anyone. Going to the theme park without any of these items might seriously make your trip worse. So check out the recommended items and pack them first.
As you will spend your day walking from one attraction to another, it's important to wear comfortable shoes. You know better which of your footwear items will not get you blisters after a day of walking and standing in line in them.
One thing to note is the weather forecast. Pick shoes that will be comfortable in the temperature that is forecast on the day of your visit to Disneyland. You don't want to freeze or sweat if the shoes aren't made for the weather in which you wear them.
An additional thing to consider is rain and water rides. Will your footwear be comfortable if it gets wet? Would it dry fast, or would it ruin the rest of your day after getting wet? Maybe you need to take a second pair of shoes just in case.
Sure, a day in Disneyland may be compared to a hike – it takes a lot of walking, and at the end of the day, you'll barely have the energy to get back to your hotel room or car. However, it's possible to dress for Disneyland in a way that is comfortable yet cute.
When you'll look back to the day at Disneyland and the photos that were taken, you'll be thankful that your outfit was nice and looks good in photos.
It doesn't have to be anything fancy. You could wear a Disney-themed T-shirt and a skirt, or a dress. Anything in bold colors of red/blue/yellow/purple will fit right in. Choose a different color for the top and bottom to stand out more.
Also, some accessories like Mickey's ears are classic and will bring you a happier mood for the day. They can be bought before you go on the trip, as in the theme park accessories would be more expensive.
This is an obvious item that becomes ever more important in our everyday lives.
Obviously, you'll need your phone to take pictures, contact other members of your group, use payment apps, and do other usual things.
In addition, you may use it to navigate different attractions and reserve a place in queues. Disneyland is a popular destination during spring break so the queues at this time of the year might be even longer than usual.
Credit card and cash
There will be a lot of temptations and actually necessary things that you will have to pay for in Disneyland. So don't forget to take your credit card with you.
Some places like the balloon stands may take only cash, so prepare some in advance. There are a few ATMs at the theme park, but you won't want to waste valuable time searching for them to get some more cash.
You'll need some kind of bag for all the things that you want to bring with you to Disneyland. Here are some good options to consider when choosing a day pack.
Keep in mind that you'll want a bag that leaves your hands free for doing activities like hanging on to the rides, eating ice cream, or taking pictures.
If you are a truly minimalistic packer or you have a partner who's bringing a bigger bag to fit some things for you both, then you might choose a fanny pack. It will carry only the essential items, and won't make your day any harder. The accessory can be cute if you choose the right one. You can even consider custom fanny packs to make yourself stand out.
Another good option is a crossbody bag. It's a bit bigger, so you can pack more, but it can also be more uncomfortable if you want to move freely or go on the more extreme roller coasters.
A small backpack is also a good choice as it leaves your hands empty, packs a lot of things, and can be quite invisible in the pictures.
When walking all day from one ride to a ride, you will want to stay hydrated. A good way to ensure this is by bringing a reusable water bottle.
It's possible to refill the cold water in drinking fountains, food stands, restaurants, and the bathroom.
It's also possible to get some ice in restaurants and food stands if it's hot outside. For this reason, it's better to choose a flask that doesn't sweat in the backpack and keeps the water cool.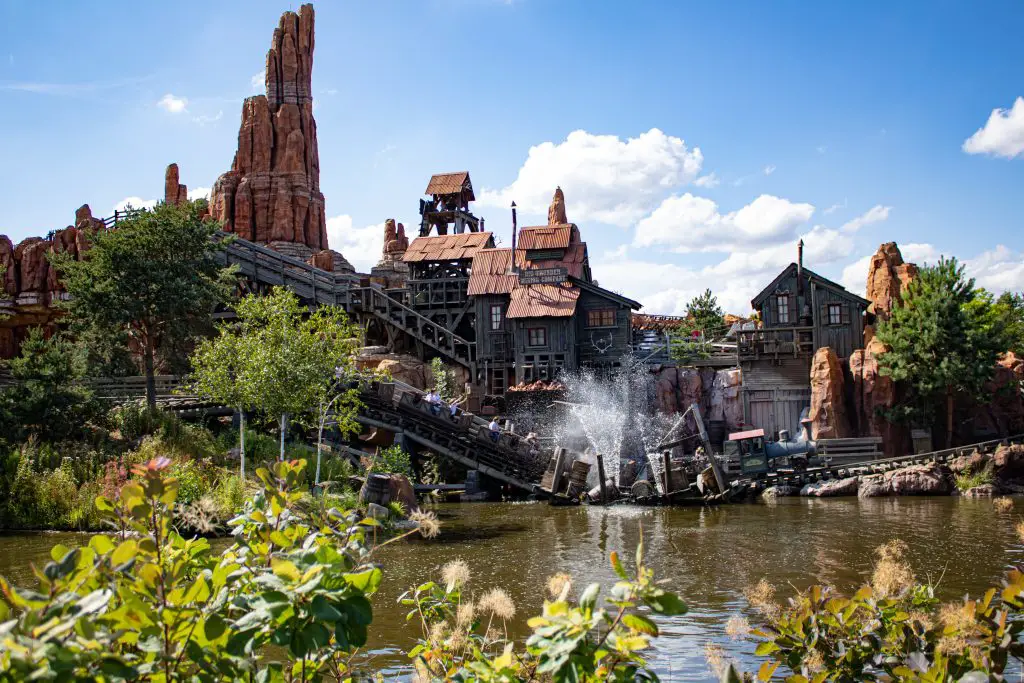 Nice to have items to pack for a day in Disneyland
Remember that anything that you pack for a day at Disneyland you'll have to carry with you the whole time. For this reason, try to keep the things that you take with you to a minimum.
Here are some items that you might find useful. But don't just pack them all, choose only those that make sense for your situation. Pack light and only the important items.
Even though on a usual day your phone might last for a day on a full charge, probably a day at Disneyland is not that usual. You'll use your phone more often to take pictures, pay for things, message friends, use social media, navigate around, and check wait times and other Disney services. It drains the battery.
So it's a smart choice to take a battery pack for your phone with you.
If you don't already have one, consider buying a power bank that is quite small and not heavy for carrying around all day.
We all know that sun exposure can be harmful to your skin. As you'll be spending the whole day out in the California sun (if the weather is good), and maybe even be splashed with water, consider bringing sunscreen with you. They come in small bottles and can be easily reapplied every few hours.
It would be sad to get a sunburn on your ears or shoulders just because you were too busy to have fun on the rides in Disneyland.
Consider also taking a lip balm with you, as lips are also easily sunburnt or can become chapped after licking them too much.
If there are no additional distancing restrictions in place, the Disney characters that you can meet in the park may give you or your kids an autograph. Having an autograph book with the signatures and later filling it more with the pictures from the visit is a great way how to save memories from the trip to Disneyland.
In addition to the autograph book, you can take a clickable sharpie so that the autographs look nicer and it's easier and faster for the characters to use the pen for signing the book.
Did you know that you can take your own food with you to Disneyland?
Consider taking some snacks like granola bars or trail mix. It may prevent you from being hungry and save a few dollars as the snacks in the theme park can get expensive quite quickly.
If you are serious about saving money, you can even pack your lunch. Something like sandwiches, a pack of crackers, salami, and other things that don't melt in the sun is a good choice. However, they take up space in your bag so consider how much you want to save versus how uncomfortable this additional packaging will be.
When packing food for Disneyland remember that at the entrance your bag will be checked. It shouldn't contain glass, alcohol, and fast food.
When it gets dark in the evening, there are stands that sell all kinds of glowing toys. These are something that any child (and some grown-ups) can't live without and are ready to spend money to buy.
You can get some glowing things even before you go to Disneyland and take them out when it gets dark. This is a good way to save some money on cute things that may last only for a few hours but bring a lot of joy.
If the weather might bring rain or you plan on going on water rides, it's a good idea to pack a light rain jacket.
Of course, you might take a disposable poncho or buy one in Disneyland as well, but they can be used just once and aren't good for the environment.
Also, the reusable rain jackets now are so small, they won't take up much space and could be used in some future hikes as well.
Just don't take an umbrella to the theme park, You won't be happy to carry a big and bulky umbrella all day long for the few times that you might actually need it.
The weather in Southern California can get cold in the morning or when the sun goes down, so consider taking a sweater with you. Or any other clothing that you can layer up or down depending on how hot it gets.
There are many surfaces that are touched by hundreds of people daily in Disneyland, so you'll want to sanitize your hands frequently. A practical way how to do it is by taking hand sanitizer wipes. They can be used also to clean things like runny ice cream and other accidents – in the same way as the usual wet wipes.
But with the current situation, there should be many places in Disneyland that offer you sanitizing hands, so this is not a must-have item unless you feel that the common sanitizer might not be enough for your needs.
There are first aid stations in Disney parks that can give you a band-aid or a common pain relief medicine, so this is also not an essential item to take with you.
However, some people feel safer if they take the brands and the items that are familiar to them.
Some ideas for the first aid kit are:
Pain relievers like Advil for headache
Band-aids or moleskin for blisters
Something for motion sickness if you expect to get one in the rides
This is definitely a nice-to-have item but could be useful for a picnic or for watching the fireworks in the evening, or just covering if it gets too cold. A travel blanket is great if you want to sit on the ground and reserve some space for your company or the whole family.
If you get your feet wet some dry extra socks might make your day much better. So if it's going to rain or you are planning to go on a splash mountain ride, in addition to some extra shoes consider also taking extra socks with you.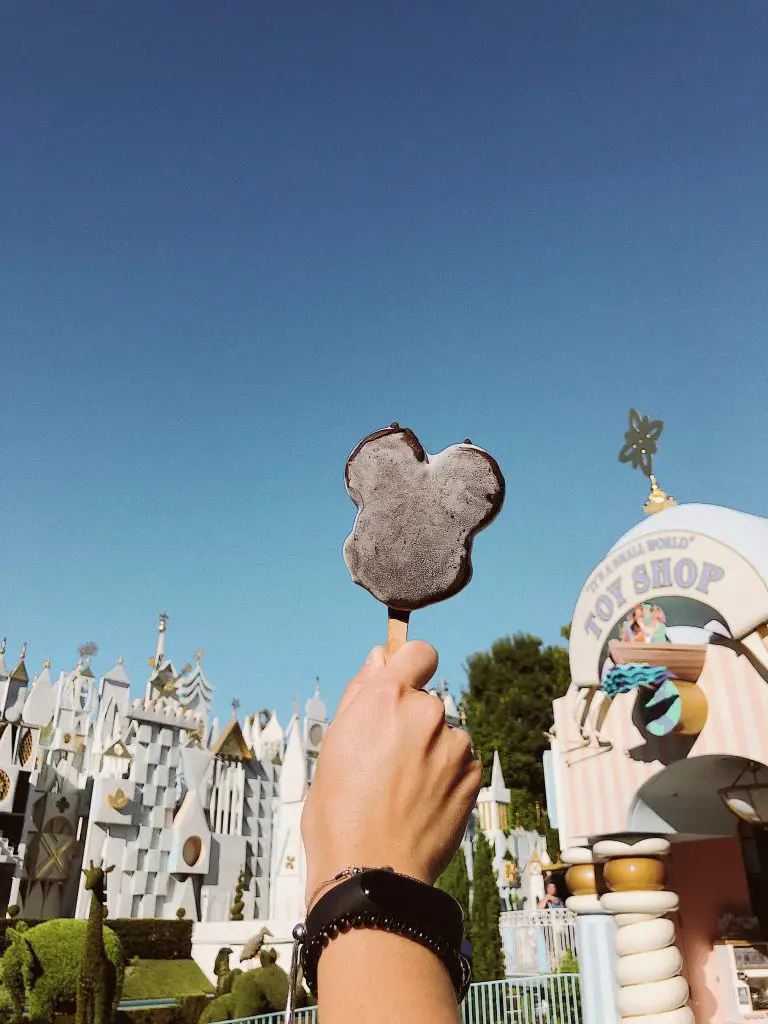 Prohibited items that you mustn't pack for a day in Disneyland
Your bag will be checked at the entrance of any of the Disney amusement parks and it mustn't contain any of the prohibited items. You can check the full list of items not allowed in Disneyland here, but here are some of the most common ones:
Weapons of any kind
Self-defense devices
Toys that look like firearms
Alcoholic beverages
Glass containers (like for baby food)
Drones, remote control toys, skateboards, scooters, bicycles
Shoes with built-in wheels
Selfie sticks
Frequently asked questions
---
---