Some of the links in this post are affiliate links. This means if you click on the link and purchase the item, I will receive an affiliate commission at no extra cost to you. All opinions remain my own.
Palm Springs is the place to go if you're looking for a fun, kid-friendly getaway. There are plenty of activities to keep the little ones entertained, from the tramway and nature walks to the nearby Living Desert Zoo and Gardens. Here are some of the best things to do in Palm Springs with kids.
Andreas Canyon trail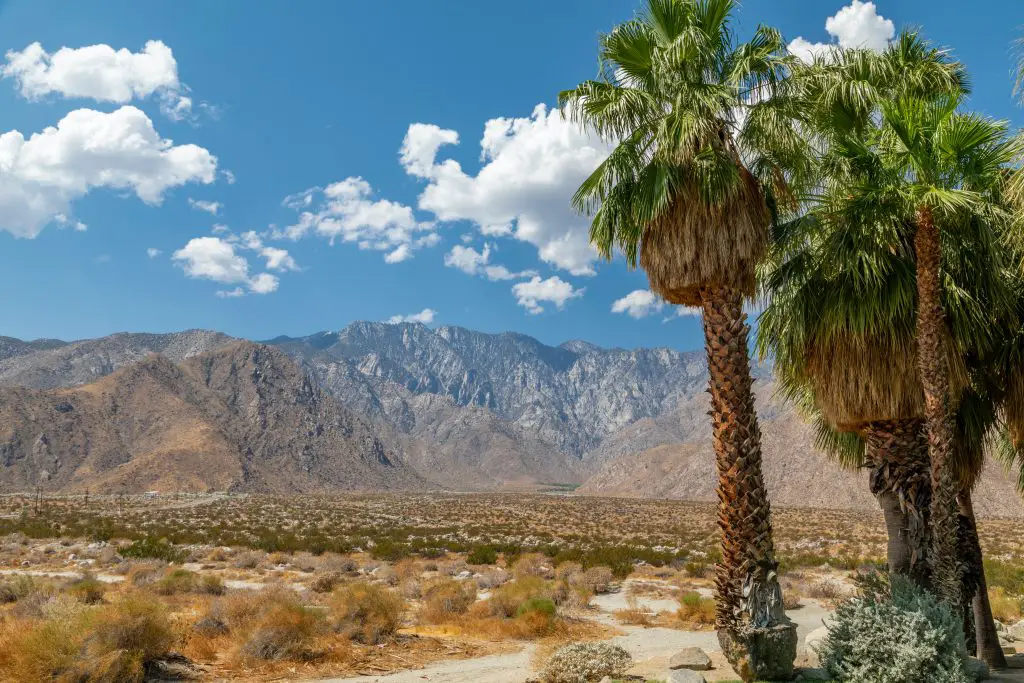 Andreas Canyon trail is an amazing short hike inside the beautiful Andreas Canyon. Andreas Canyon is part of the Indian Canyon trails and is only 15 minutes drive from downtown Palm Springs. It's a beautiful oasis in the middle of the desert. The trail has rewarding views of rock formations and California Fan Palm trees. Andreas Canyon is considered the world's second-largest California Fan Palm Oasis. 
The Andreas Canyon trail is an easy 1-mile loop with around 170 feet of elevation making it very easy for even the youngest of kids to enjoy it. It is a great hike for families. It will take a minimum of 30 minutes to a maximum of whatever time you need to enjoy swimming, doing a picnic, etc. 
The trail follows Andreas creek and there are swimming holes to take a dip in which is a lot of fun for kids and adults alike. The terrain is uneven and a little rocky, more fun for kids but very doable for all age groups. The kids can climb on various-sized rocks and boulders and stay busy. The swimming and rock climbing itself will keep the kids engaged and not complaining. 
There are many picnic areas and benches along Andreas creek, to enjoy some lunch or snacks. Bring plenty of drinking water. Also pack bathing suits, change of clothes, and water shoes. 
Tip: First half of the hike is in shade and through a beautiful oasis, the second half is on an elevation and in the open sun. It is recommended to do this hike right side up so that you end your hike with a descent in the shaded part. 
There are restrooms at the trailhead off Andreas Canyon road. Admission fees to the Indian Canyon are currently $12 for adults and $6 for kids aged 6 to12. Children 5 and under are free. The Canyons are open daily from 8 AM to 5 PM  from Oct 1 to July 4th. From July 5th to September 30 open from 8 AM to 5 PM only on Fridays, Saturdays, and Sundays. 
Recommended by Anu Agarwal from Destination Checkoff
Tramway & Mount San Jacinto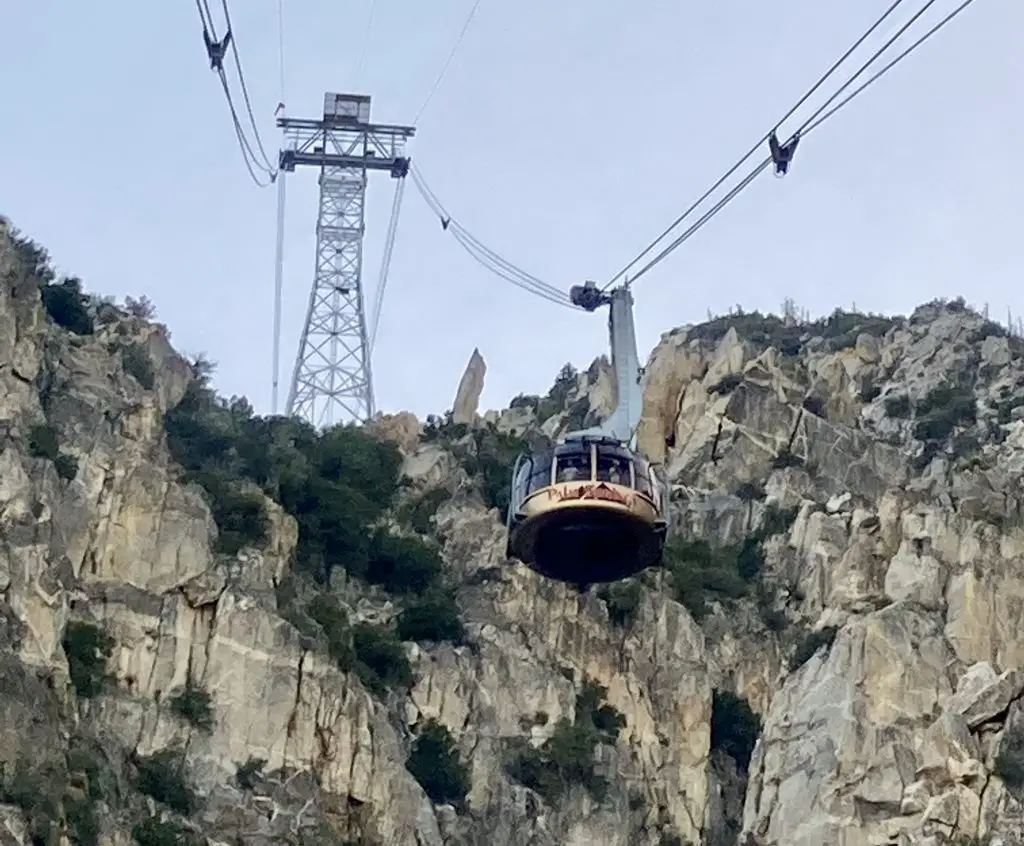 Taking the Palm Springs Aerial Tramway up Mount San Jacinto is a unique and fun activity for adults and kids alike! The two-and-a-half-mile ride in the world's largest rotating tram car will take you from the Valley Station at 2,643 feet up through Chino Canyon to the Mountain Station, sitting at an elevation of 8,516 feet. Kids will have a blast as the tram rises and slowly spins, providing amazing views of rocky cliffs along the way to the top.
At the top of the tramway, you can check out more views from the observation decks, enjoy a meal at the casual Pines Cafe or upscale Peaks Restaurant, and choose a souvenir from the gift shop. You can also take a short hike to explore some of the 50 miles of hiking trails in Mount San Jacinto State Park. If you have older children or teenagers who are up for the adventure, you can even take on one of the best hikes in Southern California and try to reach the summit of San Jacinto Peak at 10,834 feet.
Children of all ages will enjoy the tram ride, and you can stick close to Mountain Station if you have younger children. While the tram ride itself only lasts 10 minutes, plan to spend a few hours to half a day exploring up at the top before heading back down (or even a full day if you want to do some hiking). Also, be aware that the temperature will be significantly cooler at a high elevation of Mountain Station from where you start in Palm Springs, so bring along some layers.
The tramway is extremely popular, so it's best to book your tickets ahead of time (which you can do online). If you don't have reserved tickets, get there early to ensure you don't have to wait too long for a tram. Tram tickets are $29.95 for adults, $17.95 for kids 3-10, and free for children under 3 (although they still need to get a boarding pass). Parking is an additional $12.
Recommended by Allison from She Dreams of Alpine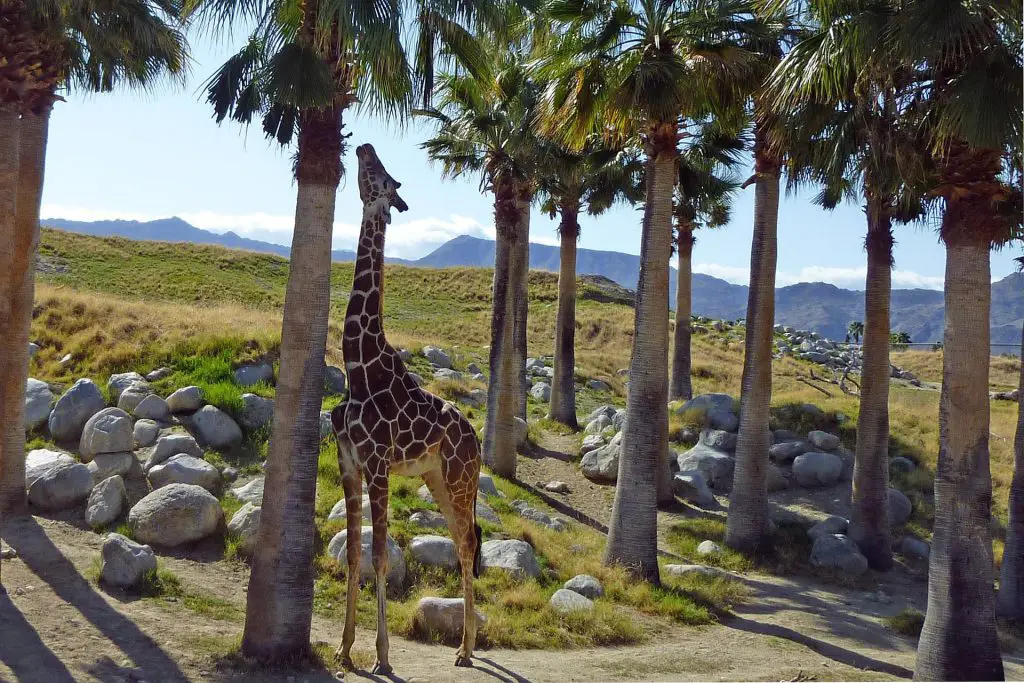 If you're looking for a fun and easy excursion to entertain your kids while in Palm Springs, then the Living Desert Zoo and Gardens is a must-visit.
This park is packed with over 500 animals, a bird aviary, and various animal interaction zones, ensuring all kinds of things to see and do for children ages 3 and up. For example, if your kids want to get up close and personal with some of the wildlife, you can purchase lettuce leaves from park staff to hand-feed the giraffe.
Along with interacting with the giraffes, your little ones can help take care of Nigerian dwarf goats by grooming them in the petting kraal.
In general, the Living Desert Zoo is smaller than most, so families can comfortably see and experience all that the park has to offer in three or four hours. That being said, make sure to arrive early to beat the heat and catch the animals when they're most active! If you end up wanting to stay longer, don't worry as the park has designated areas to relax and grab a quick bite to eat! Lastly, save a few extra dollars on the entrance fee by purchasing your tickets online in advance instead of at the gate. 
For these reasons and several more, the Living Desert Zoo and Gardens is the perfect place to spend a day in Palm Springs with your kids!
Recommended by Kristin from Global Travel Escapades
A Red Jeep Tour to see the past and current devastation caused by and on the San Andreas fault is one of the most exciting things to do in Palm Springs with children.
Their most popular Red Jeep Tours offering is called "Bones of the Earth" and explores portions of the San Andreas fault on the Metate Ranch. The tour itself is three hours and includes a lot of super fun off-road driving along with several stops for easy hikes and strolls. The ride is bumpy, which makes it fun for children of all ages but also is a caution for anyone with back or neck issues. Closed shoes are required. They do provide water and granola bars.
On the San Andreas Fault Jeep Tour, learn about the California desert flora, fauna, and geology, and experience up close the canyon features caused by San Andreas fault activity. It is fascinating to see mountains of rock turned 90-180º and canyons caused by the collision of the North American and Pacific Plates.
They also offer tours to Joshua Tree National Park, Indian Canyons, and hiking tours. The minimum age on Jeep excursions is 3 and 8 for hiking tours. Parents must provide their own booster seats which can only be secured with a two-point system.
Each Jeep allows seven passengers and the base rate is $150 ($135 for children under 18). If you book the entire vehicle (all seven seats), they will pick you up and drop you at your hotel. Ask for a 15% discount for active military members and families or a 10% discount for AAA members.
The official name of the company is Desert Adventures but they are more commonly known as Red Jeep Tours. Look for both names and note that their website is Red-Jeep.com.
Recommended by Charles from McCool Travel
There's no doubt about it, Palm Springs Air Museum is a great place to take the kids. First of all, they'll love seeing all the different kinds of airplanes up close. And you can bet they'll be fascinated by the stories of how these planes were used in battle.
Plus, there is an option to book an unforgettable flight over the Coachella valley in an authentically restored WWII aircraft (there are several you can choose from).
And when the kids get hungry, there's an on-site café that serves up kids' menu items for just $5.
It takes about 1 and a half hours to visit the Palm Springs Air Museum and see the planes and exhibitions about wars and how the planes were used. Admission fees are $22 for adults and free for kids 12 and under. You can also get a family discount for older kids.
So whether you're looking for a fun activity or an educational outing, Palm Springs Air Museum is the perfect place to take the kids.
The next time you find yourself in Southern California with a few extra hours to kill, consider taking the kids to the Cabazon Dinosaur Museum. This one-of-a-kind attraction is sure to be a hit with dino-loving kids of all ages.
The museum features a few life-size dinosaur replicas, as well as an option to climb up a T-Rex. There are more than 50 fiberglass and robotic dinosaurs to see in the museum. Kids can try out "dino dig" in a sand pit or experience a gemstone and fossil-panning sluice.
Admission cost is $15 for people aged 13-55 and $13 for kids. Children under 3 go free.
If you don't want to pay, you can still see the brontosaurus and visit the gift shop inside it.
So whether you're a diehard dinosaur fan or just looking for a fun diversion, the Cabazon Dinosaur Museum is definitely worth a visit.
You can also see the dinos if you are just passing by on the freeway, so pay attention if you are driving past Cabazon.
If you're looking for a fun and educational way to spend some time with your kids, look no further than Palm Springs Windmills! These massive wind turbines are not only fascinating to look at, but they also provide a great opportunity to teach your kids about renewable energy.
And what could be more exciting than learning about wind power while standing in the shadow of a massive windmill?
There are more than 2700 windmills in the Palm Springs area. You can find many of them on a freeway just northwest of Palm Springs. It's a great place to take photos, especially during the sunset. Or you can just pay attention and see them when driving by to some other location.
If you wish to explore in more detail, there are private tours available, where you can go inside of private wind farm and see all kinds of different windmills and have guided explanations about the history and renewable energy.
---
---