Some of the links in this post are affiliate links. This means if you click on the link and purchase the item, I will receive an affiliate commission at no extra cost to you. All opinions remain my own.
If the idea of spending New Year's Eve cooped up in your apartment with nothing to do makes you feel a little Grinch-y, never fear! There are plenty of romantic New Year's Eve destinations in the USA to choose from. Whether you're looking for a city that will be alive with festivity or a quiet place where you can cuddle up by a fire, we've got you covered.
So grab your loved one and get ready to ring in the new year in style!
Table of contents:
San Francisco, California
Recommended by Gabriel from Chef Travel Guide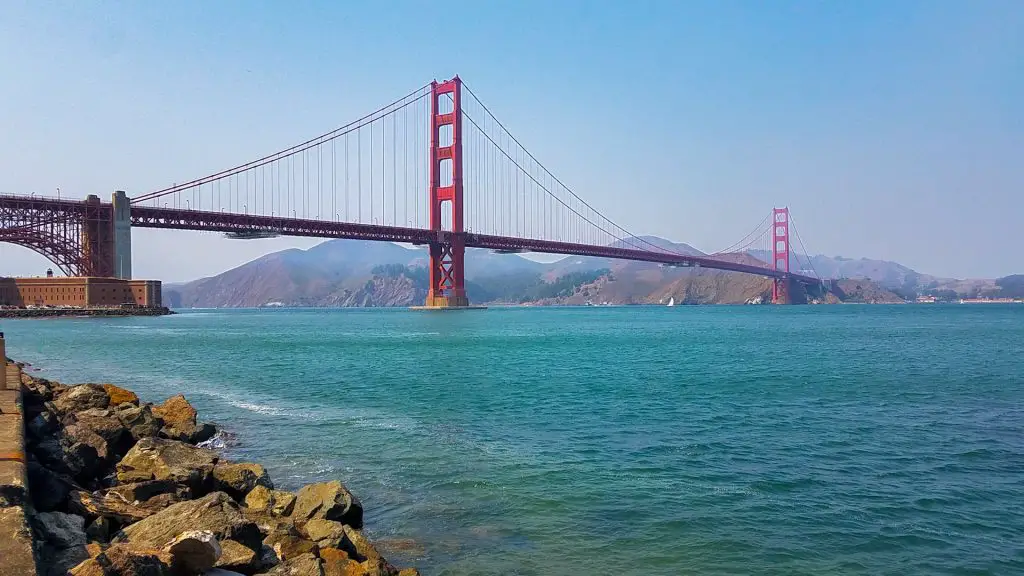 San Francisco is considered one of the most romantic cities in the United States because of the countless options for couples to connect while enjoying the city's scenic attractions and opulent dining options. Couples can paddle a row boat in Stow lake in Golden Gate park alongside swans or hold hands while walking along the bay at Crissy Field. 
New Year's Eve brings on a whole new set of options for couples looking to have a romantic evening in the city. The main attraction is watching the midnight fireworks display that they shoot off from a barge floating in the bay near the ferry building. 
Couples can take a fireworks cruise on the bay and enjoy an evening of champagne and dancing on the water. For a budget-friendly option, pack a blanket and cuddle up at the top of Twin Peaks while taking in the stunning view of the city and the fireworks displays around the bay. 
San Francisco is a world-class food city and home to some of the best chefs in the world. Take advantage of the city's culinary prowess and start the night off at one of the Michelin-starred restaurants for a romantic dinner that will be the highlight of the evening.
For romantic couples that want a party and a room for the night, book at the Mark Hopkins on Nob Hill and then head up to the Top of the Mark for cocktails and live jazz with striking views of the city.
For those looking to plan that special New Year's celebration, San Francisco will provide all the romantic options you could need to make memories that will last a lifetime.
New Orleans, Louisiana
Recommended by Victoria from Southern Trippers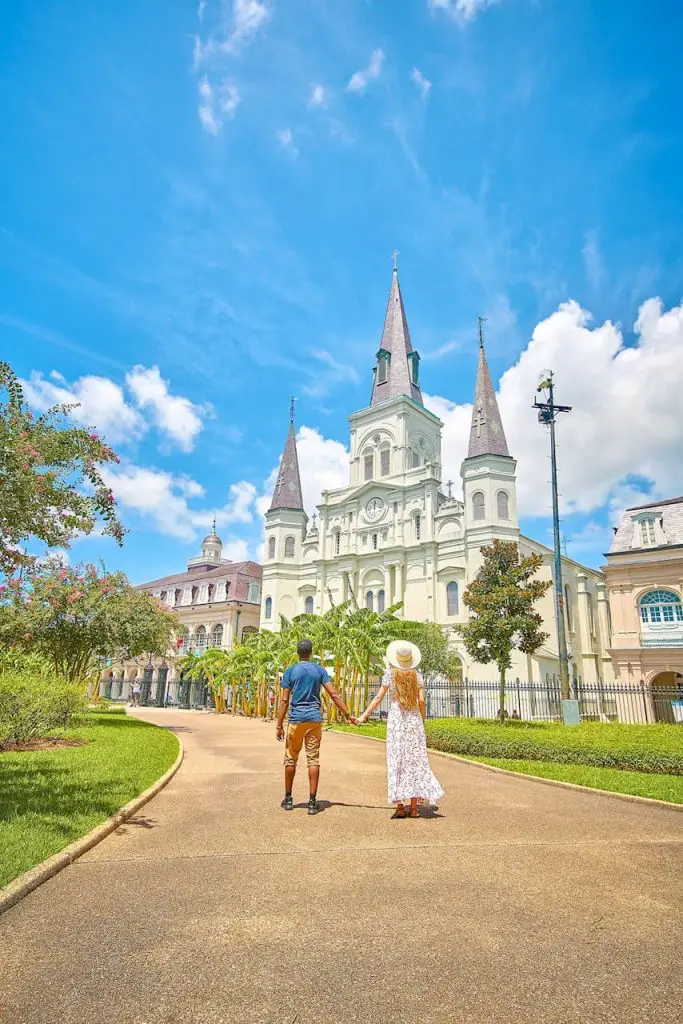 If you're looking for one of the most romantic New Year's Eve destinations in the USA then you can't beat New Orleans. 
After all, Jackson Square is the place to be on New Year's if you want to celebrate New Year's Eve NOLA style. Just be sure to get there early so that you can enjoy all the amazing festivities inside the historic park in the French Quarter. 
Because there really is nowhere else that you can watch a classic Fleur de Lis drop at midnight as you enjoy live music and watch marvelous fireworks. 
Better yet, party the night away from a Bourbon Street Balcony as you enjoy a 3-hour open bar with light food and a champagne toast at midnight. 
However, for a real taste of New Orleans fun, be sure to watch the Allstate Sugar Bowl Parade roll through town. It's very Mardi Gras-esq and includes a whole bunch of floats and bands that you and your significant other will love. 
Finally, head back to your room at The Roosevelt which is easily one of the most romantic hotels in New Orleans. It's been around for over 125 years and offers Deluxe, Superior, or King suites for you and your partner to choose from. 
And before checking out, do book a Couples' Therapy Suite in the spa before having a romantic dinner with live music at the Fountain Lounge, and sipping on a cocktail poolside at the Rooftop Bar.
New York City, New York
Recommended by Kelly from Girl with the Passport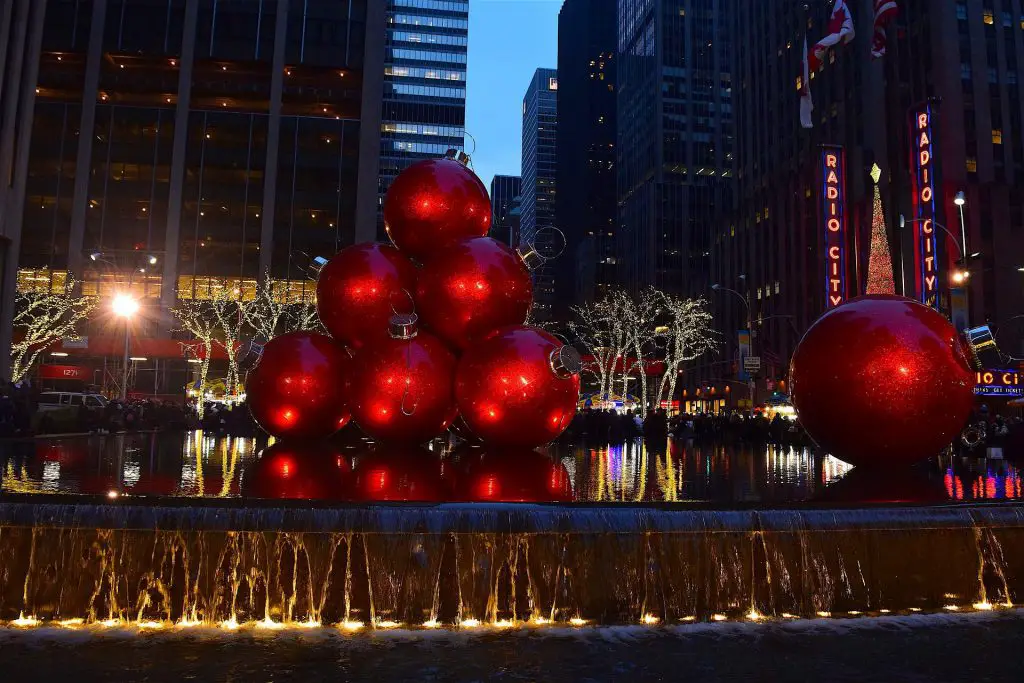 New York City is easily one of the most romantic New Year's Eve destinations in the USA. Whatever you do though, do not watch the ball drop in Times Square. Do this and you'll have to arrive super early (like at noon), are crammed into the area like sardines, and cannot leave once you enter. So yes, you'll be standing in the frigid cold for upwards of 12 hours. 
Instead, opt for a dinner cruise through New York Harbor where you can watch the fireworks explode above the water as you cruise past the Statue of Liberty and sip on champagne with Circle Line Cruises. 
Alternatively, you could always enjoy a bird's eye view of the city, and the fireworks, as you party the night away from atop the highest outdoor observation deck in the city at The Edge in Hudson Yards.
However, if you and your partner are not a fan of crowds then skip Manhattan altogether and head to Prospect Park in Brooklyn instead. Once here, head over to Grand Army Plaza and watch the fireworks go off high above Long Meadow, You can also enjoy great live music, incredible drinks, and delicious food as you enjoy one of the best date ideas in NYC. 
Finally, after all the excitement, unwind for the evening inside a gorgeous room at the Royalton in Midtown West. After all, rooms here come with cozy fireplaces and enormous circular tubs that you and your partner can relax in together.
Key West, Florida
Recommended by Victoria from Florida Trippers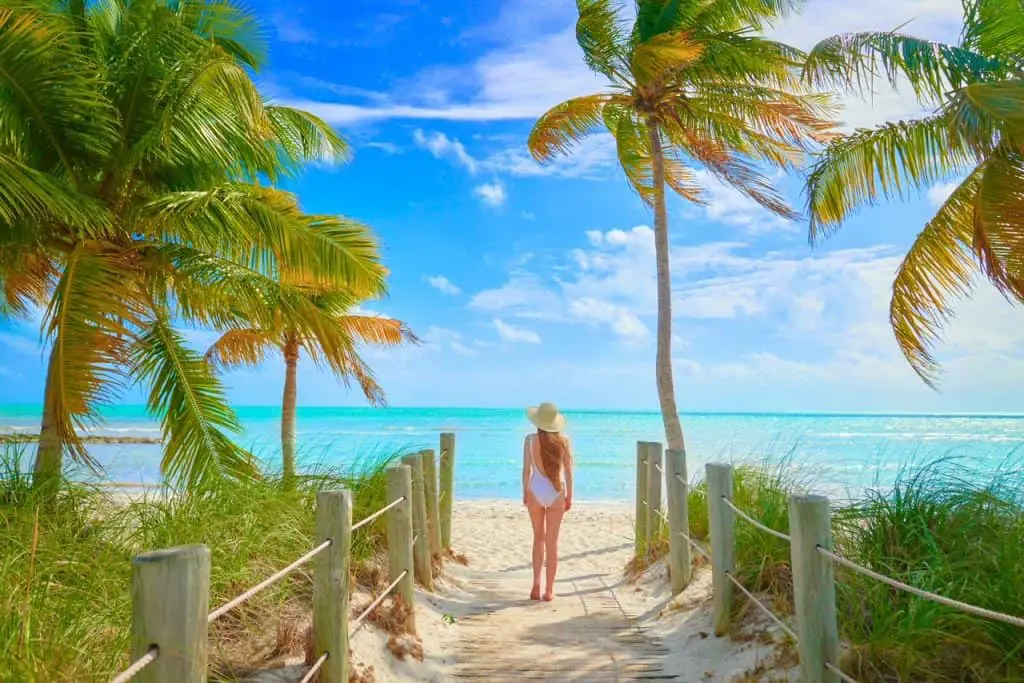 Hands down one of the most romantic destinations for New Year's Eve in the USA is Key West, Florida. 
So, start off your romantic getaway with a beautiful sunset cruise where you can enjoy stunning views from the water while enjoying live music, sipping on margaritas, and digging into light appetizers. 
However, if you're not a fan of the ocean then you can always enjoy the Mallory Square Sunset Celebration instead as magicians, clowns, jugglers, psychics, and visitors all come together to say goodbye to another year. 
Also, be sure to head into Pop into El Meson de Pepe afterward since this amazing Cuban restaurant has a fun "Cuban Cigar Drop" tradition that happens at midnight and that you don't want to miss. 
Similarly, Sloppy Joe's also does a fun New Year's Eve Conch shell drop that just oozes Key West vibes and that is great fun if you don't mind crowds. 
But, if you're looking for a more low-key evening that includes a great meal then stop by Micheal's Michael's and enjoy a romantic, 3-course, prix-fixe menu filled with things like Snapper, New York Strip Steak, and more.
Then after all that excitement, spend the night inside the Casa Marina Key West, A Waldorf Astoria Resort. It's one of the best luxury hotels in Key West and is known for its prime location on a luxurious, private beach. The building itself also dates back to the 1920s and has some serious old-world charm about it.
North Lake Tahoe, California
Recommended by Bradley from Dream Big, Travel Far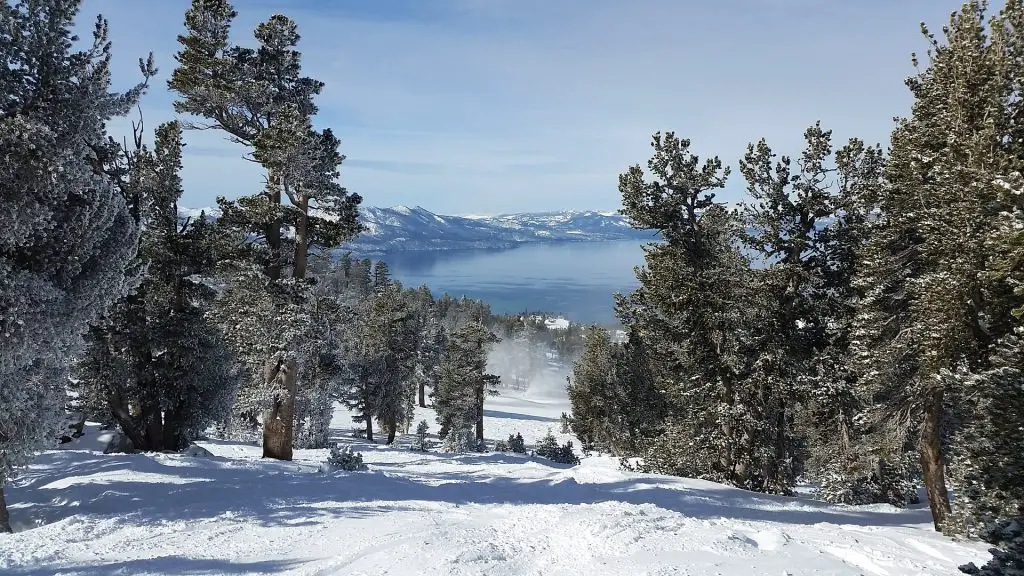 Lake Tahoe is a massive freshwater lake bordering both California and Nevada. North Lake Tahoe in particular is perfect for a romantic getaway on New Year's Eve as it's more laidback and full of unique communities and activities.
For a thrilling ski route, stop by Palisades Tahoe where you'll start at the top of the mountain and enjoy a beautiful panoramic view of the peaks. With plenty of opportunities for ice skating and sleight riding, there is no better way to spend the last day of the year! In fact, this place is home to some of the best ski resorts in the world, including Squaw Valley and Alpine Meadows.
When the countdown begins, these resorts will be putting on a spectacular firework show, so make sure to secure a dining reservation with your significant other. With numerous buffet dinners and celebrations, as well as various music venues usually hosting NYE events, there is no shortage of options for lovebirds in North Lake Tahoe.
One option to make the trip even more memorable is to drive from Los Angeles. Start at the I-5 north to the Sacramento area, then on to CA-88. There's another more scenic route via Yosemite, but it can get lots of snow around January. Either way, the road trip can be a fantastic bonding time, and it allows you to spend some time in LA beforehand.
Zion National Park, Utah
Recommended by Giorgy from G-Extreme Travel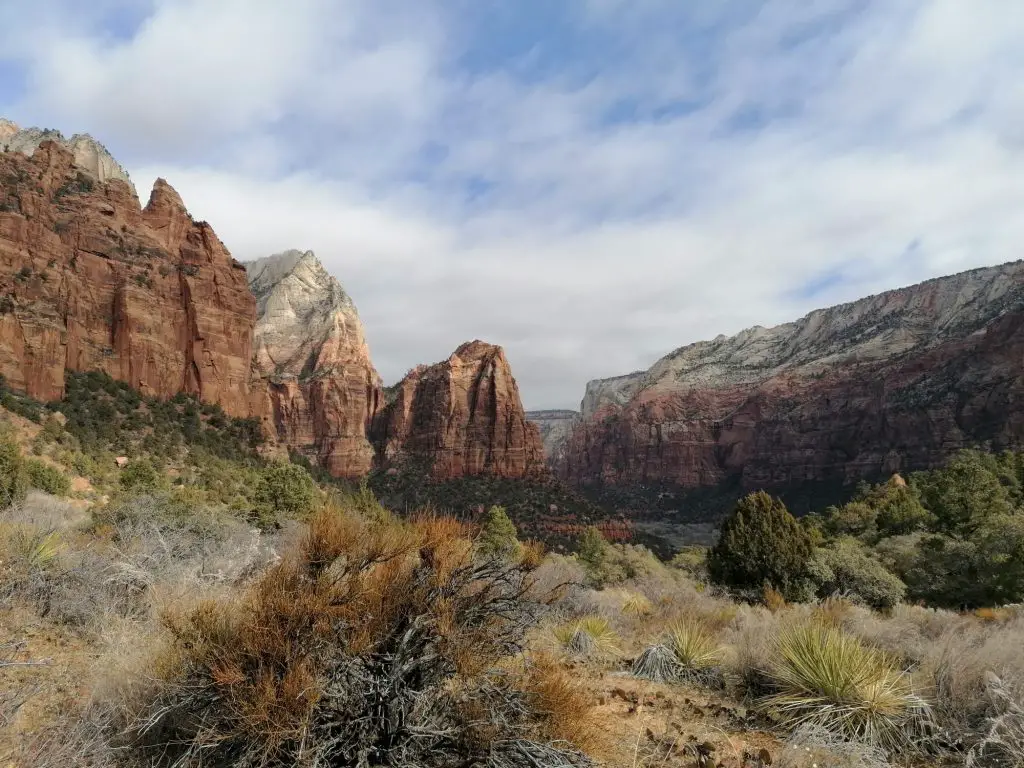 Who said that romantic destinations have to be just towns? In fact, no one. Therefore, if it's not yet on your list, Zion National Park should be added as a romantic New Year's Eve destination in the USA!
This is the perfect mix between a Canyon and a National Park, something magnifically out of this world that would never believe in your eyes only when you find it in from of it.
And what's romantic about it? Around this period of the Year, this place is lightly covered in snow, which makes the atmosphere more enjoyable, and cozy. The temperature outside is still cool to explore all the nature around.
Indeed, take your hiking boots and go out there in the park exploring. Try to avoid the crowd and go after less-known hiking trails. These can still gift you the same stunning view, more peace, and a warm private atmosphere with just you and your beloved ones! 
If you are into more creepy and insider adventure, Grafton Ghost Town should be added to your list of things to see nearby Zion National Park.
Zion has it for all tastes. La Quinta by Wyndham is a particular accommodation just located in Springdale. It's the closest town and it's right at the entrance of Zion Park.
But if you are more for camping and you feel it's more romantic, Zion has a lot of campsites to offer as well!
Woodstock, Vermont
Paula from Paula Pins the Planet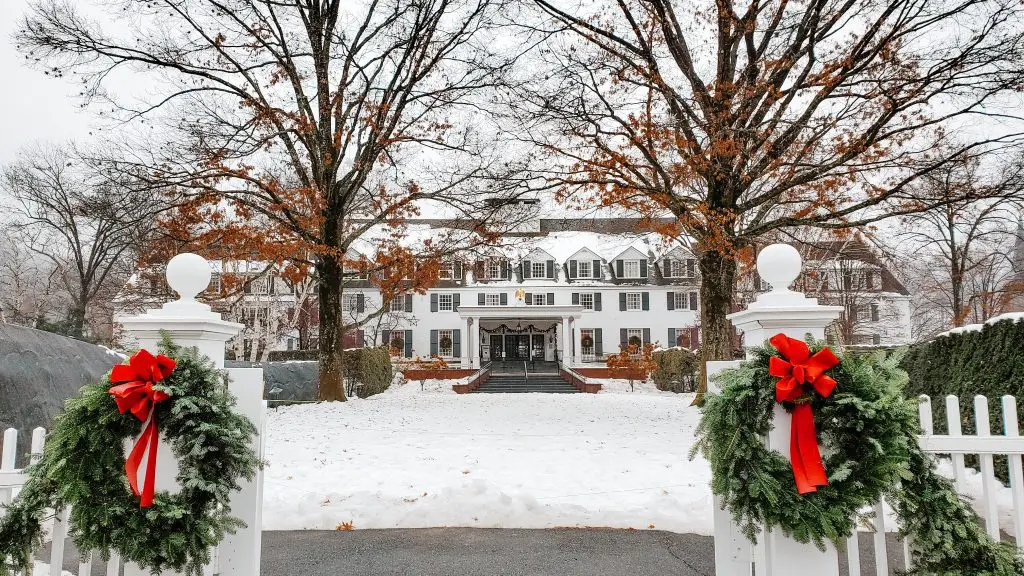 If you are looking for a romantic New Year destination in the USA, you should add Woodstock in Vermont to the top of your list. Woodstock has a reputation for a romantic escape, offering plenty of things to do, including renting a romantic cabin in Vermont, that offers you breathtaking views and a secluded gateway free of the busy everyday life for a relaxing stay.   
Woodstock is a small, underrated town in Vermont, with a lot of history and outdoor activities. It is one of the best gateways in Vermont, and one of the most beautiful towns to visit in the United States, for a reason. Woodstock is a great place to visit all year long, but it turns into a magical place during New Year's time because of the holiday decorations. Here you can also find local artists, craftspeople, and purveyors that capture the Vermont winter wonderland spirit. 
If you are looking for a fun way to spend your New Year in Woodstock, downtown has plenty of fun options, whether you are into a draft beer, wine, fine dinner, or dancing all night long. Here you will find something for everyone, and all within walking distance. And if you are looking to celebrate the New Year at a big event, a great option is to book your hotel at the Woodstock Inn & Resort and join the gala celebration, including a large dinner buffet and sparkling wine. 
Catalina Island, California
Recommended by Ossama from Awesome Traveler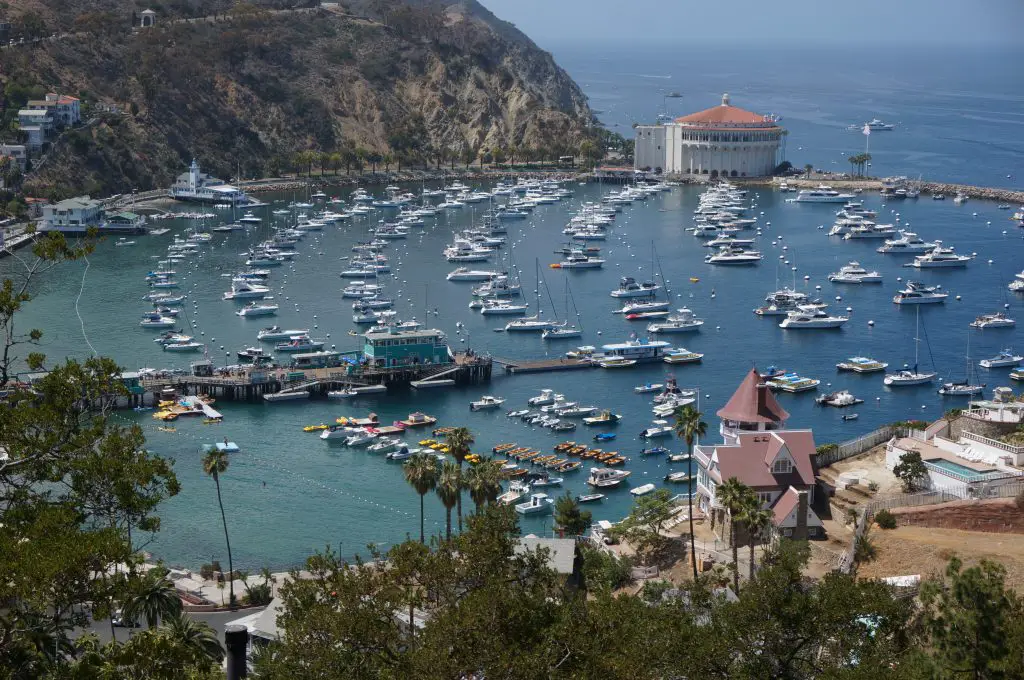 There is nothing better than spending your New Year with your loved one. It is the time of year when you renew your vows and remind each other how much you love them. Some people prefer to travel for a romantic evening, which makes Catalina Island your best option.
There are plenty of things to do on Santa Catalina Island for a romantic getaway. You can stay at the Pavilion hotel where you will be close to many important tourist attractions. The hotel has a resort lifestyle, which makes it a perfect couple's getaway. It is where you can spend a romantic evening with your loved one, and if you book the romantic package, your New Year can get even better.
The hotel is within walking distance of Avalon beach. You take a walk around the beach to enjoy the tranquility of the ocean, have a sunbath, or enjoy its ample activities. A recommended activity is parasailing where you are being towed by a motorboat around. You and your loved one can have the best view of the ocean and Avalon Bay.
If you ever get hungry, there are many restaurants and bars nearby. If you are looking for something fancier, try going to the Casino Ballroom to attend the New Year's Eve annual Gala Celebration. Make sure to dress nice and elegant to enjoy high-class dining and dancing
Los Angeles, California
Recommended by Kenny from Knycx Journeying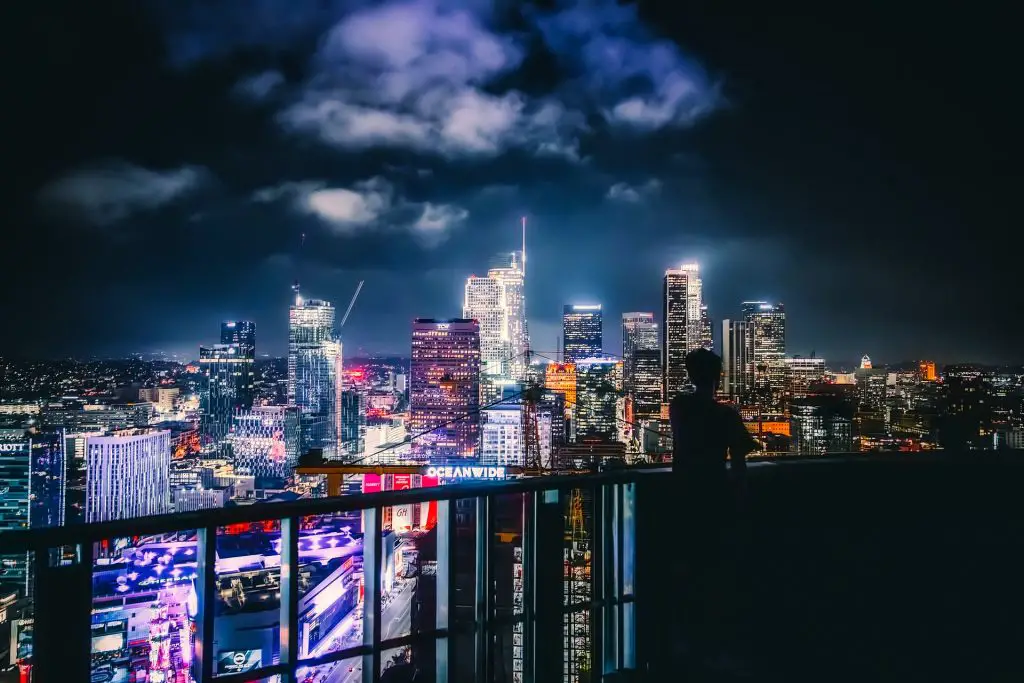 The city of Los Angeles has significant cultural importance and impact on the world for being the world's entertainment center in Hollywood. The city is a sprawling metropolitan filled with iconic and historic landmarks including the Getty, Walt Disney Concert Hall, Griffith Observatory, Griffith Park, LACMA, Watts Towers, and Santa Monica Pier – these unique places are perfect photo-taking spots for a romantic trip. 
Visit the Descanso Gardens in La Canada Flintridge, the Enchanted Forest of Light celebrates the holiday seasons with an impressive lighting display. The displays are installed in various sections according to different themes in the Ancient Forest, American Native, Japanese Garden, and so on. 
More, Los Angeles is also the backdrop of many Hollywood Blockbusters like the recently Oscar-award-winning movie La La Land. The movie was about a heart-warming love story of Sebastian and Mia, an aspiring musician and an actress who were drawn together to chase their dream in Los Angeles. A number of classic romantic scenes were shot in the city that these places have become popular tourist spots. Movie fans come here since the movie was released to experience some of the romantic moments in La La Land – for example, the Angels Flight's Bunker Hill funicular, or the Colorado Street Bridge. The scenic spot where Sebastian and Mia tap dance was actually on the side of a remote curve in Mount Hollywood Drive called Cathy's Corner.  
Dream Hollywood on Selma Avenue is a chic boutique hotel with a view of the Hollywood sign and a rooftop pool and sun terrace that is perfect for couples to spend New Year's Eve. 
Mammoth Lakes, California
Recommended by Jessica from Uprooted Traveler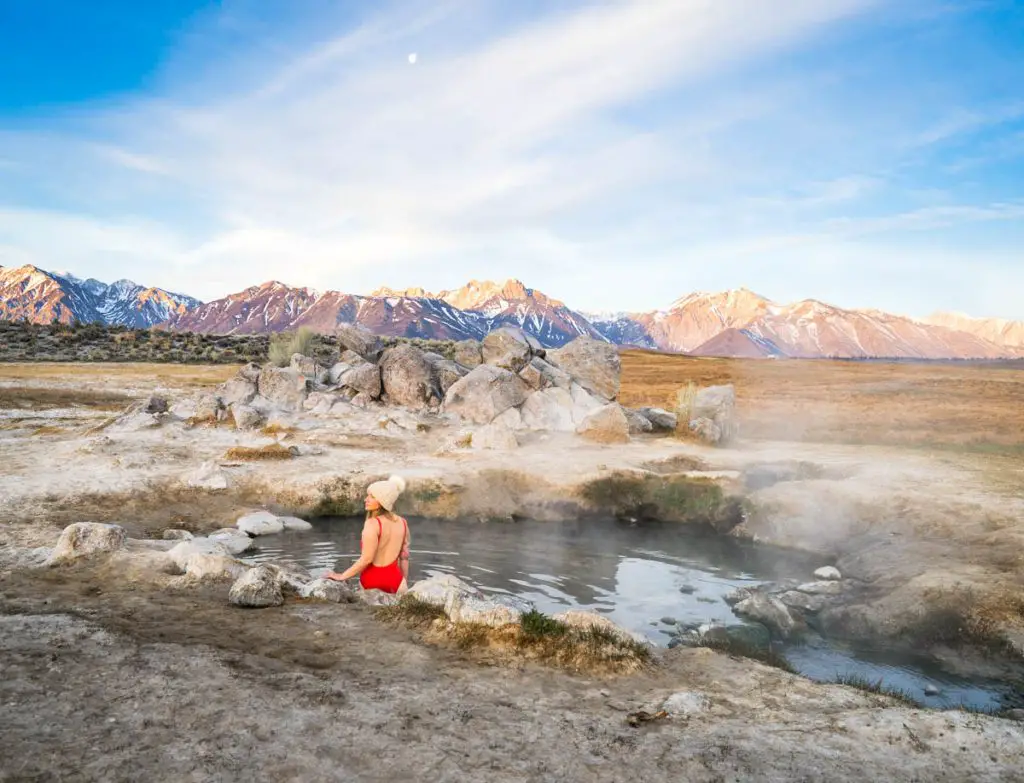 If you're looking for a romantic wintery getaway, consider ringing in New Year's Eve in the mountains of Mammoth Lakes, California. 
Nestled in the eastern Sierra Nevada mountains, Mammoth Lakes is known for its incredible skiing and other snow activities. Spend New Year's Eve tearing up the slopes at one of the world-class ski resorts, like Mammoth Mountain or June Mountain, and take in the breathtaking views of some of the tallest mountains in the contiguous United States.
Afterward, grab yourself an apres-ski glass of champagne and cozy up in the hot tub, while taking in the panoramic vistas of the surrounding snow-capped mountains. Consider booking a room at the Westin Monache Resort, which has a year-round heated pool and outdoor hot tub for you to enjoy. Alternatively, you can watch a fireworks spectacular, hand in mittened hand, in downtown Mammoth Lakes, as fairy lights twinkle overhead.
If you're looking for an incredible way to start your New Year, wake up for sunrise and head to one of the geothermal natural hot springs sprinkled around the area, like Wild Willy's Hot Spring. Here, you can both relax in the steamy waters in a natural pool and watch the first sunrise of the year cast a pink alpine glow on the Sierra Nevadas.
San Diego, California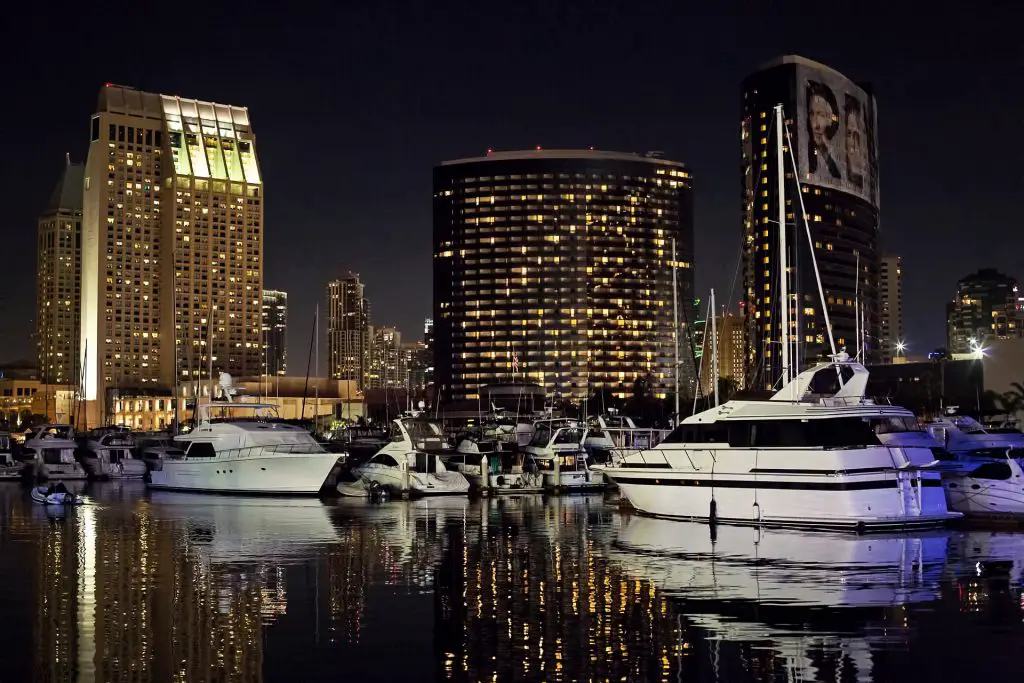 If you're looking for a fun and romantic way to celebrate New Year's Eve, look no further than San Diego! Here are two great ways to ring in the new year with that special someone:
Spend the evening at the Hotel del Coronado. This historic hotel is located on one of San Diego's most beautiful beaches, and it's the perfect place to watch the sunset before the year changes. Enjoy a romantic dinner at one of the hotel's restaurants, then head up to the rooftop bar for stunning views of the city skyline. As midnight approaches, toast to the new year with a glass of champagne and a kiss under the stars.
Alternatively, take a stroll along Seaport Village. This quaint waterfront community is the perfect place to enjoy a leisurely New Year's Eve stroll. Stroll hand-in-hand along the boardwalk, stopping to enjoy the unique shops, cafes, and street performers. At midnight, head down to the pier for a front-row seat to San Diego's spectacular fireworks show.
Las Vegas, Nevada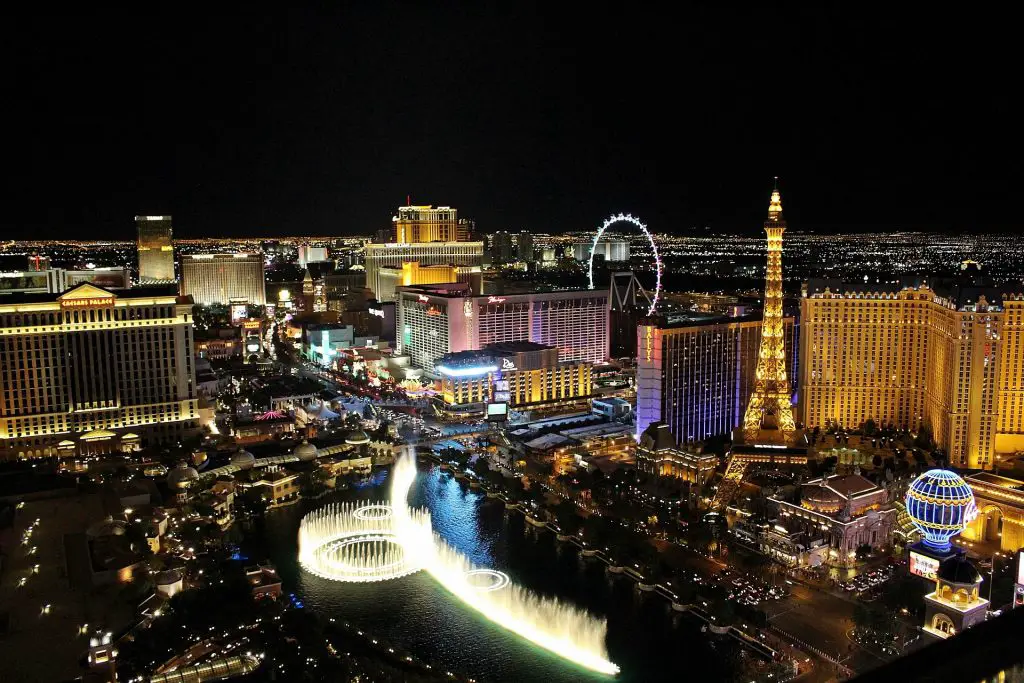 Las Vegas is a city that knows how to party, and New Year's Eve is no exception. If you're looking for a festive way to ring in the new year with your significant other, here are three fun things to do in Vegas.
First, take a stroll down the Las Vegas Strip to take in all the lights and excitement. Then, toast to the happy new year with a champagne-filled glass at one of the city's many nightclubs. And finally, watch the fireworks show that happens at midnight – it's truly a dazzling display.
With so much to do, Vegas is the perfect place to celebrate a romantic New Year's Eve. So get out there and have some fun!
Myrtle Beach, South Carolina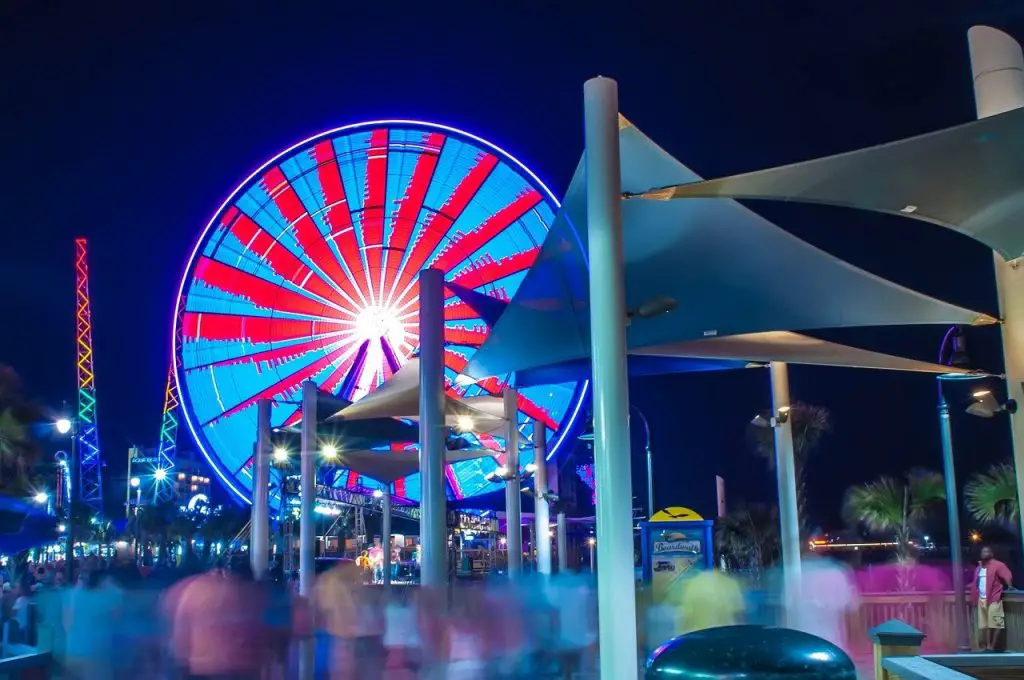 Here are some ideas to help you ring in the new year with your special someone in Myrtle Beach:
Start the evening with a sunset stroll on the beach. There's nothing more romantic than watching the sunset over the water.
Enjoy a candlelit dinner at one of Myrtle Beach's many fine restaurants.
End the night with a moonlit walk on the boardwalk. The sparkling lights of the Ferris wheel and roller coaster will add an extra touch of romance to your New Year's Eve celebration.
If you choose to stay in Aqua Beach Inn or any other close-by hotel you might get lucky and have a room with a view of the Myrtle Beach Boardwalk and Promenade with the Ferris wheel.
Frequently asked questions
Should couples spend New Year's together?
Whether or not couples should spend New Year's Eve together is a personal decision that ultimately depends on the individual preferences and circumstances of the couple. Some couples may enjoy spending the holiday together, either by attending a party or event or by staying at home and enjoying a quiet evening together. Others may prefer to spend the holiday apart, either by spending time with friends or family or by taking a trip or doing something different. Ultimately, the most important thing is for couples to communicate openly and honestly with each other and to make a decision that works for both of them.
Do couples kiss on New Year?
It is common for couples to kiss on New Year's Eve as a way of celebrating the start of the new year together. This tradition dates back to ancient times when kissing was believed to bring good luck and ward off evil spirits. In many cultures, it is also customary for couples to exchange gifts or make resolutions for the new year. Ultimately, whether or not couples kiss on New Year's Eve is a personal decision and may vary depending on the couple's individual preferences and traditions.
How do you make a New Year's kiss special?
There are many ways to make a New Year's Eve kiss special. Some ideas include:
Choose a special location: Instead of kissing at home or at a party, consider going to a romantic spot, such as a rooftop or a park, to watch the fireworks or the New Year's Eve countdown.
Make it meaningful: Instead of just kissing on the lips, consider holding hands, looking into each other's eyes, and expressing your love and appreciation for each other.
Add a little flair: Consider dressing up in formal attire, wearing matching outfits, or adding a little something extra, such as confetti or streamers, to make the moment even more special.
Capture the moment: Consider taking a photo or a video of the moment to remember it for years to come.
Ultimately, the key to making a New Year's Eve kiss special is to make it personal and meaningful to you and your partner.
---
Travel tips and tricks:
I highly recommend trying these tools for yourself – not only will you save money, but you'll also create memories that last a lifetime. Happy travels!
---