Some of the links in this post are affiliate links. This means if you click on the link and purchase the item, I will receive an affiliate commission at no extra cost to you. All opinions remain my own.
Bali is an amazing island in Indonesia, which has been increasingly popular travel destination. It is warm, with magical temples and sandy beaches, monkeys and exotic fruits – it's hard to find a better destination for a vacation. Backpacking Bali could be your best adventure ever. But what should you take in your backpack, if you are traveling with just a carry-on to Bali?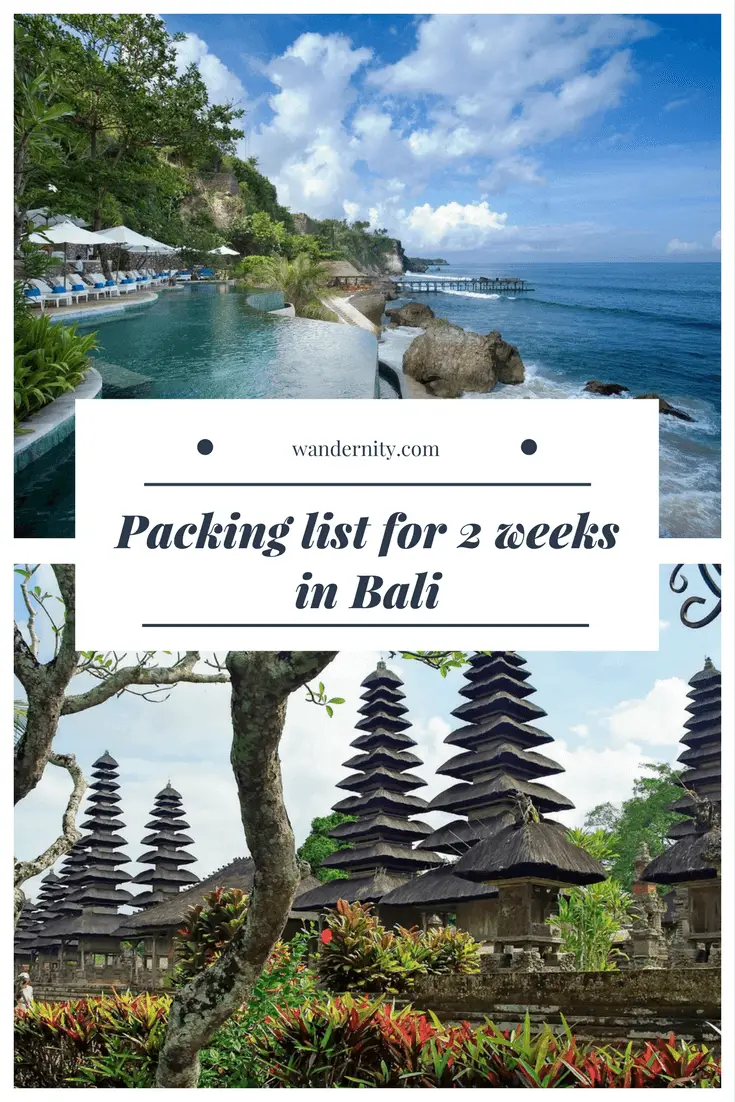 These packing suggestions are made with a few assumptions.
When you travel to south-east Asia, you don't have to bring your own tent for sleeping, as the accommodation costs are quite low. So no sleeping bags or tents to pack.
Another assumption is that you will be moving from one destination to another, maybe even using a few different planes to get to Bali. The most convenient way to pack is to use a carry-on backpack so that you wouldn't have to pay additional flying fees and would be quicker in airports. And, when you carry all your belongings with you for two weeks, you really have to be careful to take only the things that you actually need and will be using.
Backpack for a 2-week adventure
A good backpack is one of the best investments in your travel inventory. My backpack is Osprey Sirrus 36 liters Women, and I'm quite happy with it. The main features that I enjoy:
It is the right size for my needs. I can use it for a 2 week trip to Bali or a two-day hike in Norwegian mountains.
It has different straps for better fit, and the hip belt is the best. I can carry most of the bag's weight on my hips and not feel it on my shoulders.
The bag is water resistant and has a waterproof cover, so my things in the bag have never been damaged by water.
It has two ways of accessing the main compartment, so the stuff in it is easily accessible during trips – it opens similarly as a suitcase.
It is the size of a carry-on luggage in planes, so no additional baggage fees.
Mandatory items to pack for south-east Asia
Passport which is valid for at least additional 6 months.
Passport copy – in case something happens to the real passport, this may help.
Travel insurance, some cash and a notice to your bank that you are expected to be traveling to south-east Asia.
Light every-day wear for warm weather 3 T-shirts, shorts or skirts, a light summer dress. You should take enough clothes to mix and match for a week and then find a laundry service to get them last another week. Don't take too much of clothes – if you miss something, you can buy it in Bali.
Open shoes for walking on a beach and in a city.
Running shoes for long walks and climbs up a mountain.
Full-length trousers or a maxi dress for covering up while visiting temples.
Light jacket for colder evenings.
Swimwear.
Mobile phone and charger.
Toiletries.
Light fast-drying towel.
Nice to have items for backpacking Bali
Medicine in case of trouble with the local food.
Sunglasses.
Sunscreen.
A smaller bag for days when you leave the big backpack in accommodation.
Flip-flops for showers and beach.
Your turn
Have you ever traveled for 2 weeks with just a backpack? WHich were the most important things that you packed?