Some of the links in this post are affiliate links. This means if you click on the link and purchase the item, I will receive an affiliate commission at no extra cost to you. All opinions remain my own.
European towns and villages have a long history and spectacular architecture. In every country, you can find some better-known destinations as well as some hidden gems. Here's a list of fairytale towns in Europe you can add to your bucket list.
If you are looking for cheap flights, I recommend Skyscanner. There you can get an overview of different companies flying to the destination and the best combinations of direct flights or flights that are connected with a top in the middle. What I love most about this tool is the "Show all month" option which displays flight prices for the whole month. So if you are flexible with the flying dates, this is a great way how to find the cheapest flights.
Table of contents:
Sintra, Portugal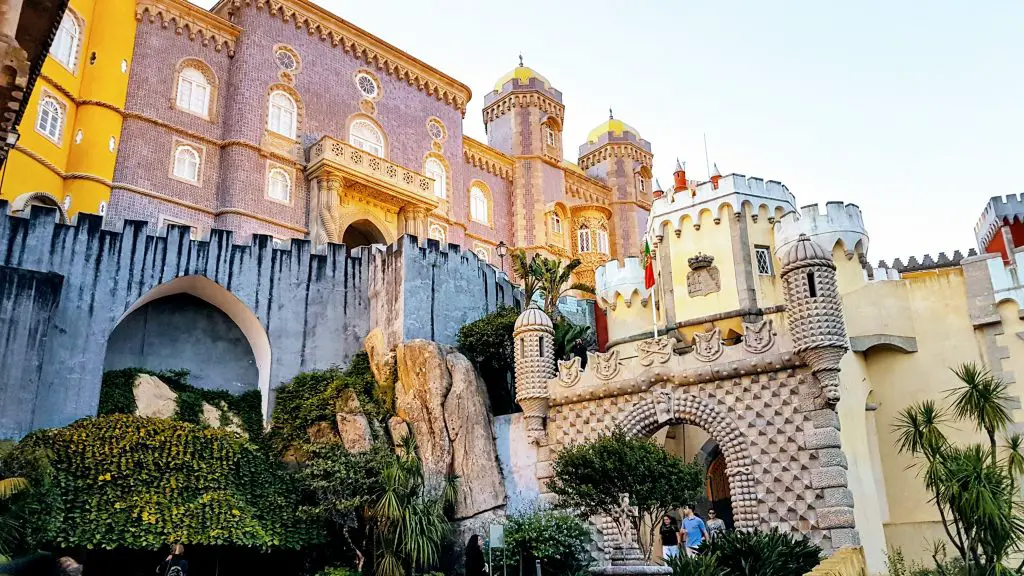 Sintra is a resort town near the capital of Portugal and near the mountains. It's surrounded by villas, colorful houses, and palaces. If you are looking for the best view, go to Moorish Castle as it offers uninterrupted views of the town. If you plan to just visit Sintra, one day may be short to see all that this town has to offer.
Lake Bled, Slovenia
Lake Bled adjoins the town of Bled and offers spectacular views to visitors. It's one of the most popular tourist attractions in Slovenia. The lake itself is actually one of the warmest alpine lakes so you might even go for a swim there if you visit it in summer or September.
Bruges, Belgium
Bruges boasts a prominent city center which is a World Heritage Site of UNESCO and definitely worth a visit. The town is not big and has medieval vibes. If you like wandering around in such historic places then Bruges is the right destination for you.
Hallstatt, Austria
Hallstatt is probably one of the most well-known European fairytale towns. It's known for its World's First Salt Mine which can be visited by tourists. Due to its popularity, it can get really busy so you might want to consider visiting Hallstatt in the off-season to soak in the views.
Königswinter, Germany
Königswinter is a picturesque wine town. One of the best things you can do here on a sunny day is to go to the Drachenfels hill and enjoy the magnificent views of the town, Rhine, and the private villa that looks like a castle from a fairytale.
Cinque Terre, Italy
Cinque Terre is a coastal area in Italy. On the rugged coast, five beautiful hillside towns have found their places: Monterosso, Vernazza, Corniglia, Manarola, and Riomaggiore. There are footpaths connecting the towns. Vernazza and Riomaggiore are considered more photogenic so if you don't have that much time consider prioritizing these towns with colorful buildings. But if you don't like crowds of tourists you can get the magical fairytale village feeling in the other towns as well.
Santorini, Greece
Santorini is an island in the southern Aegean Sea famous for its white houses with blue accents. It's a very popular tourist destination which has driven up the prices of hotels and other services. Nevertheless, you can find one Oia – of the most beautiful cities in Greece on the island. A great way how to visit Santorini for a little bit without breaking the bank would be by staying on some other nearby island and going on a one-day boat tour to this magical place.
Mostar, Bosnia and Herzegovina
Mostar is famous for its Old Bridge (Stari Most) over the Neretva River. The reconstructed medieval arched bridge is surrounded by smaller streets full of shops and cafes to cater to the tourists. The locals are performing jumps from the top of the bridge into the river and collecting money for the show.
Mostar is safe for tourists to explore. You just need to keep out of some older buildings with warning signs, as not everything is well preserved.
This is a popular day-trip destination from Dubrovnik, Croatia.
Karlovy Vary, The Czech Republic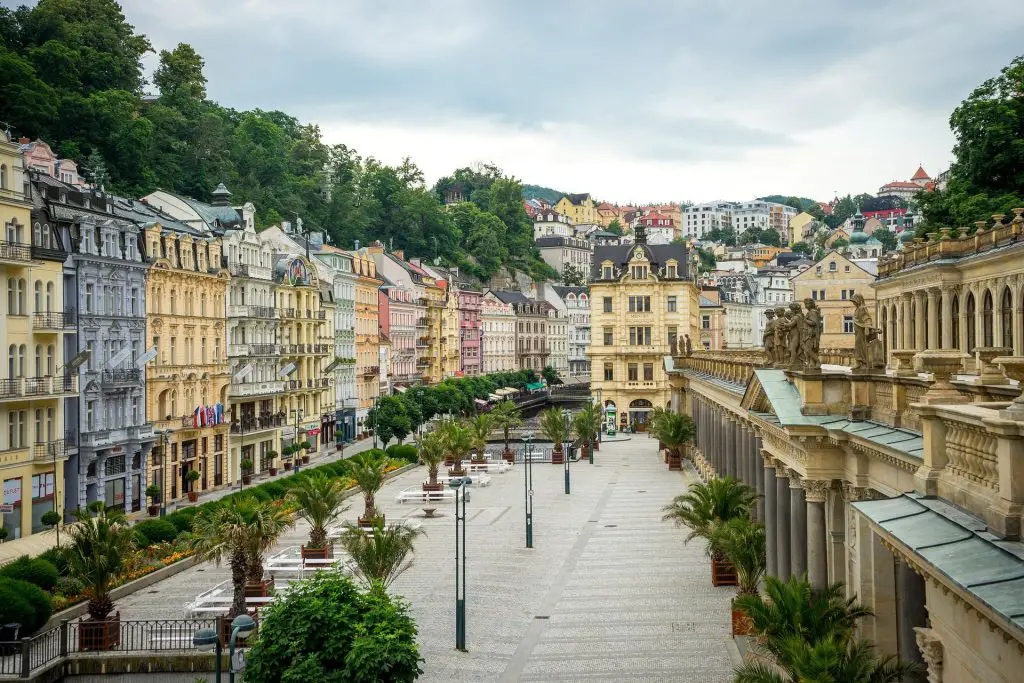 Karlovy Vary is a SPA city due to its numerous thermal springs. It's worth visiting this town for a one-night stay. You can then enjoy some SPA procedures, take a walk around the beautiful streets and check out the unique Colonnades, and maybe even plan a dinner at some fancy restaurant where famous Hollywood stars have eaten.
Monsanto, Portugal
Monsanto is a historic village in Portugal. It has rough and simple granite houses and scenic surrounding nature. On the top of the nearby hill is a Medieval fortress. The appearance of the village has not changed in ages. Monsanto has been nominated as the most Portuguese village in the country and is one of the most popular tourist destinations.
Riga, Latvia
Riga is a charming and beautiful city with an Old Town straight out of a fairytale. It has similar characteristics as Prague, Bremen, or Krakow, but the amount of tourists is considerably lower. 1 or 2 days should be enough to see the main attractions of the city such as Art Nouveau architecture, well-preserved Old Town with churches, tiny cobblestone streets, and cozy restaurants.
Hamnoy, Norway
Hamnoy is the oldest fishing village in Lofoten, Norway. It's a popular tourist destination due to its picturesque and scenic surroundings. It's possible to actually stay in the original fishermen's cabins which now have modern facilities like the internet.
Here are the other most beautiful cities in Norway.
Cesky Krumlov, The Czech Republic
Cesky Krumlov is a small town with a beautiful 13th-century medieval castle and cobbled streets. From its bell tower, one can see panoramic views of the surrounding buildings of the Old Town and the Vltava river. The center of the city has been declared a UNESCO World Heritage Site. In addition to the castle must things to see are the Church of St. Vitus, the Egon Schiele Art Centrum, and the Minorite Monastery.
Split, Croatia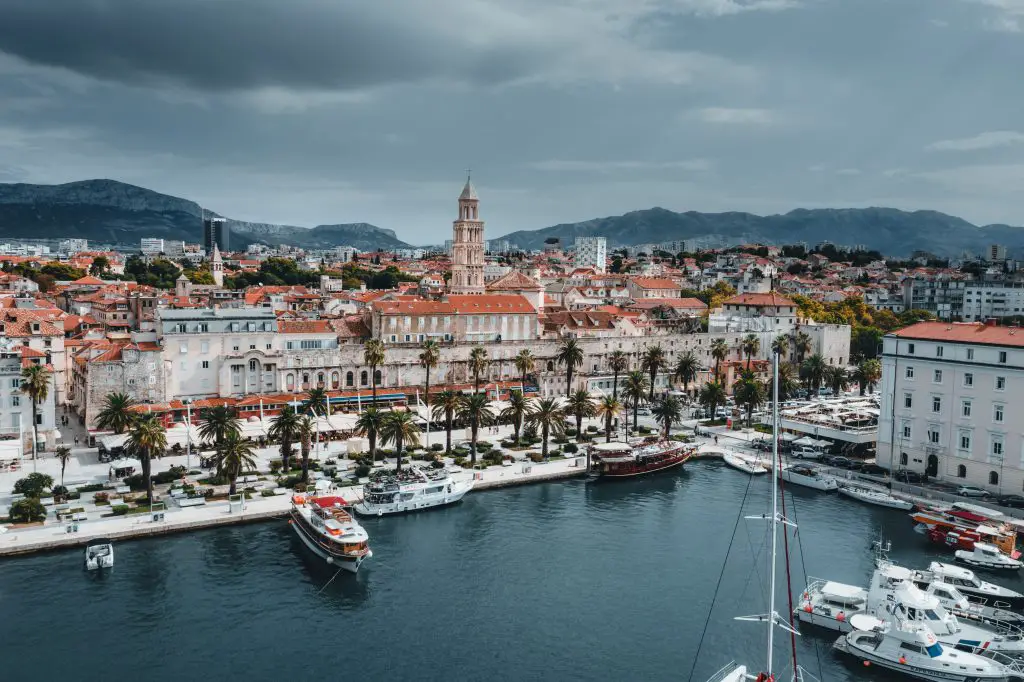 Split lies on the eastern shore of the Adriatic Sea and is a charming destination for history lovers and beachgoers. It has charming, narrow streets, orange roofs, and an old harbor. It's a bit cheaper to book accommodation or eat out in Split than in Dubrovnik (another popular and charming city in Croatia), and here you can find all kinds of beaches ranging from sand to pebbles and rocks.
Rothenburg ob der Tauber, Germany
Rothenburg ob der Tauber is known for its medieval architecture. If you imagine an old German house from a fairytale with white walls and timber decorations then you most definitely will find many similar houses here. There are cobblestone streets in the Old Town surrounded by small cafes and flower decorations.
Bergen, Norway
Bergen is surrounded by majestic mountains and fjords. There are many colorful wooden houses and small boats to look at. One of the main attractions is taking a funicular from the town center to one of the surrounding mountains to enjoy some sweeping views or to go on a hike.
Positano, Italy
Positano is a cliffside village known for its pebble beach, steep and narrow streets, and fresh seafood in excellent restaurants. You'll find gorgeous views of the village from the surrounding mountains. Due to its popularity, it's best to plan a visit in the off-season.
Amsterdam, Netherlands
Amsterdam is famous for its beautiful houses sitting on the sides of canals, biking culture, and the Red Light District. One of the most colorful experiences in Amsterdam is going to the Bloemenmarkt which is the world's only floating flower market.
Be sure to bring home some of the best souvenirs from Amsterdam like gouda cheese or a decorated bicycle seat cover.
Tallinn, Estonia
Tallinn is known for its historic Old Town with its well-preserved medieval architecture. Be sure to climb up Toompea Hill to see the views of the Old Town from above. There is a viewing platform from which you can see red rooftops, bell towers, and a harbor.
Florence, Italy
Florence is known as the home of many Renaissance art masterpieces. One of the most famous views in the city is of the Cathedral of Santa Maria del Fiore red dome. It's surrounded by many smaller old buildings which all look like a fairytale.
Dubrovnik, Croatia
Dubrovnik is the pearl of the Adriatic Sea – it's really charming, full of history and culture. Many of the scenes from the famous Game of Thrones TV show were filmed in Dubrovnik, it's just so impressive. The Old Town has a lot of interesting buildings and it's easily walkable. Some of the main attractions also include walking around the Old Town Dubrovnik on the old city walls and going up Mound Srd by a cable car to see the panoramic views of Dubrovnik and the surrounding sea and smaller islands.
More beautiful cities to explore: