Some of the links in this post are affiliate links. This means if you click on the link and purchase the item, I will receive an affiliate commission at no extra cost to you. All opinions remain my own.
Interested in renting a car at Girona Airport?
I'm here to walk you through the process of renting a car at Girona Airport and make you feel confident about this experience.
By the end of this blog post, you'll gain a clear understanding of the car rental process at Girona Airport and find answers to the most common questions about driving in this picturesque location.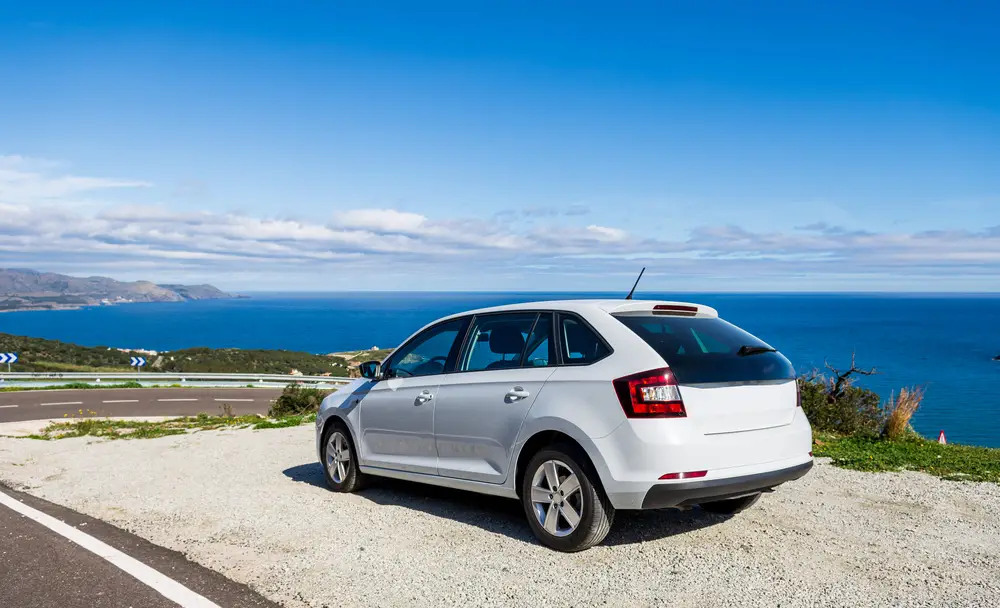 To kick things off, let's discuss the best spot to rent a car at Girona Airport. Throughout my travels, I've had an excellent experience with Discover Cars, which I can't recommend enough. In this article, you'll understand why Discover Cars is my preferred provider for car rentals in Girona.
If you've stumbled upon mentions of Girona car rental scams, rest assured – we'll address those issues to ensure you're not caught off guard by hidden charges. You'll also gain insight into car insurance in Girona, which is crucial for all car rentals in this region.
Keen to learn the nuances of renting a car at Girona Airport? Let's embark on this journey, starting with the process of renting a car at Girona Airport with Discover Cars, and wrapping up with a FAQ about car rentals in Girona.
Renting A Car at Girona Airport With Discover Cars
An important step in preparing for your trip to Girona is to secure a rental car in advance. It's not just cost-effective, but also assures you have a vehicle ready for you, allowing you to plan your vacation itinerary around the city without the hassle of transportation concerns.
Here are a few reasons why I highly recommend booking your rental car with Discover Cars:
The site aggregates rental car offers from numerous budget-friendly providers, assuring you snag the best deal.
The price displayed on Discover Cars covers all charges, taxes, and insurance, eliminating worries about hidden costs upon reaching your destination.
Numerous customers have had a positive experience booking with Discover Cars and shared their reviews about each rental car company. This can be helpful if you want a smooth, hassle-free experience.
Reserving a rental car with Discover Cars is really straightforward, and I'll guide you through the process below.
Book Your Car Online with Discover Cars
Your journey begins by selecting a pick-up location and the duration for your car rental.
Be mindful that several car rental companies charge fees for operations outside business hours. If you're arriving or departing late, consider taking a taxi to your accommodation and renting a car the next day in the city.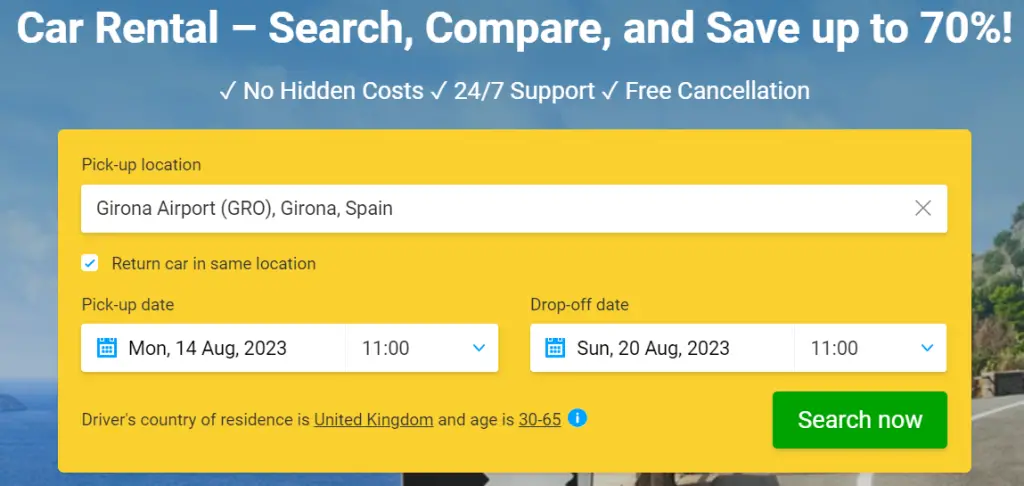 After you've specified your pick-up location and travel dates, you'll be presented with a list of available cars and a range of filters to refine your search according to your needs.
Remember to check the pick-up location, at Girona Airport, you can rent a car either at the airport or in the city.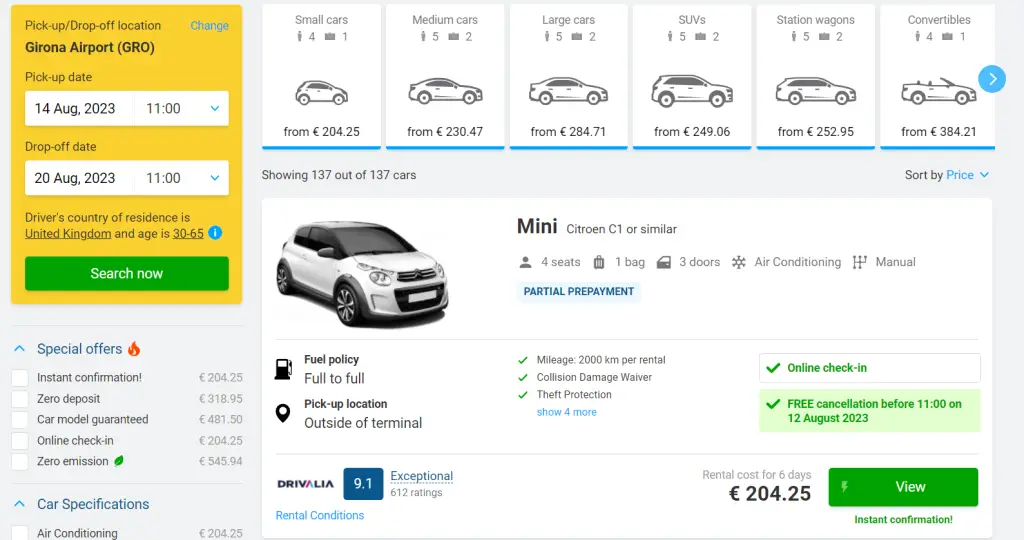 Upon selecting a car for rent, you'll receive detailed booking information. While every detail is essential, pay special attention to:
Pick-up location – even if you've selected the airport, the rental car company may be a bit further away, necessitating a shuttle service. This is usually free and comes with simple pick-up instructions.
Business hours – if your flight lands outside of business hours, you might be charged an extra fee for the rental car.
Fuel policy – remember this for when you return the car. If the car's fuel level is lower than what the policy stipulates, you might have to pay extra.
Rental conditions – the blue link at the bottom outlines additional conditions like the driver's age, necessary documents, and the refundable security deposit.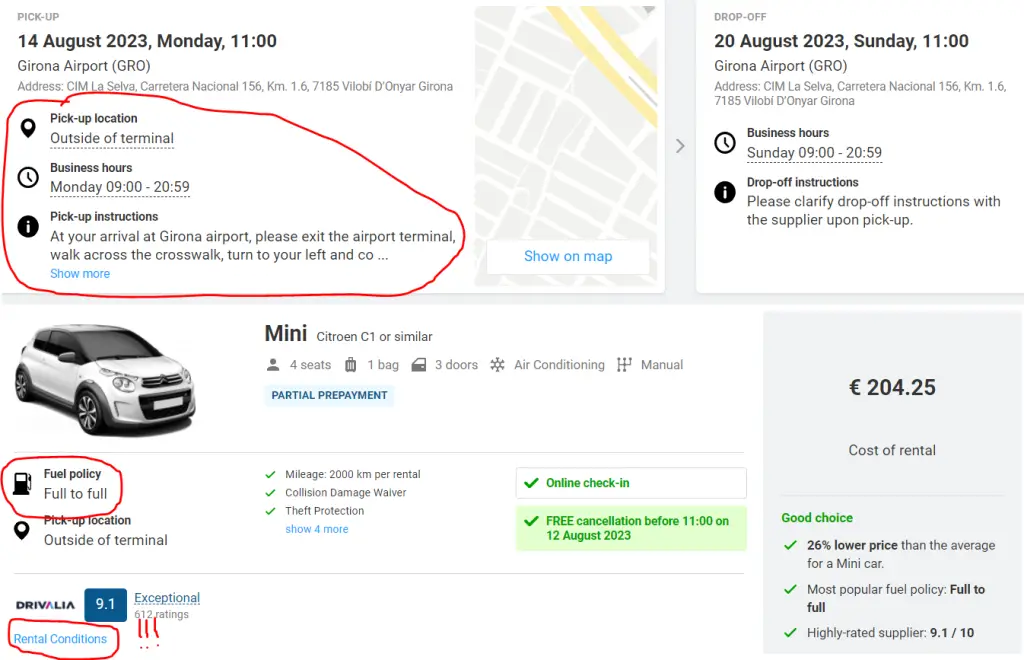 When planning your car rental journey in Girona, it's crucial to consider the driver's requirements. The minimum age to rent a car is 23 years old, but note that drivers under 26 may incur a young driver fee. On the other hand, the maximum rental age is 75 years, and drivers over 70 may need to pay a senior driver fee. To qualify for car rental, your driver's license must have been issued by authorized authorities at least a year before your rental's start date.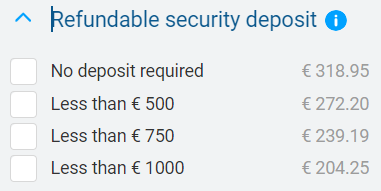 Many firms also require a refundable security deposit. The amount can vary considerably, ranging from €200.00 to €1000.00, so check your specific company's rental conditions. This amount will be reserved on your credit card and returned after the rental period concludes, unless there are damages to the car's bodywork that the deposit has to cover.
And there you have it – a simple guide on how to rent a car at Girona Airport.
5 Tips for Renting a Car at Girona Airport
Renting a car at Girona Airport can be a breeze if you know what to expect and how to navigate the process. Here are my top 5 tips to help you get the most out of your car rental experience at Girona Airport. So, let's dive in and make your car rental adventure a smooth ride!
Plan Ahead and Book Early: One of the best ways to ensure a smooth car rental experience at Girona Airport is to book well in advance. Early booking can not only help secure the best prices but also guarantee the availability of your preferred vehicle. Don't forget that during the peak tourist season, car rental companies can run out of the most popular models.
Check the Fuel Policy: Each car rental company has a different fuel policy. Some may provide you with a full tank of fuel and expect you to return it full, while others operate with a 'full-to-empty' policy where you pay for a full tank upfront and return the car as empty as possible. Make sure to understand your rental company's fuel policy to avoid any unexpected charges.
Understand the Insurance Options: Car rental insurance can be complex, but it's vital to understand what's covered. Most rental prices include a basic level of insurance, but this can come with a high excess. Companies often offer additional cover to reduce this excess. Alternatively, you could consider a standalone car hire excess insurance policy.
Inspect the Vehicle Thoroughly: Before driving off, take the time to inspect the vehicle for any existing damage. Take pictures of any dents, scratches, or other issues you notice. This can protect you from any dispute about damage when you return the vehicle. Also, check the car's equipment, such as the air conditioning, wipers, and lights, to ensure everything is functioning correctly.
Familiarize Yourself with Local Driving Laws: Driving laws can differ significantly from one country to another. Before hitting the road in Girona, make sure to familiarize yourself with the local driving laws. This can include understanding speed limits, parking rules, and what documentation you need to have with you when driving.
By following these tips, you can ensure a smooth and stress-free car rental experience at Girona Airport.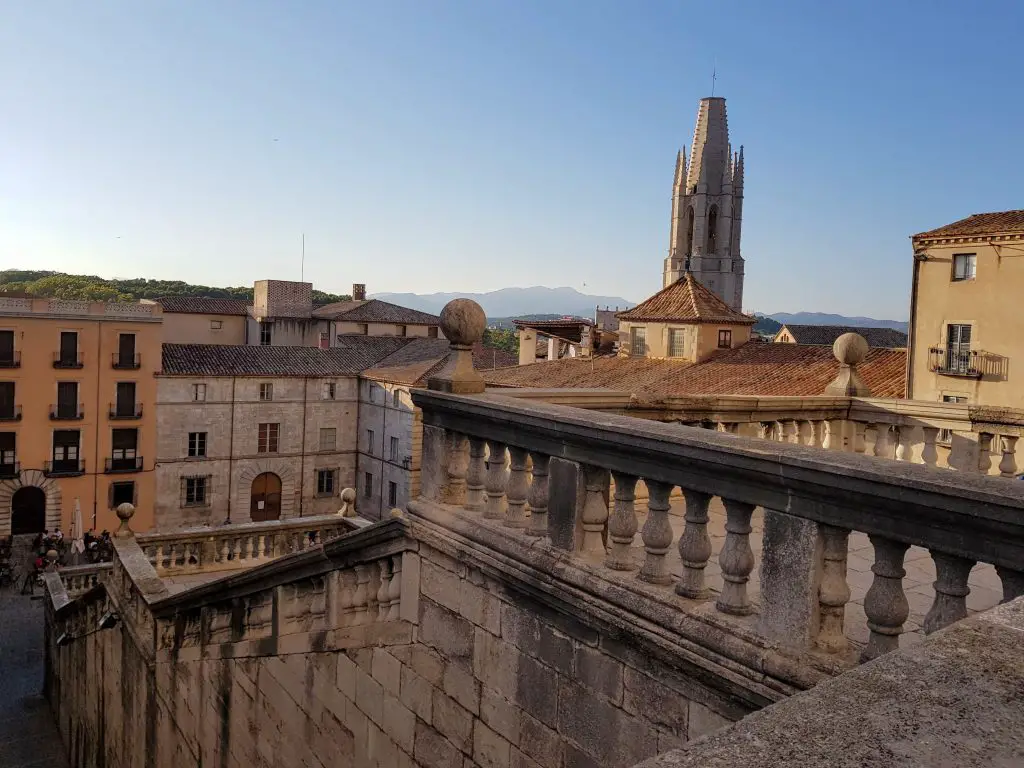 Beware of Common Car Rental Scams in Girona
When planning a trip to Girona, it's crucial to be aware of the potential pitfalls associated with car rentals. While most car rental experiences are hassle-free, some customers have reported falling victim to a few common scams. Here's a rundown of what to look out for:
The 'Upgrade' Scam: Some rental companies may try to upsell you on arrival, claiming that the car you booked is no longer available and suggesting an upgrade for an additional fee. Stick to your initial booking unless the upgrade is offered for free.
Unexplained Charges: Some renters have reported unexplained or unexpected charges added to their bills. This can range from charges for additional drivers to fees for GPS systems. Always check your bill for any unexpected extras and challenge any you didn't agree to.
Damage Scams: One of the most common scams involves blaming the customer for pre-existing damage to the vehicle. To avoid this, conduct a thorough inspection of the vehicle before you drive away, taking photos or videos as evidence of the car's initial condition.
Fuel Scams: Some rental companies operate a 'full-to-empty' fuel policy, charging you for a full tank of fuel and expecting you to return it empty. You may end up paying for more fuel than you use. A 'full-to-full' policy, where you return the car with a full tank, is often more cost-effective.
Excessive Insurance Sales: Some rental companies push customers to buy their expensive insurance policies, even if the customer already has coverage. Stand your ground if you have existing coverage and make sure to bring proof of it.
To avoid these scams, consider booking with a reputable car rental service like Discover Cars. They offer transparent pricing with no hidden charges, and their customer reviews provide insight into the experiences of previous customers. Discover Cars compares offers from multiple car rental companies, helping you find the best deal and avoiding potential scams.
Always remember that a well-informed traveler is a scam-free traveler.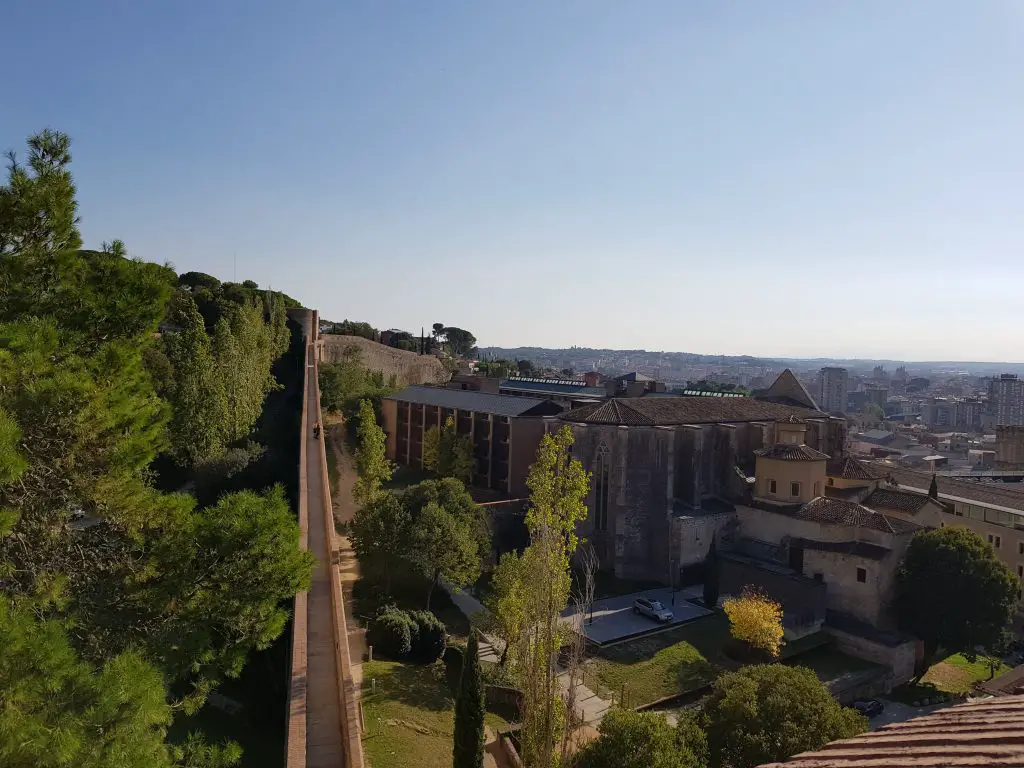 Renting A Car in Girona: Frequently Asked Questions
Here are some common questions I get when talking about renting a car in Spain and specifically in Girona. If you have any other questions, please write them in the comments below!
How difficult is it to rent a car in Spain?
Renting a car in Spain is generally not difficult, especially if you have prior experience with car rentals. Most of the process can be done online, where you can compare prices, choose your vehicle, and even pay in advance.
Why is car rental so expensive in Spain?
Car rental prices in Spain have seen a significant increase due to the aftermath of the COVID-19 pandemic. During the crisis, many rental companies downsized their fleets to cope with the plummeting demand. Now, as travel rebounds, these companies are struggling to meet the growing demand with their reduced vehicle stock, leading to higher rental prices.
What documents do I need to rent a car in Spain?
To rent a car in Spain, you'll typically need the following documents:
A valid driver's license: If your license is not in English or Spanish, or doesn't have a photo, it's recommended to also carry an International Driving Permit.
Credit card: The cardholder must be present and the card must have sufficient funds to cover the deposit.
Passport or ID: Depending on your nationality, you may also need to present a passport or national ID for identification purposes.
Booking confirmation: If you've pre-booked your rental, bring a printout or digital copy of your booking confirmation.
Always check with the car rental company in advance to confirm their specific requirements.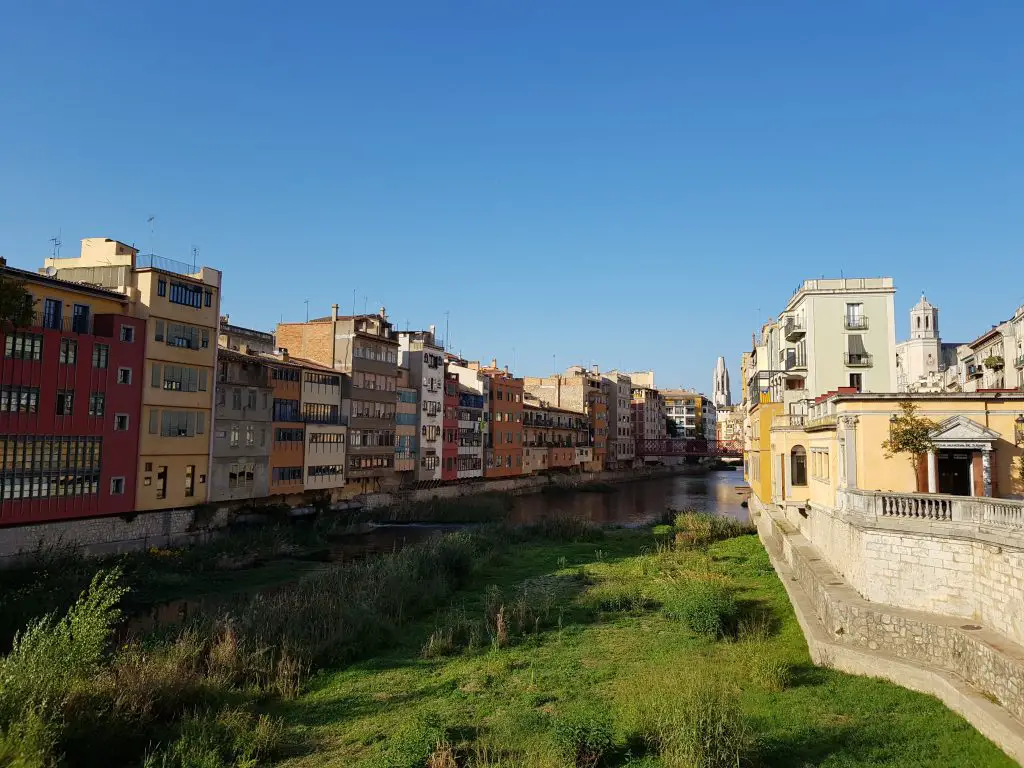 Do you need a car in Girona?
Whether or not you need a car in Girona depends on your plans. If you're mainly staying in the city center, a car may not be necessary as Girona is quite compact and walkable, and public transportation is efficient. However, if you plan on exploring the surrounding region, visiting the Costa Brava, or making day trips to places like Barcelona, a rental car could be very convenient and offer more flexibility than public transport.
Is it easy to drive in Girona?
Driving in Girona is generally considered to be easy. The road infrastructure is well-maintained, and traffic conditions are typically manageable, especially outside of peak hours.
Is it safe to drive in Girona?
Yes, driving in Girona is generally considered safe. The roads are well-maintained, and traffic conditions are typically manageable. However, it's important to exercise caution and adhere to traffic laws, especially in busy areas or during peak travel times. Like any city, it's advisable to stay alert, follow road signs, and be aware of pedestrians and cyclists.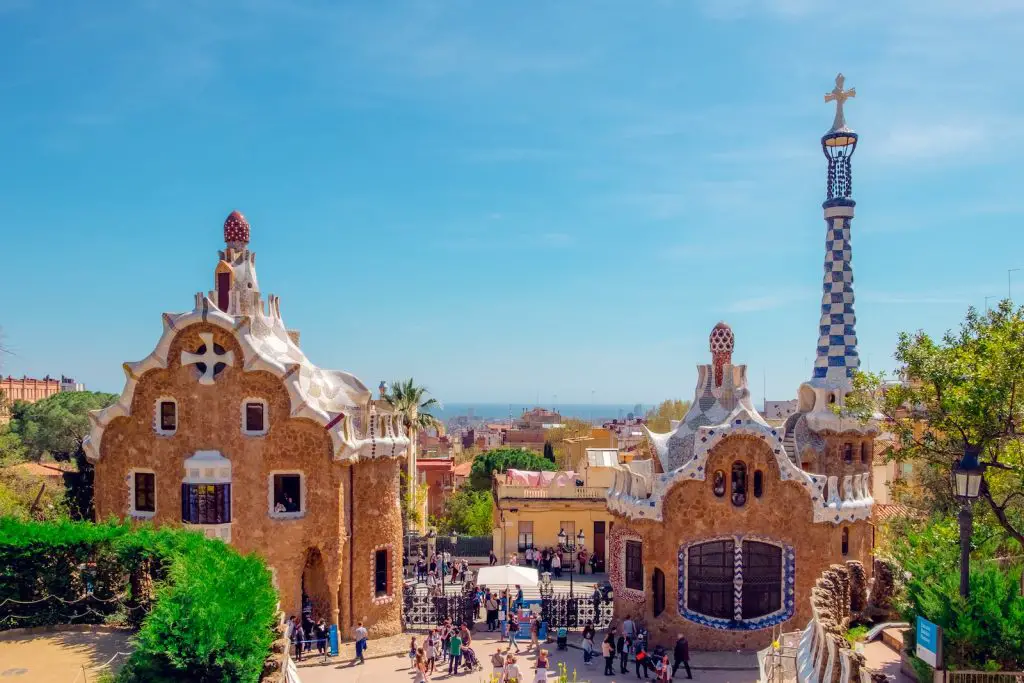 Top Day Trips from Girona by Car
If you have the freedom of a rental car, you can go on these fantastic day trips on your own terms. There is so much to see near Girona, but these are my favorites:
Barcelona: About an hour's drive from Girona, Barcelona is a must-visit. This vibrant city boasts an array of iconic landmarks such as the Sagrada Familia, Park Guell, and the Gothic Quarter. It's also a haven for foodies, offering a range of delicious local and international cuisine. Make sure to plan your parking in advance, as finding a spot in the city center can be challenging.
Costa Brava: For those seeking sun, sea, and sand, the Costa Brava is an excellent choice. Roughly 40 minutes from Girona, it offers idyllic beaches, crystal clear waters, and charming coastal towns like Calella de Palafrugell and Lloret de Mar. It's a perfect destination for a relaxing day out.
Figueres and the Dali Museum: Figueres, located less than an hour from Girona, is famed for the Theatre-Museum Dalí, dedicated to the surrealist artist Salvador Dalí. The museum is a must-visit for art enthusiasts, offering a deep dive into the life and work of this unique artist.
Besalu: This stunning medieval village is a mere 30-minute drive from Girona. Wander through the narrow cobblestone streets, cross the famous 12th-century Romanesque bridge, and soak in the village's rich history. Don't forget to visit the Jewish baths, some of the best-preserved medieval mikvahs in Europe.
Montserrat: About a two-hour drive from Girona, Montserrat is known for its breathtaking mountain views and the famous Santa Maria de Montserrat monastery. Ride the funicular to the top for stunning panoramic views, visit the monastery, and listen to the famed boys' choir, L'Escolania, one of the oldest in Europe.
La Garrotxa Volcanic Zone Natural Park: Just a 45-minute drive from Girona, this park offers beautiful landscapes formed by volcanic activity over thousands of years. Hike along the trails, visit the medieval towns nestled in the park, and marvel at the natural beauty of this unique region.
By renting a car in Girona, you open up a wealth of opportunities to explore the wider region. Each of these day trips offers a unique experience, enhancing your visit to this beautiful part of Spain.
---
---