Some of the links in this post are affiliate links. This means if you click on the link and purchase the item, I will receive an affiliate commission at no extra cost to you. All opinions remain my own.
Tenerife is a Canary Island known for its pleasant weather all year round and the majestic Mount Teide that dominates the landscape. This is a great place for people who like variety on their holiday as you might experience lush forests in Tenerife North and beautiful resort towns, even better weather, and nice golf courses in Tenerife South. Here are many other reasons why people visit Tenerife.
There are a lot of different things to do in Tenerife – from fabulous food and drinks to amazing natural landscapes. If you're looking for a good time, these 17 activities will likely fit the bill!
Hike the breathtaking Masca Valley
Masca is a tiny village, and only about 90 inhabitants live there permanently. The village is located quite high above sea level and is a starting point for a beautiful hike down the valley. It will take you three to five hours to get from the village down to the ocean, as the path is quite rough and you might be tempted to take a few photo breaks.
Be sure to pack plenty of food and water as there are no shops on the hike, and it probably will get quite hot during the day. Remember to go on this hike with hiking boots or some other fully covered shoes, as the volcanic rocks on the path might be rugged and could scratch your feet if you aren't careful.
At the bottom of the valley, there is a swimming area to refresh the hikers after the exercise. And there are two options for how to get back to the civilization – you can either climb back up to the Masca village on the same path that you came down, or you can take a water taxi to Los Gigantes town, which is an adventure of its own.
Find places to stay in Masca: Booking.com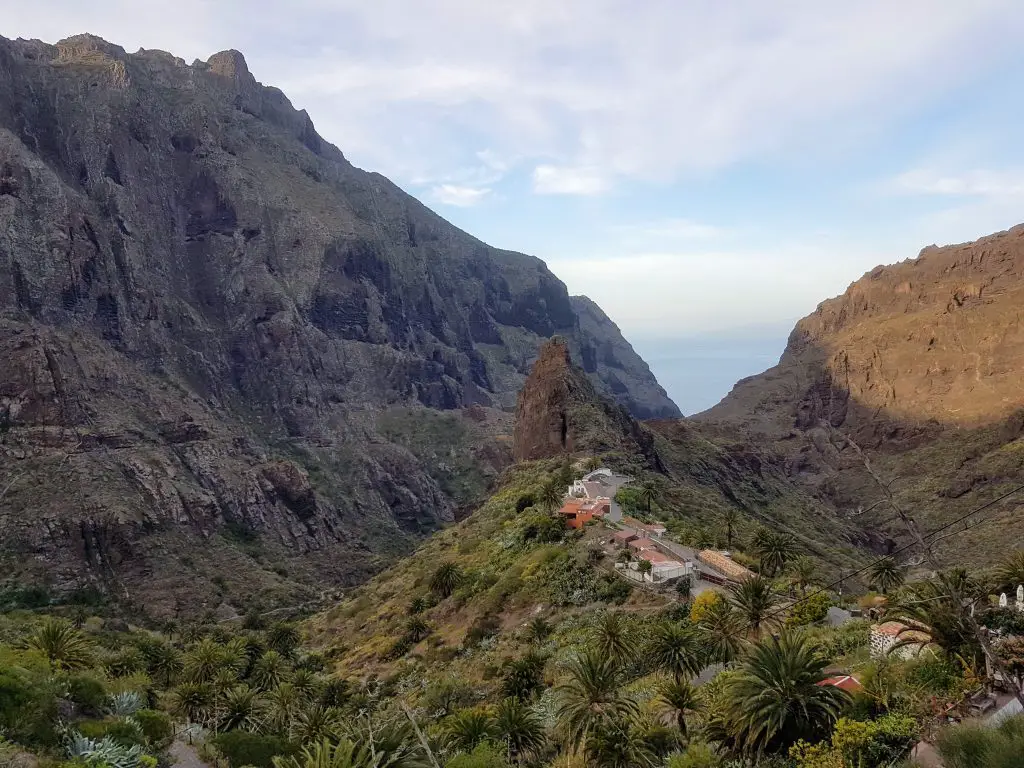 Visit Mount Teide National Park
Mount Teide National Park is a UNESCO World Heritage Site and you'll find here the highest peak in Spain – Teide volcano. It reaches 3,718m above sea level and is open to the public.
You can go on a Teide volcano hike if you are fit and up for a challenge, or you can take a cable car and peacefully soak in the views like out of this world from the top of Mount Teide. You can even see the other Canary Islands Gran Canaria and La Palma from the peak.
hiking trails and the cable car lead to a common viewpoint not far from the absolute peak of the volcano. If you wish to get to the absolute top, you must apply for a permit beforehand, and this part can be done only on foot. There are also some options to apply for the permit when you are booking the cable car online, so watch out for these.
Some people prefer to hike up Mount Teide during the night so that they could watch the sunrise from the volcano. It's spectacular but can get really cold in the dark.
An interesting place to visit in Teide National Park is Teide Observatory. During a guided daytime tour you can see the largest solar observatory in the world. During the tour, it will be possible to observe sunspots and solar flares through two solar telescopes and explore the inside of a nocturnal telescope.
Experience an adrenaline rush on the Siam Park water slides
Siam Water Park is located in the popular resort town Costa Adeje. Considered to be one of the best water parks in Europe, it is Thai-themed and has a great selection of family-friendly and adrenaline-filled slides.
If you are looking for something calmer, check out the wave pools, tropical Mai Thai River, and Siam Beach.
It is possible to visit Siam Park all year round as its pools are heated to 24 degrees Celsius. In fact, it is a good idea to visit the park in the winter months as then it is less crowded and the queues for the slides and other attractions are shorter. Just be sure to choose a sunny day for your visit, as standing in the line might still get chilly in January or February.
Find places to stay in Costa Adeje: Booking.com
Watch animals in Loro Parque
Loro Parque is one of Europe's best zoos. There you can find gorillas, tigers, lions, flamingos, hippos, red pandas, penguins, iguanas, tortoises, alligators, and other animals. It's a great place where to spend a day with kids as there are many learning opportunities.
If you plan to visit Loro Parque and Siam Park, look into getting combined tickets, as they come with a discount. That way you'll have a plan for two days on the island and will experience the well-known attractions.
See the magnificent cliffs in Los Gigantes
Los Gigantes cliffs are made of volcanic rock and reach almost straight out of the ocean up to 600 meters high. You can view them from the nearby Playa Los Guios beach, go on a hike to view the cliffs from a different angle, or go by boat or kayak to view them up close.
For the most stunning views go to the Mirador de Archipenque in the sunset. For the short and steep uphill walk to the lookout point, you will be rewarded with panoramic views of the Los Gigantes cliffs, the seaside town itself, and even the nearby La Gomera island.
Find places to stay in Los Gigantes: Booking.com
Enjoy the artificial white sand beach in Las Teresitas
10 km north of Santa Cruz there is a white sand beach Playa de Las Teresitas. It is calm and perfect for families, as there have been built several breakwaters. It is almost 1,5 kilometers long, has amenities like showers and WCs, and is generally popular among tourists.
What's special about this beach is that it has white sand. Tenerife is a volcanic island, so even if you get a sandy beach instead of a rocky one, it will naturally be covered in black sand. This white sand for Playa de Las Teresitas has been transported here from the Sahara Desert.
The white sand, calm waters, and palm trees make this beach a really nice place to relax. Just keep in mind that it's not a secret that this beach is so good, so in the high season you might expect it to get quite busy.
Go on a hike in Anaga Rural Park
Anaga is a highland of the oldest mountains in Tenerife with sharp peaks and deep ravines. Laurels, lichens, willows, fayas, and other plant species give a mysterious and magical feel to this forest. Anaga was declared a UNESCO Biosphere Reserve in 2015.
Before you go to Anaga either on a roadtrip or on a hike, be sure to check the weather forecast. In the northern part of Tenerife, the weather can get bad quite quickly, and the lack of visibility in the fog might be dangerous.
There is an extensive network of hiking trails in the Anaga Rural Park. Benijo to Faro de Anaga Loop Trail is one of the best known and quite spectacular. The trail is a bit challenging, 15.1 km long and goes into a loop, so it's doable as a day hike and you won't have to worry about getting back to the starting point if you have left your rental car there.
There are also a few scenic roads with multiple viewpoints in Anaga. Anaga Mountain Road follows the main ridge of the Anaga massif connects La Laguna with Chamorga. The viewpoints are marked with brown road signs so be sure to stop at least a few of them.
Go on a day trip to La Gomera
If you are staying on the south side of Tenerife, you probably will notice the nearby La Gomera island. Usually, a day trip to La Gomera is booked as a package of a short ferry ride to the island, an excursion to the sleepy villages and lush forests of the island, a lunch, and a stop at the stunning Vallehermoso viewpoint.
La Gomera is also known for the whistling language that the natives use to communicate from a hilltop to a hilltop.
Visit Tenerife's former capital, La Laguna
La Laguna is UNESCO World Heritage Site and has been used as a layout template for many colonial cities created by Spain in North and South America.
Don't miss visiting La Laguna Cathedral with the wooden balcony and Plaza del Cristo market to buy some souvenirs. The charming architecture of the city packs a lot of history, so keep your camera handy for colorful pictures of instagrammable houses.
If you are visiting with kids it might be interesting to see the Museum of Science and Cosmos.
Find places to stay in La Laguna: Booking.com
Soak in the saltwater pools in Puerto de la Cruz
Puerto de la Cruz is a well-known resort town on the northern side of Tenerife. It has an Old Town lined with boutiques, bars, and restaurants, but that's not the most unique thing that Puerto de la Cruz has to offer.
Lago Martiánez is a huge open-air saltwater pool complex with 6 pools and a lagoon. As the see around Tenerife might et rough, this pool complex gives a safe swimming option. There are several bars and restaurants in the water park.
Find places to stay in Puerto de la Cruz: Booking.com
Feed monkeys in Tenerife Zoo Monkey Park
Located near Los Cristianos, this park offers you to watch monkeys, parrots, and reptiles in their natural habitat. There are some bigger enclosures where it is possible to go inside and pet and feed the animals, however, there is a place where the animals can retreat if they don't feel like being touched.
The park is not big, and it takes around an hour to walk through it.
Check out the popular resort town Playa De Las Americas
Playa De Las Americas is a well-known beach with a lot of attractions. The beach is sandy and there are even some surfing options available. You can book an instructor and try out this new skill in the safety of the beach before trying surfing in the ocean.
If you are looking to party in Tenerife then Veronica's Strip in Playa de las Americas is the place where you want to be. After midnight all the real attractions start to take place. There is loud music, cheap drinks, and a lot of people enjoying the nightlife.
Find places to stay in Playa De Las Americas: Booking.com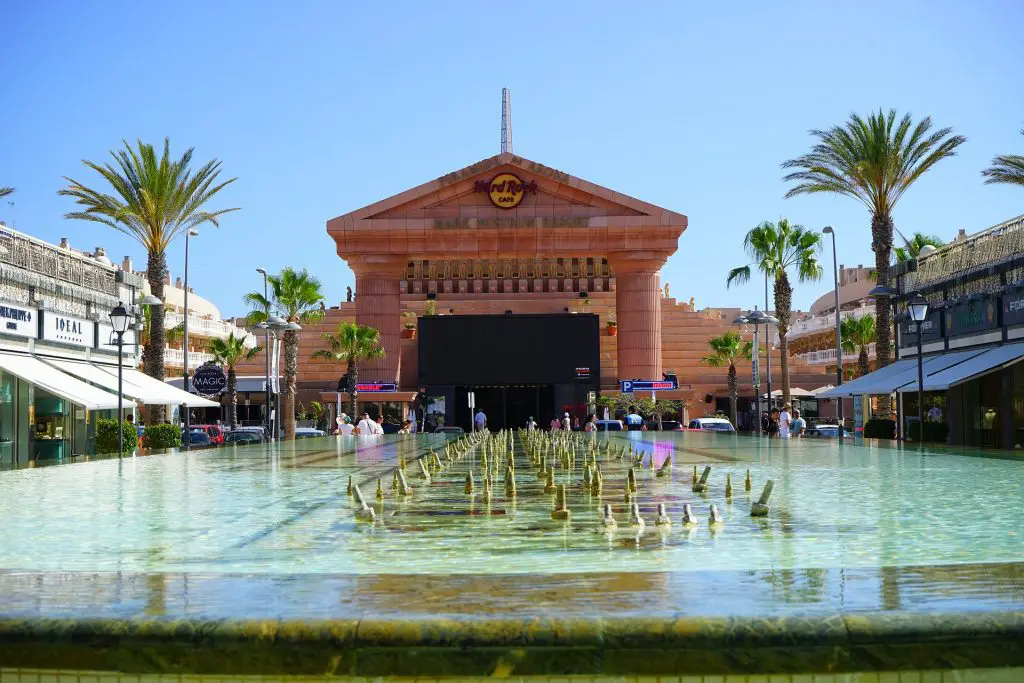 Seek thrill by ziplining in Forestal park
Forestal Park is the largest zipline park in Tenerife. There are multiple treetop rope circuits for varying experience levels. You'll have a choice of 11 spectacular zip-lines and around 90 games on two different high ropes courses (Family course and Sports course).
It takes around half-day to explore the attractions this park has to offer.