Some of the links in this post are affiliate links. This means if you click on the link and purchase the item, I will receive an affiliate commission at no extra cost to you. All opinions remain my own.
If you wish to experience sunny and warm days, popular destinations without crowds, lower accommodation, and car rental prices as usual, then you need to check out the best winter sun destinations in Europe.
With warm temperatures during the day, winter is the perfect time to explore the south of Europe. There are also other advantages to visiting these places in winter:
If you wish to go on a hike, the weather is perfect. Not too hot as in the summer, which makes it easier to enjoy popular hikes with a lower fitness level;
There are some specific festivals that happen only during the winter time that you don t have a chance to experience in the summer;
There are fewer crowds in the popular attractions, and many times the prices are also lower.
So if you are planning a vacation in winter, European winter sun destinations are definitely worth to be considered.
Tenerife, Spain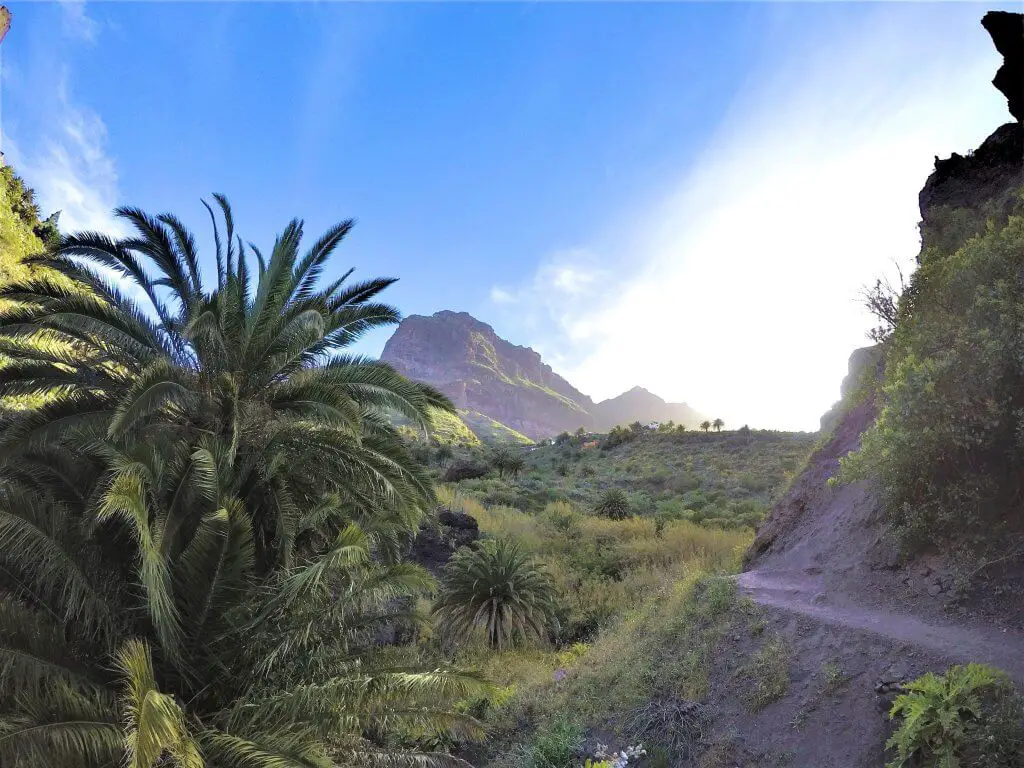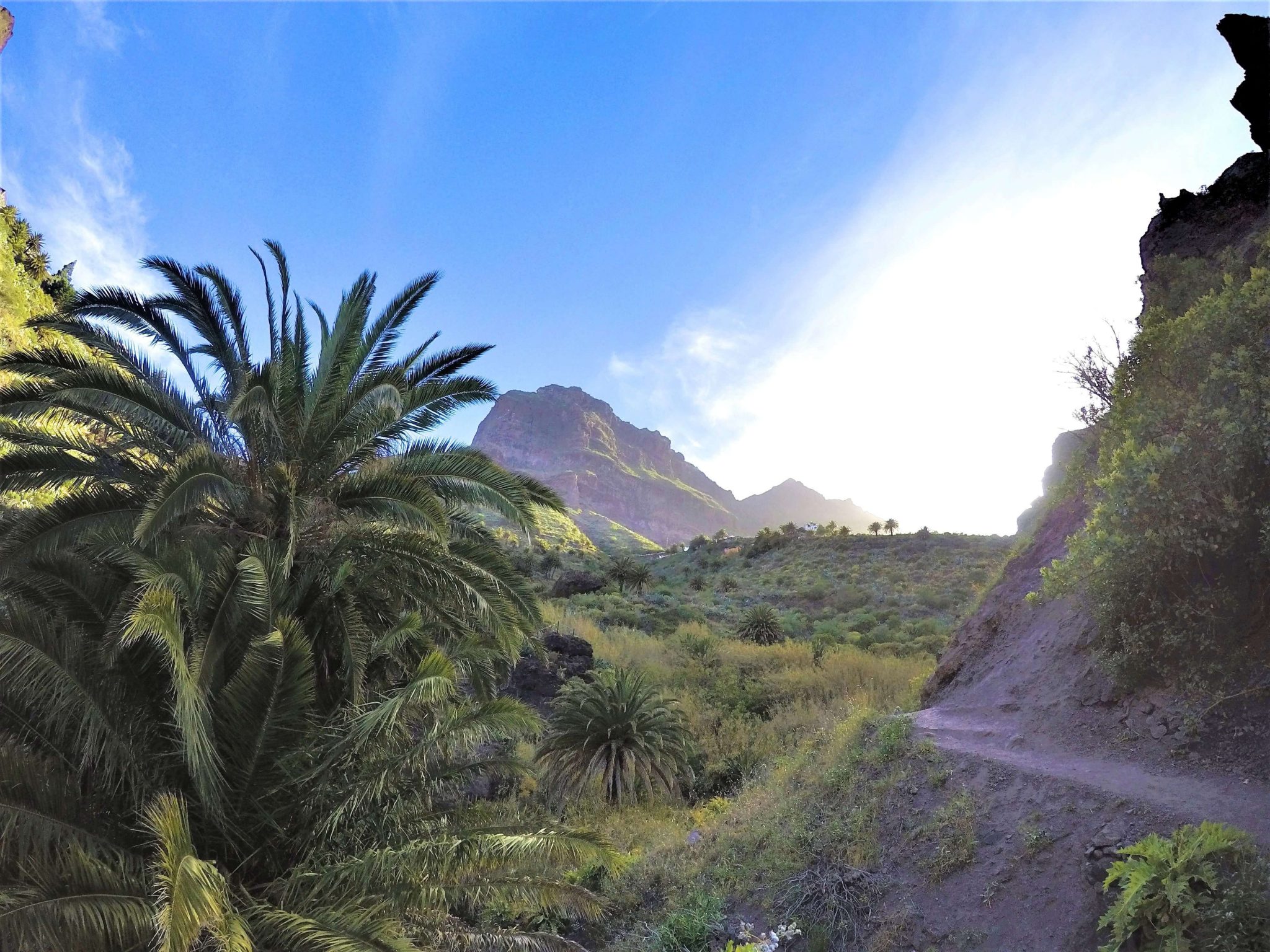 Tenerife is one of the Canary Islands, located on the west of the coast of Africa. It's warm all year round, and in January the average temperature during the day is around 20°. It gets colder in the evenings, so be sure to pack some warmer clothes as well.
If you go mainly to relax, then the weather on the southern side of the island usually is warm enough to enjoy the beach.
If you are more active, winter is a good time to go on a road trip around the island to see the white sand beach where the sand was transported from the Sahara desert, Teide volcano (the highest point in Spain), the majestic cliffs around Los Gigantes, and many other unique sights on the island.
For hikers, winter is the best time to go on a hike in the Masca valley. It s not too hot, there are fewer people on the trail, and you still get to enjoy the surrounding nature in all of its majesty.
Here are other magnificent things to do in Tenerife.
Valencia, Spain
Recommended by Martina from PlacesofJuma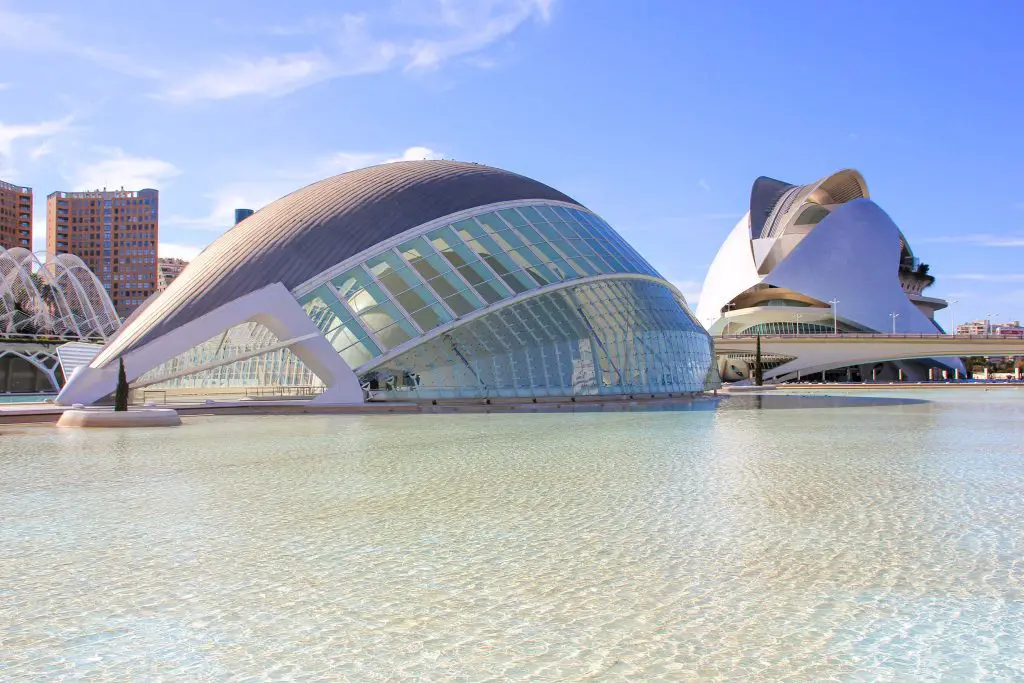 One of the best winter sun destinations in Europe is undoubtedly Valencia in Spain. This is also one of the most beautiful cities in Spain. As the third-largest city in the country, countless tourists from all over the world come every year during the summer months to spend their vacations. However, Valencia is quiet in winter, and therefore a real insider tip to get to know this city far from the hustle and bustle.
Fabulous are also the temperatures in winter! During the day you almost never need a jacket, the sun shines frequently and you enjoy sunny temperatures of 15 – 20 degrees. Life in this city takes place outdoors, which gives Valencia an extraordinarily charming flair. Also great are the long sandy beaches, which invite you to sunbathe and relax even in winter. Along the promenade, there are also fabulous cafes and restaurants where you can enjoy the ambiance.
When traveling in winter, you will not only enjoy a lot of sun but also the many beautiful sights in the old town. On a city trip you should definitely put the futuristic City of Arts and Sciences, also called Ciutat de les Arts i les Ciències on the bucket list. Here you can visit really interesting museums and in good weather even take a boat trip! Other highlights worth seeing are the Plaza de la Virgen, the old market hall, and also the cathedral is really interesting.
Nazare, Portugal
Recommended by Victoria from Guide Your Travel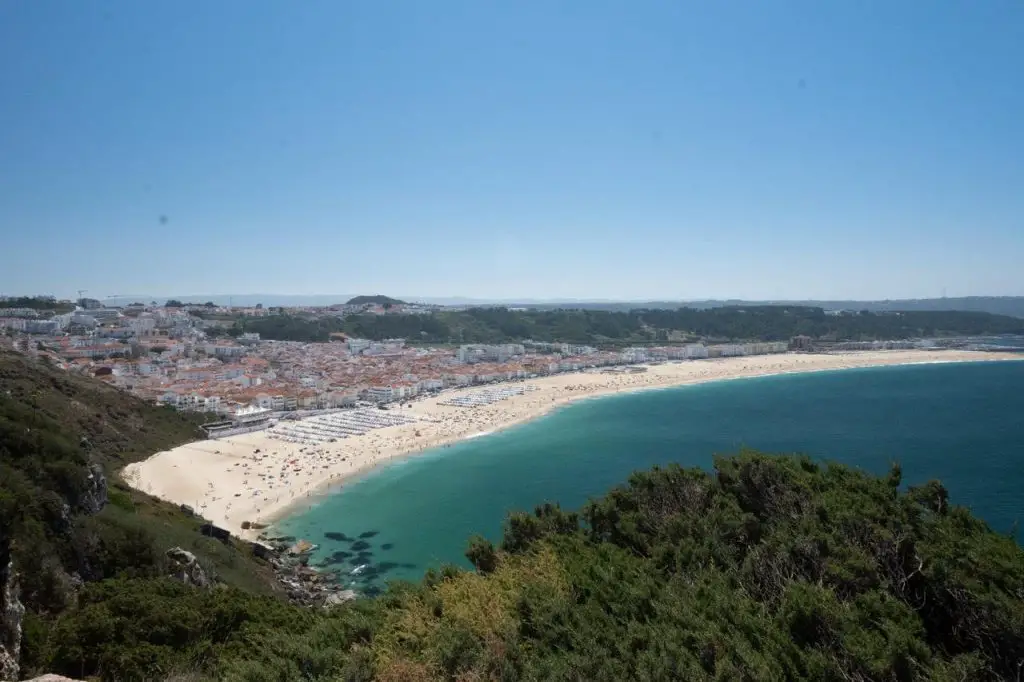 Nazare is a beautiful little town located about 130 kilometers north of Lisbon. It's the perfect stop on the ultimate Portugal road trip especially if you want to enjoy stunning beaches. You can still enjoy temperatures of around 18 Degrees and the beach is beautiful year-round.
Nazare might not be the largest town but it's actually quite famous internationally. Due to unique underwater conditions, Nazare is home to some of the largest waves in the world which mean surfers from all around the world gather here. The swells can be as high as 30 meters and are only suitable for professional surfers. The waves are incredible to look at even if you don't surf.
During the warmer months, the waves are usually much smaller so Nazare even has some beaches suitable for swimming.
Definitely make sure to head to the lookout point which is the perfect spot for photos and to enjoy the incredible view. There is a little surf museum there and a lighthouse which is well worth a visit. Afterward, go for a walk along the beach promenade and sit in one of the little restaurants and bars.
Nazare is a beautiful spot for a relaxed day by the beach or some last-minute souvenir shopping. There are some great restaurants around and opportunities for hikes along the impressive coastline.
Rome, Italy
Recommended by Linn Haglund of Brainy Backpackers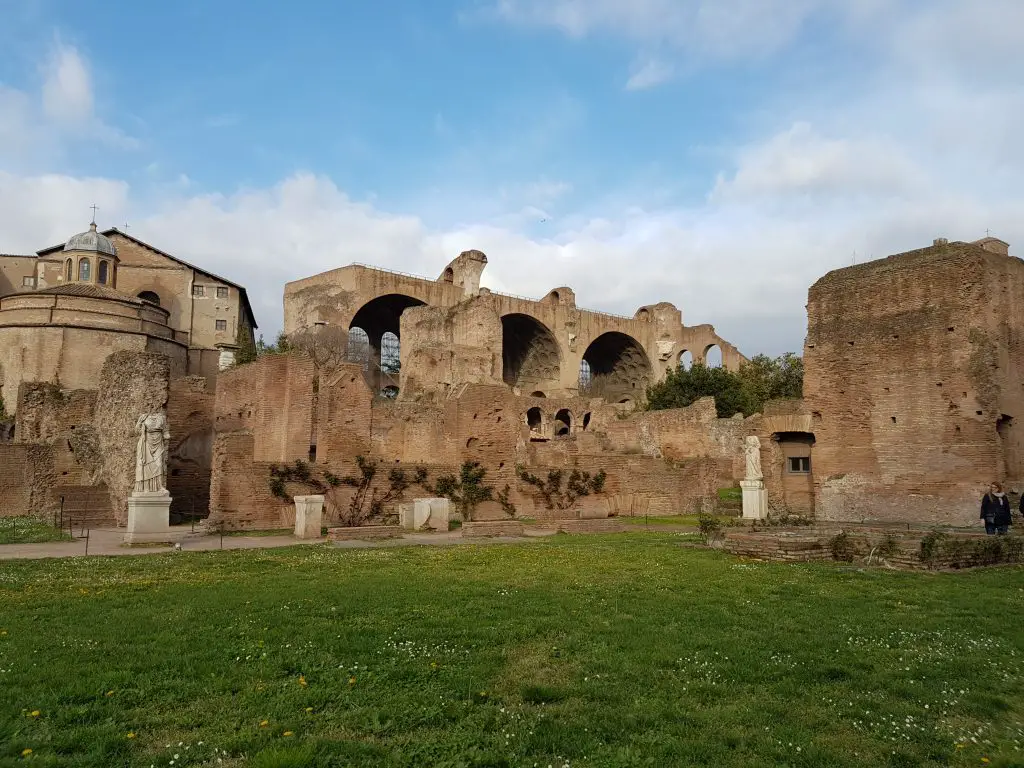 Rome. The city that needs no introduction. As one of the most famous historical cities not only in Europe but in the world, it is a perfect winter sun destination. You can easily see 13-14 degrees in the daytime, which can feel warmer when it is sunny.
However, Rome does get strong northern winds during winter, not all the time, but sometimes. So be prepared, because if you are unlucky and happen to go at this time, it will feel a lot colder.
But let us focus on the good days in Rome because they are without a doubt the majority! And let us talk about gelato. Because Rome has some of the best gelatos you can get, and even in winter, there are no excuses to not try as many flavors as possible.
You should at least allow yourself 4 days in Rome to see all the main attractions like the Colosseum, the Roman Forum, the Pantheon, and the St. Peters Church with the Vatican. And in winter, there are slightly fewer tourists, which is good news.
However, maybe the best thing to do in winter is to get underground and explore the many catacombs that the city hides.
If you travel in December, you can also enjoy a lit-up city with a wonderful Christmas vibe. The main Christmas market used to be at Piazza Navona but was unfortunately removed a few years ago, but there are still other options getting lost in the streets.
Lanzarote, Spain
Recommended by Claire from ZigZag On Earth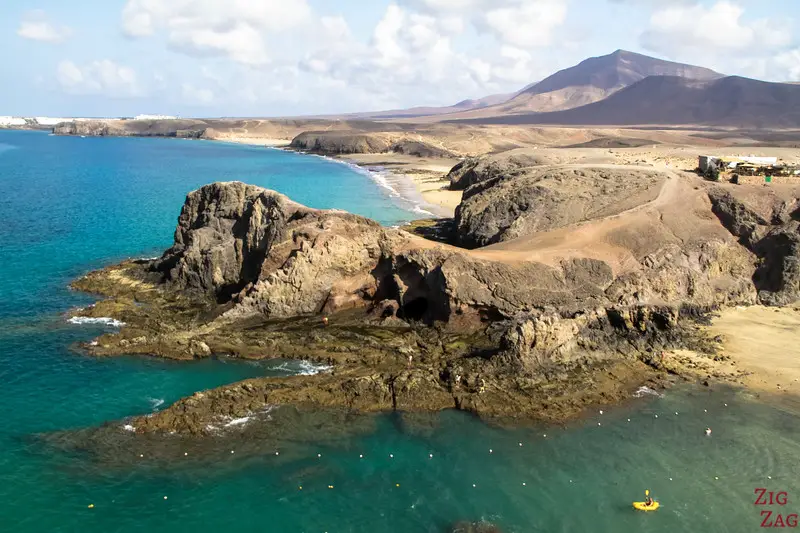 Only 3 to 5 hours away by plane from the main capital cities of Western Europe, Lanzarote offers an exotic and exciting experience, with Spanish culture.
This volcanic island offers a lot of things to do including hiking around volcanoes, enjoying large sandy beaches, visiting lava tubes, boating to neighboring islands, and discovering the surprising work of artist César Manrique.
The weather is ideal during the Winter season. The temperatures in December and January reach 21°C / 22°C with lots of sunny days. It is just a little chill in the evening, and you will need a jumper.
Lanzarote is a great place to enjoy the Winter sun while being able to explore with fewer crowds than in Summer.
Being in Lanzarote during winter can almost feel like being on another planet, especially when exploring the colorful volcanoes.
The island is not big, so you can easily rent a car and explore around the island, or book one of the many day trips from the main resort towns to stay in: Playa Blanca, Puerto del Carmen, and Costa Teguise.
And for another unique experience, visit one of the wineries to learn how they are able to grow vines in such a hostile environment… and to taste the wine!
Azores Islands, Portugal
Recommended by Milos from Happy Frog Travels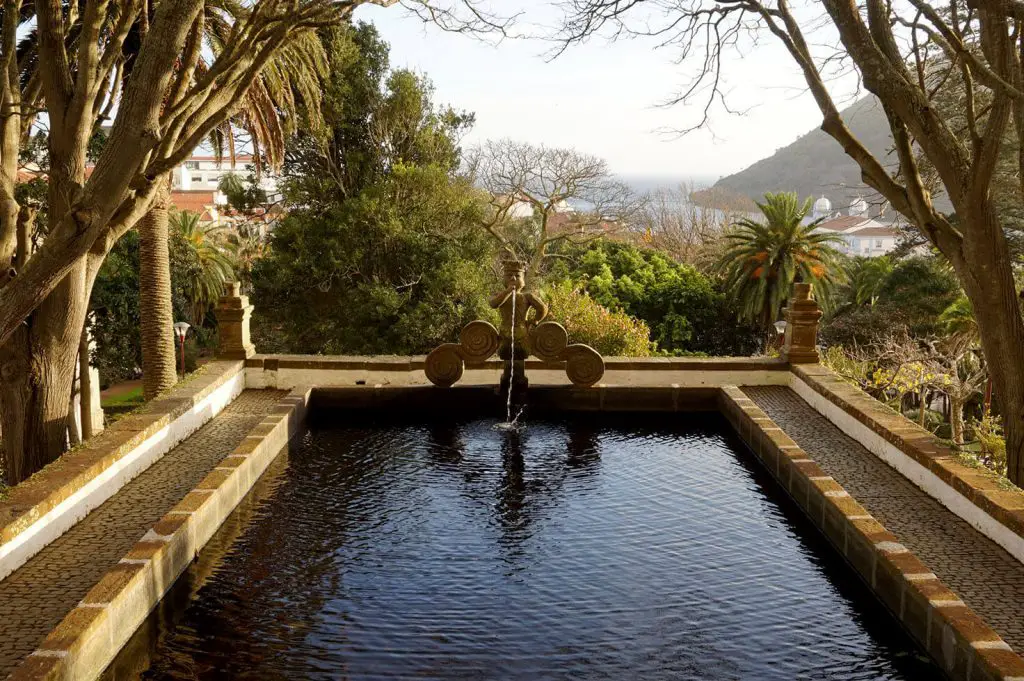 The Azores Islands are an archipelago of nine volcanic islands in the middle of the Atlantic Ocean. They host a unique nature and equally beautiful architecture.
São Miguel is the largest island of the archipelago, famous for its natural springs. The island offers fantastic hiking trails among volcanoes and lakes. Sete Cidades, Lagoa Azul, and Lagoa do Fogo are just some of them.
Terceira hosts the archipelago's nicest city, Angra do Heroísmo, a UNESCO world heritage site. Several forest reserves and volcano fumes populate the island, including the iconic volcanic cavern Algar do Carvão.
Pico, with its lush green mountains, is perfect for hiking. Its scenic vineyards are another unique world heritage site. Locals have been growing wine here for more than 500 years, and you can still see the ancient landscapes they created!
Due to the subtropical weather, the Azores Islands are a fantastic destination for a winter holiday. Average temperatures in winter vary between 17 degrees in January and 18 degrees in December (Celsius). However, it rains at any time, especially in December. That's why the archipelago is so green!
Additionally, the Azores are one of the few places in the world where you can go whale and dolphin watching year-round. Thus visiting in winter is a great option.
Valletta, Malta
Recommended by Ben from Ticket 4 Two Please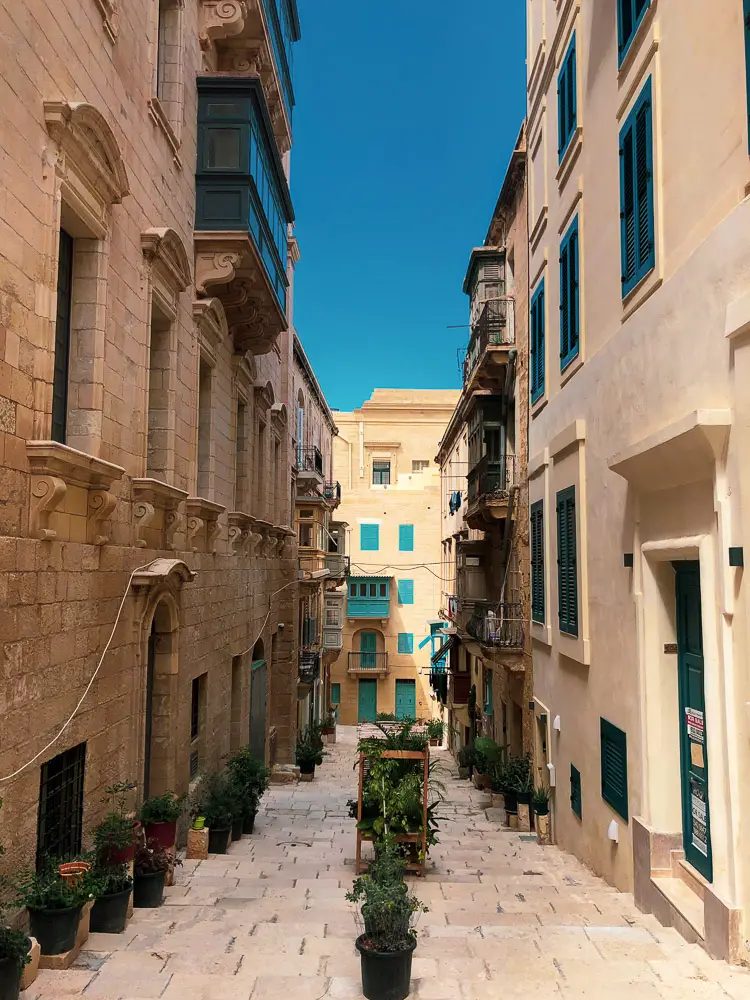 Valletta is the European Union's smallest capital city and sits directly on the shore of the Grand Harbour in Malta. It's one of the best places where you can enjoy a sunny day during the winter months in Europe.
Malta is a very underrated destination and only attracts around 2 million visitors every calendar year. This sounds like a lot, but when you consider that the majority of these tourists will be visiting in the summer months, you begin to understand why Winter is the perfect time to visit Valletta. 
The large crowds of the busy summer months will have disappeared and you will be able to explore the famous old-town streets without a single person in sight. 
The city of Valletta was designated a UNESCO World Heritage Site in 1980 thanks largely in part to its unique architecture and wonderfully fascinating historical significance. Valletta was an area of major conflict in World War II and the remnants of forts and batteries can still be explored today. 
The highlight of any trip to Valletta is watching the Saluting Battery in Upper Barrakka Gardens. Twice Daily (Midday and 4 pm) throughout January, a cannon is fired across the harbor as a ceremonial welcome to all the boats in the harbor.  
The average January Temperature in Valletta is 16°C, which makes it a perfect place to find some winter sun in Europe. Despite the ambient temperatures, however, your packing list for Malta and Gozo should still include something a little warmer for those chilly evenings wandering past the mega-yachts moored at the marina in Valletta. 
For a special adventure during the winter months, jump on board a ferry from Valletta and head to the neighboring island of Gozo where you will find some of the best walking trails and beaches in Malta.
Malaga, Spain
Recommended by Linn Haglund of Andalucia Hiking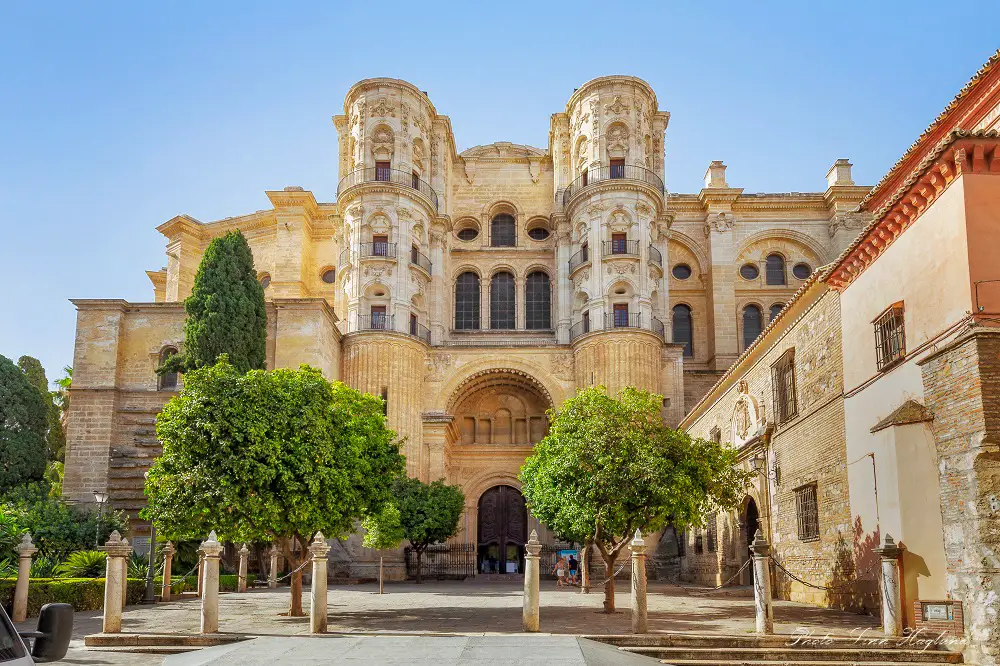 Malaga is an amazing destination for the winter sun with 320 sunny days in the year. Temperatures over the winter months vary from year to year and week to week, but with luck, you can have daytime temperatures between 20 and 25 degrees and sunny. With less luck, temperatures can drop to close to zero at night time and stay around 10-15 in the day, but with the sun out this is a pleasant temperature to go sightseeing in the city. Just be aware that it can be scorching hot in the sun and a lot cooler in the shade.
There are plenty of things to do like heading to the Alcazaba palace and the Gibralfaro Castle for amazing city views and to learn about the Moorish history that not only is a huge part of what Malaga is today, but also the whole Andalusian culture.
Winter is also a great time of the year for foodies that want to try all the different tapas bars in town – there are many! And the good thing is that it's normally perfect weather to sit outside and people-watch.
Winter in Malaga is also the best time of the year to go hiking in the nearby hills or to go to walk the world-famous Caminito del Rey hike which is only a short train ride outside Malaga city. While these walks get super hot in the summer, in winter it is just perfect.
If you happen to travel in December, Malaga has the best Christmas lightning on the coast with an amazing light show in Calle Larios every night that you should not miss!
Dubrovnik, Croatia
Recommended by Milijana Gabrić from World Travel Connector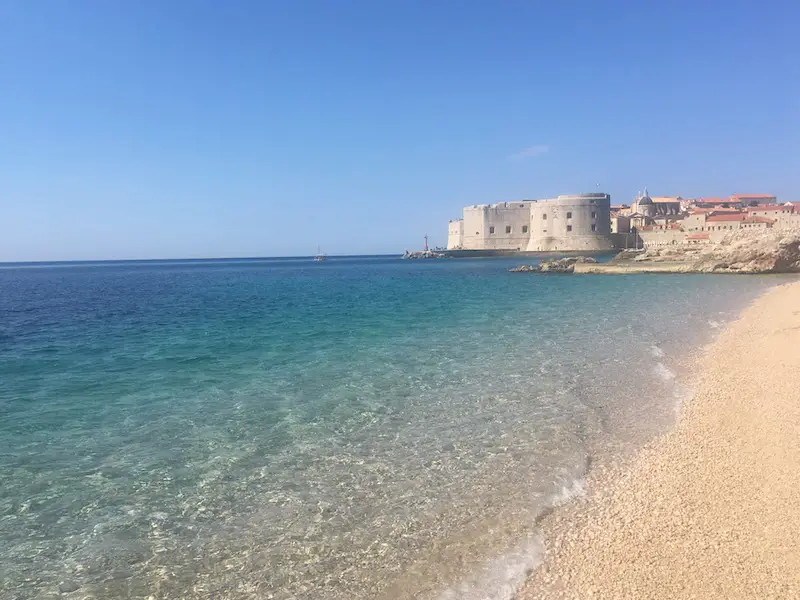 Breathtaking Dubrovnik in Croatia is one of the most popular European summer destinations, especially loved by celebrities and jet-setters. 
But, sun-kissed Dubrovnik in winter is a top destination for getting precious vitamin D in Europe in winter too. In addition, magnificent Dubrovnik in winter is nothing less beautiful than in summer. Baroque and Renaissance churches, monasteries, and palaces of Dubrovnik are nothing less bewitching in winter than in summer. But Dubrovnik in winter is serene, unlike in summer when the old city of Dubrovnik witnesses infamous crowds. Wandering marble-cobbled streets of Dubrovnik in winter with no crowds, and walking walls of Dubrovnik's Old City in serenity takes a visit to Dubrovnik to the next level. And when you add to it, mouthwatering local food (organic veggies, juicy fruits from local farms, and amazing seafood from the Adriatic sea), the visit to Dubrovnik becomes one of the most memorable trips of your lifetime. 
Thanks to the favorable setting on the Adriatic coast in Southeast Europe, Dubrovnik has about 2.700 hours of sunshine a year. Daily average temperatures in Dubrovnik in December, and January go around 14°C (57°F), but there's plenty of sunshine during days to take your winter mood up. Winter days in Dubrovnik can be refreshing for the colder nights and occasional cold wind, but winter days in Dubrovnik don't lack sunshine either. To sum it up, the climate of Dubrovnik and the Adriatic coast in Croatia is similar to the climate of Barcelona and Costa Brava in Spain. And you can even enjoy a walk on a beautiful beach that would be full of tourists when the weather is warmer.
You can also go on many spectacular day trips from Dubrovnik even to the nearby countries if you are staying for a longer time.
So, if you are looking to escape the rainy, freezing, and gloomy winter in Europe and want to visit one of the most beautiful cities in the world, check out the sunny 'Pearl of Adriatic' on the Croatian coast.
Monaco
Recommended by Dymphe from Dymabroad
One of the best winter sun destinations with warm weather in Europe is Monaco.
This is one of the smallest countries in the world, and it is a city-state that you can find on the French Riviera which is surrounded by the country of France. This makes the place very unique and also it is very easy to reach the country from France.
In winter, the temperature in the country is very comfortable, which is one of the best reasons to visit Monaco. On average, the temperature is about 13°C or 55.4°F, and it rains for about 4 days.
What makes the country great to visit in winter specifically is that there are many events during this time of the year. Besides that, there are lovely things to do in winter in Monaco.
One of the best events in the city-state in January is the annual International Circus Festival of Monte-Carlo. During this event, you can see all kinds of circus acts from all around the world.
Another great event that takes place in winter is Saint Devote's Day, a day dedicated to the patron saint of Monaco. This is an annual feast day on January 27 with all kinds of festivities. Also, the night before this day, there are fireworks displays and historic rituals.
Furthermore, the Monaco Run takes place in February. This is a weekend event during which there are four different runs in the country.
What's great about visiting Monaco in winter as well is that you can go to the Exotic Garden. This is a garden with tropical plants from many places in the world that bloom in January and February. Also, the view from this garden is amazing!
Istanbul, Turkey
Recommended by Anne from Packing Light Travel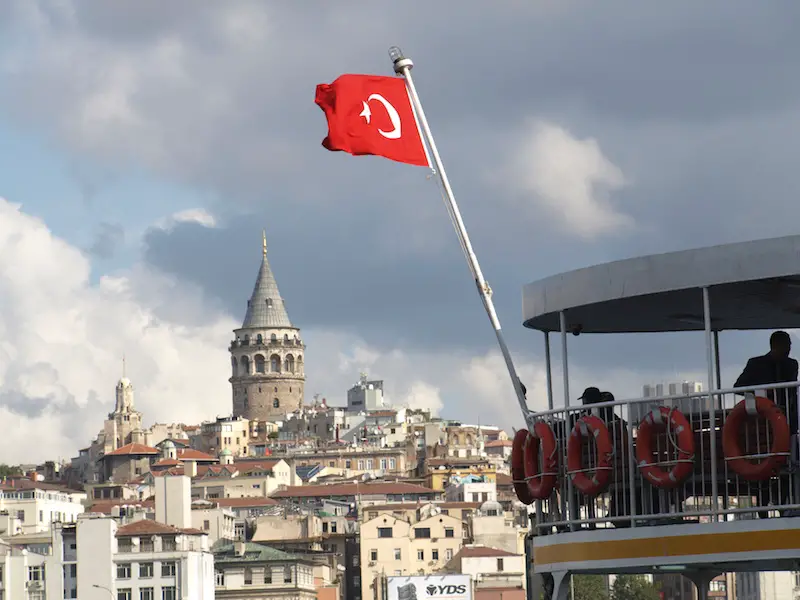 Mild temperatures, winter sunshine, few tourists, discounted shopping, and reasonably priced accommodation make Istanbul a popular winter destination. The average daily maximum temperatures hover around 10 degrees Celsius (50 degrees Fahrenheit) in December and January, but it's not uncommon for the city to experience a light dusting of snow, much to the delight of photographers.
This translates into shorter queues and less crowded spaces at popular venues such as Topkapi Palace, Basilica Cistern, Galata Tower, and the Grand Bazaar. It doesn't hold true for New Year's Eve when nightclubs, bars, and restaurants are packed with partygoers. Istanbul's New Year celebrations are legendary, with street parties, dinner cruises, and firework displays that light up the Bosphorus, the famous strait separating Europe and Asia.
Spending December 25th in Istanbul might be a perfect choice for those who wish to escape the commercialization, excesses, and hype of Christmas. The predominantly Muslim population means its business as usual, with shops, restaurants, and public transportation all open to the public. Christianity is practiced, mostly within enclaves of Armenians and Greeks, so it's possible to attend Mass or an interdenominational service. Also, hospitality runs deep in Turkish culture, so it's an opportunity for restaurateurs to welcome visitors and help them celebrate Christmas with servings of delicious Turkish food. Or make a reservation at one of the many restaurants operated by a flourishing expat community.
Seville, Spain
Recommended by Jiayi of The Diary of a Nomad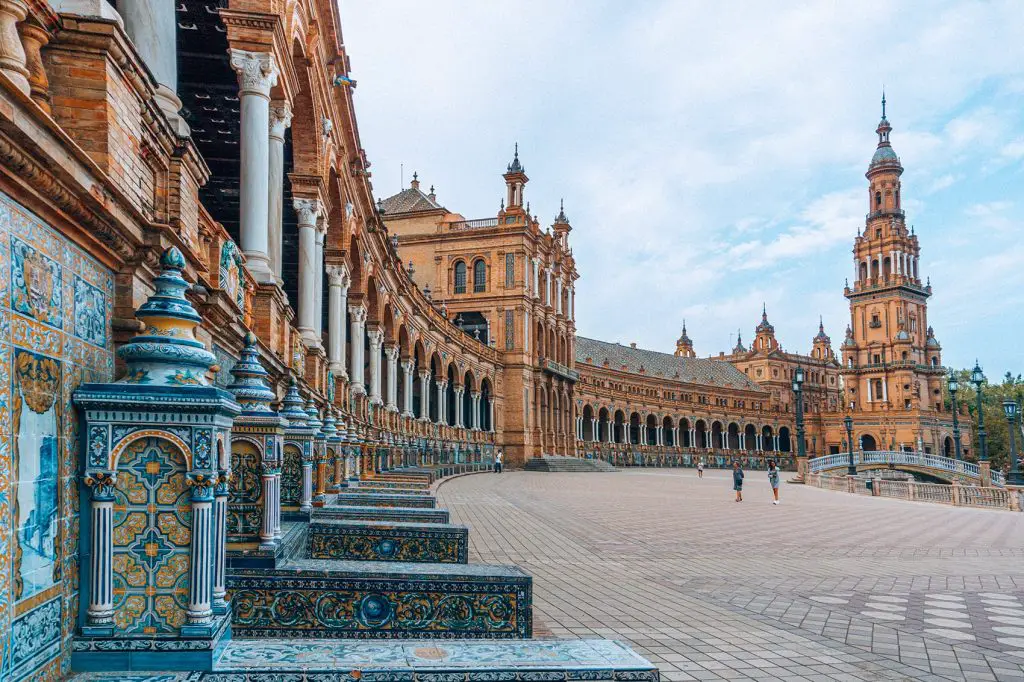 Seville, the stunning capital of Andalusia in Spain, is one of the sunniest cities in Europe. This makes it a perfect winter sun holiday destination with an average temperature of 7°C – 17°C in December and January. The city is also the birthplace of both tapas and flamenco, and there's no shortage of good food, history, and entertainment for travelers. 
It's possible to see all the highlights of Seville in 3 days. Start your trip at Plaza de España, a beautiful square filled with stunning bridges and architecture. There's even a picturesque canal in the middle, which you can explore by boat. Another unmissable stop in Seville is Casa de Pilatos, a civil palace that displays gorgeous azulejos (traditional Spanish ceramic tiles). 
There are plenty of holiday festivities in Seville in the winter. Don't miss the Feria del Belén de Sevilla, the biggest Christmas market in town. It's also a great place to learn about the local culture. You can also catch a Christmas concert performed by the Royal Orchestra of Seville, and several Christmas parades in the city center organized by Reales Carteros.
No trip to Seville would be complete without stopping by the Royal Alcázar, the Cathedral, and the Giralda Tower. You can get a really good glimpse into the historic Muslim rule of Spain at those three attractions. You'll also spot lots of brilliant festive lights around these landmarks.
Insider tip: For the best tapas in town, head over to El Rinconcillo and Espacio Eslava. Both are local favorites and offer very unique and mouth-watering traditional tapas. 
Milan, Italy
Recommended by Nisha from Nerdy Footsteps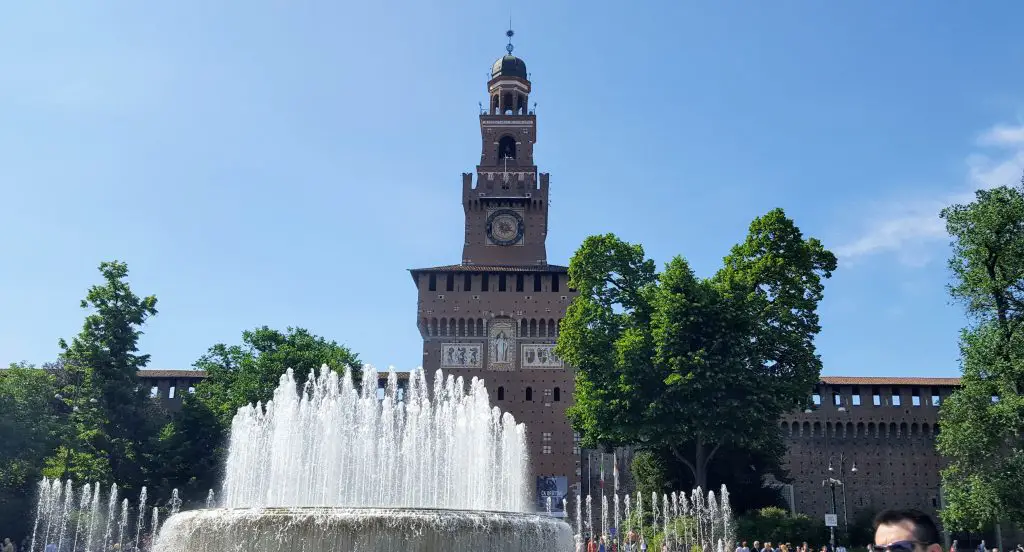 Do you know what makes the winter sun even more special? A cup of really nice cappuccino. And what better place to sip a cup of warmth than the Italian capital, Milan?
On a pretty winter day, treat yourself to the views of the marvelous Duomo cathedral or the iconic last supper. Another perfect attraction for the winter in Milan is the Christmas market hopping, which usually extends to early January. Roasted caramelized nuts and hot mulled wine are perfect to warm you up in the European winters.
Do you want to know how to make the most of your bucks in Milan? Fill yourself up with Aperitif! It is an evening tradition in Milan and other Italian cities wherein bars, you can get a buffet with your ordered drinks. It costs around 10 bucks and is the best deal you will find in chic Milan.
The average temperature of Milan in winter is around 3-4 degrees, higher than most metropolitan cities in Europe. Milan offers the best of both: urban and natural sites. It is an artistic metropolitan city that offers different museums and activities around the year. It is also close to some of the prettiest lakes and mountains in Italy, be it Lake Como or Maggiore.
Have you decided to visit Milan this winter? Feel free to use this detailed guide to make the most of two days in Milan.
Nice, France
Recommended by Elisa from France Bucket List
Nice, in Southern France, is an excellent place to visit in the wintertime. The capital of the French Riviera, bathed by the Mediterranean Sea, has 300 days of sunshine, plus the temperatures are never too cold (the average winter temperature is 10C in December /January).
From spring to mid-October, Nice is a hotspot for visitors from all around the world. In wintertime, the city is as enjoyable as ever but with lower prices and without crowds.
The list of things to do in Nice is long. Nice is well known for its baroque architecture, with a certain Italian flavor. It also has a pretty old port and excellent museums (Chagall, Matisse…). On sunny days, the Promenade des Anglais is great for a stroll, ice cream in hand, and the food is excellent too! In February, Nice hosts one of the most famous carnivals in France, and it is a great time to visit the city with kids.
Nice is also a great base camp for exploring other places on the French Riviera by public transportation or guided tours. Places like Monaco, Eze, Cannes, or Menton are easy to visit on a day trip from Nice. With some more days, use Nice as a starting point of a French Riviera road trip.
Many air companies fly to Nice. The city is also easy to reach by train from Paris. Since May 2021, the night train Paris – Nice is back, and this is a good option for slow travelers on a budget.
Antalya, Turkey
Recommended by Marco from Nomadic FIRE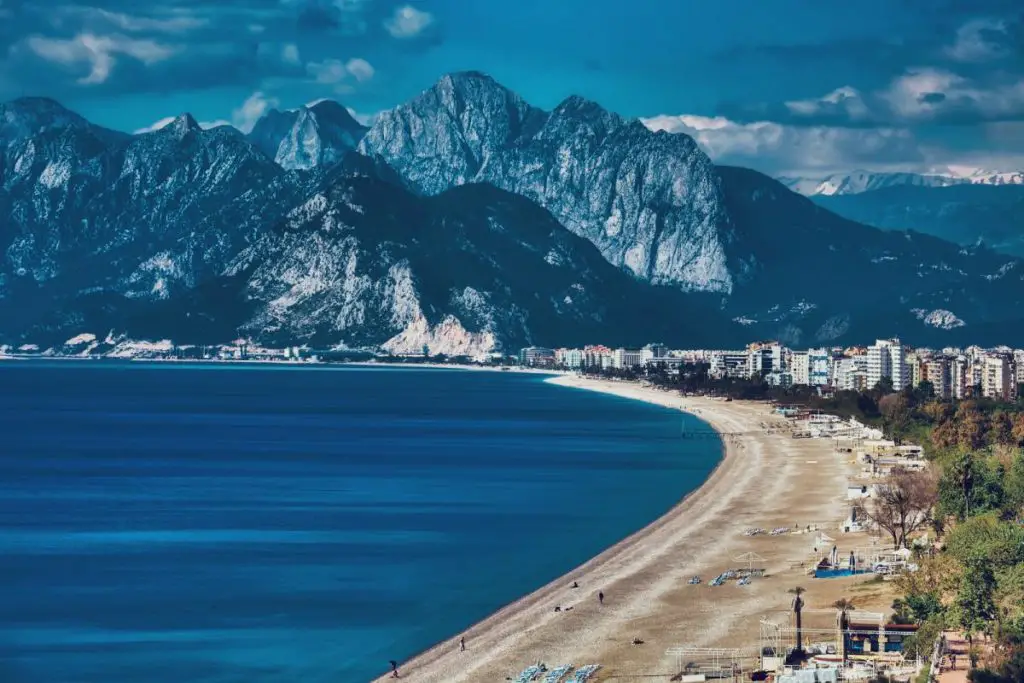 When winter hits Europe and tourists start scouring the globe for sunshine, Antalya, Turkey, is criminally overlooked as an alternative sunshine destination. Imagine it's 70 degrees and sunny. You can see boats floating out in the turquoise-blue Mediterranean Sea. On land, locals and tourists stroll a palm tree-lined beach promenade by the beautiful seaside. This is November in Antalya, Turkey. While chill can still hit in the evening, with an average of 300 days of sunshine per year, there are more beautiful days in Turkey's moderate Mediterranean climate than bad ones.
Expats living in Turkey know that winter is still an ideal time to visit Turkey's southern region. Not only are you avoiding the summer crowds and incendiary heat, but staying in the offseason makes what is already one of the cheapest tourist destinations in the world even more wallet-friendly. How cheap is cheap? A large one-bedroom apartment in the center of Antalya's historic city center can be found for $10 per day.
But winter in Antalya is not just about saving money. Daytime temperatures average between 70 – 60 F/ 17 -21 C. With the warm afternoon sun, you have Turkey's gorgeous Mediterranean coastline to swim in. Contrary to popular thinking, the water temperature is paradoxically warmer in winter than in the peak summer months. For even more underwater adventure, prime scuba diving spots are also nearby.
The cooler evening offers an opportunity to enjoy Turkey's world-famous cuisine in Antalya's Old Town. In winter, you can sit down at an excellent restaurant steps away from ancient Roman ruins built in 130 AD and enjoy a giant plate of grilled calamari for less than $8.
---
---